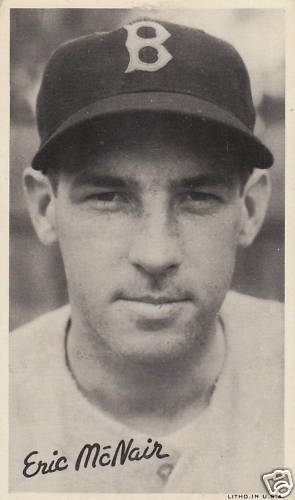 ---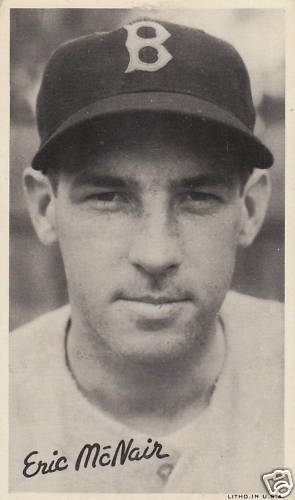 He was a "little chap with dynamite in powerful wrists", a ballplayer who suffered through great personal tragedy but played on for 14 major-league seasons before dying at age 39 of a heart attack. Donald Eric McNair was his name; he called himself Eric, though others called him by different nicknames — "Boob" and "Rabbit" and "Prez." The first newspaper mention in the Atlanta Constitution said that "Ernie McNair" had been purchased from Meridian in the Cotton States League to provide reserve backup for the Memphis Chickasaws (Atlanta Constitution, February 16, 1929). By April 13, the same paper got his name right, observing that he'd taken over the shortstop spot from Charlie Engle and was probably the youngest shortstop in the Southern Association. He never played for the Chicks. The latter nickname, Prez, was put on him by his teammates in 1931 when they learned that the Chamber of Commerce in Meridian tried to raise the money to re-establish the franchise there after it had relocated to Lake Charles during the 1929 season. Had they raised the funds, they planned to make McNair a director of the club (unattributed March 7, 1932 clipping from the McNair player file in the Hall of Fame Library). "Boob" came from the similarity of his surname to a popular comic strip of the day, Boob McNutt by Rube Goldberg (Philadelphia Public Ledger, April 1932, date uncertain). Rabbit was the nickname used most often in print.
McNair was small in stature — 5-foot-8 and weighing 145 pounds. At least one scout — Washington's Joe Engel — passed on him, thinking him too small to make the majors (Washington Post, January 15, 1933). John Kieran of the New York Times even wrote that "midgets may be coming back in favor" as shortstops (New York Times, April 13, 1933).
From his earliest days in Meridian, Mississippi (birthplace of the great country music pioneer Jimmie Rodgers, about 12 years his elder), McNair thrived on baseball. He was born on April 12, 1909, to Henry L. and Nettie P. McNair. Henry worked as a machinist in the railroad shops at Meridian. He had a brother one year older, Leonard, and two younger brothers who went into baseball as well as two younger sisters, Nell and Alice Joyce. In 1930, Leonard worked as a cotton buyer.
At age 12, Eric was the mascot and batboy for the town team in Meridian. He had charge of the six baseballs allotted per game, and also played third base and catcher for Johnson Moss' Junior League. Moss was a local man devoted to youth baseball, a cotton broker who had a ballfield behind his house. By age 14, McNair was already playing for Moss' Specials, a semipro team which took on the leading independent ball clubs of both Mississippi and bordering Louisiana. McNair reflected, "He knew lots about baseball — John Moss did. I am sure there wasn't another team in our part of the country that was coached as well as we were" (The Sporting News, January 30, 1936). Eric also played for the Meridian High School team. Perhaps a little Dustin Pedroia-like, he always surprised opponents by how hard he could hit line drives.
When he was 17, he kept asking the Meridian skipper to play him in a game. The manager laughed him off, but let him work out with the team some at shortstop. Jersey City was visiting for some exhibition games and the manager reportedly asked Meridian to put a price on the youngster. The Meridian men quickly brought a surprised McNair into the office and tendered him a contract, him yet unaware of the interest (unattributed July 29, 1934 clipping in the McNair player file at the Hall of Fame).
The year McNair turned 19, he played in the Cotton States League, for the Meridian Mets. It was Class D baseball. McNair played shortstop in 1928 and batted .317 over the span of 123 games, relocating with the team to Lake Charles in mid-June. The Memphis Chickasaws purchased his contract and he moved into Class A Southern Association baseball in 1929, hitting .301 over his first 24 games — but suffered a broken ankle. He recovered in time to get into 91 games in Knoxville, where he'd been farmed out by the Chicks. He hit .391 for the Smokies in the Class B South Atlantic League. There, scout Ira Thomas for the Philadelphia Athletics spotted him and recommended him to Connie Mack and arrangements were made through Memphis to buy his contract on August 27 for a reported $ 25,000 (Philadelphia Public Ledger, April 1932). McNair reportedly talked his way into getting $500 of the money. The March 10, 1929, Memphis Commercial-Appeal has Eddie Toulon as responsible for McNair's signing. When Knoxville made it to the playoffs, Mack wired McNair to stay in Knoxville rather than come to Philly. The Smokies beat Asheville, four games to one, and McNair drove all night, turning up in Philadelphia by the time Mack arrived at Shibe Park. He had a hard time talking his way into the park, but when he succeeded and was introduced to Mack, he found himself put into his first game that very day, September 20. The A's had clinched so he was given a start at shortstop, batting third in the order, and he went 3-for-5 at the plate, stole a base, and helped turn a double play. Mr. Mack was impressed (The Sporting News, January 30, 1936).
He got into four late September games, handled 11 chances in the field without an error, and was 4-for-8 at the bat including one double and with three RBIs to his credit.
The Athletics went on to the World Series and beat the Cubs in five games. The 20-year-old McNair had come up too late to have a chance at making the roster. He did attend at least one Series game — but had to put in an order for his own tickets to one contest. He worked as an usher to see the other home games (Atlanta Constitution, September 24, 1929 and The Sporting News, January 30, 1936. Notes in his player file at the Hall of Fame say that he "had an usher's badge but had to take it off when spectators began to ask him where they sat."). McNair cited his Scottish ancestry as prompting the decision to usher: "My folks came from Scotland. Can you imagine Harry Lauder paying his way into a theater to see his own company perform?" (Henry P. Edwards press release from the American League Service Bureau, January 29, 1933; Lauder was a Scottish entertainer who toured the United States frequently).
McNair wouldn't play in the minor leagues again until 1941. In 1930, he was slotted in as a utilityman and backed up Joe Boley at shortstop and Jimmie Dykes at third base, getting into 78 games and hitting .266. He made it to the World Series, in uniform. He had one pinch-hit at-bat in the ninth inning of Game Three and flied out to left.
He'd impressed Eddie Collins, too, with his love of the game: "That boy LIKES TO PLAY BASEBALL. When I see a boy who really is crazy about the game and has natural talent with his yet for baseball, I immediately set him apart as one to be watched" (unattributed March 24, 1930 clipping from the McNair player file in the Hall of Fame Library).
Nineteen thirty-one was a bit of a rerun of 1930. McNair got into one more game, and hit for five points higher (.271) as he worked to keep from pulling the ball to left as much as he had. He did hit his first home runs — five of them — but drove in one fewer run (33). He again appeared in the World Series, this time in two games, though he'd been having arm troubles and Dib Williams got most of the work. The first was as a pinch-runner in the ninth inning of Game Three; he scored on Al Simmons' homer. In Game Five, he pinch-hit for Max Bishop but popped up foul to the Cardinals' catcher. He stayed in the game, at second base, and handled his two chances cleanly. He'd won a ring in 1930 when the Athletics beat St. Louis in six games, but suffered defeat when the Cardinals turned the tables and won Game Seven in 1931.
Mack, who called Eric "Mac," expressed concern that McNair build up his strength for the rigors of a long season. Both Al Simmons and Jimmie Foxx were so impressed with his hard work that they took him under their wing and taught him more about hitting. In 1932, McNair played in 135 games and led the league in doubles, with 47. His average improved to .285. He homered 18 times (ranking eighth) and drove in 95 runs, both career highs. Mack said in midseason that "if another team had a player the equal of Al Simmons I would not trade McNair even up for him" (unattributed clipping from the McNair player file in the Hall of Fame Library). And he got married in 1932, to his high school sweetheart, Mildred Kimbrell. McNair worked for Johnson Moss as a buyer in the cotton business during the offseason.
McNair had an off-year in 1933, dipping in all categories and out with lengthy injuries twice in the early going, playing in only 89 games. In 1934, he came back strong, getting into all but one of Philadelphia's 152 games. He hit .280 and 17 homers and drove in 82 runs, and after the season was over took Mildred along with him as he and a team of all-stars traveled to Japan to play a number of exhibition games there.
The trip to the Far East might have been too much for a lot of players to take on. In July 1935, the Associated Press published a story that most of the star players who'd gone on the trip to the Orient were performing "far below form"; Detroit Tigers second baseman Charlie Gehringer and Athletics teammates Foxx and Rabbit Warstler were cited as the exceptions. McNair was a little off, it being noted that he'd only been over .300 a few times (Hartford Courant, July 10, 1935). It seemed an odd remark in that the best he'd ever hit at season's end was .285. He finished 1935 at .270, not a major dip from the .280 in 1934. But his homers plunged from 17 to just four, and his RBI totals were down as well; the team as a whole scored fewer runs but McNair's dropoff was deeper than the team's.
After 1935, he took off again to foreign lands, this time to Mexico for a month on a tour led by Connie's son Earle, which planned 11 games in Mexico City and two each in Monterrey and Laredo. It was another top-quality group of players including Hank Greenberg, Heinie Manush, Ted Lyons, and McNair. It was a much shorter trip, but as early as November there were rumors that Connie Mack was prepared to sell off many of his best players. The Courant's John Lardner even wrote of "motions toward peddling his whole ball club up the coast to the Boston Red Sox." He listed five players: Jimmie Foxx, Roger Cramer, Pinky Higgins, Johnny Marcum, and McNair, who he wrote was "as deft and peppery a shortstop as you could wish to see" (Hartford Courant, November 25, 1935). Foxx and Marcum were traded on December 10, netting the needy Mack $150,000 in cash from Tom Yawkey, as well as Gordon Rhodes and minor leaguer George Savino. Other owners began to complain about so much dealing between the Athletics and the Red Sox (wanting a chance to get in on the pickings), but there were rumors for several weeks that the actual deal embraced McNair and Cramer, too, if not Higgins. (See, for instance, the December 11 Washington Post.) Had all those players been dealt at once, there might have been a firestorm. There was another trade, on January 4, 1936, and it did send McNair and Doc Cramer to the Red Sox. Mack received another $75,000 in cash and ballplayers Hank Johnson and Al Niemiec. It may have been, as the January 5 AP account called it, "part two" of the trade.
McNair proved to be a versatile and valuable addition to the Red Sox infield. He played shortstop, second base, and third base — at least once, more than one position during the course of a game. He pulled his average up to .285 and drove in 17 more runs (74) than the year before. One of the more amusing incidents in baseball train travel occurred after the Red Sox and Athletics had finished a series in Boston. The A's were going back to Philadelphia and the Red Sox to Washington. Both trains left from South Station on different tracks. McNair and Ski Melillo were already in their berths when Bob Johnson of the Athletics roused McNair, telling him to get out of Johnson's berth. Both Red Sox players had boarded the wrong train, though they didn't quite believe it until Connie Mack said, "Good heavens, Eric. I thought I sold you to the Red Sox. But maybe I was only dreaming that Tom Yawkey gave me all the nice money" (The Sporting News, December 12, 1951). Both players had to disembark at Providence and catch the Red Sox train.
After the 1936 season ended, McNair and his wife were looking forward to the arrival of their first child. Tragedy struck, and McNair's wife Mildred died of pneumonia and complications attendant on childbirth, nine days after their son Donald Eric Jr. was born on January 7. McNair floundered in his grief during spring training but buckled down and buried himself in his work.
He had another solid year in 1937, boosting the average to .292 and driving in 76 runs. For much of the summer, it had seemed he was "carrying the club on his shoulders" (Christian Science Monitor, March 30, 1938). It was still a difficult year. "That year I was judged more by what I did off the field than on it" (Frederick [Maryland] Evening Post, May 1, 1939).
He held out for a larger salary in 1938 until March 24, even though with player-manger Joe Cronin coming back at shortstop, it seemed he was going to be facing a possible challenge from Bobby Doerr at second base. He'd never been difficult before and at least one correspondent felt "a veil of mystery envelops the McNair incident" (Christian Science Monitor, February 9, 1938). GM Eddie Collins said that McNair had capitulated; what he said was that the signing had been "on our terms" (Associated Press, March 25, 1938).
It was a poor year, 1938, the worst of his career. He tore ligaments in his left knee when he was filling in at short one day for Cronin and only got into 46 games, hit just .156, and was so unproductive that he drove in only seven runs. Perhaps feeling fate was conspiring against him, McNair considered just retiring from baseball. The Indians hoped it was just an aberrant bad year, and apparently agreed with the Red Sox on a trade, but McNair was adamantly opposed and told Tribe manager Ossie Vitt that he'd refuse to report if Cleveland traded for him. In the meantime, Jimmie Dykes, his friend from A's days, was hoping to bring him to the White Sox. That appealed more to McNair (Frederick newspaper, op. cit., and The Sporting News, July 27, 1939).
After his knee was checked out on December 21 by Chicago White Sox physician Dr. Philip H. Kreuscher, the White Sox sent Boze Berger to Boston so they could land McNair. "I wanted to play for Dykes," he said, explaining that he considered Mack and Dykes the two best managers in the game (Frederick newspaper, op. cit.). It was a wonderful move for the White Sox. Berger only played in 20 games for Boston, but the change of scene sure helped McNair. For the White Sox, McNair hit .324 in 479 at-bats, 10th in the league, and drove in 82 runs. On August 25, he had a rare day for any ballplayer, going 5-for-5, every one of them a single. There was one scare in the first part of May, when Joe Gallagher of the New York Yankees took him out hard after the play had been concluded. The Chicago Tribune's Irving Vaughn wrote a story under the headline "McNair Out a Week; Beware Mr. Gallagher!" Vaughn suggested that if Gallagher happened to be "plunked by a pitched ball or stepped on by spikes later in the season, it will come under the heading of unavoidable accidents" (Chicago Tribune, May 11, 1939).
In 1940, McNair was joined on the White Sox by a former teammate from Meridian High School, Skeeter Webb. And Webb got more playing time at second base than McNair. Webb hit for a slightly higher average, but McNair drove in a couple of more runs. McNair committed four more errors in the field than Webb — but they would have been even if McNair had sat out the July 17 ballgame against the Senators. Washington won the game, 5-2, with two of their runs directly attributable to the four errors from "Erratic Eric" which tied the American League record for the most miscues in a single game (see the game account in the July 18, 1940, Chicago Tribune).
Apparently he brooded over his poor performance in that game. McNair would have played more but he became discouraged by the quality of his work and some health issues. And he had still never gotten over the death of his wife. Bill Dooly of the Philadelphia Record wrote, "Some people get over sorrow, give them time. Some, it seems, can never adjust themselves and we suppose one of these is McNair." Dooly talked with McNair in spring training in early 1938 "Never have we seen anyone so dejected. Perhaps it was because the contrast was so great, for the little Mississippian had always been bubbling over with fun, and now he spoke and acted as one in a daze, was lifeless, unseeing." Dooly went on to credit the Red Sox for making the trade so McNair could work with Dykes. They could have made a better deal for him, he wrote, but they were thinking of his welfare. In August 1940, after the four-error game, "the old sorrow still is heavy within him" (August 13, 1940 clipping found in McNair's Hall of Fame player file).
McNair had led the club the year before but was slumping badly at the plate, so he asked to be placed on the voluntarily retired list on August 5. He did come back near the end of the season and worked out with the White Sox, but didn't appear in any games other than some postseason barnstorming. His final average for the season was .227, just short of 100 points below the .324 he'd hit in 1939. After the season, the White Sox sent him to the Detroit Tigers on December 18 for a sum reportedly a little over the waiver price. The Tribune said the Tigers were eager to bring him on board, and expected him to become their regular shortstop (Chicago Tribune, December 19, 1940). It was a Detroit club desperate for infielders (The Sheboygan Press, April 3, 1941).
In his very first spring training workout for the Tigers, McNair twisted his ankle in their camp at Lakeland, Florida. X-rays were negative, but his play was disappointing. He was hitting just .186 in 59 at-bats, and was farmed out to Buffalo on July 13. He hadn't been in the minor leagues since 1929. In the 60 games remaining, McNair hit .357 and helped the Bisons get into the playoffs. He had a big hand in winning the 10-inning playoff game on September 11 against the Montreal Royals, with a home run, a double, and two singles. The Royals won the playoffs, however, four games to three.
In 1942, not only did McNair come back to spring training with the Tigers, but manager Del Baker announced that he would be the starting shortstop in spring training until Billy Hitchcock perhaps became ready to take his place. Not truly hoping for more than a utility role, McNair was third on the depth chart at shortstop when the season began, behind Hitchcock and Moe Franklin. He hit .162 in 26 games with only four RBIs and was traded to Washington on July 17 for pitcher Jack Wilson. The next day, a discouraged McNair announced that he was going to quit baseball, reportedly telling Washington president Clark Griffith, "I don't want you to spend your money on me because whatever you pay to the Detroit Tigers, I'm not worth it. I'm washed up" (Hartford Courant, July 19, 1942). Just two days later, he was sold to the Philadelphia Athletics. He'd be reunited with Connie Mack, which pleased him, and the reality seemed to be that there was something about Washington he didn't like. "I'm ready to play with any club in the league except Washington," he declared. "I may be having a poor season but I still am not washed up" (Hartford Courant, July 21, 1942).
A couple of weeks later, he said he was happy playing under Mack. He hit .243 in 34 games, but only drove in another four runs. Ed Rumill of the Christian Science Monitor wrote that McNair "was never completely happy away from Shibe Park and the influence of the talented Mr. Mack." Rumill anticipated two or three more seasons for McNair, who was still only 33 years old (Christian Science Monitor, August 4, 1942). He didn't last out the calendar year; on December 7 he was one of four players that Philadelphia released.
Now a free agent, he fielded offers. The one he liked best was from Indianapolis and he made what the AP called a "futile comeback attempt" for Donie Bush's Hoosiers. Given his outright release on October 4, after a season in which he suffered a lame wrist and an injured ankle, and hit for only a .168 average (and posted a poor .857 fielding average (Washington Post, October 5, 1943). He truly was washed up.
Later that year, he was being considered as the manager for the 1944 Lancaster Red Roses team. On August 3, 1945, he took the helm for the Zanesville Dodgers of the Ohio State League (Zanesville Signal, August 3, 1945). In a game at Middletown on August 17, a fight broke out between him and umpire Mickey Green in which McNair struck Green once in each game of a doubleheader. President W. G. Bramham of the National Association suspended McNair for 138 days in 1945 and 1946, and fined him $100. The punishment was not stiffer, because "the manager claimed the umpire spit in his face. . Bramham found that Green, when excited, stutters, and, as a result of the impediment, does emit a spray of saliva" (The Sporting News, August 30, 1945). In 1947, McNair managed the Poughkeepsie Giants in the Class B Colonial League. In 1948, he skippered the Savannah Indians; they finished last in the Class A Sally League. He might have had more of a future as a manager ahead of him, but he suffered a heart attack in July. Lena Blackburne filled in for five weeks before McNair returned to action late in August and finished out the season. He was then given a position as a coach and scout in the Athletics organization (The Sporting News, September 8 and December 1, 1948).
Eric's younger brother, Ralph, had been playing in organized ball since 1936, getting playing time with a full dozen minor-league teams up to his last year, 1948. He finished with a lifetime batting average of .289. Brother Pat was managing the Meridian ballclub at the time Eric lost his wife in early 1937, and as late as 1943 was himself playing for the Buffalo Bisons (The Lethbridge Herald, April 19, 1943). He had to overcome one obstacle that most ballplayers do not: being shot in the stomach by Public Enemy #1. Ralph worked as a Meridian police officer in the offseason, and in February 1942 he spotted someone on the street. The face looked familiar from a wanted poster. When he approached, the man bolted down an alley and then shot him in the stomach. It was Charlie Chapman, a bank robber who had been No. 1 on the FBI's "Most Wanted'' list in 1941 and early 1942. McNair was unable to make the collar, but police caught up with Chapman, who died in a gun battle in Philadelphia, Mississippi, on February 22. Ralph recovered after a lengthy hospital stay and eventually got back in the game (The Sporting News, August 17, 1944).
In February 1949, Eric McNair was helping out at a baseball academy in West Palm Beach, Florida, then returned to Meridian where he suffered another heart attack, this one fatal. He died at age 39 on March 11, 1949. He left behind his widow, son, both parents, three brothers, and two sisters. McNair had remarried about seven years after Mildred's death, to her sister Beatrice Kimbrell.
In 1964, McNair was selected to the Mississippi Sports Hall of Fame and Museum, the first posthumous selection made by the organization.
Don Jr. had been raised by his maternal grandparents; with the marriage, he says, "My aunt Bea became my stepmother" (Interview with Don McNair, December 21, 2009). Like his father before him, Don Jr. served a stint as a batboy. He was with the Savannah team, at age 11, when his father was stricken with the first heart attack. After losing his father, Don played ball and earned a baseball scholarship to Mississippi State. He was even offered a small signing bonus by Ted Lyons of the White Sox, but chose a career in the insurance business. Not that many years ago, Don took his own son, Donald Eric McNair III, and his daughter to one of the annual banquets of the Philadelphia Athletics Historical Society and enjoyed the opportunity to meet a number of descendants of other ballplayers such as Dib Williams and Jimmie Foxx.
Sources
Interview with Don McNair on December 21, 2009, and subsequent correspondence.
In addition to the sources cited in this biography, the author consulted the online SABR Encyclopedia, retrosheet.org, Baseball-Reference.com, and Bill Lee's Baseball Necrology. Thanks to Rod Nelson for sharing scouting information.
Born
April 12, 1909 at Meridian, MS (USA)
Died
March 11, 1949 at Meridian, MS (USA)
If you can help us improve this player's biography, contact us.
http://bioproj.sabr.org/bp_ftp/images4/McNairEric.jpg
600
800
admin
/wp-content/uploads/2020/02/sabr_logo.png
admin
2012-01-04 20:34:57
2012-01-04 20:34:57
Eric McNair