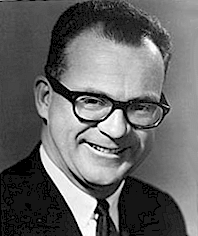 ---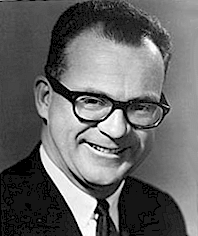 For 55 seasons, baseball fans were able to get a greater enjoyment out of baseball because of the play-by-play descriptions of Ernie Harwell. In his easygoing, laidback Southern drawl, he would exclaim that a home run was "long gone," that a batter on a called third strike "stood there like the house by the side of the road." Ernie might announce that a foul ball in Tiger Stadium might be snatched by a fan from Saginaw or St. Clair Shores. Modest about his own contributions to baseball, Harwell said in a 2005 interview about baseball broadcasting, "The game has got to be paramount. People are going to listen to the game no matter who's announcing it, they want to find out who's winning and what the score is and everything else is pretty much secondary."
Ernie Harwell was born in Washington, Georgia, on January 25, 1918. His father and uncle ran a furniture store that also served as a funeral parlor. As a child, Ernie loved baseball, playing the game as much as possible and listening to it on radio. The local druggist, knowing of young Ernie's enthusiasm for the sport, encouraged him to broadcast an imaginary Atlanta Crackers game for patrons of the drugstore. Harwell's attempts at play-by-play were greeted with gentle gales of laughter by drugstore patrons as young Ernie had a speech impediment that hindered his attempts to pronounce the letter "s." His parents eventually paid for him to take elocution lessons.
In 1934, the 16-year-old Harwell saw his first major league game while visiting a relative in Chicago. That same year, he also gained a job. Dissatisfied with the amount of space devoted to Atlanta baseball in The Sporting News, Harwell wrote the paper a letter offering to serve as their Atlanta correspondent. Hoping to seem older than his 16 years, Harwell signed his name "W. Earnest Harwell." Impressed with samples of Harwell's writing, the paper invited him to write regularly.
Through his high school and college years, Harwell also worked part-time for the Atlanta Constitution sports department. In 1940, during his senior year at Emory University, he made his radio debut, landing a job as sports director at radio station WSB. Hosting a twice-nightly fifteen-minute sports program, Ernie was able to interview some of the biggest names in sports at the time including Ty Cobb, Ted Williams, Connie Mack, and heavyweight boxer Jack Dempsey.
A year after graduating from Emory University in 1940, Harwell married Lulu Tankersley. Ernie and Lulu's union would be a lasting one. They would remain married until Harwell's death nearly 69 years later. They raised four children together.
In 1942, with World War II raging, Harwell enlisted with the Marines. During his time in the service, he was a correspondent for the Marine newspaper Leatherneck. He got his first taste of baseball play-by-play in 1943, while still serving in the Marines. Atlanta Crackers owner Earl Mann asked Ernie to do the Crackers broadcasts and he agreed, provided that he could donate his pay to the Red Cross. His stint as a Crackers announcer quickly came to a halt, though. Some civilian listeners felt it was wrong for a serviceman to broadcast baseball games. The Marines told Ernie he could no longer work Crackers games. Mann, however, impressed with Harwell's style, told him that when he was discharged from the service, the Crackers' announcing job was his.
Discharged from the Marines in early 1946, Harwell approached Mann about the Crackers job. At this time, station WATL had obtained the rights to Crackers broadcasts. The station wanted to hire its sports director, Stan Raymond, as the Crackers' voice. Mann, true to his word, insisted that Ernie be the Crackers' radio voice. Pushing for Ernie's hiring, Mann finally won out on the day before the 1946 season opener.
After losing out on an opportunity to broadcast for the New York Giants in 1947 because of a sponsor conflict, Harwell got the chance to broadcast the Brooklyn Dodgers' games the following year. Regular play-by-play man Red Barber was scheduled to cover the Olympics for CBS that summer. The Dodgers asked Harwell to fill in; then, when Barber was stricken with an ulcer that July, the Dodgers needed another announcer immediately. Crackers' president Mann was willing to let Ernie go to Brooklyn, but for a price. So, in the only deal of its kind, Harwell was traded to the Brooklyn Dodgers in exchange for catcher Cliff Dapper. Harwell became a member of the Dodgers' broadcast crew August 4, 1948. Lead announcer Red Barber, still recovering from the effects of a bleeding ulcer, rejoined the team a month later. Ernie said in a 2005 interview, "He [Red] was still weak and he couldn't do a whole lot, so Connie [Desmond] and I did pretty much the bulk of the work the rest of the season. The first game he came back to was when Rex Barney pitched a no-hitter at the Polo Grounds. And that was the first game I ever worked with Red."
In 1949, Ernie added television to his duties as a Dodgers announcer. Barber, Desmond, and Harwell took turns handling the television portion of the home broadcasts that year—one man on TV, the other two on the radio. Harwell realized right away that television dictated a different approach to play-by-play than radio. "I thought that came pretty much automatic," he said. "I realized that you had to keep your mouth shut a lot more on TV than you did on radio and it wasn't too difficult for me to move back and forth from one medium to another." Only home games were broadcast on television at the time. On road trips, only two of the three broadcasters would make the trip with the team: "We sort of usually had two guys rather than three in the booth at a time. One guy just sort of took off and didn't do that particular game."
Offered a better opportunity with the Giants in 1950, Ernie moved from Ebbets Field to the Polo Grounds, where he was teamed with announcer Russ Hodges. His second year with the Giants turned out to be what he called in his memoir, Tuned to Baseball, "the most thrilling season of my broadcasting career." That season, the Giants and Dodgers tied for the pennant, leading to a three-game playoff series before the World Series. The coaxial cable having just been laid, the series was the first sporting event to be broadcast live from coast to coast. On the day of the third and deciding game, Ernie was assigned to cover the game nationally over NBC-TV. In Tuned to Baseball, he recalled "I would be on NBC-TV coast-to-coast on the biggest game in baseball history. Hodges, my partner, would have to settle for radio." Ernie felt fortunate—there would be four radio announcers from various outlets that day, but he would be the only television announcer covering the game.
As it turned out, Russ Hodges' description of the famous game-winning Bobby Thomson home run ("The Giants win the pennant!") became one of the most famous play-by-play moments in sports history. Ernie's contribution to the "shot heard 'round the world" was largely forgotten. In those days, few games were recorded for future play. When accepting the Ford Frick Award in 1981 at the Hall of Fame induction ceremony, he said, "Television had no instant replay, no recording in those days. Only Mrs. Harwell knows that I did the telecast of Bobby Thomson's home run."
Dropped by the Giants after the 1953 season, Harwell moved to Baltimore, becoming the first broadcaster for the new American League Orioles. Working in Baltimore, Ernie covered subpar baseball teams (the Orioles, formerly the St. Louis Browns, went 54–100 their first season) but had the opportunity to work with other great baseball voices, including Chuck Thompson and Herb Carneal. In 1957, Orioles (and former Tigers) third baseman George Kell spent some time with Harwell in the broadcast booth while recovering from a beaning. At Harwell's invitation, Kell broadcast some innings of play-by-play. Kell's broadcasting was well received and eventually led to his becoming a full-time baseball announcer with the Detroit Tigers.
Kell later returned the favor. In 1959, while he was doing Tigers radio and TV with Van Patrick, the sponsorship of the Tigers broadcasts changed from the Goebel brewery to Stroh's, the new sponsor decided to replace Patrick with a voice not identified with Goebel. Kell recommended Harwell for the job and told him of the opening. Though he had a strong position in Baltimore, Ernie always liked Detroit and decided to make the move, signing with the Tigers during the 1959 World Series
Kell and Harwell teamed up on Tigers radio and television, splitting play-by-play duties equally from 1960 to 1963. Ernie told Detroit News reporter Lynn Henning in 2002, "I'd do the first four-and-a-half innings on TV, and George would do the same thing on radio. Then we'd swap." After Kell left radio in 1963, Harwell was teamed with former Tiger manager Bob Scheffing for a year before being assigned to radio only beginning in 1965.
Ernie, an avid baseball historian, was known for his generosity to his broadcast colleagues. Ray Lane told of an example of Ernie's willingness to help a colleague when he became Harwell's broadcast partner in 1967. Forty years later, Lane remembered how Harwell called him and kindly offered him the use of his vast personal collection of baseball books and records. Lane recalls Harwell saying, "Listen—I have all these things from past history. I have record books…down in my basement. Anything that you ever need concerning baseball—it's yours to use. I'll make the offer one time and any time you want to take a look at any of this stuff, you're welcome to it." Ernie's collection of baseball books and memorabilia was later donated to the Detroit Public Library. Lane, appreciative of Harwell's kindness to a fledgling broadcaster, called him "the true Southern gentleman."
Harwell and Lane first worked together during 1967, a season marked by riots in Detroit and a near-miss of the AL flag for the Tigers. When the Tigers won the American League pennant the following season, Ernie covered the World Series on NBC radio with Pee Wee Reese. He was also asked to select the national anthem singers for the games played at Tiger Stadium. For one of the games, Harwell asked singer Jose Feliciano to sing the anthem. Feliciano's nontraditional rendition was met with angry public reaction and even some calls for Harwell to lose his job. But Ernie stood by his selection of Feliciano and weathered the controversy.
Though Harwell felt fortunate to work alongside a number of good broadcast partners in Detroit, his longest professional association began in 1973 when he was teamed with Paul Carey. Ernie and Paul worked together for 19 seasons. In sharp contrast to later Tiger broadcasters, there was very little on-air banter between the two. Harwell worked the first three and last three innings and rarely commented during Carey's middle three innings of play-by-play. Harwell explained this in an April 5, 1987, Detroit Free Press article, saying, "I talk enough during six innings. That's the way I feel about it. With Paul I don't want to interrupt the flow of his game. There are so many times guys come in just to be coming in and we just try to avoid that." Reflecting on their approach in a 2005 interview, Ernie said, "I guess our philosophy was we were there for each other, but we didn't do a lot of chit-chat. If there was a pitching change and Paul was on the air, I'd probably come in and give some other scores or make some comments—or vice versa. I think if anything really significant happened that we felt like needed discussion, we would discuss it. But we didn't talk about stuff after every pitch like some of the guys do now. We concentrated on the game."
Though the two had little on-air conversation, they were known for having a good working relationship. Carey told Detroit Free Press sportswriter Joe Lapointe in 1987, "Basically what it comes down to is we have very different personalities. And I think that's why it works well. I'm a fretter and a worrier. I like the responsibility of the small details. I think Ernie does not. Ernie would like to come in and enjoy the overall atmosphere of the ballpark. Ernie feels that everything is going to come out all right." Carey said in all their years together, they had never had an argument. "I've never had a harsh word between us. I don't think anybody ever has arguments with Ernie Harwell. I have a temper. People might get mad at me. But I don't think anybody could ever get mad at Ernie Harwell."
While still covering the Tigers every day during the regular season, Harwell was no stranger to network baseball audiences at All-Star or postseason time. Ernie broadcast the 1958 and 1961 All-Star games for NBC Radio. He covered many American League Championship Series on CBS Radio from the mid-1970s to the late 1980s as well as providing play-by-play for NBC radio during the 1963 and 1968 World Series.
Harwell was also a football voice as well, working Baltimore Colts games during the 1950s. After his arrival in Detroit, Harwell covered football for one more year (1963) as a voice of the Michigan State Spartans. Asked by Lynn Henning in 2002 if he felt his style was better suited to baseball than football, Harwell said, "I probably fit it [baseball] better than I did with football. There were some people in my early days who thought I was a better football than baseball broadcaster. I think, in football, it moves along, and if you have an authoritative voice, and don't correct yourself and can call the play quickly, and beat the crowd noise, you can be a great football announcer. Nowadays they have a lot more advantages. They can look at videos, at replays. I enjoyed football, but baseball is a better game for radio than any other sport."
On August 2, 1981, Harwell was presented with the Ford Frick Award by the National Baseball Hall of Fame. Ernie was only the fifth broadcaster to receive the honor, and the first living broadcaster—let alone active broadcaster—to be selected. In his acceptance speech, Harwell was modest about his accomplishments, saying "I know that this is an award that is supposed to be for my contribution to baseball. But let me say this: I have given a lot less to baseball than it's given to me. And the greatest gift that I've received from baseball is the way that the people in the game have responded to me with their warmth and their friendship."
After the 1990 season, the 72-year-old Harwell tried to negotiate for three more seasons as a Tigers broadcaster. However, he was flatly told by Tigers president Bo Schembechler that radio station WJR and the Tigers wanted Harwell to broadcast for just one more year and then announce his retirement. The Tigers and WJR refused to allow Harwell to go on broadcasting beyond 1991.
Announcing his firing at a December 19, 1990, press conference, Harwell said, "I wanted to go on longer, but they decided they didn't want me to go on longer. Bo was very forthright. He told me, 'We don't want you to come back.' I have no bitterness. I was surprised when the one-year deal came up. My health is fine." Harwell was quoted as saying in the Detroit News, "I was told they wanted to go in a different direction. I would have preferred to have the decision on my shoulders rather than have somebody tell me."
Schembechler countered that Harwell was asked to retire because the team and the radio station were afraid he would retire suddenly and they would be left scrambling to find a replacement. The December 20, 1990, edition of the Detroit News quoted Schembechler as saying "It's our judgment that he's coming down close to the end of his career. We didn't want to have to go out and search." However, Schembechler's explanation rang hollow with fans. Reaction from the public was swift and negative—shock and anger. Former Tigers pitcher Denny McLain called the move "classless and gutless." A volunteer at a Grosse Pointe hospital told The Sporting News that when the nuns working there heard of the Harwell firing "they said some words I didn't think they knew." It was a public relations disaster for the team and the radio station.
Harwell, while hurt by the firing, harbored no bitterness about it. A deeply spiritual man, he preferred to forgive and move on. After an emotional farewell to Tigers fans at the end of the 1991 season (as well as to radio partner Paul Carey, who had announced his retirement that year), Harwell found work elsewhere in 1992. Broadcasting 14 games on radio for the California Angels as well as CBS Radio's Game of the Week, he found he missed covering one team day after day. He told Detroit News reporter Dave Dye in 1993, "Working for CBS was great. I think it gave me an added dimension. But I don't think there's anything an announcer enjoys more than being with one team. You do a much better job when you're there every day. As a national announcer, you don't have the familiarity or the feeling for a team as a guy that is there all the time."
After Michael Ilitch bought the Tigers in 1992, he asked Harwell to come back for one more season as a radio voice of the team. Working with Rick Rizzs and Bob Rathbun, Ernie provided play-by-play for the third, fourth, and fifth innings of Tigers broadcasts during the 1993 season. Originally planning to retire after that season, Harwell was persuaded to come back the following year on TV. Joining 1968 Tigers alumni Jim Price and Jim Northrup, Harwell became a member of the Tigers' cable broadcasting crew on PASS (Pro Am Sports System, a pay-cable channel) in 1994. That season, he appeared in 25 PASS telecasts providing play-by-play for the first three and last three innings.
Harwell continued covering Tigers games for PASS (and eventually for over-the-air station WKBD) through the 1998 season. He returned to WJR-AM for the final season at Tiger Stadium in 1999 and provided continuity in the narration of Tiger games as the team moved to Comerica Park. In 2002, at age 84, Harwell announced he was retiring. The season became one long goodbye. In each city that the Tigers visited Harwell was honored. In most visiting stadiums, he was asked to throw out the ceremonial first pitch. In Cleveland, the visitors' broadcast booth was renamed in his honor. Comerica Park's press box was renamed the Ernie Harwell Media Center. The respect and appreciation shown to Harwell by the fans and the teams were reminiscent of the outpouring from the fans when it seemed that 1991 would be the final year of his career. The only difference was that this time Ernie was leaving of his own accord.
When the Tigers played their last game, in Toronto, that season, Ernie signed off saying, "I have just finished my baseball broadcasting career. And it's time to say goodbye, but I think goodbyes are sad and I'd much rather say hello. Hello to a new adventure. I'm not leaving, folks. I'll still be with you, living my life in Michigan—my home state—surrounded by family and friends. And rather than goodbye, please allow me to say thank you. Thank you for letting me be part of your family. Thank you for taking me with you to that cottage up north, to the beach, the picnic, your work place and your back yard. Thank you for sneaking your transistor under the pillow as you grew up loving the Tigers. Now I might have been a small part of your life. But you've been a very large part of mine. And it's my privilege and honor to share with you the greatest game of all."
After his retirement, Harwell returned to the booth on a few special occasions. During the 2006 AL Division Series between the Tigers and the Yankees, he provided a few innings of play-by-play over the Tigers radio network and ESPN. "I'm going to drop in for a bit," he said. "I'm so honored. Anything they want me to do suits me fine. It's nice to be thought of again." In May 2007, Harwell joined Mario Impemba for a few Tigers games on Fox Sports Net Detroit. Outside of baseball, he still keeps busy as a spokesman for Blue Cross/Blue Shield of Michigan. Harwell said in 2006, "I'm fine and I'm working hard. I've got a ten-year contract with Blue Cross/Blue Shield with a ten-year option, so I've got to live to be one hundred and six." He laughed, "I'm going to do that or die trying."
In 2009 Harwell announced that he was battling cancer and had just months to live. He died May 4, 2010, at at his home in Novi, Michigan, with his wife Lulu at his side. He was 92.
An updated version of this biography appeared in "The Team That Time Won't Forget: The 1951 New York Giants" (SABR, 2015), edited by Bill Nowlin and C. Paul Rogers III. It originally appeared in "Sock It To 'Em Tigers: The Incredible Story of the 1968 Detroit Tigers" (Maple Street Press, 2008), edited by Mark Pattison and David Raglin.
Sources
Carneal, Herb, and Stew Thornley. Hi Everybody! Minneapolis: Nodin Press. 1996.
Harwell, Ernie. Life After Baseball. Detroit: Detroit Free Press. 2004.
Harwell, Ernie. Tuned to Baseball. South Bend, Ind.: Diamond Communications. 1985.
Keegan, Tom. Ernie Harwell: My Sixty Years in Baseball. Chicago: Triumph Books. 2002.
Kell, George, and Dan Ewald. Hello Everybody, I'm George Kell. Champaign, Ill.: Sports Publishing. 1998.
Patterson, Ted. The Golden Voices of Football. Champaign, Ill.: Sports Publishing. 2004.
Crowe, Steve. "Harwell succeeds Kell as Tigers' TV Voice." Detroit Free Press, March 8, 1997, p. 1A.
Dye, Dave. "Say It Isn't So, Bo: Tigers did Harwell wrong." The Sporting News, December 31, 1990, p. 3.
Dye, Dave, and Bill Halls. "Harwell joins Price, Northrup on PASS." The Detroit News, April 19, 1994, p. 4C.
Green, Jerry. "Tigers, Ernie Harwell call it quits." Detroit News, December 19, 1990, pp. 1A and 4A.
"Harwell back in a familiar chair." Detroit News, March 4, 1993, pp. 1C and 6C.
"Harwell to call two games." Grand Rapids Press, May 22, 2007, p. D1.
Henning, Lynn. "Ernie Harwell Signs Off, Detroit will miss man, voice. Retiring Tigers announcer regards fans, city fondly." The Detroit News, September 26, 2002, p. 1F.
"Insiders Say." The Sporting News, December 31, 1990, p. 3.
Lapointe, Joe. "Ernie and Paul: Together 15 years and still in tune." Detroit Free Press, April 15, 1987, pp. 9E and 11E.
Parker, Rob. "Harwell leaves booth with class." The Detroit News, September 30, 2002, p. 1D.
Reidenbaugh, Lowell. "Reichler, Richman Saluted as Winners of Spink Award." The Sporting News, August 15, 1981, p. 30.
Spadafore, Jim. "Harwell makes return in visitors' radio booth." Detroit News, May 5, 1992, p. 5C.
Spoelstra, Watson. "Harwell-Kell Combo Will Air Tiger Tilts." The Sporting News, October 21, 1959, p. 18.
Spoelstra, Watson. "Kell Will Return to Motor City Mike." The Sporting News, February 13, 1965, p. 9.
VanOchten, Brian. "Sound familiar? Ernie's back at mike tonight. Harwell will join ESPN, radio announcing teams for guest appearance." Grand Rapids Press, October 6, 2006, p. E2.
Bohn, Matt. Phone interview with Ernie Harwell, June 29, 2005.
Bohn, Matt. Phone interview with Ray Lane, June 28, 2007.
Born
January 25, 1918 at Washington, GA (US)
Died
May 4, 2010 at Novi, MI (US)
If you can help us improve this player's biography, contact us.
http://bioproj.sabr.org/bp_ftp/images3/HarwellErnie.jpg
600
800
admin
/wp-content/uploads/2020/02/sabr_logo.png
admin
2012-01-08 21:23:18
2012-01-08 21:23:18
Ernie Harwell