---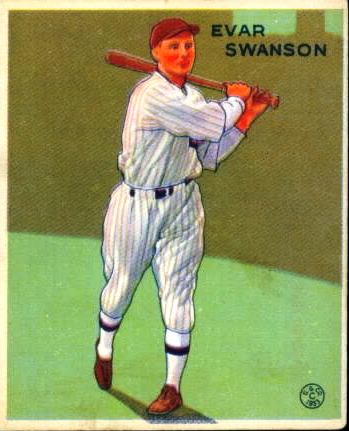 Back in the old days, teams used to have field days. They'd have events like longest fungo hit or throws from the catcher's box through a hole in the bottom of milk pail propped up at second base. The only one of these that is still done regularly is the home run derby. Chicks dig the long ball. Evar Swanson was a multi-sport athlete over 70 years ago who still holds one of these field day records.
Ernest Evar Swanson was born in DeKalb, Illinois, on October 15, 1902. His father was a brick mason born in Karlshamn-Blekinge, Sweden, named Abraham, and his mother was the former Anna Gustaffson. There were five sons and one daughter in the family: Evar, Carl, Roy, Dave, Everett, and Millie. Evar was the eldest and acted as interpreter for his immigrant parents. They grew up in a house on Lewis Street that Abraham built. DeKalb was sometimes known as the Barb City in reference to the barbed wire that was manufactured there. One of Swanson's after-school jobs was delivering groceries for the Barb City Grocery.
After attending and graduating from DeKalb High School, Evar attended Lombard College in Galesburg (home of Carl Sandburg.) He was an excellent student-athlete. Swanson won two scholarship medals and lettered each year in baseball, basketball, football, and track. He set school records in 100 and 220-yard dashes. He played all five positions in hoops (despite being only 5'9″ and 170 pounds). Despite never playing football in high school, Swanson scored 109 points as an end in 1921. Lombard was quite a little football powerhouse in those days. In Swanson's first three seasons, their only loss was to Knute Rockne's Notre Dame and the Four Horsemen. The "Olive and Gold" football team of Lombard College took on Notre Dame in South Bend on October 6, 1923.
Galesburg historian Tom Wilson wrote, "Notre Dame won 14-0, however, thousands proclaimed that Lombard College had indeed won a moral victory."
Later in the season Knute Rockne and the Notre Dame team passed through Galesburg by train on the way to a game with the University of Nebraska, where the Irish suffered their only loss of the season, 14-7. The train was held over at the Galesburg Train Depot as Rockne held an impromptu press conference for the local news media. "'The only reason I came out here tonight is to pay tribute to the best football team Notre Dame has played this year – Lombard College.' At the conclusion of the season the Notre Dame players chose Evar Swanson and Rody Lamb of Lombard for their All-Opponent squad."
On the diamond, Swanson pitched a no-hitter against Lake Forrest College as well as twice missing a perfect game by one batter. He also played outfield between mound appearances. At one point in the spring of 1923 he was hampered by an arm injury; a problem that would continue to plague him even beyond his playing days.
After graduating, he played for nearby Moline in the Mississippi Valley League for a couple of months. He was then sold to the Vernon Tigers of the Pacific Coast League. That fall he also played for the Milwaukee Badgers of the nascent NFL. While records are sketchy, he had at least 18 receptions including 3 for touchdowns, as well as two interceptions. Swanson continued to play pro football through 1927. He started the next year with the Rock Island Independents before moving to the Chicago Cardinals for the rest of the year and his career. 1925 was the year that the Cardinals won a tainted championship over the Pottsville Maroons. In '26 Hall of Famer Paddy Driscoll left, and the Cards weren't going anywhere. Swanson wound up playing some backfield as well as punting and kicking extra points and field goals. Teams spread out kicking duties back then. They also had rough schedules. Sports weren't permitted in Pennsylvania on Sundays in those days, so teams had to play the Frankford Yellowjackets on Saturdays. They often followed this with a game the next day. This was before two-platoon football. The Chicago Cardinals once played four games in eight days.
Meanwhile, Swanson continued to have a summer job on the West Coast. He played part time with Vernon in the Los Angeles area. Swanson moved with the team to San Francisco when they became the Mission Reds. They taught him to switch hit in the PCL to take advantage of his foot speed (although he never hit lefty in the majors.) He didn't hit for much power, but he displayed his speed by leading the PCL in steals in 1926 and in 1928.
This earned Swanson a major league look by the Cincinnati Red Legs in 1929. He was a leadoff hitter for that year and part of the next. The Reds were an awful team and finished in seventh place both seasons. On Sunday, September 15, 1929, there was a field day held at Crosley Field between games of a Reds-Braves doubleheader. The club offered $100 if anyone could circle the bases from a standing start in less than 13.8 seconds and beat Hans Lobert's 19-year-old major league record. Among the participants were Swanson and outfield mate Ethan Allen. Like his teammate, Allen was a sprinter in college. Swanson was able to circumnavigate the bases in full uniform in 13.4 seconds. This tied a record that Maurice Archdeacon set eight years earlier at Rochester in the International League. (Marty Hogan of Indianapolis in the Western League was credited by some sources for circling the bases in 13.2 seconds in 1898. Ben Morgan of the National Association may have disputed that claim when doing a study of field day records.)
A sore shoulder shortened Swanson's 1930 season. He missed much of spring training and part of the season and only appeared in 95 games. But he was picked up in November by Columbus of the American Association to be their center fielder in 1931. While in Columbus he was involved in another field day on September 21st at Neil Park in the Ohio capital. This time he circled the bases in 13.2 seconds. To this day that record stands, although there is an unverified claim that Cool Papa Bell broke the 13-second barrier during his career. Over the years some players have come close. Maury Wills circled the bases in 13.4 seconds in 1953. George Case and Cliff McClain did it in 13.5. But no one has bested Swanson's record.
In 1932, Swanson knocked in 131 runs for Columbus and was traded by the parent Cardinals to the White Sox on September 11th for players to be named later. Jack Rothrock and Carey Selph went the other way after the season to complete the deal.
Again he was tabbed for the leadoff spot. He scored 102 runs in '33 (both seasons that he played over 140 games he topped the century mark in runs scored.) He rejoined the Chicago in 1934, but problems with his throwing arm ended his career. Later in life, he couldn't teach his sons how to throw or play catch with them.
What kind of player was he? Fast, obviously. He stole 33 bases in 1929. He could take a pitch, walking 93 times in 1933. He had little power, but he was a very consistent hitter. In five major league seasons his batting average ranged from .298 to .309. While he gave up football after leaving the Cardinals, he played for his own independent basketball team in the winter months.
After his playing career ended he returned to his adopted hometown of Galesburg. Swanson had a wife and son at the time. He met Sara Willits while they both attended Lombard College. At the time, she couldn't attend the school while married, so they eloped in 1926. In 1929, they had a son named Courtney. A second son named David was born in 1936.
Swanson continued to play baseball for some local semi-pro teams as well as basketball in the off-season. He was involved with the community and its government and became postmaster in 1958, keeping that job until 1972. Before that, Swanson owned a grocery store in town. Enos Slaughter had married a woman from the area, and Evar's son Dave recalls the ballplayer visiting Swanson's store. In 1947, he received a $10,000 offer to coach the Caterpillar Dieselettes women's softball team in nearby Peoria. But he turned it down because the grocery business was more stable and lucrative. For a while, Jimmy Foxx ran a restaurant in town, and Swanson would eat there. Evar may've watched Jim Sundberg play for Galesburg High. He helped start the Galesburg Little League just a few years before that. Swanson died of a heart condition on July 17, 1973. In 1992, his sons started awarding a scholarship in his name at his alma mater DeKalb High.
With his lack of power and speed of foot, Swanson may have been better suited for the Deadball Era or the 1960s. Nevertheless, he set a record that may never be broken, since field days have gone the way of the dodo bird.
Sources
Evar Swanson Collection, National Baseball Library, Cooperstown, New York.
Galesburg (Ill.) Register Mail, 2007-2008.
The Sporting News 1926-1992
e-mail correspondence with Dave Swanson June 20 and July 6, 2008
http://www.baseballlibrary.com
http://www.pro-football-reference.com
Carroll, Bob, Michael Gersham, David Neft, and John Thorn. Total Football. New York: Harper Collins, 1997
Special Thanks to Chris Jaffe.
Born
October 15, 1902 at DeKalb, IL (USA)
Died
July 17, 1973 at Galesburg, IL (USA)
If you can help us improve this player's biography, contact us.
/wp-content/uploads/2020/04/no-bio.jpg
600
800
admin
/wp-content/uploads/2020/02/sabr_logo.png
admin
2012-01-04 20:31:44
2012-01-04 20:31:44
Evar Swanson