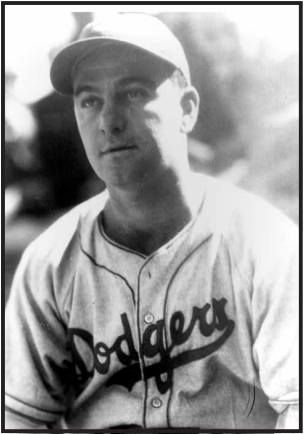 ---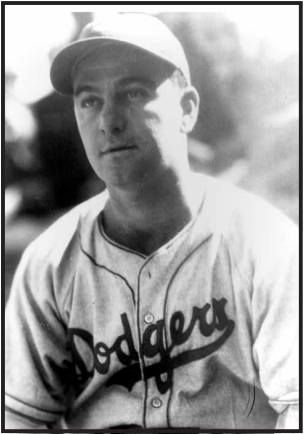 John "Fats" Dantonio is representative of many ballplayers whose promotion to the big leagues was facilitated by the exit of major-league players called into military service during World War II. He was an average minor-league player before the war years, 25 years old with only four professional seasons under his belt when he first appeared in the major leagues at the end of the 1944 season.
In ordinary times Dantonio would have been an unlikely candidate for promotion to the major leagues. However, he was in the right place at the right time with the Brooklyn Dodgers organization. The Dodgers were having a dismal season in 1944. Dantonio was among a group of young upstart players without a wealth of experience who capitalized on the opportunity for his "cup of coffee." Like most teams, the Dodgers were desperate for players during this time, even bringing up a 16-year-old shortstop, Tommy Brown, in 1944. Dantonio spent most of 1945 with Brooklyn and got into 47 games. However, he wasn't able to remain with the Dodgers in 1946 when servicemen returned to the baseball diamonds, and he finished his career in the minor leagues, with only 50 big-league games to his credit.
Dantonio was born in New Orleans on December 31, 1918. His parents, John James D'Antonio and Louise Bourda D'Antonio, were of Italian descent. Dantonio later altered the spelling of his last name, removing the apostrophe. He had a brother, Michael, and a sister, Violet. Dantonio's father was only 24 years old when he died from complications during a tonsillectomy.1 Fats' mother was a secretary for her entire working career. 
Dantonio got his nickname as a boy. A childhood friend, Russell Gildig, had a wiry, thin frame, so to contrast him with Gildig, Dantonio's other friends started referring to him as "Fats," even though he was not, by any reckoning, fat. Later, as a player, Dantonio was listed as 5-feet-8 and 165 pounds, not at all overweight. However, the nickname stuck with him for the rest of his life.2
Dantonio attended Jesuit High School in New Orleans, where he was a member of the 1936 Louisiana state championship team. As a junior, Dantonio hit for a .444 average. The team finished 11-0 and defeated Ouachita for the title, the fifth of Jesuit's seven consecutive state championships.3 His teammates included future major leaguers Connie Ryan and Charlie Gilbert, as well as Jesse Danna, who played in the minor leagues. This Jesuit squad was later rated the best high-school team of all time in New Orleans.4
Dantonio graduated from Jesuit High School in 1937. Attending college was not an option for him, since his family could not afford it.5 Instead he turned to professional baseball in 1938. He played for the Taft Cardinals of the Class D Texas Valley League where he saw considerable playing time and finished with a .324 average for the third-place team.
In 1939 Dantonio signed with the St. Louis Cardinals organization and split his season between two Class D clubs, New Iberia of the Evangeline League and Caruthersville of the Northeast Arkansas League. With New Iberia, he primarily played in the outfield and batted .285 in 24 games. He joined the Caruthersville Pilots in June and played shortstop, batting .393 but making made 33 errors in 68 games. He had the highest batting average in the league, but since he didn't play in the required two-thirds of his club's games, the batting title went to a teammate, Robert Stanton, who hit .340.6 Caruthersville finished first in the four-team league, and Dantonio was named to the all-star team.7
After a season in which he played shortstop and the outfield for Columbus of the Class B South Atlantic League, Dantonio took a step back by playing for Class C Springfield (Missouri) of the Western Association in 1941. At Springfield he began to concentrate on catching. He continued to hit for a high average, but showed little power with only three home runs in 122 games. Dantonio was labeled the league's best catcher,8 although he made 25 errors.
While playing for Springfield, Dantonio met Stan Musial, with whom he maintained a personal relationship after his playing days. Musial, who was 20 years old at the time, was Dantonio's best friend on the team. They both brought their families to Springfield, where they shared an apartment to limit their living expenses. Musial and Dantonio went fishing together in the nearby White River on offdays.9
Musial, who had previously failed as a pitcher, blossomed at Springfield as an outfielder and was playing with the Cardinals by the end of the 1941 season. Another future Cardinals player had a noteworthy connection to Dantonio's Springfield team. Branch Rickey hid from the major-league scouts a 15-year-old phenom catcher from St. Louis named Joe Garagiola. The future major leaguer and sports broadcaster was not officially on the team, but instead was used as a groundskeeper, batting-practice catcher, and clubhouse "gopher."10 Garagiola signed a contract with the Cardinals the following season.
Dantonio was signed by his hometown New Orleans Pelicans,  the Class A1 Southern Association affiliate of the Cardinals, in April 1942 to fill a gap at the catcher position. He and Jerry Burmeister shared playing time. Among the pitchers for the Pelicans with whom Dantonio served as batterymate were New Orleans natives Al Jurisich, Ray Yochim, and high-school teammate Jesse Danna. Dantonio played 57 of his 80 games as a catcher, batting.256.
The war was taking its toll on professional baseball. There was considerable turnover in the Southern Association during the first half of the season. The military draft and the departure of players to take defense-related jobs accounted for many of the player shifts. Initially, married men with children were not drafted into military service, and the Pelicans counted eight fathers among the 16 players on their roster. Dantonio was married but childless.11 However, he had received a medical exemption from military service due to his flat feet and a recent surgery to remove a tumor from his arm.12
Branch Rickey had a personal interest with New Orleans as a Cardinals farm club which stemmed from his relationship with Pelicans owner A. B. Freeman and general manager Charles Hurth.  When Rickey moved to the Brooklyn Dodgers organization after the 1942 season, Pelicans management decided to go along with him and switched their affiliation to the Dodgers. 13 In 1943 Dantonio was working for New Orleans-based Delta Shipyards in a defense-related job, and he joined the shipyard's team in the New Orleans Semi-Professional Baseball League, playing on Sundays.14 Meanwhile, the Pelicans were desperate for players. They re-signed Dantonio in early May as a backup to catcher Marcus Carrola. Because of his defense job, Dantonio could not make road trips.15 He played in only 41 games that season, batting a respectable .299. He continued to play with the semipro Deltas on Sundays even while a part-time player with the Pelicans.
Dantonio returned to full-time status with the Pelicans in 1944. He played in 107 games, batting.327 while sharing playing time behind the plate with Carrola and Mike Ulicny. Seven of the Pelicans' starters were native New Orleanians.16
While Dantonio was having a banner season with New Orleans, the Dodgers were having one of their worst seasons. Manager Leo Durocher fielded a hodgepodge team, after the loss of such front-liners as Dolph Camilli, Billy Herman, and Arky Vaughan from the year before. Four-time All-Star Mickey Owen was the Dodgers' regular catcher, but they also tried Ray Hayworth, Stan Andrews, and 18-year-old Roy Jarvis as backstops. Pitchers Ralph Branca and Cal McLish were only 18 years old, and  16-year-old Tommy Brown was brought up to play shortstop for a brief period. In June and July the Dodgers suffered through a 16-game losing streak. In Durocher's first six seasons as the Dodgers' skipper, the 1944 season was his worst season by far. The Dodgers finished in seventh place with a 63-91 record.
In mid-September, the Dodgers purchased Dantonio and pitcher Fred Wells from New Orleans for the contracts of pitcher Jack Franklin, infielder Clancy Smyres, and cash.17 In normal times, Dantonio would probably have been an unlikely candidate for promotion. After all, just a year earlier he was playing part-time in the minors, as well as in a local semipro league, and he shared playing time with other catchers during the 1944 Pelicans season. However, in a lost-cause season for the Dodgers, Dantonio and Wells attracted the attention of the Brooklyn organization, who wanted to see how they would play under fire. The 25-year-old Dantonio made his major-league debut on September 18 against the Boston Braves. He entered the game after catcher Mickey Owen had been lifted for a pinch-hitter and struck out in his only at-bat. Dantonio played in two other Dodgers games that season.
Dantonio emerged from spring training in 1945 slated for a spot at Double-A (now Triple-A) Montreal, but got a break when the Dodgers learned that Mickey Owen was scheduled for induction into the Navy. Owen began the season as the starting catcher but played his last game of the season on May 24, after which he entered the Navy.18 Durocher made Dantonio the regular catcher, a role he filled during June. However, Dantonio failed to hit consistently and was error-prone as the backstop.
The Dodgers never found a suitable replacement for Owen that season. Mike Sandlock, who began the season as shortstop, started catching on July 3, after Dantonio had washed out. (Besides Sandlock and Dantonio, other Dodgers catchers who saw action in 1945 were Johnny Peacock, Clyde Sukeforth, Stan Andrews, and Ray Hayworth.) The Dodgers loaned Dantonio to minor-league affiliate St. Paul in mid-July as a replacement for the injured Sam Narron, but recalled him (along with Tommy Brown) in early August to finish out the season as a part-time player with the Dodgers.19
On September 15, 1945, Dantonio and several of his teammates escaped a tragic accident when a gasoline truck hit the train taking them from St. Louis to Chicago. The accident occurred at 6:30 A.M. in Manhattan, Illinois. Dodgers coach Charlie Dressen and player Luis Olmo received minor injuries from the accident, while their teammates managed to escape injury. The train's engineer was killed.20
The 1945 Dodgers rebounded from the disastrous 1944 season and finished third behind the St. Louis Cardinals and the pennant-winning Chicago Cubs, largely due to the hitting of Dixie Walker, Goody Rosen, Luis Olmo, and Augie Galan. Dantonio, who had the second-most games started at catcher (36) behind Sandlock (50), hit .250, with no home runs and 12 RBIs in 143 plate appearances. He topped the National League in errors for a catcher with 12, despite his limited action.
At the start of the 1946 season, most of the major-league players who had gone into military service resumed their careers. Instead of returning to the Dodgers, Mickey Owen was among the players who were lured to play in the Mexican League by Jorge Pascual, who was attempting to transform his league into a competitor of Major League Baseball. Twenty-two-year-old Bruce Edwards, who had returned from the Army, became the primary catcher for the Dodgers.  Ferrell Anderson also passed Dantonio on the team's depth chart. Dantonio was relegated to St. Paul of the American Association.
Dantonio played 82 games as catcher as part of his overall 101 appearances for St. Paul. He batted a career-high .306, but his performance didn't secure another stint in the big leagues that season.
Negro Leaguer Roy Campanella entered the Dodgers system in 1946, as Jackie Robinson was breaking baseball's color barrier. Thus, Dantonio had yet another competitor for the Dodgers' catching spots. He played for St. Paul again in 1947. Bruce Edwards returned as the regular Dodgers catcher, with Gil Hodges and Bobby Bragan acquiring backup spots ahead of Dantonio.  Campanella was promoted to Montreal in 1947 and wound up securing the Dodgers' regular catching role in 1948, all but assuring that Dantonio would never play for the Dodgers again.
In December 1947 the Pittsburgh Pirates purchased the New Orleans Pelicans franchise and the contracts of all its players, including Dantonio, who had just re-signed with the Pelicans. Returning to the Pelicans for the 1948 season, Dantonio played in 79 games and batted .247. At age 29, this was Dantonio's last professional season.
After his baseball career, Dantonio operated two New Orleans neighborhood restaurants and bars for more than 44 years.  His childhood friend and former Pelicans teammate Russell Gildig was a partner in one, named Fats and Russ.  Later, Dantonio owned the Crown Tavern. He remained a popular figure in the Crescent City, where he stayed active in local baseball circles by playing in charity games for more than 20 years. He assisted in running the New Orleans Recreational Department baseball leagues and coached various youth teams.21 He started the Babe Ruth League in New Orleans for youths ages 13 to 15.22 
Even though Dantonio had not been a star player, several New Orleans-based organizations honored him for his baseball exploits. He was inducted into the Jesuit High School Hall of Fame and the Diamond Club Hall of Fame,23 as well as the Louisiana American Italian Sports Hall of Fame.24
Dantonio was married to Hilda Rodrigue, and they had three daughters, Joan D. Barrera, Patsy D. Christensen, and Louise D. Salvaggio. They had two sons; both named John, one of whom died a few days after childbirth.25 Dantonio died in New Orleans on May 28, 1993, of an abdominal aneurysm at the age of 74.
Sources
D'Antonio, Michael, Forever Blue: The True Story of Walter O'Malley (New York: Penguin Group, 2009).
Giglio, James N., Musial: From Stash to Stan the Man (Columbia: University of Missouri Press, 2001).
Gisclair, S. Derby, Baseball in New Orleans (Charleston: Arcadia Publishing, 2004).
Graham, Frank, The Brooklyn Dodgers (New York: G.P. Putnam's Sons, 1948).
Johnson, Lloyd, and Miles Wolff, eds., Encyclopedia of Minor League Baseball, Third Edition (Durham, North Carolina: Baseball America, 2007).
Maselli, Joseph, and Dominic Candeloro, Italians in New Orleans (Charleston: Arcadia Publishing, 2004).
McNeill, William F., The Dodgers Encyclopedia (Sagamore, Illinois: Sports Publishing LLC, 2003).
Pietrusza, David, Matthew Silverman, and Michael Gershman, eds., Baseball: The Biographical Encyclopedia (New York: Total Sports Publishing, 2000).
Who's Who in the Major Leagues, 1945.
The Sporting News.
New Orleans Times-Picayune.
Baseball-Reference.com.
Barrera, Joan (John Dantonio's daughter), telephone interview with author, March 31, 2014.
Notes
1 Joan Barrera, telephone interview with author, March 31, 2014.
2 Barrera interview.
4 New Orleans Times-Picayune, July 20, 2003.
5 Barrera interview.
6 The Sporting News, November 16, 1939, 8.
7 Johnson and Wolff, 367.
8 Giglio, 42.
9 Giglio, 49, 52.
10 Giglio, 49, 52.
11 The Sporting News, November 19, 1942, 7.
12  Barrera interview.
13 The Sporting News, April 1, 1943, 2.
14 New Orleans Times-Picayune, May 25, 1943, 22.
15 New Orleans Times-Picayune, May 4, 1943, 10.
16 Times-Picayune, May 14, 1944, 25.
17 Times-Picayune, September 13, 1944, 10.
18 The Sporting News, June 28, 1945, 3.
19 The Sporting News, August 9, 1945, 22.
20 The Sporting News, September 20, 1945, 11.
21  Barrera interview.
22 Times-Picayune, May 31, 1993.
23 Ibid.
24 Joseph Maselli and Dominic Candeloro Italians in New Orleans (Charleston: Arcadia Publishing, 2004), 93.
25 Barrera interview.
Born
December 31, 1918 at New Orleans, LA (USA)
Died
May 28, 1993 at New Orleans, LA (USA)
If you can help us improve this player's biography, contact us.
http://sabr.org/sites/default/files/Screen%20Shot%202016-08-07%20at%204.07.59%20PM.png
600
800
admin
/wp-content/uploads/2020/02/sabr_logo.png
admin
2012-01-04 20:27:32
2020-10-14 11:30:30
Fats Dantonio