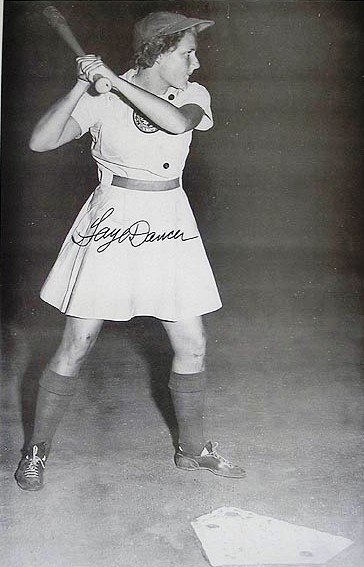 ---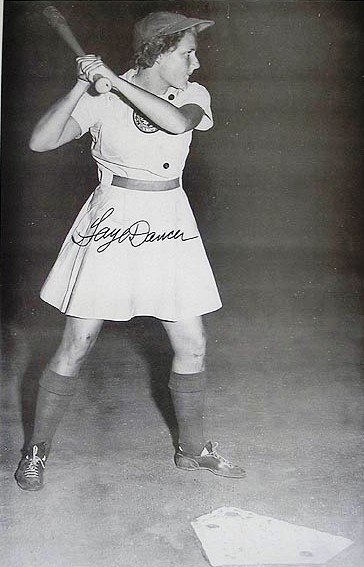 Known as "All the Way Faye" for her exuberance both on and off the field, Faye Katherine Dancer was a complete ballplayer who featured baseball's traditional five tools: she could hit, hit for power, run, throw, and catch. Moreover, she was a fan favorite who thrived in the spotlight and displayed good humor and joie de vivre both on and off the field. Born April 24, 1925 in Santa Monica, CA, she was the youngest of two children born to Lloyd Augustus Dancer and Olive Victoria Pope Dancer.
Dancer grew up excelling in sports, particularly softball, playing on semi-professional softball teams along with LaVonne "Pepper" Paire Davis, with whom she was recruited by Bill Allington for the AAGPBL in early 1944.
The five-foot, six-inch freckled blonde, who batted and threw right-handed, was assigned to the Minneapolis Millerettes in 1944. As an 19-year-old rookie, she batted a career-high .274 (third in the league), with two home runs—both grand slams—a career high 48 RBI, and 63 stolen bases. "She was that rare breed of ballplayer who could lay down a perfect bunt, and then steal second base," recalled "Pepper," "Then, the next time up, she could hit the long ball."
The Millerettes moved to Fort Wayne, Indiana for the 1945 season, and were renamed the Daisies. Dancer played in 108 games, leading the league with three home runs. The Daisies finished in second place in the six-team league, but won their first round playoff series against the Racine Belles, with Dancer hitting .308, with two homers and 8 RBI in the 4-game series. The Rockford Peaches took the championship round, though Dancer kept up her torrid pace, hitting .286 in that series.
Outfielder-first baseman Dancer continued to star for the Daisies in 1946, playing in 110 games and racking up a career high 116 total bases. But Dancer also debuted a new facet of her game, going 10-9 with a 1.93 e.r.a. as a pitcher. Early in the 1947 season, she was traded to the Peoria Redwings along with Alice DeCambra for Thelma "Tiby" Eisen and Kay Blumetta, in the largest trade in league history up to that point.
After a so-so season in 1947, Dancer returned to form in 1948, leading the Peoria Redwings into the playoffs. She recorded career highs in six offensive categories: 122 games, 89 runs scored, 109 hits, 6 home runs, 55 walks, and 102 stolen bases, second only to baserunning wizard Sophie Kurys. Her home run and runs scored totals were also second in the league. A headline from that season reads: "Dancer is High Test Fuel That Makes Wings Explosive." Despite three hits in three games by Dancer, the Redwings were swept in the first round by the Racine Belles.
She did not play in 1949, perhaps due to lingering injuries caused by her all-out style of play. Dancer would slide headfirst—although she was particularly adept at hook slides as well, crash into outfield fences, and dive for balls. One sportswriter dubbed her a "fly catching genius," and "Pepper" recalled that she could fire strikes to the plate from centerfield after catching balls over her shoulder. On the bases, she was aggressive and fearless. "I loved to slide," she once remarked, rejecting the notion that skirted play might cause players to be conservative about hitting the dirt.
She returned to the Redwings in 1950, retiring after the season due to a ruptured disc, caused by sliding. She returned to California and worked as an electronics technician for many years.
The free-spirited Dancer didn't just entertain fans with baseball heroics, however. She also turned cartwheels and caught fireflies on the field, and once called an official timeout to get a drink of water. "I was forever having fun, raising my skirt up for the fans, doing the splits and handstands when the games got quiet," she recalled. "Faye had her share of admirers, but her nickname really came from her all-out style of play," remembered "Pepper." "On the ball field, there wasn't anything she wouldn't do to win."
Indeed, June Peppas recalled a game where she came to bat with two runners on base and down by two runs in the eighth. Peppas belted a home run over the center field wall, to put the Racine Belles up by a run. Or did she? Dancer managed to convince the umpire that the ball had bounced over the fence, and Peppas returned to second with a double and one RBI. Peoria won the game, and later that night at a restaurant, Dancer approached Peppas to apologize for the trick play.
Off the field, Dancer was a merry prankster, who enjoyed initiating new chaperones. She recalled replacing the filling in their Oreos with toothpaste, spreading limburger cheese all over their light bulbs, or smearing peanut butter on their toilet seats. She also kept chaperones and managers busy worrying over her whereabouts, as she liked to go out and drink beer, often enlisting more well-behaved teammates in capers like drinking beer in cemeteries, where no one would come looking for them. She also enjoyed stealing the ubiquitous blowfish which often hung from the ceilings in taverns. Her exits from hotels via fire escapes, and returns via staff elevators were legendary. In the off season, she traveled with Jim Thorpe's all female barnstorming team, the Thunderbirds, members of the National Softball Congress.
Dancer was superstitious, always closing her door three times before a ballgame, and collecting glass eyes from stuffed animals and carousel horses, which she then passed around for good luck. She enjoyed a good rapport with fans, and spoke to them on her way on and off the field. One fan in Peoria, who happened to be a mafia kingpin, took a shine to her and tried to ply her and her family with meals and gifts. "One time he even asked me if I wanted anyone killed," she recalled. "I told him 'Maybe the umpire.'" She added that she made sure he knew she was kidding.
Dancer never married, as the love of her life was killed during World War Two, according to "Pepper." She did settle down, however, and quit drinking almost thirty years before her death. "At some point you make a promise to yourself," she commented. She became a board member of the AAGPBL Player's Association, and served as an advisor for the filming of the movie "A League of Their Own." It was widely reported that she was the inspiration for the character played by Madonna.
In 2000, she was diagnosed with breast cancer, and she died at the age of 77 on May 22, 2002, of complications related to cancer surgery.
In her six-year career, she recorded 488 hits in 591 games. She drove in 193 runs, hitting 53 doubles, 14 triples, and 16 home runs. She tallied 617 total bases along with 352 steals, and her career batting average was .236. As a pitcher in two seasons, she was 11-11 with an e.r.a. of 2.28. "I'll probably be remembered as a crowd favorite, a little crazy," she once said. "I always had fun."
Sources
In preparing this biography, the author relied on Dancer's clipping by at the National Baseball Hall of Fame library in Cooperstown, New York.
Born
April 24, 1925 at Santa Monica, CA (US)
Died
May 22, 2002 at Los Angeles, CA (US)
If you can help us improve this player's biography, contact us.
http://bioproj.sabr.org/bp_ftp/images4/DancerFaye.jpg
600
800
admin
/wp-content/uploads/2020/02/sabr_logo.png
admin
2012-01-08 21:23:23
2012-01-08 21:23:23
Faye Dancer