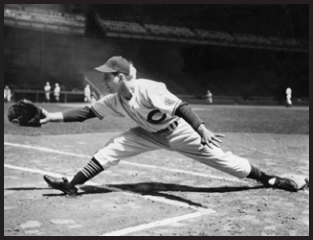 In March of 1935 Mickey Rocco boarded a train in his hometown of St. Paul, Minnesota, headed for Hot Springs, Arkansas, to start his career in professional baseball. The St. Paul Saints of the American Association had offered him a tryout and the opportunity to make the team as a 19-year-old rookie. Sixteen years later, in 1951, he returned to play for the Saints. In the years between he played in 12 different cities, including four seasons in the major leagues with the Cleveland Indians.
Born Michael Dominick Rocco in St. Paul on March 2, 1916, Mickey was the only child of immigrant parents Natale and Rose Rocco. Natale had come to the United States from Italy in 1910, eventually settling in St. Paul. His mother, Rosina Campolong (Rose), had immigrated and settled in St. Paul with her family in 1894. Natale and Rose were married on February 15, 1913. They became US citizens in 1919. Natale worked at various jobs, including a stint working for a mining company in northern Minnesota, and as a grocery-store owner in St. Paul. After Prohibition ended, he operated a tavern on the north side of St. Paul for 30 years.
Mickey attended Central High School in St. Paul, where he played basketball and baseball. A devoted student of the violin, he played in the school's orchestra. In the summer of 1934 scouts started to take notice of Mickey's hitting and pitching while he was playing in the St. Paul Municipal League, where he hit .314 and struck out 89 batters in 81 innings as a pitcher that summer.1 In August he was one of 30 youths from across the state invited by the Minneapolis Millers to a baseball school at Nicollet Park in Minneapolis.
When the 5-foot-11, 188-pound Rocco joined the Saints in Hot Springs, they viewed the lefty as a better hitting prospect than a pitching prospect and used him at first base.2 An ankle injury late in spring training ended any chance he had at making the Opening Day roster. Once the injury healed, the Saints sent him to Portsmouth (Ohio) in the Class C Middle Atlantic League, where he had a good first year, hitting .340 with 11 home runs.
The Saints invited Rocco to spring training again in 1936, before sending him to Knoxville in the Southern Association for the start of the season. After only eight games in Knoxville he was recalled to St. Paul and played in five games before the Saints returned him to Portsmouth in June. In July he pitched in a game against Akron, giving up one hit in 4⅓ innings. He finished the year at Portsmouth, splitting time between first base and the outfield with an occasional appearance on the mound.
In 1937 Rocco had a good opportunity to win a spot on the Saints' roster because incumbent first baseman Phil Todt was a holdout. He had a good spring and appeared to have made the team but at the end of spring training manager Gabby Street decided to stick with Todt. The Saints sent Rocco to Dallas in the Texas League to start the season. He played in 115games for the Steers before they sent him home in September as a cost-cutting move. The Saints recalled Rocco on September 13.
 In 1938 the Saints sold Rocco's contract to Anniston in the Class B Southeastern League. He ended the year playing in 137 games and hitting only .248. Returning to Anniston for another season in 1939, he improved to .318 with 18 home runs and a league-leading 127 runs.3 During his time in Anniston Rocco met his future wife, Helen Harwell. On November 12, 1939, they were married in Anniston before settling in St. Paul for the offseason.
In the spring of 1940 Anniston loaned Rocco to Nashville in the Southern Association when the Volunteers' new first baseman, Sam Leslie, failed to report. Eventually, Anniston officially sold Rocco's contract to the Vols. He had a breakout year with Nashville, hitting .305 with 21 home runs, helping to lead Nashville to the league championship and victory over the Houston Buffaloes, champion of the Texas League, in the annual Dixie Series. After the season Nashville traded Rocco and third baseman Bob Boken to Buffalo for power-hitting first baseman Les Fleming and cash.
Rocco began 1941 as Buffalo's starting first baseman. On June 16 during a game in Rochester, Buffalo manager Al Vincent and Rochester manager Tony Kaufmann got into a fight along the third-base line. As the fight ended, Rocco went into the stands along the first-base line and punched a fan who was too vocal for his liking.4 The league fined Rocco $100. He returned to Buffalo in 1942 and was named to the Northern Division all-star team.5 While leading the league in home runs in late July, Rocco suffered a wrist injury in a collision at first base and missed the final 51 games of the season.
His successful season, along with the player shortage because of World War II, made Rocco an intriguing prospect for major-league teams. His not being under contract with a major-league organization made him a valuable asset to Buffalo. His 4-F draft status made him even more attractive to major-league teams. In December 1942 trade rumors had Rocco going to the Brooklyn Dodgers.6 In March trade rumors had him going to the New York Giants as a replacement for Johnny Mize, who was in the Army.7
But no deal was made. Rocco started the 1943 season with Buffalo and was in one of the worst slumps of his career when Cleveland acquired him in early June for catcher-first baseman Otto Denning and infielder Eddie Turchin. He joined the Indians in Philadelphia, where they were facing the Athletics. Playing first base and hitting sixth in the lineup, Rocco went 2-for-4 with a double, a triple, a run scored, and an RBI in his majorleague debut on June 5. He remained a fixture at first base for the rest of the season except for when a back injury kept him out of the lineup for five games in late August. Earlier that month his father traveled to Chicago and saw him get 9 hits in 13 at-bats. Rocco played in 108 games for the 1943 Indians, all at first base. Manager Lou Boudreau was impressed with his defense; he tied Joe Kuhel of the White Sox for the league lead among first baseman with a .995 fielding average. His offense still needed some work; he hit only .240 with 5 home runs and 46 RBIs. However, he had a good eye and reached base at a respectable .328 clip.
After the season rumors had the Indians trading Rocco to the Athletics for Dick Siebert.8 The two sides could not agree to a deal, though, and Rocco remained with the Indians. He spent the offseason working as guard at the Northwest Airlines plant in St. Paul as well as in his father's tavern. In January 1944 Rocco's draft board in St. Paul reclassified him 1-A. He believed he would make a good sailor and planned to join the Navy. However, in February he failed his physical due to a stomach ailment, and was reclassified 4-F.9  A foot injury suffered in a volleyball game near the end of spring training was a minor setback from which Rocco quickly recovered. In late July he started a stretch where he reeled off hits in 20 of 21 games. Playing in all 155 of the Indians' games (the team played one tie), Rocco led AL first basemen in both chances and assists, and finished third in the league with a .994 fielding average. He improved his numbers offensively to .266 with 13 home runs and 70 RBIs.
In the spring of 1945 Rocco held out through most of spring training trying to get a better contract from Indians vice president Roger Peckinpaugh. Mickey stayed in shape by working out at the University of Minnesota until he finally reported to the Indians training camp in Lafayette, Indiana, on April 5 after coming to terms on a contract.10 He was immediately installed as the starting first baseman. In June manager Lou Boudreau fined Rocco, Paul O'Dea, and Dutch Meyer for indifferent play.11 In July a back injury limited Rocco's performance and it flared up again in early September, causing him to miss a few games. In a doubleheader on Sunday, September 9, before a standing-room crowd of 72,152 at Yankee Stadium—Bob Feller was making his first appearance at the Stadium since before the war—Rocco had one of the most memorable days of his career.12 In the first game he helped lead Feller to a 10-3 win by going 3-for-5 with three runs scored and a home run. In the second game, a 4-3 win for the Indians, Rocco hit his second home run of the day. He ended the season playing in 143 games and leading AL first basemen in fielding (at .992) while batting .264 with 10 home runs.
In 1946 the 30-year-old Rocco once again held out before reporting to spring training in Clearwater, Florida, giving Les Fleming the advantage in the competition to win the Indians' first-base job. Rumors persisted of a trade, including one that would send Rocco to the St. Louis Browns.13 There was also speculation that he would jump to the Pasquel brothers' Mexican League.14 A broken bone in his foot near the end of spring training kept Rocco out for the beginning of the season. When healthy, Rocco played sparingly behind Fleming. He did not make a start at first base until May 6 in Washington.
In June Bill Veeck purchased the Indians, and his first player transaction was to trade Rocco to the Chicago Cubs for Heinz Becker on the 26th. After the trade Rocco balked at reporting to the Cubs' Double-A affiliate in Nashville. He felt that he deserved to play at a higher level and returned home to St. Paul to consider his options. On July 15 Rocco accepted the trade and reported to the Vols. A foot injury limited his play at Nashville to 37games. After the season Los Angeles of the Pacific Coast League purchased his contract. And in November the Boston Red Sox selected Rocco in the majorleague draft.
Rocco went to spring training with the Red Sox in 1947 and competed for the first-base job with Rudy York. A big spring by York won him the job and the Red Sox optioned Rocco to Seattle, keeping his rights rather than selling him outright.15 Mickey had a good season, playing in 144 games and batting.300 with 18 home runs and 99 RBIs. In September the Red Sox called him up and later traded him to the San Francisco Seals of the PCL.16 
Rocco won the starting first-base job at San Francisco and 1948 turned out to be his most productive offensive year. In August he started at first base for the South team in the PCL all-star game. A back injury kept him out of the final five games of the season but he still managed to lead the Seals with 27 home runs. His 149 RBIs also led the team and were good for third place in the PCL.
Rocco returned to San Francisco for the 1949 season. In a game in early April a groundball took a bad hop and caught him the face. He was treated at a hospital for a black eye and banged-up nose.17 He made a second trip to the hospital a few weeks later when a ricocheted foul ball caught him on the heel, resulting in a bad bruise. Rocco still managed to play in 163 games and hit 25 home runs with 114 RBIs. The team had a poor season, however, and changes were in order.
In January of 1950, San Francisco sold Rocco to Portland for cash. He entered spring training in a battle with Vince Shupe for the first-base job. On Opening Day Rocco was the starting first baseman, bringing extra power and experience to the lineup. He started the season well and started for the North squad in the PCL all-star game, going 3-for-4 with a double and triple. On July 21, in a game at Oakland, Oaks catcher Eddie Malone complained to the umpire that there were nails in Rocco's bat. Rocco got a new bat from the dugout and returned to the plate. He had a few words for Malone and a bench-clearing brawl followed that resulted in both players being ejected from the game.18 In August Rocco fouled a ball off his ankle and missed some time. He had another productive season, though, playing in 183 games hitting 26 home runs with 108 RBIs.
In March of 1951 Mickey drove from St. Paul to Riverside, California, for spring training even though he had yet to sign a contract. His holdout continued until the second game of the season when he signed a contract on the back of a letter in the locker room before the game.19 The holdout may have contributed to a slow start. In May Portland sent Rocco (hitting .177) to Kansas City in the American Association on a 30-day look. On May 25 Kansas City returned him to Portland, which sold his contract to St. Paul on another 30-day look. He finished the season with his hometown Saints. His three-team batting average was .219.
In April 1952 the Saints loaned Rocco to the Brooklyn Dodgers and he spent some time traveling north with them after Gil Hodges hurt his thumb. He returned to St. Paul on April 14 to begin the season; he played sparingly and after 23 games was released on May 30. On June 6 Rocco signed with Springfield of the International League. He started strong, hitting three home runs in his first three days with the club. A pulled muscle in his back limited his play in late July and early August. After an unremarkable season, Springfield released the 36-yearold Rocco in October.
With no offers to play in Organized Baseball, Rocco planned to catch on with Mankato in the semipro Southern Minnesota league. But after a few games he was ruled ineligible to play because the league barred anyone who had played in Double-A or higher until 13 months after his last game. Rocco played out the season with the Minot Mallards and Winnipeg Royals in the ManDak League.20
After the 1953 season Rocco returned to St. Paul and worked as a liquor salesman for Distillers Distributing and Old Peoria. He stayed involved in baseball by coaching city-league and senior-league teams in the 1950s and American Legion teams in the 1960s. A Rosetown team he coached won the Minnesota Legion championship in 1965.
Rocco's wife of 27 years, Helen, died in 1967; they had three children, Roxanne, Michael, and Barbara. On November 11, 1971, he married Irene Strombeck. He enjoyed golfing and hunting until his death on June 1, 1997, at 81 in St. Paul. He is buried at Roselawn Cemetery in Roseville, Minnesota.
This biography originally appeared in "Who's on First: Replacement Players in World War II" (SABR, 2015), edited by Marc Z. Aaron and Bill Nowlin.
1. Gordon Gilmore, "Saints to Take 3 Sand Lotters on Spring Trip," St. Paul Dispatch, January 13, 1935.
2. Francis Feighery, "Rocco is Playing 18th Year in Pro Baseball," Springfield (Massachusetts) Sunday Republican, July 13, 1952, 7B.
3. "Jungman Really 'Old Man Swat' with .359 Mark in Southeastern," The Sporting News, January 4, 1940, 7
4. "Punishment Asked for Bisons' Rocco/Red Wing President Asks Shaughnessy to Act in Player-Fan Fight," Montreal Gazette, June 17, 1941, 16.
5. "On All-Star Team," Ottawa Citizen, July 4, 1942, 15.
6. Sam Levy, "On the First Bounce: Cubs Have Material," Milwaukee Journal, December 13, 1942, 39.
7. Eddie Wade, "Rocco of Buffalo Sought By Giants for Mize's Job," New York Post, March 26, 1943, 5B.
8. "Trade Winds Blow in Major Loops as Landis Wins Another Round," Montreal Gazette, December 3, 1943, 16.
9. "Rocco's Rejection Gives Indians 13 Players Classified 4-F in Draft," Cleveland Plain Dealer, February 18, 1944, 12.
10. Alex Zirin, "Holdout Fight Is Ended by Mickey," Cleveland Plain Dealer, April 5, 1945, 16.
11. Alex Zirin, "Boudreau Slaps Fines on 3 Men/Rocco, Meyer, O'Dea Hit for 'Indifferent Play,' " Cleveland Plain Dealer, June 22, 1945, 14.
12. Dennis Lustig, "Whatever Happened to … Mickey Rocco?," Cleveland Plain Dealer, May 4, 1970, 4E.
13. Alex Zirin, "Center Stars as Tribe Tops Yanks," Cleveland Plain Dealer, March 26, 1946, 15.
14. "Stephens Jumps Back, But Butcher Readies Leap," Brooklyn Daily Eagle, 1.
15. "Seattle Gets 1st Baseman From Boston," Seattle Times, April 27, 1947, 29.
16. Jim McGee, "O'Doul Quits Glass Polishing to Give More Polish to Seals," The Sporting News, December 3, 1947, 19.
17. "Rainer Home Runs Rout Seals, 13 to 8/Guy Fletcher Tires, But Goes Route," Seattle Times, April 10, 1949, 37.
18. "Nails in a Bat Cause Fight Between an Oak and Beaver," The Sporting News, August 2, 1950, 28.
19. L.H. Gregory, "Greg's Gossip," The Oregonian (Portland), April 4, 1951, 1
20. Glenn Flynn, "Mickey Rocco Hopes to Help Royals Roll," Winnipeg Free Press, June 27, 1953, 22.