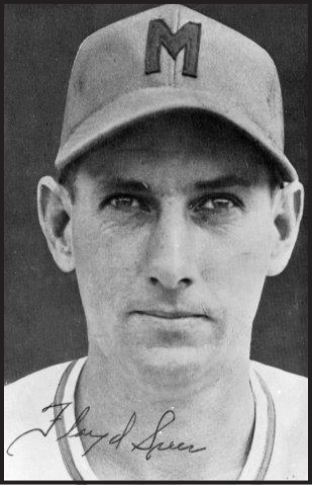 ---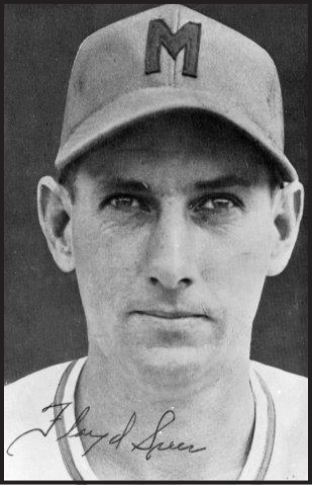 At first glance, the 16-year baseball career of Floyd Vernie Speer doesn't seem to amount to much. Appearing briefly in only three major-league contests, he could barely qualify as having a cup of coffee in the bigs. Even his major-league debut was inauspicious. It came on Sunday, April 25, 1943, with the Chicago White Sox under the purview of manager Jimmy Dykes. Speer, age 30 and wearing uniform number 29, came on in relief in the seventh inning at Sportsman's Park in St. Louis. Standing in at an even 6 feet and 180 pounds, the husky Speer took over for Orval Grove in the seventh inning with the Browns ahead, 4-1. He surrendered two walks, a hit, and a run in his single inning of work in his only appearance for the White Sox that year.
At the time of Speer's major-league debut, the US was in the thick of World War II and ballplayers were entering the service in droves. The war affected life in many ways across the country, including at the ballpark. At the start of the 1943 season, even New York fans were forced to adapt: Yankee Stadium was missing the hot-dog vendor, likely as much a result of the meat shortage as a shortage of the vendors themselves.1
Yet the cry "Keep 'Em Playing" was the consensus from sea to shining sea, as one active-duty soldier wrote in a 1943 issue of The Sporting News. "Keep 'em playing? If you ask the men in the service, they'll tell you there is no question about it. They say we MUST keep 'em playing."2
Key players were affected, as well. Just before the start of the 1943 season, the White Sox received a telegram informing them that two members of the club would be elsewhere: third baseman Dario Lodigiani, who batted .280 in 59 games in 1942, was at an Army camp in Sacramento, California, and utility infielder Leo Wells was in the Coast Guard, stationed at Oakland, California. New opportunities opened for other players, but the atmosphere in pro ball at the time was tenuous for fans, players, and management alike.
Speer was among those who stayed behind, filling in for the players who, in many cases, sacrificed their baseball careers for a chance to serve their country. While he did not significantly impact baseball at the major league-level, Speer used his baseball skills to improve his lot in life, living the dream of making it in "the bigs" by following in the footsteps of his boyhood idol Dizzy Dean.
Floyd Speer was born on January 27, 1913, near Booneville, Arkansas, population 4,000, "at the foot of the picturesque Ozark Mountains." Some 20 miles west-southwest of the town lies the city of Lucas, the birthplace of Dizzy Dean. Longtime New York Yankees infielder Aaron Ward, whose 12-year major-league career began in 1917, was also a Booneville native.
Speer was born to Lee Speer, 32, a "general farmer"3 who hailed from Texas, and Alabama native Nettie (Cobb) Speer, 40. According to the 1920 US Census, 6-year-old Floyd was part of an 11-member household ranging in age from 4 (Lorene, likely a sister) to 70 (Sarah Walton, an aunt). Loyd Speer is listed as Floyd's twin brother; neither of the twins are listed as being able to read or write at age 6. Floyd's eldest sibling was Robert, 17, while next in line was Thomas, 15. His sister Anna was 13, while another brother, Clem, was 12. Their paternal grandmother, Betty Speer, was among the household members.
Speer attended Booneville High School, where he played baseball with his twin brother Vernie (Loyd), the club's catcher.
In 1930 the family was living in Elk City, Oklahoma, near the Texas Panhandle, where father Lee was employed as a carpenter. None of the elder members of the family, including Floyd's three eldest siblings, are listed in the census report as living with the Speers at this location.
Speer was married on February 3, 1934, to Rosadell (Rosia or Rosa) D. McConnell, 19, born in 1915 at Petit Jean, Arkansas. By 1935 they were living in Little Rock.4
Speer first pitched professionally at the age of 25 in 1938 with the Hot Springs (Arkansas) Bathers, a Class-C affiliate of the Detroit Tigers in the eight-team Cotton States League. Why he started his baseball career so late is unclear. Speer went 10-13 with a 4.24 ERA and tied 37-year-old player-manager Miles "Spike" Hunter for the club lead in victories. The Bathers, who played at Ban Johnson Field,5 rode the arms of the league's oldest pitching staff to a last-place finish with a record of 45-91.6
In 1939 Speer made a lateral move, playing for the Cotton States League's unaffiliated Monroe (Louisiana) White Sox. He went 17-10 under former major-league outfielder Doug Taitt. The club's offensive leader was 18-year-old first baseman Jake Jones, who later became a highly touted major-league prospect. Speer's 17 wins were tied for third in the league. He improved on his ERA from the previous year by posting a 3.94 mark; his WHIP (walks plus hits per innings pitched) rose, from 1.427 to 1.507, while his walks per nine innings went down, from 3.4 to 2.7.
Aside from his improved won-loss record, Speer's hitting improved that year. His .238 batting average was nearly 30 points above his 1938 mark, and he hit the first of two home runs of his 16-year career. Monroe finished the 1939 season in first place, but was eliminated in the semifinals by Hot Springs, three games to two.
With Monroe once again in 1940, the 27-year-old Speer showed considerable all-around improvement, winning 20 games against 10 losses. Surely he was getting looks from scouts from around the country. Aside from Speer, the only other member of either the 1939 or 1940 Monroe White Sox pitching staffs to make the majors was Charlie Bowles, who joined the Philadelphia Athletics in late 1943. Speer's record was the best of his career. Appearing in 45 games with nearly 220 innings of work, he worked his WHIP down to 1.225. Spear teamed with southpaw Tom Perry, a 21-game winner, to push the White Sox to their second straight first-place finish and their second league championship in three years after defeating the El Dorado Lions, four games to one, in the league finals.
In 1941 Speer advanced to the Shreveport Sports of the Texas League (Class A-1). Headed by Francis "Salty" Parker, the Sports finished third before losing in the semifinals. The elevated competition in the Texas League proved a challenge to Speer, who finished the season with just seven wins against eight losses in 44 games, with a WHIP of over 1.400.
A reversal of his fortunes was in store for the 1942 season. Again with the Sports, in their first year as a Chicago White Sox affiliate, Speer had a record of 17-10. With 224 innings of work in 45 games, he posted two critical career bests: an ERA of 2.17 and a WHIP of 1.107. His hits per nine innings plummeted from 10.5 the previous year to 7.9, and for the second straight year he boasted a laudably low 2.1 walks per nine innings.
Speer was part of a talented collection of starting pitchers, which included future major-league hurlers Ralph Hamner (19-9) and Doyle Lade (18-7), that took the Sports to the top of Texas League. Shreveport defeated the first-place Beaumont Exporters four games to three in the finals of the playoffs and became the Texas League champions.
Two days after Speer's debut against the Browns, the White Sox optioned him, along with right-handed pitcher Ed Weiland and catcher Vince Castino, to St. Paul.7 Speer augmented St. Paul's mound attack. Early in the season, the Saints' starting nucleus (now under Salty Parker, Speer's former manager at Shreveport) consisted of three other righties: Joe Bowman, age 33, Otho Nitcholas, 34, and Joe Strincevich, a 21-year-old rookie. 
The 30-year-old right-hander finished the season with St. Paul with a club-high 15 wins against 12 losses. Speer led the staff in numerous categories. He proved a durable competitor, leading the staff with 44 appearances and 30 starts, with 234 innings of work, another club high. His 15 complete games ranked third on the club behind 37-year-old Art "Red" Herring (22), and Otho Nitcholas (20). Speer and Nitcholas both had a club-best three shutouts. Speer's 4.19 ERA lacked luster, but his respectable 1.363 WHIP ranked second on the club, in a virtual tie with Herring.
The White Sox invited Speer to 1944 spring training at French Lick, Indiana. He made the Opening Day roster again.  His first of two appearances with the White Sox that season came in a one-inning relief stint against the St. Louis Browns at Sportsman's Park on April 23, the same team team he had faced in his debut the year before, and in the same venue. He faced three batters after coming in for Bill Dietrich, the White Sox starter, in the eighth. He pitched a scoreless inning and struck out a batter in the 5-2 White Sox defeat. His second and final appearance came on May 3 in relief of starter Buck Ross at Cleveland's League Park; entering in the eighth, he faced six batters and gave up two earned runs on four hits. The Indians won, 9-4. Speer had realized his hope of returning to the major leagues, but the dream was over.
On June 3 the White Sox released Speer to the Milwaukee Brewers. Pitching for two Brewer managers that year (Charlie Grimm, who left the club to manage the Chicago Cubs early on, and Casey Stengel), Speer helped the Brewers exceeded the 100-victory pinnacle for the first time in club history on their way to the best record in the league. Speer, 31 years old despite a declared age of 28,8 assumed a minor but significant role on the staff, making only 24 appearances. He compiled a record of 7-2 in 108 innings.9 Milwaukee fell in the first round of the playoffs, as the Louisville Colonels took the series, four games to two.
Just before Christmas of 1944, Speer's draft board reclassified him from 4-F to 1-A, making him eligible for service.10 Then another twist of events took place. Just weeks later, Speer was again reclassified by the draft board, and in January 1945 his status reverted to 4-F.11 Given new baseball life, by the end of May Speer was spearheading the pitching staff, winning seven of his first eight decisions. But the injury bug came around, and arm trouble kept him out of action the last two months of the season.
Speer finished his term as a Brewer with a record of 12-8 in 33 games, including 22 starts and 13 complete games. His 3.71 ERA ranked fourth on the staff (among qualifiers) with Milwaukee's second best WHIP of 1.302, and he had one shutout. His first-half performance earned him a selection to the American Association All-Star team.12 Despite a sore arm, he struck out 104 batters.13 But after pitching 182 innings, his arm problems ended his season and he was out of action for the last two months.
In December 1945 the Brewers sold Speer's contract to the Oakland Oaks.14 Speer had nearly reached the mathematical midway point (in terms of the number of games) in his career, and could claim a record of 105 wins and 73 losses (.590) in 307 professional appearances.
The 33-year-old Arkansan, one of the older pitchers on the Oaks' staff, won 11 games against 8 losses in 38 appearances. In 21 starts, he carried a 184-inning load, nearly identical to his final season in Milwaukee. His WHIP dipped to 1.163 (seventh in the league), second on the staff to future New York Yankee Spec Shea's 1.063 (which was second in the league). Even with their eye-popping record of 111-72, Stengel's Oaks finished four games in back of the San Francisco Seals, managed by Lefty O'Doul.
Returning to the unaffiliated Oakland club for the 1947 season, Speer was among the top innings eaters with 189, second only to fellow Arkansan Gene Bearden's 198. Bearden, 26, and Speer, 34, were matched as the club's top winners with 16, although Speer, with 14 losses, had twice the number Bearden did. Speer's numbers for the 1947 Oaks suggest he was finally entering the twilight of his career; his 1.481 WHIP and 4.38 ERA were among the worst marks of his career.
In his third and final season with Oakland, and his Triple-A swan song, Speer pitched out of the bullpen and was a key member of a 1948 club that captured the Pacific Coast League title. With a record of 12-3 and appearing in 49 games, Speer was a workhorse, contributing significantly to Oakland's 114-74 (.606) season record. The Oaks finished two games ahead of the San Francisco Seals. Oakland then eliminated the Seattle Rainiers, four games to one, in the finals of the playoffs.
For Speer, now 35, it was a good year on the surface. Finishing among the club leaders in wins, his .800 winning percentage was just below the .813 posted by 37-year-old Ralph Buxton, who went 13-3. Speer's ERA, however, was an elevated 5.17 and his WHIP was up to 1.574. Likely his shift to the role of reliever was a factor in these statistical shifts.
Speer's pitching in his six years in the high minors represented the pinnacle of his career. In his three American Association seasons, he appeared in 101 games with a record of 34-22 (.607). He pitched 524 innings with a strikeout-to-walk ratio of 237-133, a 1.34 WHIP and an ERA of 4.00. During his three seasons in the Pacific Coast League, he pitched in 132 games with a record of 39-25 (.609). He pitched 481 innings with a strikeout-to-walk ratio of 210-172, with a 1.38 WHIP and an ERA of 4.00. His matching ERAs and very similar WHIPs complement the closeness of his winning percentage in each league. This sort of consistency indicated Speer's continued competence and high value as a professional pitcher, and illustrates how strongly he adapted to each new opportunity that came his way, despite his advancing age.
After leaving Oakland, Speer returned to the Texas League, now Double-A, where he'd enjoyed success years earlier. As a member of the fifth-place Dallas Eagles, the 36-year-old was now in his 12th professional season and led the club in victories with a record of 10-6 in 1949. During the next two seasons, the righty didn't rack up the wins as in the past, but his arm was as solid as ever. Pitching six games for Dallas Eagles in 1950 and 73 more for the Little Rock Travelers of the Southern Association (Double-A) in 1950-1951, Speer put in over 150 innings of work, picking up another nine wins against seven losses. Little Rock finished first in 1951 but its bid for a championship was thwarted by the second-place Birmingham Barons, who swept the Travelers in the playoffs.
Speer experienced a resurgence during the waning years of his career. He helped lead the 1952 Texarkana Bears of the Big State League (Class B) to a league championship, going 16-8 with 193 innings in 34 games, and again with an ERA just over 4.00. And in his final season in pro ball, Speer was just as durable as ever, pitching 198 innings in 29 games (including 27 starts) for the 1953 Bears. But the 40-year-old's wing was finally wearing thin. With a 10-12 record, his first losing record since he was 28 years old with Shreveport in 1941, Speer was weakening. That performance served as a fitting bookend to a solid career that began back in Hot Springs when he went 10-13 in his first year as a professional pitcher.
Speer pitched for several successful teams in the pro ranks. From Monroe in 1939 to Oakland in 1948, he played for five league champions. In 16 seasons, Speer pitched for six first-place finishers and 12 first-division teams.15 He assembled a record of 189-131, a winning percentage of .591 in 630 games with over 2,700 innings pitched. His career-ERA of 3.8416 and 1.366 WHIP proved he was an asset on the mound.
Speer's passing at the age of 56 leads to speculation on just how well-trained athletes could allow death to overtake them at such a relatively early age. At the time of his death on March 22, 1969, he was a clerk at a pharmacy near his home in North Little Rock, where he lived for 35 years; he is buried at the Carolan Cemetery in Booneville.17 The exact cause of his death is not known.
While the accomplished Speer never made much of a mark on the major-league world, his role in the high minors was noteworthy. By filling in for the many men whose service to their country required them to abandon baseball, at least temporarily, Speer played a part in helping the national game maintain some cohesiveness — and the country to stay on its feet during one of the most challenging times in American history.
Notes
1 "Turchin Gets Moe Berg's Crown," The Sporting News, April 29, 1943, 10.
2 Pvt. Bob Mitchell (former sports editor, Dayton Journal), "Why the Soldiers Are Saying 'Keep 'Em Playing!,'" The Sporting News, May 6, 1943, 4.
3 US Census Bureau, 1920 US Census (ancestry.com).
4 County Marriages Index (Arkansas), 1837-1957 (ancestry.com).
5 A tribute to Ban Johnson Park in Hot Springs can be found at ballparks.baseballyakker.com/?page_id=102.
6 Lloyd Johnson and Miles Wolff, eds., The Encyclopedia of Minor League Baseball (Durham, North Carolina: Baseball America, 1997).
7 Gordon Gilmore, "Saints Get 2 Hurlers, Catcher From Chicago," St. Paul Pioneer Press, April 28, 1943, 14.
8 "Your New Brewers for 1945" (team roster list), Brewer News, Vol. 3, No. 1 (1944), 4.
9 Sam Levy, "Speer Reclassified 1-A; Trautman Gives Check," Milwaukee Journal, December 22, 1944, 2-4.
10 Ibid.
11 "Speer Reclassified as 4-F," Milwaukee Journal, January 18, 1945, 2-4.
12 Halsey Hall, ed., The Record Makers of the American Association (Minneapolis: The American Association, 1955).
13 baseball-reference.com; based on an incomplete listing for each season's total strikeouts.
14 Red Thisted, "Brewers Sell Speer to Oakland," Milwaukee Sentinel, December 8, 1945, 2-4.
15 In 1951 Little Rock, which finished in first place, was eliminated from the playoffs in the second round; whether Southern Association rules dictated that the first-place team had to win both rounds of the playoffs in order to be considered the league champion was not determined. Similarly, in 1942 Shreveport finished in second place and was victorious in both rounds of the playoffs, but whether they were considered the official league champion was not determined. For the purposes of this article, a first-division team is defined as one which qualified for the playoffs by finishing in one of the top four slots in the standings.
16 baseball-reference.com. Based on an incomplete record that does not include the number of earned runs given up in six games with  Dallas in 1950.
17 Bill Lee, The Baseball Necrology (Jefferson, North Carolina: McFarland, 2003), 376.
Born
January 27, 1913 at Booneville, AR (USA)
Died
March 22, 1969 at Little Rock, AR (USA)
If you can help us improve this player's biography, contact us.
http://sabr.org/sites/default/files/Screen%20Shot%202016-08-08%20at%207.00.32%20PM.png
600
800
admin
/wp-content/uploads/2020/02/sabr_logo.png
admin
2012-01-04 20:08:33
2020-10-18 17:19:49
Floyd Speer