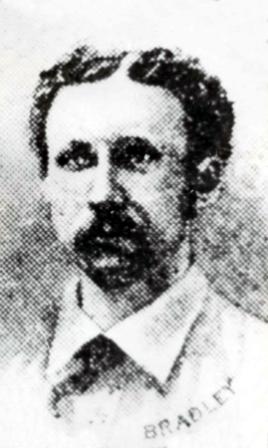 ---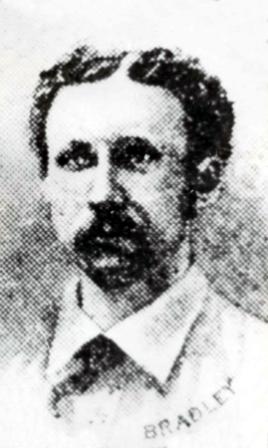 Foghorn Bradley1 joined the Boston Red Stockings near the end of 1876, the first year of the National League's existence. Boston was desperate for pitching. Bradley pitched decently, but Boston deemed him expendable at the end of the season. He never made it back to the major leagues as a player, but Bradley had a good set of pipes, or a "powerful and penetrating voice" as the Times of Philadelphia wrote.2 One probably does not get a nickname such as "foghorn" in any other way. Bradley became an umpire, and that is for what he is most remembered. He was one of the best nineteenth-century umpires along with Billy McLean, umpiring 345 games at a time when umpiring wasn't considered a career and there was only one assigned per game. Bradley at one time led all National League umpires in total games, a title he held for three years until he was surpassed by McLean.3 His fondness for strong drink made his career and life a short one, but his voice was recalled whenever the name "Foghorn" was mentioned.
George H. Bradley was born July 1, 1855, in Medford, Massachusetts, to John and Ann Bradley. John is listed as a "boot maker" in the 1860 census. George had an older sister, Margaret, and two younger brothers, Huey and Anthony.
Bradley played for the Grafton, Massachusetts, club from 1873-1875. The 1874 team won the championship4 and the 1875 team was called "beyond doubt the best amateur nine in the State"5 by the Worcester Palladium, for going 22-4-1 in amateur contests and they even beat the Brooklyn Atlantics professional team. He also got a taste of umpiring in 1875 when he officiated for one game: St. Louis at Boston on October 14. Grafton disbanded and Bradley played for the Lynn Live Oaks in 1876.6 On August 4, in a rare feat of an amateur squad blanking a professional team, Bradley shut out the Philadelphia Athletics 8-0. Bradley allowed only three hits and struck out four.7 The Live Oaks would disband later in August because Bradley, their pitcher, was heading to Boston.8
The Boston Red Stockings had struggled to find a consistent starting pitcher the entire season, after the loss of Al Spalding, who left for Chicago prior to the season. The promising Joseph Borden was signed, but proved a huge disappointment. His place was filled by Jack Manning, who proved to be Boston's most effective pitcher (18-5, 2.14 ERA), but his arm gave out and Bradley was signed for the remainder of the season.9 "Tricky" Nichols wasn't impressive and Charles "Curry" Foley signed an agreement, but later turned it down.10 Harry Wright wanted Bradley, who "is as well known to the base ball public of New England as almost any other player in his class," wrote the Lowell Daily Citizen and News. Bradley received his release from Lynn and made his way to Philadelphia, on the 9:30 Shore Line train to New York.11
Bradley pitched well in his major league debut on August 23 in Philadelphia. "It was off his pitching that the Athletic were treated to a skunk while on their recent eastern tour," The Times recalled.12 Bradley allowed only six hits and Boston won 7-6, while both teams combined for 19 errors and no earned runs.
Bradley pitched six strong innings with only three earned runs the next game in Philadelphia, gaining the victory in the 11-6 Boston win.13 Bradley followed this outing with a masterful five-hit performance (by the New York Times box score, anyway) in a 15-4 Boston win. "He is a large, well-built young man," wrote the New York Times, "and has something of [Al] Spalding's style of delivery. Under Harry Wright's tuition he will doubtless prove a decided acquisition to the Boston nine."14 Bradley struggled in his next start, a New York 10-9 win, but he threw six strong innings in his first home start in Boston on September 5, Boston winning 17-4.15
The only shutout of Bradley's career came on September 11 when he blanked Louisville 8-0, giving up 11 hits but being aided by three double plays.16 Bradley lost three straight starts against Chicago September 15, 16, and 22. He defeated Cincinnati on September 27, receiving an odd analysis from the Cincinnati Enquirer. "As for the Bostons' new pitcher, Bradley, we can not say much in his praise. His delivery is peculiar. He stands squarely facing the batsman and delivers the ball with a jerk. The Reds have found no difficulty in batting him in three games they played against his pitching this season. To Mr. Bradley's discredit, we are sorry to say, he showed himself a kicker yesterday. 'The old man' [Harry Wright] will have to lay the boy across his knee and spank him several times for such childish conduct, and then maybe he'll do better."17 The article did not elaborate on what this "childish behavior" was.
Boston closed the season on October 20 and 21 against Hartford, and Bradley was on the mound for both games. He lost them, 5-0 and 11-1, and Boston finished a disappointing fourth in the National League's inaugural season. Bradley started 21 of Boston's final 22 games of the season.
Boston didn't re-sign Bradley, so he left for Canada and played with the Tecumsehs of London, Ontario, for $125 a month.18 He was the Tecumsehs' starting first baseman. "It is stated on good authority," wrote the Chicago Tribune, "that he [Bradley] has been contracting with and accepting advances from, more than one, or even two, clubs. If this is so, the Tecumsehs had much better let him go at once."19 It doesn't appear Bradley played for any other team, however. Tecumseh disbanded in August.20 Bradley umpired a game in Cleveland between the Forest Citys and Utica in which the Plain Dealer wrote that the game was officiated by "umpire, G.H. Bradley, late first baseman and home runner of the Tecumsehs. He umpired as well as he plays ball, which is saying a great deal."21 The Detroit team was apparently interested in signing Bradley in 1879, but that didn't happen and he returned to a reformed Tecumseh club which dropped to the amateur ranks.22 While still listed as a player for London, Bradley began umpiring in the National League from July 26 on.
Bradley became a full-time National League umpire for 1880.23 He was involved in two memorable games: Lee Richmond's perfect game (first such official feat in baseball history), and Pud Galvin's no-hitter on August 20. Bradley umpired in the National League for 1881 and 1882. He was appointed as an umpire of the Northwestern League in 1883,24 Sporting Life calling him "the favorite umpire of the Northwestern League."25 In July he returned to the National League.26 In 1884 he umpired in the Eastern League when another umpire was suspended.27 Bradley apparently was released and did not umpire anywhere in 1885.
Life was difficult for Bradley in 1886. The April 14 edition of Sporting Life reported "Foghorn Bradley is, or was until recently, in the Philadelphia Almshouse."28 Another report said "there is some talk of raising a purse for 'Foghorn' Bradley, the ex-league umpire, who is in straightened circumstances in this city [Philadelphia]. Bradley has been taking excellent care of himself for the past four months and if given an opportunity will again grace the ball field as an umpire. He never had an equal."29
But there was some hope on the horizon. The American Association "has hunted around, dragged Foghorn Bradley to light again, given him a presentable suit of clothes and set him to umpiring again. There are none better when his foghorn isn't befogged with beer," wrote the Detroit Free Press.30 Bradley umpired 78 games in the American Association in 1886, which seems to be his final year. A Sunday afternoon game in Cincinnati grew violent when fans threw beer glasses at him over a call against the home team.31 The October 6, 1886 edition of Sporting Life reported "Since his release from the umpire corps Foghorn Bradley is said to have become a complete wreck."32 Bradley umpired 345 career major-league-level games, with one game being in the National Association and 78 in the American Association.
"'Fog Horn' Bradley was a great umpire," wrote former teammate Charles J. Foley in the Boston Herald, "but poor Bradley had one great fault––he would drink."33 In later years Bradley became a policeman in Philadelphia and was a "frequent attendant of the ball park there."34
Bradley's nephew Hugh Bradley was also a major league ballplayer from 1910-1915. In a feature of Hugh in 1915, Florent Gibson of the Pittsburgh Daily Post wrote that Hugh's uncle Foghorn earned his nickname "on account of his voice, serviceable both on and off the field."35
An umpire's career is never complete without an apocryphal story, or at least one that appears to be so. The story is told of a time when Bradley was out to dinner in Boston. Seated across from him was bass opera singer Myron Whitney. A discussion ensued over "deep-toned voices" and Whitney "felt a trifle diffident in boasting of his own powers in that respect." Such a comment "touched Bradley's pride to the quick." A guest suggested they stage a contest, with the winner receiving a gold watch. Whitney began, and when he hit the notes of a German ballad, the chandelier shook. Bradley took his turn and bellowed "One ball!" and the globes in the chandelier cracked. The two went back and forth while guests fled in panic of the sounds. When it was over, furniture was overturned and dishes were smashed. One of Whitney's eardrums was ruptured and he withdrew from the contest. Bradley won the watch and proudly wore it from that day forward in his vest pocket.36
Foghorn Bradley died March 31, 1900, in Philadelphia and is buried at Forest Hills Cemetery in Huntington Valley, Pennsylvania. No information was found that he was ever married or had any children.
Last revised: July 1, 2022 (zp)
Notes
Born
July 1, 1855 at Medford, MA (USA)
Died
March 31, 1900 at Philadelphia, PA (USA)
If you can help us improve this player's biography, contact us.
http://sabr.org/sites/default/files/BradleyFoghorn.jpg
600
800
admin
/wp-content/uploads/2020/02/sabr_logo.png
admin
2017-03-14 17:51:38
2022-07-01 10:06:36
Foghorn Bradley