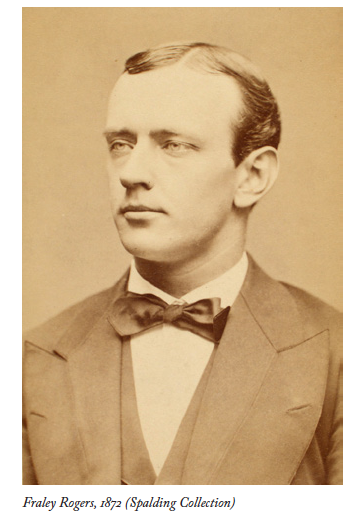 ---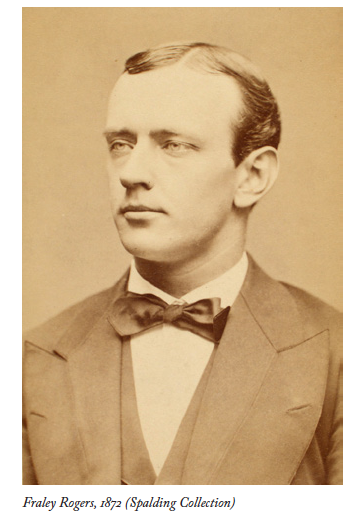 Sportswriter/historian George V. Tuohey hastily put together his famous A History of the Boston Base Ball Club – 1871 to 1897 in mid-1897. It was published to help celebrate Boston's National League Beaneaters capture of the 1897 pennant after three unsuccessful seasons. Though weighted toward teams and players from the 1890s, the book does have blurbs about players from the Hub's first two decades. The 1870s section recounts the team's calculated organization by Ivers W. Adams and the Wright brothers' superb leadership of the National Association's Red Stockings dynasty. Of the 30-plus players with short biographies (including photos), nine are from that era. Only three have photos, Harry and George Wright, of course, and one-year right fielder Fraley W. Rogers. Aside from his name being included in the 1872 roster, Rogers is not mentioned anywhere else in the volume.
Born in Brooklyn on December 25, 1850, Fraley Rogers grew up in a baseball-crazed family. He was the youngest of five children of Albert and Abbie Rogers. Albert is listed briefly as being a hotel employee and a saloonkeeper but later had a steady job at the Fulton Fish Market in Manhattan. Oldest brother Albert H. played ball in the early 1860s as did the middle son, the more famous sibling, Mortimer Maxson Rogers, one of the most gregarious and cleverest entrepreneurial personalities connected with early base ball. Both boys can be found in Brooklyn Resolute lineups as early as 1861, and in one game both Albert and Mort hit home runs to help beat Niagara, 23-13. Fraley was the youngest child, being born at a perfect time to later join the Red Stockings in 1872 for their first championship campaign.
Following the basepaths of his brothers, teenager Fraley played for various Brooklyn teams. Box scores show that Mort got to play with both brothers, but the trio cannot be found playing in a game together. By 1850 the Rogers residence was at 35 South Sixth Street and it was soon a neighborhood mecca for anything concerning base ball in the Williamsburg section of Brooklyn. Fraley's first amateur games of note were with the Resolutes in 1865. Mort was there, too, before heading to Boston to play for the Lowells and to start his various businesses. The Rogers boys could not prevent the Resolutes from losing all seven games they played. In 1866 Fraley graduated to the Brooklyn Stars and continued to play with them for the next six seasons, 87 percent of the games. On occasion there were borough "all-star" games, and Fraley, like his siblings, was usually on the Brooklyn squad. He was an outfielder mostly although he did play all the infield positions at one time or another. Bob Manly and Herb Worth were two of his longer- lasting teammates and in 1868 pitching phenom William Arthur "Candy" Cummings came to the Stars. In most Brooklyn Stars box scores from 1868-71, Fraley was the leadoff batter. In 1871 he played right field, first base, and sometimes catcher, while brother Mort was in center field and first. Albert H. was a team director.
Despite his young age Rogers was always in the top echelon for Brooklyn in most hitting categories, hits, runs, and total bases, and he was a better-than-average fielder. The Stars played against George Wright and Dave Birdsall in New York (Unions of Morrisania) before George went to Cincinnati in 1869. In June 1870 the Wright-led Red Stockings beat the Stars handily at the Capitoline Grounds but the game gave the Wrights another chance to see Fraley in action. By 1872 Reds flychaser Birdsall was just too old for the speedy National Association pitching so the Stockings went looking for an agile young replacement. Excelling in the rugged New York base ball wars was to Fraley's credit and being the brother of Mort Rogers only enhanced his résumé. The 1871 Stars whipped their amateur opponents (22-1) but were 1-12 against professional teams, though most of those games were close. According to the New York Clipper's February 10 final Stars stats, Fraley had the most at-bats and was second in hits and fourth in team average in his 32 games.
Fraley and 1871 Washington Olympic (and ex-Cincinnati Red Stocking) Andy Leonard were the big additions in the Hub Stockings' 1872 roster. The two replaced veteran Birdsall and three mediocre fly chasers, Fred Cone, Frank Barrows, and Sam Jackson, in the South End pasture. Combined, the trio had hit .212 and scored 47 runs in 1871. In 1872 Leonard (.349/57 runs) and Fraley (.275/39) easily improved those numbers.
Fraley is listed as 5-feet-8 and a stocky 184 pounds. Though very nice, the picture in Tuohey's history book doesn't make clear whether Fraley swung right- or left-handed.
Rogers' signing by the Stockings may have seemed smooth but staying there was bumpy. Philadelphia-born John Joseph Ryan was also brought into camp, coming north in April from a team in Savannah, Georgia. Rogers (his first name was often written as "Franey") was unlucky from the start of spring practice, first damaging a finger (thought broken) and then badly spraining an ankle. Ryan (three hits/three runs) was in the lineup on April 4, Fast Day, the first game that saw the Reds clobber a "Picked Nine," 32-0. In ensuing exhibitions Ryan and Rogers were in and out of the lineup. Though Ryan's stats were good, as Boston got closer to starting the season Rogers was more often in right field and batting eighth.
Ryan never played for the Red Stockings in any championship games, but in 1873 played two games for the Philadelphia Whites. Ryan (156 games, .208, outfield and pitcher) was in professional ball for the next four years – each season for a different team. After Philadelphia, he played in succession for NA Baltimore and New Haven, then NL Louisville and Cincinnati.
The Reds began their 1872 championship quest on April 30 with a 26-3 stomping of the Washington Nationals, as they opened with seven road contests. In his first 10 Association games, Rogers hit only .188, with his best coming in the only loss, 10-7 to the Athletics in Philadelphia. He got two hits, scored, and knocked in a run against ace Dick McBride. The Reds started 22-1, but lost to host McBride again on July 27, 9-1. Fraley's two hits/RBI (eighth inning) prevented a brilliantly pitched "chicago" for Philly.
By September it was clear that the Reds (32-3) were going to be the Association's second champion. Rogers had been only an average hitter (.275). Omitting his .230 efforts in 18 games versus McBride and old Stars teammate Candy Cummings (Mutuals), Fraley hit .302. His best games were: May 7, back at his "home" Capitoline Grounds, when he had four RBIs in a 23-3 win over the Brooklyn Atlantics; July 4 at Mansfield, Connecticut, as his five scores helped beat the hosts, 25-12; and August 2 versus the Atlantics at the South End Grounds, when he smashed four hits (three runs/three RBIs, and his only triple), in a 26-3 victory. During June and July Rogers averaged two hits per game, hitting in 14 of 15 tilts. His only home run came in Cleveland on September 19, off "Uncle Al" Pratt, in a 12-7 win (he also had a double). On June 10, Rogers' two hits and two runs off Cummings forced the game into extra innings, a first for Boston. They won 3-2 in 11 frames.
Fielding was not Rogers' forte; in 62 outfield chances in 1872, he committed 13 errors for a fielding percentage of .790. He played outfield in 41 games and 6 at first base, sometimes both in the same game.
The Reds (39-8-1) were the champs of 1872 and Rogers was a solid part of Boston's first pennant-winning club. He played in 45 of 48 games and hit better (.275) than Charlie Gould or Harry Wright (both .255). Though he chose to retire in 1873, he was inserted in the lineup for two games, but no news outlet explained why. On July 4 at the South End Grounds, Boston split a doubleheader with the Resolutes of Elizabeth, New Jersey, a short-lived franchise. Rookie Jack Manning played first base in both games. The next day Fraley Rogers appeared at the first sack (the 23rd Reds game), got two hits, and scored in a 13-2 win. On July 16 the Reds traveled to Springfield, Massachusetts, for a "home" game at that city's Hampden Park. McBride's Athletics provided Boston with a 21-13 victory on a rutty, unlevel field. In addition, former Brown University pitcher A.J. Jennings was called to umpire when Atlantics manager Bob Ferguson failed to show up. Jennings' competency was questioned but the game was completed. Fraley got two more hits, scored, and committed two errors, and the final out ended his baseball career.
Rogers stayed in Boston for a few years. He married Anne Maria Cole, daughter of a Boston tailor, on October 20, 1874. The couple moved back to New York by the late 1870s. The New York Clipper of May 21, 1881, confirmed news that astounded baseball fans.1 On May 10 in his Harlem apartment (119 West 126th Street) and without any warning, Fraley Rogers, 31, took a revolver and shot himself in the head. The Herald Tribune said he suffered financial difficulties while the New York Times claimed the sad ending was due to a delirious, insane reaction to malaria, which Rogers had contracted in 1880. He was a head clerk for fruit magnate Leopold Schepp, and widowed Anne Maria with two children. In the 1990s, SABR historian and former Hall of Fame Library senior researcher Bill Deane made a study of ballplayer suicides. Rogers remains the first such case on his list. With his wife, who remarried in 1883, having connections to Central Massachusetts, Fraley is buried in her family plot at Pine Grove Cemetery in Westborough, about 10 miles east of Worcester, south off Route 9. His name is not on the tall white monument that marks the plot. The fallout of the tragedy was quick, as ill brother Mort, living five miles south in Lower Manhattan, died three days later, leaving wife Eliza and three children. Because her name also disappears from the Brooklyn City Directory at that time, it is possible that Abbie Rogers, their mother, also died in 1881.
Very disappointingly, the Brooklyn Daily Eagle did not print any notice of the deaths of two of the borough's most popular Stars of only a decade before. The Herald Tribune did mention that he was a former star athlete and expert billiard player.
Sources
Boston Courier, Boston Daily Advertiser, Boston Globe, Boston Herald, Brooklyn Daily Eagle, New York Clipper, New York Times, New York Herald Tribune.
US Census, 1850, 1860.
City Directories of Boston, Brooklyn, and New York City.
Massachusetts State Vital Records.
Pine Grove Cemetery administrative records.
Retrosheet.org.
Tuohey, George V. A History of the Boston Base Ball Club (Boston: M.F. Quinn, 1897).
Wright, Marshall D. The National Association of Base Ball Players, 1857-1870 (Jefferson, North Carolina: McFarland, 2000).
Members of the Rogers family are difficult to trace as they managed to elude most censuses and city directories as a rule and the common name doesn't help. Fraley's initial "W" though often used has not been found transcribed as a name and there are no "W" ancestors in the family. Often times Fraley Rogers has a "W" listed as a middle initial but in one place only is there a reference clue as to what it might stand for. The Clipper listed the election of team officers and players engaged for the 1872 Red Stockings. An F. "Winslow" is among the group, with Winslow appearing as if it were a surname. All of the other players are mentioned with their regular last names, his is the only odd one. See "Boston Club," New York Clipper, December 16, 1871: 290.
Notes
1 New York Clipper, May 21, 1881: 138.
Born
December 25, 1850 at Brooklyn, NY (USA)
Died
May 10, 1881 at New York, NY (USA)
If you can help us improve this player's biography, contact us.
http://sabr.org/sites/default/files/Fraley_Rogers.png
600
800
admin
/wp-content/uploads/2020/02/sabr_logo.png
admin
2012-01-04 20:40:14
2022-02-09 16:45:56
Fraley Rogers