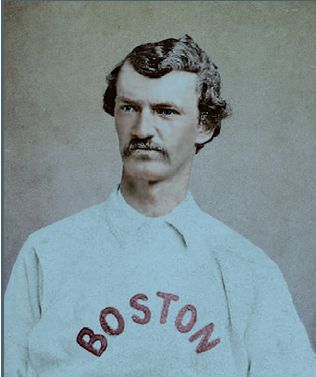 ---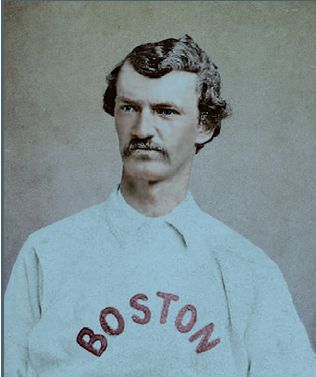 While the Boston Red Stockings of 1871 had many players who would go on to distinguished baseball careers, outfielder Frank Barrows was not one of them. In his only year in the new National Association of Professional Base Ball Players, Barrows played in 18 games for Boston, batted.151 (13 hits in 86 at-bats), and drove in 11 runs.
Franklin Lee Barrows was born on October 22, 1844, in Hudson, Ohio, to Rev. Elijah Porter and Sarah (Lee) Barrows. The family moved to the Boston area when his father was appointed professor of Hebrew language and literature at the Andover Theological Seminary in Newton, just outside Boston. Franklin attended nearby Phillips Academy in 1859 and then remained in New England, where he developed his interest in baseball.1
Barrows played for the Boston Tri-Mountains in the National Association of Base Ball Players (NABBP), the first national baseball organization, from 1867 to 1870. Tri-Mountain was first established in 1857. "From an historical perspective," wrote one commentator, "The Tri-Mountains are important because they were the first of the organized clubs playing the 'Massachusetts game' to abandon it in favor of the 'New York game.' This was an inevitable step on the path to victory for the latter and it is the New York version that modern baseball descended from."2
During Barrows' tenure with the team, for which he played second base and occasional shortstop, Tri-Mountain posted records of 19-3 in 1867, 12-9 in 1868, and 7-9 in 1869. Barrows occasionally was mentioned in newspaper accounts of games. Playing on the Boston Common on August 6, 1867, against the challengers, the Annawan Club of Mansfield, the Tri-Mountains, lacking three of their usual nine, were edged, 28-27. Barrows was singled out for praise by the Boston Journal: "Barrows' fielding was excellent, he having caught five flies, besides putting out two on bases."3 In a New England Tournament held in September 1867, Barrows hit a "home run by a splendid strike to centre field" in the fifth game.4 Tri-Mountain won the deciding game over Lowell, 42-22, on September 29 before 3,000 to 4,000 spectators and won the silver ball. Barrows pulled off a double play in the game, tagging the baserunner and then throwing to first, and he also "made the best hit of the day, sending the ball over Rogers head at left field, on which he made a clean home run."5
The team opted to go professional in 1870 with somewhat disastrous results. While its overall record was 6-7, it was 0-4 against the four professional teams it played. Tri-Mountain lost to the Philadelphia Athletics 45-4, the Cincinnati Red Stockings 30-6, the Mutuals of New York, 25-11, and the Chicago White Stockings 36-16, and never played another pro season.
Barrows was one of only two members of the team to play a professional career, along with a 1868 teammate, pitcher Tom Pratt, who played in only one major-league game, for the Philadelphia Athletics, on October 18, 1871. (He had two hits in six at-bats.) He was later joined by Elvio Jiménez and Clarence Dow as the only players to have six at-bats in their only major-league baseball game.
In the spring of 1870, "Mr. Frank Barrows" was listed as one of the umpires of several baseball games between Harvard University and the Boston Red Stockings.6 It was likely through that association that he became acquainted with Harry Wright and joined the Red Stockings for the 1871 season. He also umpired a game between Harvard and the Athletic Club of Philadelphia in May.
The Red Stockings signed Barrows in mid-January of 1871; he and Harry Schafer were the last two players signed.7 The team played its opening game on April 6 at the Union Grounds, against a "picked nine," beating them, 41-10. Barrows played for the picked nine as did Dave Birdsall. The two played in another game, as opponents, six days later. Near the end of the month, Barrows was named as the 11th man on the Red Stockings.8 The team went on the road and played a few preseason games, among them a game on May 2 in Washington against the Olympics. Barrows didn't play when the Red Stockings played the franchise's first game, on May 5 in Washington, but served as one of the two scorers in the game.
Barrows made what would today be considered his major-league debut on May 20, 1871, when he batted leadoff (flying out to second baseman Al Reach) and went 1-for-5 in an 11-8 win over the Philadelphia Athletics. After collecting his first professional hit in the fifth inning, singling over the head of second baseman Reach, he scored along with Roscoe Barnes on a single by Dave Birdsall.
It's not known whether Barrows was right-handed or left-handed, either as a batter or in his throwing. His height and weight are likewise unknown.
While baseball reports of this era were sparse in their depiction of the games, Barrows did capture the attention of the fans when he made a fine defensive play in right field against the Chicago White Stockings on June 2. In the fourth inning, Chicago's Jimmy Wood "sent a hot fly to right field, which Barrows … took most handsomely, making one of the best catches ever seen on this grounds, and for which he received loud applause."9
For much of the season Barrows shared left field with teammate Fred Cone. However, there were few other highlights reported to the newspaper. On August 7 he played center field and had a double in a 23-7 win over the Philadelphia Athletics, while on September 13 he had one hit and scored a run in a 20-17 victory over the Troy Haymakers. One of the most dramatic moments of the season came in a September 9 game against the Athletics, which drew an estimated 5,000 to the Boston grounds. The Red Stockings were down 14-11 after eight innings. Boston, batting first in the game, rallied in the top of the ninth and took a 15-14 lead when Barrows came up and added another insurance run by singling in Al Spalding. One more run scored behind him, and then the team shifted to defend its three-run lead. Barrows speared a ball hit by Ned Cuthbert for the first out. Birdsall caught a foul tip for the second out. Then John Radcliff lofted a ball to Barrows. The crowd held its breath, but he caught it and "a series of shouts ensued, exceeding any demonstrations of the kind ever witnessed here. The crowd fairly yelled, and hats went up into the air, while their owners danced about apparently frantic, while the ladies waved their handkerchiefs, evidently as much pleased as anyone over the victory snatched by the Reds from the very jaws of defeat, who won not only the game but the championship series with the Athletics."10
Barrows played his final game on October 7, a 12-3 win over the Haymakers. He singled once.
The Athletics placed first in the National Association standings at year's end, with both the Chicago White Stockings and the Boston Red Stockings two games behind.
The Red Stockings' batting average in 1871 was .310. Barrows'.151, was by far the lowest on the team. (Sam Jackson was second lowest at .224.)
Barrows did not return to the Red Stockings for the 1872 season, nor did Cone or Jackson, but Barrows' name did crop up in a box score for the Middletown (Connecticut) Mansfields in 1872 when he played in the first game of an intrasquad doubleheader. "In the first game, the Seniors whitewashed the Juniors 24-0. Frank Barrows, who had played with the Boston Red Stockings in 1871, manned right field for the Mansfields. This may have been a tryout for Barrows, who had been spotted with the club for several weeks, or perhaps he was a last minute replacement for Buttery, who was home visiting family."11
Barrows was also listed as a substitute umpire in the National Association for that 1872 season. One of the games he umpired was the July 20 game when the Red Stockings hosted the visiting Troy team.
In 1897, when he was 52 years old, Barrows played in an exhibition game along with other old-time major leaguers, against a team from Australia. Playing right field on a team that featured former Red Stockings teammates George Wright and Albert Spalding, Barrows scored a run for the "Old Boston" team against the Australian All-Star team.12
In his career after baseball, Barrows entered the wool trade. The Boston City Directory of 1880 listed his occupation as wool buyer, wool sorter, and overseer of a worsted mill.13
Barrows moved to the Central Massachusetts city of Fitchburg where he worked as an overseer at the Star Worsted Mills for several years. He was also a noted champion bowler in that city.
After spending much of his life as a bachelor, the 56-year-old Barrows met Josephine F.G. (Gulliver) Gould, a widowed Falmouth bookkeeper, a native of Pittsburgh. Mrs. Gould had a son, William, by her first marriage. The couple married in Boston on December 17, 1902, and lived the rest of Barrows' life at 72 Grove Street in Fitchburg.
On February 6, 1922, Barrows was stricken with a heart ailment and died at the age of 75. He was buried in Oak Grove Cemetery in Falmouth, Massachusetts.
Notes
1 Thanks to Bob Richardson for helpful suggestions regarding Barrows' family background.
2 Patrick Mondout, "Boston TriMountains," baseballchronology.com/baseball/leagues/NABBP/Clubs/Boston-Tri-Mountains.asp.
3 Boston Journal, August 7, 1867: 4.
4 Boston Herald, September 27, 1867: 2.
5 Boston Journal, September 30, 1867: 4.
6 Harvard Advocate, May 27, 1870: 134.
7 Springfield (Massachusetts) Republican, January 16, 1871: 8.
8 Rosters were considerably smaller at the time. Boston Journal, April 24, 1871: 4.
9 Boston Post, June 3, 1871.
10 "Another Victory Achieved By the Red Stockings," Boston Journal, September 11, 1891: 1.
11 David Arcidiacono, Major League Baseball in Gilded Age Connecticut (Jefferson, North Carolina: McFarland, 2009), 85.
12 Paul Batesel, Players and Teams of the National Association 1871-75 (Jefferson, North Carolina: McFarland, 2012), 43.
13 Ibid.
Born
October 22, 1844 at Hudson, OH (USA)
Died
February 6, 1922 at Fitchburg, MA (USA)
If you can help us improve this player's biography, contact us.
http://sabr.org/sites/default/files/Barrows_Frank.jpg
600
800
admin
/wp-content/uploads/2020/02/sabr_logo.png
admin
2012-01-04 20:46:44
2022-02-09 16:33:09
Frank Barrows