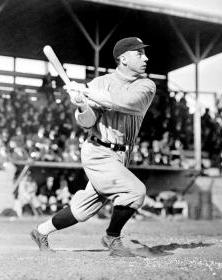 ---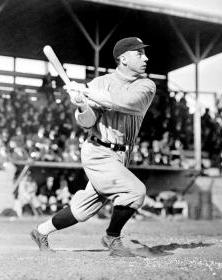 From the Wa-was to the Yeggs to the major leagues. The Class C Southern Michigan Association sported some unusual team monikers. (The Kalamazoo Kazoos won the pennant in 1910, then changed their names to the Celery Eaters and won it again.) It was still a rapid climb for Frank Patrick Gilhooley, who'd started out playing sandlot ball on Pecord's Field and Lenk's Hill in Toledo. At the age of 16, he was already playing semipro ball in 1908 for the Armours. Seen there by Toledo Mud Hens manager Ducky Holmes, he was taken south to train with Toledo the following spring. [1]  
He'd been born on June 10, 1892 in Toledo. His father Patrick was a day laborer at the time of the 1900 census; he'd arrived in America from Ireland in 1880, as had his wife Mary. They had three children – Ella, Mabel, and Frank. Within the next decade, he'd landed a job as a freight handler for a railroad company. It still wasn't easy to make ends meet, and Ella took up work as a knitter, while Mabel clerked in a shoe store. Frank became a professional baseball player. He graduated from St. John's High School in Toledo and, according to his widow, also went for one year of college at St. John's.[2]
Gil, as he was called briefly in younger years, was initially property of the Toledo ballclub but Toledo president Armour turned him over to Saginaw prior to the 1910 season. [3]
The St. Louis Cardinals made a move and signed Gilhooley on July 19, 1911, paying the Adrian club a reported $1,500 and planning to call him up near the end of the season. His debut was in right field, late in the September 18 game against Boston. He never had a chance to bat.
He'd played 32 games for the Saginaw Wa-was in 1910, hitting just .154, and was "let out" – simply released. [4] He was just beginning. He hooked on with the Adrian Yeggs, also in the Southern Michigan league. Gilhooley blossomed for Adrian, hitting .364 and stealing 47 bases, and thus got the summons to appear in that one St. Louis game.
In 1912, he got into 13 major-league games with the Cards, after spending most of the year with the Central League's Erie Sailors (Class B), batting .306 in 126 games. With St. Louis, he collected his first big-league hits (11 of them, all singles) and his first RBIs (two), batting .224. More seasoning was the prescription. The 5-foot-8, 155-pound right fielder played in the International League in 1913, for Montreal, hitting .328 in 117 Double A games. The New York Yankees made a play, and dealt with St. Louis on August 26, asking him to report to manager Frank Chance on the 28th. The Yanks apparently out bid as many as six or seven other clubs and paid cash – a staggering $7,000 or more – and also promised to send pitcher George McConnell to Montreal after the major-league season was over.
Gihooley, who hit left-handed and threw righty, debuted in New York on August 30 and had a hit in each game of the doubleheader against the Athletics; using a lighter-weight bat, he built up a .341 average in 85 at-bats with two doubles and a triple and drove in 14 runs. He was projected to be the starting right fielder for New York in 1914 – but only appeared in one game. And the same pattern persisted in 1915 – one game. Gilhooley had been 2-for-3 in his one game at the start of 1914, but manager Frank Chance really wanted a second baseman and when the Bisons said they'd part with Frank Truesdale, Gilhooley was bundled off to Buffalo on April 23. Truesdale didn't prove to be all that special, but Gilhooley's .310 in 142 games pleased the Bisons. Where they thought Frank was deficient was in his defense – not in getting to balls, but his "weak throwing arm" was remarked upon by a number of commentators. [5] He really did cover a lot of ground in center field and, throwing notwithstanding, was a "local favorite" in Buffalo. [6]
Patsy Donovan succeeded Bill Clymer as Bisons skipper in 1915, and he was the beneficiary of a .322 season – and the Yankees had to pay a reported $8,000 or $8,500 to get him back again, and send along a few more players, to boot. Gilhooley pocketed $3,000 of the total, which he reportedly sent to his mother. [7] Veteran baseball man Joe Kelley was impressed with him: "Frank Gilhooley reminds me of Willie Keeler in many ways." He was a "clever bunter," but also has some punch in his bat. In fact, Kelley enthused, "He is the most finished ball player in all departments that the minor leagues had last season, and he is sure to stick with the Yankees."  [8] It was said at the time that he'd never misjudged a fly ball in the outfield.
For the next four seasons, Frank stayed in the big leagues. He appeared in 58 games for the Yankees in 1916, hitting .278 and showing some of the speed which had earned him his nickname "Flash" – he stole 16 bases, up until the point he couldn't do it anymore. The July 4 headline told the story: GILHOOLEY BREAKS LEG; YANKEES WIN. He'd broken his right leg near the ankle while running first to third on a bunt, and sliding into third base in the top of the 11th in a 1-0 game in Washington. [9] Attending the game was a concerned Mrs. Woodrow Wilson, who sent a note asking after his condition. [10] It took until December for the leg to be declared fully healed. He reported early in the spring of '17, to get some extra work and back into playing shape.
It seemed like a bit of headline déjà-vu when on May 8, the Times story read YANKEES WIN GAME, BUT LOSE GILHOOLEY. This time, he'd broken a collarbone with a fruitless diving attempt to catch a Stuffy McInnis long foul fly. He reported back on July 11, appeared in a total of 54 games in 1917, hitting .242. That December, he married May Ellen Casey, who he'd met through her work as switchboard operator at the Mont Royal Hotel in Montreal.
In 1918, he appeared in 112 of the 123 Yankees games in the war-shortened 1918 season. He hit a solid .276, and then took up work at the beginning of September with the Toledo Shipbuilding Company, playing for the company baseball team.
A week before Christmas, on December 18, Miller Huggins gave the OK and the Yankees traded Gilhooley, Ray Caldwell, Slim Love, Roxy Walters, and $15,000 to the Boston Red Sox for Dutch Leonard, Duffy Lewis, and Ernie Shore. The Red Sox were reigning world champions, as they had been for three of the last four years, but in 1919 they needed a third outfielder to work with Babe Ruth in the outfield, in the event Harry Hooper didn't return, so they moved to add Gilhooley to the fold. The Boston Globe, lamenting the loss of Lewis and Shore, discussed the various players and, on balance, was intrigued with the deal. Gilhooley was far from a key component in the deal, but the Globe allowed, "Gilhooley is a clever baseball player, who has been interrupted in his development by injuries. He is a brainy player rather than a brilliant performer, either in the field or at bat." The paper noted that 1918 was the first time he'd ever played a full season. [11] On the road, Frank was Babe Ruth's roommate – heroic duty indeed, though legend has it that often as not the Babe was out on the town. Frank appeared in 48 games and hit .241, but remarkably only drove in one run in 127 plate appearances. He was, in effect, playing in Babe Ruth's shadow.
On December 19, 1919, the Red Sox sold Gilhooley for cash – and he was back with Buffalo yet again. He may well have prompted the sale, May Gilhooley said. She said he'd gone to Boston owner Harry Frazee and told him, "I'm only 26 years old. I can't sit and watch. I want to play the game. I'll never get a chance while Babe is here. I was very happy in Buffalo, so why don't you send me back there?" They did – and about a week later sold Ruth to the Yankees. [12] May added, "We had a wonderful life in the International League and Frank got top pay, which was $5,000."
In 312 major-league games over parts of nine seasons (recalling that in three of those seasons, he only had one at-bat each year), he accumulated 1,237 plate appearances, hit for a combined .271 average and drove in 58 runs, but scored 142 times. He'd homered twice. He'd walked enough to have a .357 lifetime on-base percentage.
The International League was Gilhooley's home for the next 10 seasons – though he played for five different teams throughout the decade. First up were two solid years for Buffalo – 1920 and 1921, with .343 and .314 averages respectively. The Reading Aces and manager Chief Bender couldn't have been more pleased than to see Frank lead the league in hitting with a .362 mark in 1922; his 230 base hits also led the IL. After changing both team name and manager, Spencer Abbott and the Reading Keystones named Gilhooley team captain but were disappointed that, because of an ailment, he was only able to get into 56 games (batting .296) in 1923. That still didn't prevent him for umpiring in one game, when the league president fired an umpire and saw the others quit in protest immediately before one game in July. [13]
From 1924-1926, he spent three seasons with the Toronto Maple Leafs under manager Dan Howley. The team finished second the first two years, but won the pennant in 1926. Gilhooley averaged 155 games over those three years, usually batting leadoff, and hitting .325, .315, and .306. The 1926 team swept the Little World Series from Louisville, five games to none.
Attempts at the beginning of 1926 to lure Gilhooley to the Pacific Coast League had failed, but he played 1927 for the Rochester Tribe, hitting .346 in 102 games. His last two years were played in a Jersey City Skeeters jersey. In 1928, he was the team's manager, but played in 130 games, hitting .315. The team finished in last place. In 1929 his career was curtailed – only getting into 24 games. He was hitting just .255 and resigned on June 16 after the Skeeters dropped their ninth straight game. Ted Jourdan took over, but they still finished in last place with a 51-115 record. It was an unfortunate way to end a very good career. All in all, after 16 seasons of minor-league baseball, Gilhooley could boast a .323 average over the course of 1,921 games.
After retiring from baseball, Frank and his wife May lived in Toledo. He had trouble finding work at first – the Depression had now hit – and he was fortunate to get a position painting guardrails on the roadsides. In 1933, he took a position as deputy county treasurer of Lucas County, Ohio from 1933-49, when he became a sheriff's deputy. According to his obituary, he helped form the Lucas County adult probation department before rejoining the treasurer's office as a deputy, and he worked there until the time of his death. The couple had a son (Frank Jr., who broadcast Toledo Mud Hens games from 1953-2009), two daughters (Irene and Mary Frances), and seven grandchildren at the time Gilhooley died of a heart attack in Toledo's Mercy Hospital at age 66 on July 11, 1959. May lived to age 95 and died in 1988.
Sources
In addition to the sources noted in this biography, the author also accessed Gilhooley's player file from the National Baseball Hall of Fame, the online SABR Encyclopedia, Retrosheet.org, and Baseball-Reference.com, and the Encyclopedia of Minor League Baseball. Thanks to Dave Pugh and Dave Hackenberg for additional information.
---
Born
June 10, 1892 at Toledo, OH (USA)
Died
July 11, 1959 at Toledo, OH (USA)
If you can help us improve this player's biography, contact us.
http://bioproj.sabr.org/bp_ftp/images4/GilhooleyFrank.jpg
600
800
admin
/wp-content/uploads/2020/02/sabr_logo.png
admin
2012-01-04 20:18:47
2021-04-13 08:22:49
Frank Gilhooley