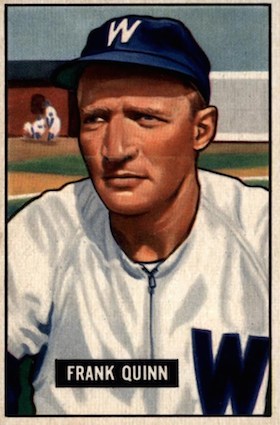 ---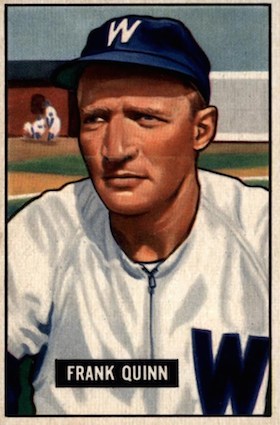 Maybe even three years in professional baseball seemed just a little too long. Signed by the Boston Red Sox, right-handed pitcher Frank Quinn started his career with the Birmingham Barons in 1948, spent parts of two years in the majors, and finished active service with Chattanooga in 1950. An arm injury caused him to leave the game. It didn't seem that long a career, but when asked if he had the opportunity to do it all over, would he have still gone into pro ball, he replied: "Yes, but not for as long a period."1
Of course, he'd been playing ball long before he was sent to Birmingham. "Neil Mahoney, Red Sox scout, followed me since prep school," he wrote. "Signed me after college season of 1948."2
Quinn had earned a bachelor's degree as an English major at Yale.
He was born Frank William Quinn on November 27, 1927, in Springfield, Massachusetts. His father, Frank Joseph Quinn (1855-1949), was from Pennsylvania. His mother, the former Elizabeth Faith Wagner, was a native of Connecticut. His paternal grandfather came from Ireland. Frank considered himself of Irish-German ancestry. Frank's father was a salesman. He had himself attended Georgetown and been an athlete there. At the time of the 1930 census, the family was living in Springfield, where Quinn's father was a salesman of electrical appliances. By 1940 the family included another son, Robert, and had moved to Hartford, where their father was selling glasses. Mr. Quinn later operated the Pioneer Products Company in Hartford.3
Young Frank played American Legion baseball during the summers of 1942 through 1944. He attended Southwest School in Hartford, and then to the Loomis School in Windsor, Connecticut, the prep school where Mahoney first spotted him. He began at Loomis in 1941, and it's no surprise that Mahoney took note. In the May 12, 1945 game, for instance, Quinn struck out 20 batters from Wilbraham, his fifth win in a row for the undefeated Loomis team. He had struck out 17 on May 9 against Westminster, and 89 in the course of the five games.4 Then he threw a one-hitter on May 25, adding another 17 strikeouts.
He graduated Loomis in 1945 and went to Yale, where he majored in English and graduated in February 1949.5 He matriculated in the summer of 1945, and – still age 17 – began work as a starting pitcher for Yale's summer baseball team.6 In the July 28 game against Brown, he was victim of five Yale errors and lost, striking out 14. He was hit hard a couple of times in his first games, but made the adjustments. He struck out the side in the 10th inning to hold back Holy Cross on August 11, shut out a Naval team on the 22nd, and by August 28 had won five in a row. He kicked off the 1946 season with a 1-0 win over Columbia.
Quinn was named to the 1946 Eastern College All-Star team. Yale won the Eastern Collegiate Baseball League title, with Quinn posting a 1.00 ERA (five earned runs in 45 innings). His six-hit, 9-K, 1-0 win over Harvard on June 17, 1947, gave an undefeated Yale team the title again. Quinn was 7-0 with 82 strikeouts.
The year before graduation (1947), he played semipro ball for the East Douglas, Massachusetts, team in the Blackstone Valley League.
In February 1948, it was reported that Quinn had quit Yale to play professional baseball. The Red Sox and Tigers had reportedly also made him offers, but it was thought he was leaning toward the Yankees.7 All three teams had courted Quinn and his family, their scouts dining at the family home in West Hartford, Connecticut.8 The next day, he said he had decided to stay at Yale until he completed his degree. He resumed pitching for the Yale Bulldogs and threw another one-hitter over Boston College on April 22.
He had reportedly only been driven from the mound twice while pitching for Yale. His ERA over the years was just under 2.00 and he had amassed a total of 404 strikeouts. For the second year in a row, Yale played in the College World Series and was beaten by a team from Southern California; Quinn won the penultimate game but, as the Associated Press wrote, "the easterners didn't have another dependable hurler."9
On June 28, the Red Sox outbid the Yankees and Quinn signed with Boston. He was immediately assigned to Birmingham. The Boston Globe reported rumors that the Yankees had offered as much as $50,000, but said, "There is some doubt, though, that he received more than $10,000."10 (The Christian Science Monitor later said he had signed for $75,000. An AP story in 1950 said it had been $40,000.)11 Before he headed south, he threw batting practice to the Red Sox at Fenway. Ted Williams remarked, "He's the best batting pitcher I've seen in months."12
Quinn said he'd been offered a contract even before he went to Yale.13
Unsurprisingly, the challenges were greater in professional baseball, but Quinn acquitted himself reasonably well. He worked in 13 Double-A Southern Association games, throwing 84 innings. He recorded a 4.71 earned run average, and a WHIP (walks and hits per inning pitched) of 1.440.
World War II was well over, but the military still needed men and Quinn was classified 1-A. There was some question in early 1949 as to whether he would be drafted.14 He was not called, and went to spring training in Sarasota.
Quinn was right-handed, stood 6-feet-2, and listed at 180 pounds.
Red Sox manager Joe McCarthy was coming off a season when the pennant had been decided in the first single-game playoff in American League history, Cleveland defeating the Red Sox. No pitcher on the 1948 team had won more than Jack Kramer's 18. Second was Joe Dobson with 16 wins. Pitching was a problem heading into 1949. The average age of the 1948 staff was 30. Kramer, Dobson, Mel Parnell, and Ellis Kinder were likely to come back, but some of the stars who had excelled in prior years – Tex Hughson, Boo Ferriss, and Mickey Harris were all attempting comebacks.
Whatever Quinn was paid on signing, it was a large enough bonus that, under the "bonus baby" rule of the day, neither he nor fellow pitcher Chuck Stobbs could be "farmed out without danger of being claimed by some other AL club."15
Before the season began, Quinn had told the Traveler's John Drohan that he had preferred football to baseball early on, and wasn't sure how long he'd want to stick with baseball. He thought about going into the wool business during the offseason. He had also thought about becoming a newspaper writer.16 For the time being, though, he said, "I don't know of a nicer way to make a living."
Just before the season began, Quinn took out a marriage license at Boston City Hall to marry Miss Jane Bourquardez of North Arlington, New Jersey. They married on April 23. It was more than a month into the season before Quinn got into his first game.
Denny Galehouse, the pitcher who had started and been hit hard in the 1948 playoff game, was released on May 11. This produced "jitters" in the rest of the staff – except, somewhat ironically, Stobbs and Quinn, who were effectively protected by their bonus status.17
Quinn's debut was at Fenway Park on Sunday afternoon, May 29, against the Washington Senators. Ellis Kinder started for Boston, but was hit for seven runs in six-plus innings. Quinn came on with runners on first and second and nobody out. One inherited runner scored, charged to Kinder, but he got through the inning without more than the one run-producing single. It was 8-0. In the eighth, he gave up a double and then a two-run homer. He retired the side in order in the ninth. He had looked "better than fair" and showed "much more than a diploma."18
Quinn pitched a scoreless inning on June 5, four innings with just one run on the 9th, appeared in four games in July, and one in August. With one exception, giving up three runs in two innings on July 3, he pitched fairly well. His best showing was reflected in the 6 2/3 innings of relief he worked on July 20, giving up just one run. He appeared in eight games in all in 1949, all in relief, and posted an ERA of 2.86. He had neither a win nor a loss. He was 1-for-6 at the plate.
The Red Sox were in another pennant race, this one decided (in favor of the Yankees) on the very last day of the season, when New York beat Boston. Though Quinn had pitched well, McCarthy stuck with his regular staff during the stretch drive. He wasn't used after July 24 other than for two scoreless innings on August 25, and then not again for the rest of the year. Stobbs got a lot of work, and was 11-6 (4.03) in 26 games, but Quinn's year was largely wasted, with him taking up a roster slot and sitting on the bench.
Another year in the minor leagues might have allowed him to develop further, but his 2.86 ERA was better than almost everyone on the staff (Mel Parnell was the ace, 25-7, 2.77). It's not surprising that GM Joe Cronin soured on the bonus system. In October he said, "We're not interested in any more bonus players. They're no good for the game and they're no good for themselves."19 Quinn himself said, "I wish I could have had more minor-league seasoning."20
He did report a little arm trouble during spring training in March 1950 and said it was something that had first bothered him in Birmingham. "They told me at the time that I would have a hard time shaking it. I'm supposed to let Manager Joe McCarthy know when I'm ready, and I hope it's soon."21 The Red Sox still needed to keep him in the big leagues, because of the bonus rule.
On March 6, he passed around cigars, celebrating the birth of his first child, a daughter.
Quinn only pitched in one more big-league game. It was in Yankee Stadium on April 26. Mickey McDermott started but only lasted an inning and a third. Quinn was the fourth of four Red Sox pitchers, working the bottom of the seventh and eighth innings. It was 8-2, Yankees, when he came into the game. It was 10-2 at game's end. A walk to Phil Rizzuto, a triple by Gene Woodling, and a double by Joe DiMaggio gave New York the two extra runs.
On May 12, not having been used again, Quinn was put on waivers and was claimed by Washington for the $10,000 waiver price. The Sox had hoped he would clear waivers but both New York and Washington put in claims. "We bought him sight unseen," said Senators manager Bucky Harris.22 "He's young. He'll get a chance to pitch for us." 23
He did not. Five days after the trade, he was hit on the leg by a batted ball during batting practice and had to leave the mound. His arm was reported to be ailing, and he was treated for bursitis in his pitching shoulder. The Senators sent Quinn to Chattanooga on 24-hour recall option. He was 1-3 for the Lookouts in five games (17 innings.) On July 5, Chattanooga in turn optioned him to Charlotte of the Class-B Tri-State League. He was instead recalled, placed on the disabled list, and put under the care of a Washington physician.
Quinn moved to Florida. He joined the Senators for spring training in 1951, saying that his arm was all better. It wasn't. He was again optioned to Chattanooga, this time returned to Washington a couple of weeks later. The Senators weren't ready to give up on him, and even as late as October 1952, he was still in their system. In August 1952, he was brought back onto the team's active list and promptly optioned to Danville, Virginia, in the Class-B Carolina League. He wound up on the Chattanooga postseason roster.
He didn't pitch at all in either 1951 or 1952, and finally left the game. One can understand why, in retrospect, he said he wouldn't have stuck with baseball "for as long a period."
Quinn later moved to Los Angeles and became Vice President of the First Western Bank and Trust Co. there. He worked as a bank executive in New York and Miami as well. In his later years, he worked in Florida real estate development. He married again, to Catherine Park. She predeceased him, but when he died in Boynton Beach, Florida, on January 11, 1993, he was survived by two daughters and a son, all of whom lived in California, and his brother, Robert.24
Sources
In addition to the sources noted in this biography, the author also accessed Quinn's player file and player questionnaire from the National Baseball Hall of Fame, the Encyclopedia of Minor League Baseball, Retrosheet.org, Baseball-Reference.com, Rod Nelson of SABR's Scouts Committee, and the SABR Minor Leagues Database, accessed online at Baseball-Reference.com.
Notes
Born
November 27, 1927 at Springfield, MA (USA)
Died
January 11, 1993 at Boynton Beach, FL (USA)
If you can help us improve this player's biography, contact us.
http://sabr.org/sites/default/files/QuinnFrank.jpg
600
800
admin
/wp-content/uploads/2020/02/sabr_logo.png
admin
2016-06-09 18:06:34
2016-06-09 18:06:34
Frank Quinn