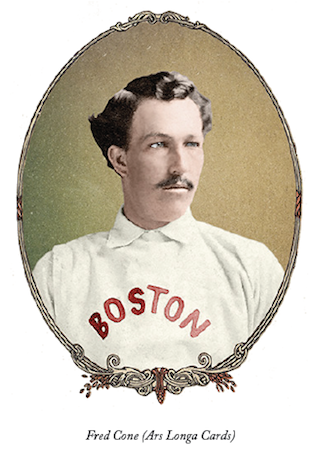 ---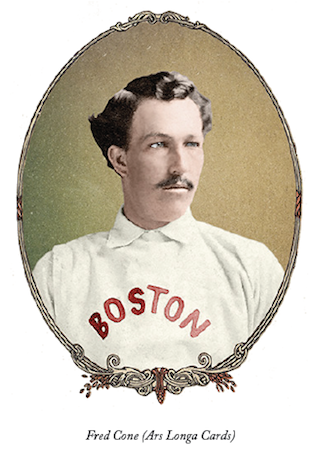 While Fred Cone didn't have much of a career at the plate with a mere 20 hits in his only season, he banged out one-quarter of those hits in one memorable game for the 1871 Boston Red Stockings.
In the team's July 12 game against the Fort Wayne Kekiongas, Cone collected five hits in a lopsided 30-9 victory.
Joseph Frederick Cone was born in May of 1848 in Rockford, Illinois, to Mander and Sarah (Odell Bushnell) Cone. He is listed in baseball records as growing to 5-feet-9 with a playing weight of 171 pounds. We do not know whether he was right- or left-handed.
Young Fred grew up on his parents' farm in the village of New Milford, four miles south of Rockford, with brothers Edward and Hiram Cone. As a boy he played for a junior club called the Unions and then joined another local team, the Sinnissippis (derived from an area near Rockford called Sinnissippi), for the 1866 season.
Cone became the regular first baseman for the Forest City juniors in 1867.1 The club had been established two years earlier and made a successful transition from an amateur squad to a professional team. During that 1867 season, Forest City made quite a name for itself by defeating the Nationals from Washington, 29-23.
Cone went on to play first base for two seasons with Forest City (1868 and 1869) before first baseman Joe Doyle was signed for the 1870 season. Cone then played left field, where "he gained a good reputation."2
Said Cone regarding the signing of Doyle, "He wore no big glove to protect his hands, yet he was lightning on thrown balls, no matter how badly they broke. Up in the air, down in the ground, in fact any old way, he would get them and save many an error. In getting into fast double plays he was a wonder."3
Cone's reminiscences about his playing days with the Forest Citys appeared in a July 15, 1899, issue of the Lima News: "All players in those days were social lions, the old-timers say. Carriages were provided for them whenever they went to other cities to play and all sorts of invitations were extended to them. The fans were enthusiastic as they are to-day and the spectators used to become familiar and take the players into their confidences. Batting and fielding averages formed the small talk at sociable and dinner parties. An astonishing amount of loyalty to the home team was displayed by businessmen, lawyers, judges and the profound thinking economists."4
Cone also recalled the popularity of the sport when the champion Unions of Morrisania, New York, made the trip from the East to play the Forest Citys in Rockford: "The banks closed, business men shut up their stores and the judge of the county court gravely informed his lawyer friends that the court had to sit en banc with a number of other estimable judges – of baseball – in a well-known stand out in the remote part of the city given over to the baseball players."5
"That game with the Unions was one of the best we ever played, although we lost," said Cone.6
During that period, future Hall of Famer Albert Spalding and another future Red Stockings teammate, Ross Barnes, also starred for the Rockford club.
Cone also noted memories of a game played by the Forest Citys in Rockford on October 15, 1870, against the Red Stockings:
"Mr. Spalding has preserved in a scrapbook the score of that never-to-be-forgotten game at Rockford in which the gaudy pennant of the famous Red Stockings was trailed in the dust of defeat by the score of 12 to 5. Each side made three home runs and not a Red walked to first on 'called balls' which showed that Spalding had great control in that contest. The scrapbook also noted, '(Bob) Addy, (Ross) Barnes, (Tom) Foley, (Gat) Stires, (Joe) Simmons and Cone played great ball.'"7
After the 1870 season managing the Cincinnati Red Stockings, Harry Wright was enticed to Boston to head the first professional baseball team there, and he raided the Rockford Forest City team to bolster his lineup. As the Rockford Weekly Register-Gazette put it, "(H)e has paid the Rockford Forest City Club the high compliment of engaging Barnes, Spalding, and Cone; whereat the Chicago Tribune laments that these were not secured for the White Stockings."8 Wright brought the men to play for the Boston version of the Red Stockings for the 1871 National Association season.
Originally, Wright had only intended to take Barnes and Spalding, but "a great catch which Cone made in left field, followed by a throw to the plate which retired a runner, was witnessed by Mr. Wright and he immediately added Cone's name to the list of recruits that he wanted."9
Barnes, Spalding, and Cone lived in a rooming house on Heath Street in the "Boston Highlands" section of the city, about a mile from the grounds and next door to the one where Harry Wright boarded. Al Spalding wrote the Rockford newspaper in late April, before the season began, that "as we are all together, we don't get very lonesome."10
The Red Stockings' first game of the season was played in Washington on May 5. Cone played left field and batted eighth in the order, as he did in almost every game of the season, only occasionally batting seventh. Boston won the coin toss and sent the Olympians to bat first; the Red Stockings came from behind with five runs in bottom of the ninth inning, to win 20-18. Every player on the team scored at least one run; Cone and Cal McVey were the only players to score just once. Cone singled over second base in the eighth and came around to score after a walk and an errant throw to second base on an infield grounder. Cone had walked twice earlier in the game, but was stranded both times.
In a game with the Troy Haymakers on May 9, Cone was involved in a play which that caused severe injury to shortstop George Wright. On a fly ball hit into short left field in the sixth inning, Wright called for the ball but the hard-charging Cone did not hear him because of a passing train and the two players collided.
The injury did not seem serious at first, but it was the same leg Wright had injured in 1870, and after a 20-minute delay he was sent to the hotel in a carriage. He was slow to heal, causing him to miss 16 games (half the team's total of 31).11
The play also affected Cone, who injured a wrist and missed several games. Cone shared an outfield spot with teammate Frank Barrows, who played in 18 games.
The Haymakers and Red Stockings squared off again on May 16, and Cone was one of six Red Stockings to score in the first inning, but Troy got its revenge and won, 29-14.
In his only major-league season, Cone played in 19 of the 31 games, as well as several exhibition games. He batted .260 (20-for-77) with 16 runs batted in and 17 runs scored. He had three doubles and a triple, but was more of a threat on the bases as he stole 12 bases while being caught only once. His .260 batting average ranked him ninth on the team, but his .329 on-base percentage placed him fifth.
Defensively, Cone committed seven errors in 48 chances, for an .854 fielding average, which would seem abysmal by later standards, but was in fact tied with Ross Barnes for third-best on the squad. The Red Stockings as a team recorded an .834 fielding average. Cone had two outfield assists.
Where the 1871 Boston team had fielded a roster of 11 players, the 1872 team made do with just 10 players all season long. Fraley Rogers, Andy Leonard, and Harry Wright were the outfielders. Cone was not needed. He was in Boston as late as April, and was the umpire in a couple of games between the Red Stockings and Harvard, but was not retained for the ballclub.
He was considered for a Chicago professional team in 1873, but nothing seems to have come of it.12 In 1876 he signed with Chicago as "assistant manager, and substitute."13 No more is known about his possible play that season.
After his baseball career, an opportunity arose for Cone to work as a hotel clerk and he left the game to go into the hotel business. While playing for Rockford, he had been a hotel clerk and worked for a man named Harry Starr in the Holland House. The Rockford Daily Register reported in 1883 that "Cone is now one of the best hotel clerks in Chicago and flashes his diamond studs behind the Grand Pacific counters."14
Cone married Elizabeth (Munger) Holley on December 2, 1881. The couple had no children.
In later years, he became the night manager of the Grand Pacific and later worked for the Wellington and Great Northern hotels in Chicago.15
Shortly after Harry Wright died, a "Harry Wright Day" was held in several cities on April 13, 1896. Cone was among those who traveled to Rockford, reuniting in an exhibition game with Spalding, George Wright, Addy, and a number of others from the Forest City teams of the 1860s.
Cone became quite opinionated about the progress of the game of baseball and in an 1896 interview with the Rockford Daily Register expressed his disdain for the way the game was being played in the professional ranks.
"From what read in the papers I have come to the conclusion that they don't play ball nowadays. I don't want to see the time-honored game dragged in the dust," the paper quoted him as saying.16
Cone noted that the current crowds, estimated at 6,000, were a far cry from the cozy crowds of his day.
"I did not feel at home among the crowd. It was no good-natured, howling crowd, but they all sat there with a long look on their faces, as if something terrible was about to take place. What do people go to a ball game for if it is not for a good time?" he said.
Cone also expressed surprise at the "gloves" worn by the players in the field, as opposed to playing barehanded as many players in his day did.
"Try as hard as I could I was unable to pick out the catcher among the crowd of players. All because they had a big bunch of cotton on their hands. Even the fielders wore them," he said.
"After the game was started the first batter knocked a little weak fly over third base and the crowd yelled. I could not see what they yelled for, as I was ashamed of the batter. Then I found the catcher. Oh, what a sight he was. On his breast he wore a mattress that was large enough for a family of six to sleep upon, and talking about gloves, it was a corker, big as a large pillow. Around his head he wore enough steel to keep all the firm of the 'Long, Short & Co.' in confinement for years to come. How that poor, imposed upon fellow could see is more than I can make out."17
A note in an 1896 issue of the New York Times regarding an old-timers game said, "Fred Cone, who made his advent into Rockford in 1868 with his overalls in cowhide boots, as a member of the Stillman Valley 'Plowboys,' now wears a gorgeous diamond in his shirtfront and is the day clerk of the Victoria Hotel."18
After an illness of seven weeks, Cone died at his home on Oakwood Boulevard in Chicago of apoplexy at 6 A.M. on April 13, 1909 at the age of 61. He was survived by his wife of 30 years and a brother E. Frank Cone. Funeral services were held at Graceland Chapel in Chicago, where he was buried.
Notes
1 Peter Morris, William J. Ryczek, Jan Finkel, Leonard Levin, and Richard Malatzky, Base Ball Pioneers, 1850-1870: The Clubs and Players Who Spread the Sport (Jefferson, North Carolina: McFarland & Co., 2012), 230.
2 "The National Game," Rockford Weekly Register-Gazette, March 25, 1871: 8.
3 Base Ball Pioneers, 230.
4 "Baseball Thirty Years Ago – What Has Become of the Members of the Forest City Ball Team of 1870," Lima (Ohio) News, July 15, 1899: 24.
5 Ibid.
6 Ibid.
7 Ibid.
8 "The National Game," Rockford Weekly Register-Gazette, January 21, 1871: 9.
9 "J. Fred Cone Buried Today," Daily Register-Gazette (Rockford, Illinois), April 15, 1909: 2.
10 "Our National Game," Rockford Weekly Register-Gazette, April 29, 1871: 8.
11 William J. Craig, A History of the Boston Braves: A Time Gone By (Charleston, South Carolina: The History Press, 2012), 78. Initial reports had Wright, "the acknowledged King of the Base-ball Field," suffering a broken leg. See "George Wright Injured," Cincinnati Enquirer, May 10, 1871: 8.
12 "Base Ball," Chicago Tribune. July 24, 1972: 6.
13 "Base Ball," Rockford Weekly Register-Gazette, January 7, 1876: 3. The November 3, 1875, Boston Journal mentions Cone as a "business manager" as well.
14 "A Man About Town," Rockford Daily Register, July 14, 1883: 3.
15 Base Ball Pioneers, 230. See also "Fred Cone Makes Changes in Place of Employment," Rockford Morning Star, March 17, 1904: 2.
16 "The World of Sport," Rockford Daily Register, August 29, 1896: 3.
17 Ibid.
18 "Diamond Field Veterans: Stars of a Quarter of a Century Ago to Play a Ball Game," New York Times, April 12, 1896: 3.
Born
May , 1848 at Rockford, IL (USA)
Died
April 13, 1909 at Chicago, IL (USA)
If you can help us improve this player's biography, contact us.
https://sabr.org/sites/default/files/Cone_Fred_0.png
600
800
admin
/wp-content/uploads/2020/02/sabr_logo.png
admin
2012-01-04 20:35:22
2022-02-09 16:40:24
Fred Cone