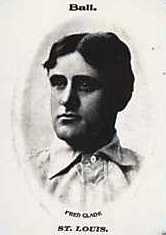 ---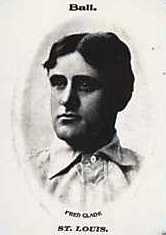 Fred Glade was a wealthy man before playing major league baseball. His family owned milling businesses which eventually became a piece of the modern conglomerate ConAgra. He had pressing family and business responsibilities and didn't need a salary from baseball. He appeared at spring training on his own schedule, if at all. He jumped clubs with frequency and filled newspapers columns in the winter with claims of quitting the game. After years of hearing this, sportswriters started to refer to him as the "Millionaire Ballplayer."
Baseball men put up with these eccentricities, as they always do, because Fred Glade could burn that ball in there. He was among the fastest pitchers of his time. Despite the fact that he only pitched one game in the National League in 1902, one umpire claimed he was the fastest pitcher he'd seen all year. Glade had a decent curveball as well. When it was on, he routinely sent batters back to the bench. In one game he struck out fifteen, during the slap and hit Deadball Era, to set the American League record. The only thing keeping Glade from becoming an elite pitcher, besides devotion to baseball, was a changeup; in fact, he absolutely refused to throw one. As one observer put it, he preferred to burn in one pitch after another. He did so ala Louis Tiant with a 180 degree twist on the rubber.
Frederick Monroe Glade was born in Dubuque, Iowa on January 25, 1876 to Henry and Catherine, nee Etting, Glade. Henry Glade was the youngest of twelve children born in Hanover, Germany. The Glade family left Germany for the United States within days of Henry's birth in 1844. After thirteen weeks at sea, they arrived in New Orleans and made their way to St. Louis. Not long after their arrival Henry's father passed away and soon thereafter his mother did as well. The Glade children were left to fend for themselves. Henry made his way as a child to Dubuque, Iowa where he found employment in a flour milling company. Eventually, he became operator of a mill in Swiss Valley, Iowa.
Henry and Catherine, a native Iowan, were married in Bellevue, Iowa on April 26, 1866. The Glade family left Dubuque and moved to Nebraska on December 22, 1878, nearly three years after Fred was born. Henry worked in a mill in Columbus and soon bought into his first mill, at Clear Creek in Polk County, Nebraska. The Glades had six children, August, Christina, Frederick, Filbert (Phil), Arthur and another child who died young. In 1883 they settled in Grand Island where Fred attended local public schools. In February 1886 Catherine Glade passed away. Seven years later, Henry married Louisa A. Brown from Nebraska. A few newspaper references claim that Glade attended college but little is found here; none of the Glade boys went to college. One article claimed that he attended Baptist College but the Glade children were raised Lutheran. To note, Fred later became a Christian Scientist like his wife.
As a teenager Fred, like his brothers, entered his father's milling business. Flour milling began in Hall County, Nebraska in the early 1860s, predating the arrival of the transcontinental railroad. Koenig & Wiebe was one of the earliest mills in Grand Island.
In 1882 Henry Glade and partners, including a couple of his brothers, built their first mill, in David City. The following year Glade moved to Grand Island and purchased the Koenig mill with all the capital he had. By mid 1884, Glade had built a new mill, now called Glade & Company's Roller Mills on the same property while using the old one as a warehouse. In 1884 the mill, which sold rye, flour, bran, shorts and chopped feed, had a capacity of 200 barrels of flour per day. They created four popular brand names: White Elephant; Queen Patent; Red Lion; Baker's Choice.
Fred and his brothers loved to play baseball when they could escape their responsibilities at the mill. Phil was a catcher and outfielder, a quick and able fielder. He played for the local Grand Island amateur club from 1897-1903. He also played minor league ball with Cedar Rapids in 1899, Omaha in 1901 and St. Joseph in 1903. Art Glade pitched for Grand Island from 1901-03. Fred, a big, strong righthanded pitcher, broke away from the mill for months at a time to indulge his baseball passion. He played amateur and semi-pro ball throughout his teenage years and early twenties. Mainly he played for Grand Island, from 1895-99. He also pitched occasionally for other local clubs such as Kearney and Ohiowa.
Glade joined his first professional squad, Fort Worth in the Texas League, in 1898. When not on the mound, he played left field. He made his professional debut on April 10, an 8-6 loss to Dallas, and remained with the club until it disbanded; he then joined Galveston for a few games. On June 5, Glade signed with Cedar Rapids in the Western Association to replace Frank Lothrop in the rotation; however, the season ended abruptly and Glade pitched briefly, if at all for Cedar Rapids in 1898. He returned home to Grand Island and pitched for the local club.
Phil and Fred played for Cedar Rapids, managed by Belden Hill, in April and May 1899. On May 25 Phil was released for ineffectiveness and Fred was sent home with a sore arm. He had been ineffective as well. Fred joined Grand Island but he didn't return to Cedar Rapids. He also pitched for Ohiowa, a local club, that summer. Glade was purchased by Des Moines of the Western League in 1900, rejoining his relocated manager Belden Hill. Glade arrived on June 12 and played with the club through the end of the season. It was a tight pennant race, with Des Moines falling short of the pennant by a game and a half. Glade pitched for Des Moines for the entire season in 1901; however, the team was much less impressive, finishing 31 games out. Glade led the league in strikeouts with 196. The performance gained the attention of major league clubs.
In early 1902 Des Moines sold Glade to the Chicago Cubs for $500. He joined the club late for spring training in Champaign, Illinois, waiting until the turn of April to arrive. He performed well and impressed manager Frank Selee, pitching on April 3, 4, 5, 10 and 15. Soon thereafter though, he disappeared. Selee looked all over but couldn't find his new pitcher. Glade had taken off for home. The Cedar Rapids Evening Gazette had seen this before, leading with the headline "Glade's Old Trick." The article continued, "Glade from all accounts is a peculiar chap. When he left the ball park last week he made it a point to forget to tell his club-mates that he was going out of town. Glade hails from the wilds of Nebraska and his father not only owns a fat bank account but is opposed to his son taking up baseball as a profession." This would be a recurring theme throughout his career. Fred Glade pitched when Fred Glade wanted to. He had business responsibilities at home and didn't need a salary from baseball.
On May 2 Chicago president Jim Hart suspended the absent pitcher and three other absentees, two were playing in the American League and another, Rube Waddell, was in California playing ball. Glade made amends with Selee and Hart and rejoined the club in mid May. On May 27 he made his major league debut at age 26. The righthander was hit heavily; in fact, he was shelled that day in St. Louis. Over eight innings, he gave up eleven runs, eight earned, thirteen hits, walked three and hit a batter. That was the end of Glade's career in Chicago. Selee was no longer impressed; he sold him to St. Joseph, Missouri. Glade did make an impression on at least one baseball man. The umpire that day, Hank O'Day, mentioned that the fastest pitcher he had seen in 1902 was Glade and he had high hopes for the righthander when he learned to control his wildness. Glade made his first start for his new club on June 4 and finished the year there, pitching in 24 games for the Western League club.
Glade rejoined St. Joseph in the spring of 1903 and played the entire season for the club, pitching in 32 games and batting .279 in 104 at bats. His brother Phil joined him on the roster. In September Fred was drafted by the St. Louis Browns. Glade turned in a stellar rookie season in 1904 with an 18-15 record in 35 games. The eighteen victories mark the highest win total for a Browns rookie in club history. Glade and fellow rookie pitcher Barney Pelty posted 33 wins for St. Louis, amounting to more than half the club's total victories. On June 19 Glade struck out ten Highlanders and ceded only four hits in a 1-0 victory. On July 15 his curve ball was especially dazzling. He fanned fifteen Senators without giving up a base on balls, though he hit two batters. The fifteen strikeouts set the American League record, which would be broken by Rube Waddell in 1908. Glade posted a 2.27 ERA in 1904 and tossed six shutouts, three in September. Over the winter, the pennant-winning Red Sox offered $5,000 for the rookie flamethrower but the Browns were pleased with their new find.
As noted, Glade threw hard; only a few of his era threw faster. He had an effective curveball as well. He was also a deceptive pitcher in that he twirled around on the rubber ala Louis Tiant, for a modern reference, seemingly studying the outfield wall before he delivered to the plate. Per Jake Stahl, "Glade faces the second baseman and then wheels around. That sort of delivery makes any batter pull a little, and that's the reason Glade is so effective." The Jefferson City Post-Tribune further commented on his ability to hide the ball from the batter until the last possible moment, "Fred Glade…seemed to yank the ball from the pit of his back." Glade's game though had one glaring shortcoming; he refused to throw a changeup. As the Cedar Rapids Evening Gazette noted in 1899, "His only weakness is in his disposition to pitch every ball just as hard as he can, instead of using a change of pace." The Neyer/James Guide to Pitchers offers this insight from an unidentified newspaper clipping from 1907, "If he had a slow ball he would be the game's greatest pitcher. When requested to cultivate a change of pace, Fred would explain that it hurt and weakened his arm to deliver a slow ball."
Nineteen Aught-Five didn't go as smoothly on the mound. Glade lost 25 games against only six victories. His ERA was only 2.81 which wasn't strikingly above the league average of 2.65. The Browns just didn't score at the right time in 1905. St. Louis and Detroit allowed and scored a similar amount of runs. The Tigers finished in third place, the Browns in last with 25 fewer wins. In eleven of Glade's starts the club lost by one run.
Glade won 15 games in 1906. On December 19, 1906 he married Dixie Durr Husband, Missouri native, in Woodbine, Iowa. He once again declared that he was through with baseball, a promise to the new bride. He showed up for spring training though but didn't make his first start until May 11 in 1907, a full month into the season. That day, he tossed all twelve innings and doubled and scored the winning run in the 12th in a 5-4 victory over Washington. He continued to do well, winning his first six starts. In all he posted a 13-9 record. However, Glade wasn't happy in St. Louis; he openly declared that he would rather quit than rejoin the club in 1908. In public statements he was more than pleased when the Browns traded him to the Highlanders on November 5. New York manager Clark Griffith had been trying to acquire Glade since at least 1906. Griffith traveled to the Glade home over the winter to make sure his fickle new hurler would be happy in New York.
Glade reported to the Highlanders in good condition on March 15, 1908 and even boasted to have a new pitch in his arsenal. He called it the "leap ball," a fancy new curve that was surely the "greatest discovery since the spitball." Griffith named him Opening Day starter but changed his mind at the last minute due to cold weather. Glade didn't end up pitching until the ninth game of the season on April 24. He pitched again on May 2 but was done for more than a month thereafter. He was suffering from stomach troubles. Reports of the cause varied, including malaria and the lingering effects of Bright's disease. Another report suggested that he drank impure milk. Glade started again on June 5, 16 and 21 but that ended his season, and career. In total he started only five games, losing four.
Glade had been having trouble with his manager during his absence. In fact, Griffith was battling with a few of his men in 1908. He wanted his new pitcher on the mound every few days, not claiming illness. Tensions boiled over on June 21 after Glade gave up four runs in the third inning versus his old club, St. Louis. Griffith was already upset that his nine had only won four games during the 16-game road trip. He pulled Glade out of the game and fined him $25 for failing to cover first base on one play. Joe Lake came in and shutout the Browns but it was too late, the club lost 5-1. Glade and Griffith teed off on each other; ultimately, Griffith told his pitcher to either pay the fine or go home. True to form, Glade took off. He later claimed though that there were no hard feelings; he was just at home resting a sore arm.
The trade to get Glade was one of the final nails in Griffith's New York coffin. He gave up Jimmy Williams, Hobe Ferris and Danny Hoffman for Glade, Charlie Hemphill and Harry Niles. Hemphill proved to be the only plus from the trade, while Williams and Hoffman did well for the Browns. Three days after he pulled Glade, Griffith resigned. Glade promised new manager Kid Elberfeld numerous times that he would rejoin the club but he never did. Glade's professional baseball career ended. He signed a contract with the Highlanders in February 1909 but later sent new manager George Stallings a letter stating that he would be unable to join the club at the start of spring training. He promised over and over to rejoin the club but never showed, continually pushing off his estimated arrival date. Glade even promised a comeback in 1910 but that fell through as well. Reports suggest that the Highlanders continued to offer Glade a roster spot for years to come, despite the fact that he was in his late thirties.
Glade had business and family obligations to attend to in Nebraska. The Glades had two boys, Frederick Monroe Jr. born in 1909 and Henry Dixon born in 1911. The family settled at 110 South Elm Street in Grand Island. They also briefly lived in Abilene, Kansas and Sugar City, Idaho while Fred opened mills.
Henry Glade fell ill in mid 1910 and died on December 18. The company was reorganized and incorporated, becoming the Henry Glade Milling Company in August 1911. Fred became the company's new president. Within two years the mill was operating eighteen hours a day and producing nearly 400 barrels a day. Annual revenue topped $650,000. Fred was given a great deal of credit for the company's increased fortunes; however, the mill business ran into difficulties during World War I. To compensate, the Glades merged with three other mills to form the Nebraska Consolidated Mills in September 1919. At this point Glade retired but maintained a financial interest in the new venture. In 1922 Nebraska Consolidated doubled its capacity with the purchase of the Updike Mill in Omaha. It now produced enough in one week to feed the entire state for a year. In 1971 the Grand Island operation was renamed ConAgra. Through a complicated evolution and metamorphosis the company thrives today with such popular brands as Banquet, Chef Boyardee, Healthy Choice, Hunt's and Libby's, to name a few.
Obviously, Glade did extremely well financially. Over the years, he held a financial interest in and sat on the board of the Grand Island ballclub of the Nebraska State League. He was also involved in local Republican politics and owned a Goodrich franchise. Fred Glade passed away at home on November 21, 1934 at age 53 after a long illness. He was interred at the Grand Island Cemetery.
Sources
Ancestry.com
Boston Globe
Cedar Rapids Evening Gazette
Cedar Rapids Republican
Chicago Tribune
Colorado Springs Gazette
Daily Kennebec Journal, Maine
Des Moines Capital
Des Moines Daily News
Evening News, Ada, Oklahoma
Fort Wayne Sentinel
Galveston Daily News
James, Bill and Rob Neyer. The Neyer/James Guide to Pitchers: An Historical Compendium of Pitching, Pitchers, and Pitches. New York: Simon and Schuster, 2004.
Jefferson City Post-Tribune, Missouri
Lincoln Evening News
Lincoln Evening News and Daily Call
Lincoln Star
Mansfield News
Nebraska Daily Journal
Nemec, David and Dave Zeman. The Baseball Rookies Encyclopedia. Brassaey's, 2004.
New York Herald
New York Times
Retrosheet.org
Sabrwebs.com
Salt Lake Tribune
San Antonio Daily Light
Sporting Life
Stough, Dale P. History of Hall County Nebraska. Lincoln, NE: Western Publishing and Engraving Co., 1920.
Stuhrmuseum.org
Washington Post
Born
January 25, 1876 at Dubuque, IA (USA)
Died
November 21, 1934 at Grand Island, NE (USA)
If you can help us improve this player's biography, contact us.
http://bioproj.sabr.org/bp_ftp/images3/GladeFred.jpg
600
800
admin
/wp-content/uploads/2020/02/sabr_logo.png
admin
2012-01-04 20:42:01
2012-01-04 20:42:01
Fred Glade