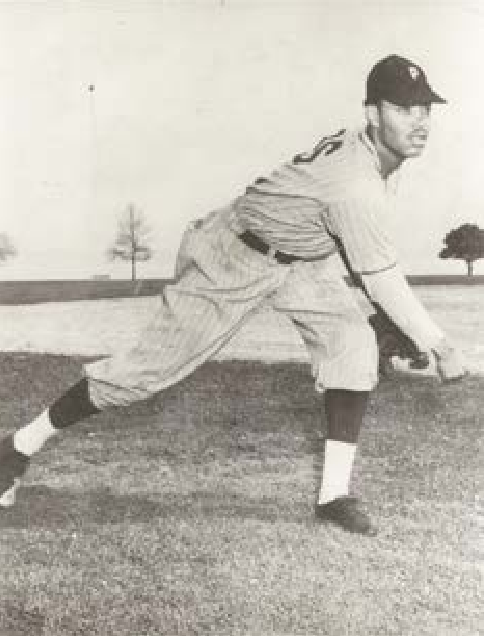 ---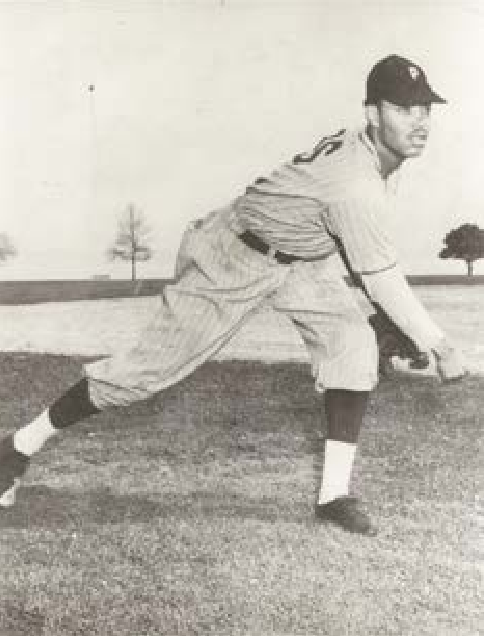 Right-handed pitcher Garnett Blair had the opportunity to play for a hometown team. In a better world, it wasn't the one he might have pitched for. Racial segregation stood in the way of that.
Blair attended Pittsburgh's Langley High School, a member of the Class of February 1940. The school itself is an impressive one architecturally, and is on the National Register of Historic Places. He was 4-0 for Clark High in 1938, moving over to Langley in 1939. The Langley baseball team was the 1939 city champion team in Pittsburgh. Photography in the school yearbook suggests Blair was the only black player on the team, but he was one of two standout pitchers. The yearbook in general shows that this was a well-integrated school, and the notations next to student photos were kind to all. The photograph of him informs us today that his nickname was Tiny (he stood 6-feet-4 and is listed as weighing 215 pounds) and the write-up reads:
We know he's a star in the field of sports;
His character's got the swellest report.
Blair played basketball, baseball, and football, as well as serving as vice president of Consumer's Education. His standout moment in high school was the no-hitter he threw against Carrick High on May 11, 1940. Blair struck out 15 Carrick batters that day.
As yearbooks often do, there were remarks predicting what students would be doing 10 years hence – in 1950. Blair was foreseen as "star pitcher" for the Pittsburgh Pirates.
This was, of course, a remarkable notion, given that there would not be a black player for any of the major-league teams until Jackie Robinson broke the "color barrier" in 1947. Yet Blair's fellow students at Langley had no problem seeing him as pitching for the Pirates. In actuality, the Pirates themselves did not integrate until Curt Roberts joined the team in April 1954.
Blair did play professional baseball in Pittsburgh, but it was for the Homestead Grays of the Negro National League, for whom he played five seasons. His high-school record notwithstanding, Jim Riley says he was "discovered by the Homestead Grays playing sandlot ball with the Pittsburgh Monarchs."1 He wasn't exactly a secret, though. The Pittsburgh Courier ran a three-column headline proclaiming, "Garnett Blair, Point Scoring Ace Of Pittsburgh High Schools, Turns Attention To Baseball."2 Blair was 6-feet-3, 187 pounds at the time, "a fine-looking, curly-haired, 17-year-old colored boy who plays basket, baseball, and football equally well and thinks nothing of the brilliant records he has made in each of the three major sports during his sensational high school athletic career."3
Prior to his stint with the Grays, Blair had pitched for three seasons for the Pittsburgh Monarchs, a strong local team that reeled off 22 consecutive wins in 1941, with Blair noted as "still pitching like an ace."4
Garnett E. Blair was born on July 31, 1921, in East Carnegie, a neighborhood of Pittsburgh just about five or six miles southwest of the city center. His father, Edward Blair, came from Milledgeville, Georgia, where he had worked as a laborer in a tailor shop. He married fellow Georgian Celestine Brown on December 30, 1918, and the couple moved to Pittsburgh, where they lived on Copley Way. Edward's parents had been Moses Blair, a laborer in a brickyard, and Earnest Blair, a washerwoman for a private family.
Private family work was what Edward did after coming to Pittsburgh. He is listed in the 1930 census as a janitor for a private family, and in 1940 as a caretaker on a private estate. The couple raised five boys and one daughter. Garnett was the second-eldest. The youngest was Lonnie, who also played baseball for Homestead.
After high school, Blair went on to begin studies at Virginia Union University, a historically black university in Richmond, where he played center on the basketball team, the Panthers, in 1942. That December Blair enlisted in the US Army at Fort Meade, Maryland. He was in military service for more than three years, mustered out on February 17, 1946, at Indiantown Gap, Pennsylvania. Because of his talent in baseball, he worked in special services, playing some ball to provide morale-building entertainment for other military personnel. He returned to Virginia Union after the war, and ultimately graduated with a bachelor of science degree in commerce in 1949.
During his tour of duty in the Army, Pfc. Garnett Blair married Ruth Odessa Brown in January 1945. She was also a graduate of Virginia Union University.
Negro Leagues records are unfortunately quite incomplete, but Blair does appear to have started one game pitching for Homestead in 1942, without a decision (and also without a base hit in four at-bats.) In 12 innings pitched, he is reported to have given up 12 hits and five runs.
It was not uncommon for servicemen stationed stateside to have time to appear in occasional baseball games, and that appears to have been the case with Blair. He was stationed at Perry Point, Maryland, and pitched in Washington on weekends for Homestead when he could.5 The Grays played "home games" both in Pittsburgh and in Washington, DC. Records available on Baseball-Reference.com show him pitching in (and winning) one game, working seven innings for the 1944 Grays. John Holway shows him as 2-0. Both agree he was 8-1 in 1945, starting nine games, striking out 35 while only walking nine. He's shown as 0-1 in two starts for Homestead in 1946, after having "turned up with a sore arm."6 Though on the Opening Day roster, he doesn't appear to have pitched at all in 1947, and then 0-1 again in his only game in 1948. Jim Riley says he was 3-2 in 1948.
Buck Leonard said that Blair "had been a promising young pitcher. He went into the Army and never was the same when he came out. He hurt his arm and couldn't throw like he had before, so he quit baseball and started playing basketball."7 Blair's son, Douglas, understands it to have been a rotator-cuff injury to his right shoulder; doctors had wanted to operate, but with only a prognosis of a 50 percent chance of success. His father declined and took injections for pain for many years.8
Blair continued to play center for Virginia Union basketball in 1947 and 1948. (At the time, his amateur standing in basketball was not compromised by his having played professionally in another sport.) He was said to have also "made the Caribbean baseball circuit."9 Douglas Blair says that a couple of his teammates played winter ball in the Caribbean but that his father "went back to college, the Virginia Union University in Richmond."10 
In June 1948, Blair is also seen pitching for the Richmond Giants, in one game beating the Greensboro Red Wings with a two-hitter on June 6.11 Blair also worked as baseball coach for Virginia Union University, while wrapping up his studies. He was also a member of the Joseph T. Hill Philosophy Club, the NAACP, and the Varsity Club, and played intramural sports.
Back with the new Negro American Association's Washington Homestead Grays in the early part of 1949, Blair was joined briefly by his younger brother Lonnie, who had finished up his school term and was signed by Homestead, reporting for duty on June 12.12
Jim Riley shows Lonnie Blair as pitching and playing second base for the Grays, writing that he "joined the Homestead Grays in 1947 while still in high school but was not on the traveling squad, and pitched mostly in exhibition games. After the demise of the Negro National League following the 1948 season, he stayed with the Grays for two more seasons while they played as an independent ballclub, sometimes 'passing' because of his light complexion to buy food for the team as they traveled throughout the South. Earning a salary of $300 per month with the Grays, he declined a tryout with the Cleveland Indians, and after the Grays broke up in 1950, he joined the Air Force."13
The two brothers overlapped briefly on the Grays.14 Just shortly after the time Lonnie joined the new Grays in 1949 (Josh Gibson Jr. was also on the team as a utility player), Garnett Blair moved to work for the Richmond Giants. He won the second game of the August 7 doubleheader against the Washington Hilldales, 3-2, but lost a real heartbreaker, a 1-0 game that ran for 13 innings on September 17.
After his June 1949 graduation, Blair became the baseball coach at Manassas (Virginia) Regional High School.15 He pitched for Richmond in 1950 and part of 1951 as well, but he then retired with a sore arm. In 1953 he was signed to pitch for the Richmond Colts, becoming the first black ballplayer on the team. Colts owner Eddie Mooers announced on April 8 that the Colts were considering adding a Negro player to the team. He chose not to present a name but said the man he had in mind was 6-4, weighed 225 pounds, and hailed from Richmond. Blair acknowledged he had been contacted by Mooers and would try to get himself into condition. "I think I'll be able to win in the Piedmont League," he said, "if my arm doesn't pain me."16 He was working with the Binga Community Center at the time.
Blair made the Colts and opened the season with them, but he figured so little in actual play that he does not appear in final team stats. He pitched four scoreless innings against Binghamton on April 19 but apparently could not continue. Riley says he appeared in two games without a decision.
The travel did a number on Blair's arm. "Sitting with his arms crossed on rickety old buses that bounced along on bad roads for hours at a time took a toll on Blair's body," wrote Mike Harris of the Richmond Times-Dispatch. "Teams would often play doubleheaders on Friday, Saturday, and Sunday, in different cities. Even if the Grays were 'home,' there was travel because the team split its home games between Forbes Field in Pittsburgh and Griffith Stadium. For a while, the team was known as the Washington Homestead Grays. Blair recalled one weekend where the team played a late doubleheader on Friday in Pittsburgh. It then got on the bus for Washington and arrived just in time to change clothes and go out and play two more games. After that doubleheader, the team got back on the bus and headed to Chicago for two more games.
"Eating, sleeping, even going to the bathroom was a chore on the road because blacks were still not allowed in many places. 'I remember once someone needing to use the bathroom and we had to drive through Richmond all the way to Fredericksburg before we could find a place,' Blair said. 'Nowadays, people wouldn't stand for that, of course. But we put up with it then, overlooked a lot of things we probably shouldn't have, because we wanted to play baseball. You had to conform, go on and do it. That's what we did.'"17
Blair later took up a position coaching and working in the special-education department of Richmond's Booker T. Washington Junior High School, where he served for nine or 10 years into the late 1960s. Subsequently, he spent 25 years as a special-education teacher at the Richmond Career Education Center. Blair also worked for many years officiating in both high-school and college basketball.18
Ruth Brown Blair became the first black policewoman in Richmond, serving from December 1949 to December 1966. "She was a detective," said the Blairs' son, Douglas.19
On September 10, 1988, Blair was honored along with 1948 Homestead Grays teammates at a 40th reunion hosted by the Pittsburgh Pirates. Joining him were Clarence Bruce, Wilmer Fields, Buck Leonard, and Willie Pope. He was also honored in an Upper Deck Heroes of Baseball tribute to the Negro Leagues at Philadelphia's Veterans Stadium on August 10, 1991. It was nice to be remembered so many years after his playing days, he told Harris, but he did wonder if the interest was genuine or if it was due to "cash to be made in the growing collectors market." Blair, who was already suffering from the colon cancer that took his life, said, "It is never too late to correct something that should have been done years ago. But I do sometimes wonder what took so long and why is it happening now?" He had started to get requests for autographs in the mail, as many as 20 a week. After going more than 40 years without recognition of this sort, "All of a sudden, here is come, boom, like a flood. It is all I can do to keep up with it. Prior to that, you never heard one word about black baseball."20
Looking back on those days, he said, "You know, a lot of what we went through wasn't very pleasant. Back then it was because I was traveling and seeing the world. We were had, we really were, in a lot of ways.  But we wanted to play baseball. That's as high as a black man could go to play baseball at that time. We got two dollars a day to eat on. We wanted $2.50. Today, players strike over that kind of thing. We didn't get that extra 50 cents. We kept on playing. We wanted to play ball. Besides, at $450 a month, I was making more than my father ever made."21
Blair told Harris he couldn't recall ever losing more than one game, but the problem in pinning that down later was the lack of accurate records: "They just weren't kept." He ascribed that more to his teammates' offense than his own pitching. "I've said it before, I'll say it again: If you could hold a team to seven, eight, nine runs, you could win a game with the Grays. They were that good. I didn't have many 1-0 games. Most of 'em were blowouts. If anybody could pitch at all, they could win there.
 "I only lost one game that I know of, 2-1 to the Philadelphia Stars at Griffith Stadium in Washington, D.C. It was on a Sunday. That's what I say. Somebody else wants to say something else, I'm not going to dispute 'em.
"I have no idea how many games I won, no idea. I couldn't tell you to save my life. I do know I never had a home run hit off me in the eight years I played baseball."22
In later years, Blair was occasionally welcomed at events honoring former Negro Leagues players. His son Douglas says he held good memories of his time playing baseball. "We heard so much as kids, and thought maybe there was a little yeast in the stories, but later on they made some movies like Bingo Long and the Traveling All-Stars." He recalled buying his father the video of the 1976 film The Bingo Long Traveling All-Stars & Motor Kings. It had a little Hollywood stuff, but a lot of that was based on the Homestead Grays. Some of that was a little dramatized, but for the most part [he thought it was accurate.] They did some barnstorming. One story he liked to tell, they came to Richmond and play a game on a Friday, and then go south to another town called Colonial Heights. The story was that they'd give you a ticket if you were going one mile an hour over the speed limit. They stopped the bus and the man said, 'How much is the ticket?' and they said $100. 'Well, here's $200 because we're coming back Sunday.' So they gave him $200. You think that money ever made it to the court?"23
The main regret Douglas recalls his father expressing was when the commissioner of baseball cracked down on the barnstorming tours that often pitted Negro Leagues players against teams led by major leaguers such as Dizzy Dean. It spared the embarrassment to major-league ball that occurred when Negro Leagues teams beat some of the best in baseball. "That's what it was," says Douglas. "Dizzy Dean was one of the best pitchers in baseball. It wasn't like these were third-string guys."
Blair died of colon cancer at Johnston-Willis Hospital in Richmond on January 12, 1996, survived by his wife, Ruth Brown Blair, and described as "a retired educator and former pitcher in the Negro National League." Also surviving were the couple's three sons, Garnett Blair Jr., Douglas, and William. The three played Little League baseball when they were young. Garnett Jr. retired from the Virginia Employment Commission, Douglas sold life insurance for 37 years, and William works in the automobile business.
In 2008, Garnett Blair was honored with induction into the Virginia Union University Hall of Fame.
This biography appears in "Bittersweet Goodbye: The Black Barons, the Grays, and the 1948 Negro League World Series" (SABR, 2017), edited by Frederick C. Bush and Bill Nowlin.
Sources
In addition to the sources noted in this biography, the author also accessed Blair's player file from the National Baseball Hall of Fame, the Encyclopedia of Minor League Baseball, Baseball-Reference.com, and the SABR Minor Leagues Database, accessed online at Baseball-Reference.com. Thanks to Douglas Blair, to Michael J. Szvetitz of the Richmond Times Dispatch, and to Selicia Gregory Allen of Virginia Union University.
Notes
1 James A. Riley, The Biographical Encyclopedia of the Negro Baseball Leagues (New York: Carroll & Graf, 1994), 88.
2 "Garnett Blair, Point Scoring Ace Of Pittsburgh High Schools, Turns Attention To Baseball," Pittsburgh Courier, March 11, 1939: 13.
3 Ibid.
4 Robert Hughey, "Monarchs Qualify for City Series," Pittsburgh Courier, August 30, 1941: 16.
5 "Former Pitcher G.E. Blair Dies at 74," Richmond Times Dispatch, January 14, 1996: B3.
6 R. Earl Johnson, "The Sports Whirl," Pittsburgh Courier, June 1, 1946: 25.
7 Buck Leonard with James A. Riley, Buck Leonard: The Black Lou Gehrig, An Autobiography (New York: Carroll & Graf, 1995), 162.
8 Letter from Douglas Blair Jr. to author, June 21, 2016.
9 "Negro Hurler May Sign With Colts," Richmond Times Dispatch, April 9, 1953: 24. Wherever he may have played, he is not listed in the standard sources as having played professional baseball in Cuba.
10 Author interview with Douglas Blair on March 17, 2016.
11 "Giants Divide With Red Wings; Blair Star," Richmond Times Dispatch, June 7, 1948: 16.
12 "Grays Hope to Clinch First-Half Flag Today," Washington Evening Star, June 12, 1949: 44.
13 James A. Riley, 89. Riley says that Blair worked as a meatcutter in the Pittsburgh area after completing his military service.
14 See for instance the Beckley (West Virginia) Post-Herald, June 24, 1949: 12.
15 "Smith's Stars Whip Giants by 1-0 in 13th," Richmond Times Dispatch, September 18, 1949: 70.
16 "Negro Hurler May Sign With Colts."
17 Mike Harris, "Limelight at Last," Richmond Times-Dispatch, August 29, 1993.
18 Letter from Douglas Blair Jr.
19 Douglas Blair interview.
20 Mike Harris.
21 Ibid.
22 Ibid.
23 Douglas Blair interview.
Born
July 31, 1921 at East Carnegie, PA (US)
Died
January 12, 1996 at Richmond, VA (US)
If you can help us improve this player's biography, contact us.
https://sabr.org/sites/default/files/BlairGarnett.PNG
600
800
admin
/wp-content/uploads/2020/02/sabr_logo.png
admin
2015-12-18 12:39:19
2021-09-17 01:07:09
Garnett Blair