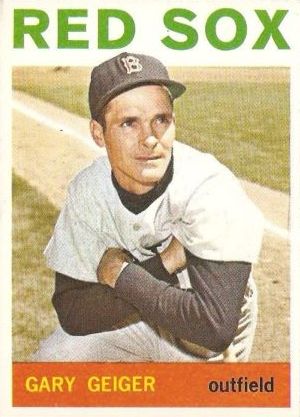 ---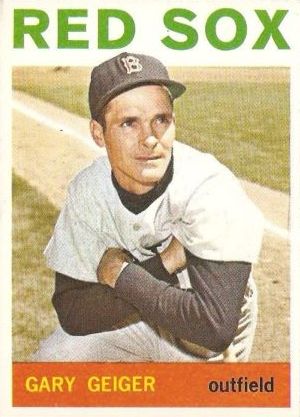 One must wonder just how good Gary Geiger would have been if he hadn't had so many physical ailments and mishaps. Frank Lane, who was Geiger's first major-league general manager and knew his abilities as well as anyone, summarized it best: "If God had given Gary a sound body, he might have been one of the best players in the league." [Larry Claflin article, November 6, 1965] But it was not to be. In only four of his 12 major-league seasons did Geiger play in 100 games or more, and his high was 140 games in 1961, a season in which, tellingly, he set personal highs in numerous offensive category. Trader Lane was right.
Gary Merle Geiger was born on April 4, 1937, in Sand Ridge, Illinois, a poor farming town of 125 residents 85 miles from St. Louis. Gary's parents, Russell and Mary Geiger, who owned the only grocery store in town, had five children. The middle three – William (Bud), Gary (called Merle throughout his youth and high school), and Linda – were two years apart and formed a close-knit trio that spent countless hours playing baseball on a makeshift diamond on which paper sacks were used for bases and the baseball was held together with black electrical tape. Gary and William would alternate between hitting and fielding (Linda was always the pitcher). Money for equipment was very tight, but whenever Gary had some remaining minutes, he would grab a broomstick and, pretending to be Stan Musial (a left-handed hitter just like Gary), try to hit stones from his father's store onto the distant railroad tracks.
Gary was a lean, quiet youth who grew in height to 6 feet. From that baseball field in Sand Ridge, he took his baseball skills to Gorham High School, in a nearby village slightly larger than Sand Ridge, where townspeople continued to talk about his exploits more than a half-century later. He was their top pitcher and once hit a home run that cleared the high school and the street in front of the school, a blast estimated in excess of 400 feet. He also starred on the basketball team. Gary was known for being hard-nosed and, according to his brother Bud, was a great basketball player who could have just as easily been a fine guard with a major college program.
But baseball would provide a way for instant financial benefit. Four major-league teams were prepared to offer Geiger a bonus once he was eligible to sign. Two days after Gary graduated from high school in 1954, the St. Louis Cardinals (scout Joe Monahan) signed him as a pitcher for $4,000. Geiger told Bill Ballew of Sports Collectors Digest, "When I signed with the Cardinals out of high school, I thought that was just about the best thing that could ever happen to me." The St. Louis offer meant he would possibly play for his "home town" organization and the bonus was the maximum allowable for anyone not being immediately placed on the major-league roster.
Within a few days of signing, Gary began his professional career both as a pitcher and outfielder, with the Cardinals' Hannibal, Missouri, farm team in in the Class D Mississippi-Ohio Valley League. Hannibal had a mediocre season (58-68, tied for sixth place in an eight-team league), but it did produce two major leaguers, Geiger and future All Star John Wyatt. On a team made up mostly of 19- and 20-year-olds, Geiger was the youngest at 17. He started 17 games. Although he averaged less than one hit per inning, he had control difficulties (88 walks in 114 innings) and finished the season 7-7 with a 5.05 earned-run average.
In 1955, Geiger was assigned to the Class D Hamilton (Ontario) Cardinals of the eight-team PONY League, and both he and the team had a great season. The team finished in first place (82-43). Hamilton was managed by Ed "Mouse" Lyons, who had a brief major-league career as a second baseman with Washington, and also included Paul Toth, a future major-league pitcher with the St. Louis Cardinals and the Chicago Cubs. Geiger appeared in 28 games, completing 26, and was 20-7 with a 1.98 ERA. Although his control was still suspect (115 walks in 236 innings), he was chosen for the All-Star game and led the league in complete games, strikeouts (177), and shutouts (8). His season highlight occurred on June 9 when he pitched a nine-inning no-hitter against Erie. He also hit .289 in 135 plate appearances. Also in 1955, Geiger married Lyn, a girl he had known for years. They ultimately had two children, a son, Gary Wayne, and a daughter, Kelly.
Geiger's 1955 performance earned him a promotion to Triple-A Rochester of the International League, where, midway through the season, he was 3-2 (3.89), primarily as a reliever (he started only seven games). Although he was making acceptable progress as a pitcher, St. Louis had much minor-league pitching depth and it had become clear to the organization that Geiger had more promise as a left-handed hitter (especially since he could run to first base in 3.5 seconds) than as a right-handed pitcher. So he grabbed a glove, went to center field, and ended the season hitting .327. He told sportswriter Ballew, "I liked the move because I wanted to play every day. I had played all the time in high school, and I didn't like sitting around and only pitching every two or three days. Plus I could always hit the ball halfway decent."
The following year, Geiger played full time in the outfield for the Cardinals' two Triple-A teams, Rochester in the International League and Omaha in the American Association, where he combined for 11 home runs while hitting just .232. Although he was progressing in his new role, the Cardinals decided that he needed more seasoning; but since he was out of options, he would need to be on the major-league roster or be exposed to the Rule 5 draft that would allow another team to have his services. Because the Cardinals wanted to save the major-league roster spot, they listened when GM Frank "Trader" Lane said Geiger could be safely exposed to the draft. This may have been correct, except that Frank Lane would shortly be hired as GM by the Cleveland Indians and, in his first act, drafted Geiger on December 2, 1957.
Being a Rule 5 draftee meant that if Geiger was not placed on the Cleveland roster, he would have to be returned to St Louis, unless the two teams could make a deal. Making the Cleveland roster was not assured for Geiger, since in the offseason, the club had obtained perennial All-Star Minnie Minoso to supplement an already solid outfield (Larry Doby, Roger Maris, Carroll Hardy, and Rocky Colavito); nevertheless, Geiger made the 1958 Indians roster as a backup outfielder. "I was scared to death," he said. "I was only 21 years old on Opening Day and had played just one year in the outfield." [Bill Ballew, Sports Collectors Digest]
It didn't take Geiger long to get into a game. On Opening Day, April 15, he pinch-hit for starting pitcher Herb Score and flied to left against the Kansas City Athletics' Ned Garver in a 5-0 Cleveland loss. He pinch-hit again the following day, striking out, and in the season's third game, he started in center field, and got his first stolen base (in the first inning) and first hit (third inning, off Duke Maas), and helped Cleveland achieve its first 1958 victory. Larry Doby was supposed to be the starting center fielder but he had numerous nagging injuries that enabled Geiger to start nine of the next 11 games and numerous other games during the season. He also pitched in relief, on June 11. In this game, Cleveland was losing 5-1 when he entered in the seventh inning. He gave up two runs on two hits in two innings; and Cleveland lost, 7-4. This was his only major-league pitching appearance.
There were several offensive highlights to Geiger's season. On July 23, he hit his first major-league home run, off Pedro Ramos of the Washington Senators; and six days later, he had three hits in Cleveland's 9-4 win over Baltimore. Overall, Geiger hit .231 with that one home run and might have played more if he hadn't had difficulties hitting against left-handed pitchers (.118 in 1958) – something that plagued him throughout his career (.184). Cleveland finished in fourth place (77-76), which turned out to be the best finish Geiger ever experienced.
At the end of the season, Frank Lane determined that Cleveland could no longer depend on the injury-prone Larry Doby. As a trading partner, he turned to Boston and Jimmy Piersall. Piersall was a Boston fan favorite, having played his entire career there. According to Geiger's brother Bud, trade talks appeared stymied when Lane, convinced that nothing was going to happen, asked Red Sox owner Tom Yawkey, "Do you want to trade or don't you?" Yawkey surprised him when he responded, "Yes, but I want Vic Wertz and Gary Geiger" — players who had not even been mentioned until then. Ordinarily, this would have gone no further except that, opportunistically, Lane had soured on Geiger because of an incident that occurred a few weeks earlier while Geiger was playing in winter ball. He crashed into a wall and hurt his neck. He had never been seriously hurt before, and he was scared — especially around doctors who spoke little English but used the term "broken" a few times. Despite Lane's insistence that Geiger remain with his team, Gary went home to recuperate and refused to return. Lane agreed to Yawkey's demand, and the deal was completed. (Geiger's brother said he didn't remember where the injury occurred.)
Although this may not have been an earth-shattering transaction, it became immortalized by sportswriter Peter Gammons' speech almost 50 years later when he accepted the Spink Award at the Hall of Fame, which began: "Find what you love. I am here today because I found what I love. Understand. I grew up in a household where when I got home from school my mother greeted me with, 'Can you believe they traded Jim Piersall for Vic Wertz and Gary Geiger?'" Geiger became one of Yawkey's favorites. Years later, he remarked how Yawkey appeared to give him special treatment – using as an example, Yawkey personally bringing him a radio so he could hear Red Sox games while recovering in the hospital after one of his numerous injuries.
With only a year in the big leagues, Geiger was already playing for his third major-league organization. "I was upset when I had to leave the Cardinals," he said, "upset that they didn't think enough of me to put me on their roster. But this last trade, to Boston, was just fine. I was still too young to realize what was going on. Vic (Wertz) and I became very good friends. The trade didn't bother me as long as I was still in the major leagues." [Sports Illustrated, April 20, 1959] But making the Red Sox roster was not assured. At the start of spring training, manager Mike Higgins said Geiger would probably be farmed out to play regularly. But Geiger had an outstanding spring. Late in spring training, he had still not made the team but Sports Illustrated said when discussing players fighting for roster spots: "None had the challenge, nor the opportunity, that faced a youthful outfielder Gary Geiger. If he played well as the Red Sox barnstorm their way to an Opening day rendezvous with the Yankees, Geiger would open the season in left field, substituting for the incomparable Ted Williams." [Ibid] Although Geiger collided with teammate Don Buddin late in the spring while chasing a foul ball in left field, and was knocked unconscious and severely bruised, he made the Opening Day roster. With Ted Williams on the disabled list with a pinched nerve, Geiger began the season in a left-field platoon with Bill Renna. When Ted Williams returned in May, Renna was released and Geiger remained with the Red Sox, playing both in center field and as a late-inning defensive replacement for Williams. By season's end, he had appeared in 120 games, batted .245, and hit 11 home runs.
Putting the season into perspective, Geiger later said, "It was hard to believe that I was out there between two Hall of Famers, in my estimation. Jackie [Jensen] isn't in the Hall, but I think he should be. He was an outstanding player and a great person. And Ted, he was the best hitter I had ever seen, even when he was in his late 30s." [Sports Collectors Digest, op. cit.] The three of them became good friends. Geiger had particular allegiance to Jensen because they shared a common phobia – fear of flying. The two often avoided air travel and traveled together on long train rides, talking about baseball as the countryside went by. Geiger said, "I didn't like to fly and neither did Jackie. But Jackie had it in his contract that he could ride the train; I had to pay my own way. But I still rode them every chance I could get."
The NBC Saturday Game of the Week on August 8, 1959, at Fenway Park was noteworthy for Geiger because he hit a 10th-inning game-winning home run against the Detroit Tigers. What made it even more special was that his proud parents watched as broadcaster Leo Durocher interviewed Geiger as the player of the game and gave him a new watch. His brother Bud recounted another, not so pleasant story from a Game of the Week from Boston. During that game, Ted Williams called for and caught a fly ball in medium left-center and casually threw it back to the infield, enabling a runner to tag up from second to third. Later in the game, a similar situation occurred and although Ted called for it, Geiger, playing center field, called him off to prevent a runner advance. After the game, Ted screamed at Geiger to "never embarrass me again on national television." But except for a few incidents like this, they were quite friendly and Geiger appreciated how Williams would warn him whenever he was getting close to the wall.
In 1960, Jackie Jensen's fear of flying caused him to retire and Geiger's playing time increased, as he became the primary right fielder. This was his best season. By late July, he had played in 77 games and was hitting .302 with nine home runs. Geiger started exploiting his speed on offense; he told Walter Bingham, "I beat out 13 or 14 bunts." On July 26, he was hit in the back by an Early Wynn pitch. Although he had extreme trouble breathing, he continued to play and homered later in the game; he homered again the next day. But that night, he was rushed to the hospital with an 80 percent collapsed lung, and he missed the remainder of the 1960 season. He later explained "I'd had a blister or weak spot on the lung and the ball hit it, causing the fluid to leak out." [Baseball Digest, August 1966].
In 1961, Jensen returned for one more year, but this did not affect Geiger's playing time because, as Sports Illustrated reported: "A healthy Gary Geiger has finally become a first- rate major-league ballplayer," and he became Boston's starting center fielder. [Sports Illustrated, April 10, 1961] Geiger became known for his defense; broadcaster Ned Martin once said Geiger "coaxed the ball down to his glove as if by supplication." June included three memorable games for Geiger. On the 8th, the Red Sox were down 4-3 in the bottom of the 11th inning against the Los Angeles Angels when Geiger hit his second triple of the game, driving in the tying run. Upon reaching third, however, thinking the game had been won, he jogged off the field to return to the dugout and was tagged out. The game, the nightcap of a double header, was called at 1 A.M. with the score tied, 4-4 (the Angels won the makeup game, 5-1). On the 18th, in a game still talked about today, Geiger's seemingly innocent two-out, ninth-inning walk with the Red Sox trailing 12-6 knocked out Washington's starting pitcher, Carl Mathias, and began a deluge of hits and walks that resulted in the Red Sox winning, 13-12. It would have been rookie Mathias's first major-league victory, and he never won another. Then, on the 23rd, his home run broke up rookie phenom Lew Krausse's potential second straight shutout. As the calendar turned to August, Geiger's heroics continued; on the 8th, he hit an inside-the-park grand slam, one of only three in Red Sox history, off Minnesota's Camilo Pascual at Fenway Park.
On the surface, 1961 appeared to be an outstanding season for Geiger, since he played in 140 games with 18 home runs, a career-high 64 RBIs, 87 walks (10th in the league), and 16 stolen bases (eighth in the league). Despite these stats and numerous highlights, disappointed Red Sox fans expected more and felt Geiger had stepped back from the potential shown in 1960. After a fast start, Geiger's batting average dropped below .200 in mid-May and then, after it steadily rose, he slumped badly the last two months and ended the season at .232, a 70-point drop from 1960. After the season, he explained the precipitous drop in his batting average by remarking "I only beat out two or three bunts all year," and the article concluded that "Geiger will let Roger Maris play low-average, high-homer baseball." [Sports Illustrated, April 9, 1962]
The 1961 season proved not to be an aberration. In 1962, except for a higher batting average, Geiger's statistics roughly replicated 1961. He hit .249, hit 16 home runs, and stole a career-high 18 bases, eighth in the league. The stolen-base total was somewhat devalued because he was caught stealing 11 times, second in the league). Ted Williams had retired two seasons earlier, and Gary's brother Bud suggested that not having Ted by his side had significance on at least one occasion. On June 9, left-fielder Carl Yastrzemski did not warn Geiger when he approached the center-field wall, and he crashed into it while chasing a fly ball by the game's first batter, Tito Francona. Francona ended up at third base, and Geiger was carried off on a stretcher. (Not that this had much of an impact on his season; the next day, he started both games of a doubleheader.) On June 26, he was the center fielder when Earl Wilson pitched a no-hitter. Afterwards, Wilson maintained that he didn't have "good stuff" that day and referred to several outstanding fielding plays, including Geiger's catch of a 400-foot fly ball. During the year, Geiger was twice hospitalized by ulcers and placed on a milk and poached egg diet (not conducive to gaining weight and building robustness, as desired by Red Sox management – Geiger's typical playing weight was 168 pounds).
Geiger said, "I always hit very well in Detroit, and it was definitely my favorite park" [Sports Collector Digest]. This was exemplified on August 7 and 8, 1963, when he had two consecutive two-homer games. This raised his season average over .300 but represented the season's high point. From there, Geiger slumped and ended the season with a .263 average with 16 home runs in 121 games). On July 4, he recorded 15 putouts in a doubleheader against Cleveland. This broke Al Simmons's major-league record for putouts by an outfielder (Geiger's record was broken by Lyman Bostock in 1977 against the Red Sox). Geiger had 11 putouts in the first game, which was the Red Sox outfielder's record until broken by Jacoby Ellsbury on May 20, 2009.
From both the health and the baseball perspectives, 1964 was Geiger's most disappointing season. In February, he was hospitalized with bleeding ulcers and a stomach obstruction. In early May, he tried coming back despite always being tired and weighing just 130 pounds. He appeared in five games (starting three but finishing only one). The doctors then told Geiger that if he started bleeding again, they'd have to remove part of his stomach. This warning, coupled with his fear of flying, influenced him to announce his retirement in Cleveland on May 13. On that day, he said, "I get nervous 24 hours before we fly. I think about it during the games and that's no good. The first couple of years I flew, it didn't bother me. But it gets worse every year. When I'm at full strength, I can overcome the fear. But when I'm like this, I can't do my best for the team." [Larry Claflin article, May 23, 1964]
The impact on his decision was felt throughout the media (Claflin noted that "a pall of gloom settled over the Red Sox when Gary Geiger announced he was going to voluntarily retire"). May 13 was actually bittersweet for Geiger. That night, he was supposed to fly with the team back to Boston to get retrieve his personal belongings. But for the first time in several years, weather caused the flight to be canceled, and the team took the train instead. Geiger was in his glory; he said, "I told you guys that this was the best way to travel." [Claflin article, November 6, 1965] On that train ride, reporters found him with tears of unhappiness and eyes of frustration but at no time did Geiger express words of bitterness. No one on that ride believed he'd ever play again, but Geiger felt that retirement might be temporary. "Maybe after I go home for a couple of months, I will feel better. I have to gain some weight."
He did. In 1965, Geiger returned to Scottsdale for spring training and told the press of his intentions. "I feel better than I have in years. I have had no trouble in months. I'm aching to get back. There is no doubt that I can win back my job. . . . I don't expect I'll ever love flying. But I'm sure I can tolerate it now. I think my physical condition has a lot to do with the flying worries.… It's either fly or starve and I don't intend to starve." [Associated Press clipping, January 6, 1965] On May 25, Geiger homered against the Minnesota Twins. This was his only home run that year; injuries again were a factor. On June 7, Geiger broke three bones in his hand chasing a double by Chicago's Tom McCraw. The injury ended his season after only 24 games, in which he batted just .200. Although Geiger was only 28 years old, most people assumed that this time his career really had ended; but one month later, he played golf (with one arm) in the Red Sox' annual outing and, on the first tee, hit a perfect shot. This showed all that he would be able to return the following season. No one questioned the extent of his injuries or his eagerness to come back as soon as possible, but the reality was that he was always getting hurt and could not be depended upon to play. An owner less enamored with his players would have released Geiger two or three years earlier, but Tom Yawkey held on as long as possible. At the end of the season, however, the Red Sox announced that Geiger was being demoted to Toronto, their Triple-A club in the International League. At the time, they expressed a hope that perhaps Geiger would come back if Boston needed outfielders, or that maybe someone else would pick him up. The latter happened: On November 29, Geiger was exposed to the Rule 5 draft and was claimed by Atlanta.
His Boston years proved to be the most enjoyable of his life. "It was a nice place to play, and I enjoyed the people even though we didn't have a real good ballclub," he told Bill Ballew. "I think third was our best finish. But I spent seven enjoyable years there and really didn't want to leave." [Sports Collectors Digest, op. cit.]
Geiger played two injury-plagued years for the Atlanta Braves, primarily as a defensive replacement or a pinch-hitter. In 1966, he played in 78 games, batting .262 with four home runs. The highlight of his season, and, as brother Bud recounted, possibly his career, occurred on May 12, when his first-inning single was the first hit in St. Louis's new Busch stadium; his fourth-inning double was the first double. Because Geiger had always lived near St. Louis, a lot of friends and family were there – which made this event special. In 1967, he played in 69 games, batting just .162 with one home run. Although he batted only 243 times in two years with the Braves, he enjoyed Atlanta and liked playing "with [Henry] Aaron, [Rico] Carty, and [Felipe] Alou."
But after the 1967 season, Geiger felt his Atlanta days were over and hoped that if he was dropped, it would happen right away so that he could choose the team with the best opportunity. General manager Paul Richards told Geiger the Braves wanted him back and to expect a contract. When it arrived, it contained the largest possible pay cut (25 percent). Geiger sent it back with a request that they reconsider; instead, Atlanta stalled (never returning phone calls) until late February, when, instead of a counter-offer, they put him on waivers two weeks before spring training. Geiger said "I wished this came in October so I'd have time to get a deal," but he still got conditional offers from the Cardinals and White Sox. [Undated clipping from St. Petersburg Times] He took the St. Louis offer and, although he did not make the team, he became a player-coach for the Cardinals' Tulsa club in the Pacific Coast League. He hit .286 with 14 home runs and pitched in three games (using a knuckleball he developed by pitching batting practice). His manager, the legendary pitcher Warren Spahn, said, "He's my best pitcher" after a three-shutout-inning appearance. In the back of his mind, Geiger hoped to someday get his chance to pitch for St Louis.
At the end of the season, Geiger was unexpectedly drafted by Houston. But his major-league career was essentially over. For Houston in 1969 and 1970, he played in 98 games and hit.225 in 129 at-bats. Although Houston wanted him to stay through the season, Geiger was unhappy with rarely getting into games and asked to be reassigned closer to a house he was building in Tulsa.
He finished his career in the American Association, with the Oklahoma City 89ers in 1970 (.283 in 105 games), and as playing manager of the Cardinals' Tulsa Oilers farm team in 1971, batting .222 for a 64-76 team. Geiger hoped to get a major-league coaching offer but when he didn't, he continued managing in the minors. In 1972, he managed the Cedar Rapids (Iowa) Cardinals to a 51-77 record and a fourth-place finish in the North Division of the Class A Midwest League. After a year as a roving minor-league instructor for Detroit, he landed in the Braves organization in 1974, managing the Greenwood (South Carolina) Braves in the Class A Western Carolinas League. Greenwood finished in third place at 70-63.
During his early baseball offseasons, Geiger worked in an aluminum plant in Murphysboro, close to his hometown of Sand Ridge. After his baseball career ended, he worked as a building superintendent for a private school in Tulsa. He had developed a bad problem with alcohol. In 1982, Geiger and his wife divorced. He then moved back to Murphysboro. He was only 45 years old; however, he was now retired and able to live on his baseball pension. He spent his days reading the morning sports page, hearing from friends across the country, doing odd jobs around his parents' house, hunting, and playing golf (brother Bud marveled about his golf skills and tremendous wrist strength). Geiger also watched as his son became a multiple-sport star in high school (quarterback, point guard, and pitcher), earned two baseball scholarships (Texas A&M and Oklahoma), and pitched two seasons in the San Francisco Giants farm system. In 1992, Gary Sr.'s brother Nathan drove him 1,218 miles to Boston so he could participate in the Old Timers game. This was a big thrill for Geiger, and he reconnected with Ted Williams and other old friends.
Both Linda, Gary's sister, and Bud said they never saw a change in him after he achieved success as a professional baseball player. Linda recounted the story of how his ex-wife stopped forwarding his mail but when his daughter found 500 letters from fans with cards for him to sign, she got them to her dad and he answered every one.
Despite playing in an era when salaries had not yet escalated, Geiger had no regrets. He realized that since there were far fewer opportunities in the pre-expansion period, he was fortunate to get the chance and to have played for fine organizations such as Boston. "I enjoyed [my career]," he said. "I think I was lucky with some things that happened. The collapsed lung and the broken hand hurt me, but to get in 12 years in the big leagues, I feel very fortunate. I still think I was a pretty decent ballplayer, and I had a lot of fun doing it."
Geiger died of cirrhosis of the liver on April 24, 1996, at the age of 59. While his story is a real-life "small-town boy makes good" story, it could also be labeled an American tragedy. He lived the final 20 years of his life battling alcoholism. His sister Linda, who was his caregiver during his illness and before his death, said that Gary's drinking problem stemmed directly from his baseball playing days. "He was terrified to fly and, being a professional baseball player, that was part of his job. The only way he would get on a plane was to have a few drinks," she said. "Once he got in that routine, alcohol got hold of him, and he just couldn't stop. In the end, alcohol killed him." [The Southern, May 1, 2009]
Geiger ended his injury-plagued major-league career with a batting average of .246, 77 home runs, and 283 RBIs.
Sources
Interviews with Bud Geiger on October 29, 2009, and November 19, 2009.
Ballew, Bill. "Ex-Pitcher Became a Fenway Outfield Fixture." Sports Collectors Digest, August 13, 1993.
Bingham, Walter. "Hot in the Cold." Sports Illustrated, April 20, 1959.
Sports Illustrated, April 9, 1962.
"Bounce-Back Champion." Baseball Digest, August 1966.
Muir, Jim. "Family, community remember baseball player Gary Geiger." The Southern, May 1, 2006.
Articles by Larry Claflin in Boston newspapers dated May 23, 1964, and November 6, 1965, found in Geiger's player file at the National Baseball Hall of Fame.
Peter Gammons Hall of Fame Spink Award induction speech.
Associated Press dispatch of January 6, 1965.
Photo Credit
The Topps Company
Born
April 4, 1937 at Sand Ridge, IL (USA)
Died
April 24, 1996 at Murphysboro, IL (USA)
If you can help us improve this player's biography, contact us.
http://bioproj.sabr.org/bp_ftp/images4/GeigerGary.jpg
600
800
admin
/wp-content/uploads/2020/02/sabr_logo.png
admin
2012-01-04 20:37:00
2012-01-04 20:37:00
Gary Geiger