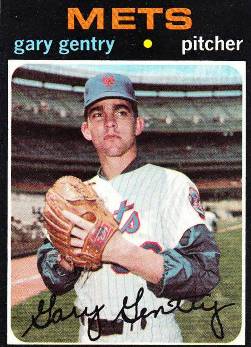 ---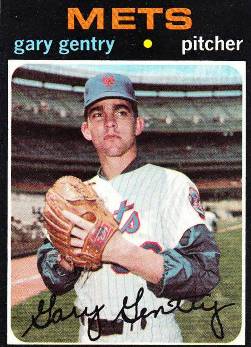 The 1969 Miracle New York Mets will always have a special place in baseball lore. Not only are the Amazin' Mets remembered for their stunning upset over the heavily favored Baltimore Orioles, but also in the way in which they won, with some of most remarkable defense and pitching ever displayed in World Series history. The Mets staff, which stifled the dominant hitting Orioles, led by the likes of two-time Most Valuable Player Frank Robinson and Boog Powell, featured eventual 1969 Cy Young Award winner Tom Seaver, stellar second-year southpaw Jerry Koosman, and a raw, but talented, Nolan Ryan (who was used out of the bullpen). These three—along with reliever Tug McGraw, who didn't pitch against the Orioles—are the most famous names associated with that championship team. Overlooked, however, was a 22-year-old rookie—a young right-handed pitcher from Phoenix, Arizona—named Gary Gentry.
Gentry only played parts of seven seasons of big league ball, but his role in helping the Mets win their first world championship has forever cemented him a special place in New York's baseball history. First, the Arizona native pitched the clincher for the National League East Division title against the Cardinals in September (with future Mets and Yankees manager Joe Torre bouncing into a game-ending double play that sent the delirious crowd swarming on the field). After matching Seaver and Koosman with lukewarm performances in the first NLCS—New York's bats yielded enough offense for the Mets to still sweep the Braves—Gentry started Game Three of the World Series. He held the Orioles scoreless into the seventh inning, until Ryan came in relief and Tommie Agee saved the day, for the second time that afternoon.
Born in Phoenix on October 6, 1946, Gary Edward Gentry was a supremely gifted athlete and a hard worker. He recalled in the New York Times, "When I played American Legion ball, I worked at a freight line from 6 to 2, then went home for a nap, and pitched that night." Gentry didn't pitch that much growing up, however. His father, Ed Gentry, whom Gary credited with giving him his "first boost in baseball," advised his son not to pitch. Gary heeded that advice early when he played second base for Camelback High in Phoenix.
When it became clear that his strong right arm was his ticket to a professional career, he chose Phoenix Junior College "because it played 35-40 games a season," and "I thought I'd get more experience that if I played freshman ball at a larger university." When he completed his first two years at Phoenix JC, he chose baseball power Arizona State "as a stepping stone." The 6-foot, 180-pound Gentry had already led Phoenix JC to a national junior college championship and then helped Arizona State claim the NCAA title in the College World Series.
Gentry went 17-1 as a junior at ASU and set a collegiate record with 229 strikeouts in 174 innings. In the CWS semifinal in Omaha, Gentry threw a 14-inning, 15-strikeout masterpiece against Stanford—he did not allow a runner past first base after the sixth inning and wound up scoring the winning run. He was named Pitcher on the All-College World Series team to go along with being named All-American and the National College Player of the Year.
Gentry had three opportunities to play professional baseball before the Mets selected him in the third round of the 1967 amateur draft, in the secondary phase. Gentry had previously been selected in the 11th round by the Houston Astros in 1965, in the first round by the Baltimore Orioles in the early winter of 1966, and six months later in the third round by the San Francisco Giants. He waited, though, and went with the fourth organization that chose him. He signed with New York four days after the Sun Devils won the '67 College World Series. Some said he got what he deserved after spurring the other suitors and winding up with the worst team in baseball. Little could most people imagine that two years after winning a title at Arizona State, he would do it again in New York. Gentry didn't expect anything less.
"I never played on a team that didn't expect to win," Gentry told Stanley Cohen years later in A Magic Summer. "So what happened in 1969 was a natural transition for me. I was accustomed to winning. In 1965, in junior college, we won the national championship; in '66, we got there again but lost in the finals; in '67, at Arizona State, we won the NCAA championship; that same year I spent the last two months of the season with Williamsport and we won the league title; in '68, when I was with Jacksonville, we won the championship there, too. So when I came up to the Mets in '69, I never thought about anything except winning. I didn't know much about the team's history. I just knew that I was going to pitch in the big leagues, and I expected to win."
With Williamsport in the Eastern League, Gentry amassed an earned run average of 1.59 with a 4-4 record in 10 starts (eight complete games). In 1968, Gentry went 12-8 for Jacksonville, compiling an ERA of 2.91 in 30 starts. After 198 innings with the Triple-A Suns, Gentry then pitched in Florida Instructional League and dominated the competition. The Mets had considered leaving Gentry exposed in the expansion draft when the Montreal Expos and San Diego Padres came into existence. Instead, the Mets left veteran Dick Selma exposed, to be selected eventually by the Padres.
Mets beat writer Jack Lang described the rookie trying to make the team out of spring training in 1969, "[He] wears cowboy boots, blue jeans, and looks more like a ranch hand than a player, [but he] could be this year's Tom Seaver or Jerry Koosman." Lang said that the young pitcher "was just what the manager expected. A good pitcher beyond what his experience showed."
Gentry was the third man in the rotation from the beginning, making as many starts in 1969 as Seaver (35) and winning two games in his first week in the majors, even though the club got off to a sluggish start. He then lost three in a row before winning again. He tossed a two-hitter for his first major league shutout on June 17 in Philadelphia, beating another ballyhooed rookie, Billy Champion, 1-0, and striking out a season-high nine. Gentry pitched into the ninth inning 13 times as a rookie, completing six, throwing three shutouts, and blanking the Giants for 10 innings on August 19 and getting no decision. The Mets eventually beat San Francisco, 1-0, during what turned out to be the early stages of the miraculous run that saw the Amazin's overtake the first-place Chicago Cubs by winning 37 of their last 48 games. The Mets finished with a 100-62 record, the first time the Mets had ever approached a winning record. Gentry finished the year with a 13-12 mark, a 3.43 ERA and 154 strikeouts in 233 2/3 innings. On a team like the Mets had that year, it's surprising his record wasn't better. He was right around .500 all season with run support of 3.71 per game that wasn't much above his ERA (though his support was more than Koosman's 3.38 and less than Seaver's 4.37).
Gentry started the first postseason game ever at Shea Stadium—and on his 23rd birthday, no less. The Mets had a two-games-to-none lead in the best-of-five National League Championship Series against Atlanta, but things didn't start out well when Hank Aaron hit a two-run home run off Gentry in the first inning. He navigated through the rest of the order, but Aaron collected a double his second time up to put two runners in scoring position with nobody out. Manager Gil Hodges removed the rookie with the Mets still down, 2-0. Nolan Ryan came in, got out of the inning, and remained in the rest of the game as the Mets rallied to take the pennant with Ryan pitching the last seven innings for the win.
Gentry was called on to start Game Three against the Orioles, the first World Series game ever played at Shea Stadium. The Mets had split the first two games in Baltimore and back at Shea, Gentry shut out the Orioles for the first 6 2/3 innings. Center fielder Tommie Agee, who'd already helped Gentry with a leadoff home run, saved the 3-0 lead in fourth inning by running down an Elrod Hendricks blast to left-center with two outs and two on. He made a sprinting backhand catch, the ball showing in the webbing of his glove as he came to a rest at the 396-foot mark.
The Mets managed four runs in all against Baltimore's ace Jim Palmer, but when Gentry struggled in the seventh, loading the bases, Ryan entered from the bullpen. Again Agee came to the team's aid, this time with a sprawling catch of a Paul Blair liner in right-center to leave the sacks full. Ryan blanked the O's for the final 2 1/3 innings to get the save for Gentry. New York went on to win the next two games to capture the World Series.
In a 1969 interview with The Sporting News, Gentry credited three people for his meteoric rise: Gil Hodges, Arizona State coach Bobby Winkles, and his father Ed Gentry. He also explained his pitching philosophy, saying that he tried "to learn something about the hitters every time I go to the mound and have a 'good time' out there. I guard against getting upset at myself or my teammates when things go wrong."
That proved easier to say than do. Gentry's outspokenness and temper aggravated opponents, umpires, teammates, and even fans. "New York is a dirty, dirty town. I can't leave soon enough when the year's out," he told Maury Allen in 1971. That was a tumultuous year for Gentry. Coming off a sophomore slump in '70—though he threw a one-hitter in Chicago the year after the championship, he went 9-9 with a 3.68 ERA for a team that slipped to third place—things seemed off kilter for Gentry in 1971.
With his wife in Phoenix trying to rent their home, three-year-old son Chris nearly drowned in the family's pool. Janet Gentry thought the boy was following her, but when she turned around he had disappeared. She ran outside and found him at the bottom of the pool. Janet jumped in and gave the boy mouth-to-mouth resuscitation. Manager Gil Hodges told Gentry to go to Phoenix to be with his family and rejoin the team in Pittsburgh in time for his next start. In that game, Gentry was ejected when umpire Shag Crawford said his bunt attempt ticked his bat for a strike when Gentry thought there was no contact and it should have been a ball. Gentry pushed the ump slightly during their nose-to-nose argument at Three Rivers Stadium and was subsequently suspended three days and fined $150. In July, he missed a start and needed 15 stitches above his right eye when he and Jim McAndrew collided shagging flies at the Astrodome.
More alarming were Gentry's noncontact incidents with teammates. He claimed the Mets gave Seaver preferential treatment because he always made his starts while other pitchers were skipped when there were rainouts and offdays. This came during a year where Seaver would go 20-10 with a 1.76 ERA and 289 strikeouts while Gentry—in four fewer starts—went 12-11 with a 3.23 ERA and 155 strikeouts. Twice Gentry showed up his outfielders—throwing his glove in the air after a perceived lackadaisical throw from Cleon Jones and in another game standing with hands on hips, shaking his head, and looking out toward center field after Tommie Agee misjudged a fly ball that went for a three-run triple in a loss to the Reds. Gentry later said, "All my anger was directed at the umpire because he missed the pitch before the hit that should have been the third strike." The pitcher received several nasty letters from fans after the Agee incident.
"The temper, goes back to when I was born," Gentry told Murray Chass of the New York Times as all those incidents came to a boil in August 1971. "I've never had any trouble releasing my temper. I just have to learn to cope with it. Hodges says when you do something on the field—if you throw your glove, or stomp off the mound—thousands of people see it. I'll just have to cut down on showing my outward emotions. I think I can still get teed off but not show it—take a deep breath and keep it in."
Gentry, still just 24 when the 1971 season ended, remained a hot commodity with the club and with other teams. Jack Lang noted that the Padres and Angels both asked for Gentry in deals that winter and were rebuffed by Mets general manager Bob Scheffing.
"The Angels wanted Gentry in the Jim Fregosi deal. The answer was 'no,'" Lang wrote. "Instead, the Angels had to settle for Nolan Ryan, who has only become the talk of the American League with his blazing fastball." Gentry-for-Fregosi would have involved players who turned out to be on the down end of their careers. Dealing Ryan—whose inconsistency had frustrated the Mets for years—wound up being as bad a trade as any in team history. But no one, least of all Gentry, knew how things would turn out.
At the end of 1971, Mets pitching coach Rube Walker said of Gentry, "He's still just a kid. he has great ability. With the stuff he's got he's not going to be a .500 pitcher."
A year later, after falling to 41-42 for his career, Scheffing deemed Gentry "my biggest disappointment of the season." A 7-10 mark and his worst ERA as a Met (4.01), not to mention his temper and arm problems—which had caused him pain since he joined the Mets and was originally misdiagnosed by the team—made the GM bite this time when teams asked about the 25-year-old hurler. On November 1, 1972, he was sent to the Braves along with Danny Frisella, for Felix Millan and George Stone. Steady play from Millan at second base and a career year from the southpaw Stone helped the Mets steal a pennant the following year, but the change of scene did not help Gentry at all.
He spent three season with the Braves, but he was injured most of that time. Gentry was standing in the Atlanta bullpen trying to catch Hank Aaron's 715th home run on the historic night of April 8, 1974. Tom House wound up catching the ball and presenting it to Aaron…Gentry wound up having surgery. After having bone chips removed the previous year, he left his only start of 1974 and soon underwent tendon surgery.
When the Braves wanted to cut his $50,000 salary by 20 percent in 1975, he refused to sign a contract. Though other players were testing the reserve clause that year—pitchers Dave McNally and Andy Messersmith were part of the case that brought an end to the clause and the start of free agency—Gentry was not concerned with history but rather about the size of the cut. "I would feel belittled," he said in spring camp with the Braves. "It's not my intent to test the reserve clause…it's just that I've always told myself that I wouldn't sign for the kind of pay cut they wanted me to take."
The Braves released Gentry in May after seven appearances. He blew a lead in Cincinnati and then picked up his final career win when the Braves rallied. The Giants—the team he'd had his best outing against in April—pounded him for three runs in the ninth inning of his final major league game on May 6. Gentry had a career mark of 46-49 and a solid 3.56 ERA in 157 career games when he was released by Atlanta.
As it turned out, Gentry's performance in the World Series was his greatest accomplishment as a major league player. Even though he never lived up to his promise as a top prospect or as the next great Mets ace, fans still missed him when he was traded. Jack Lang wrote, "It was a blow to many New Yorkers to lose Gentry, who had been the surprise pitcher of 1969, as Seaver had been in 1967 and Koosman had been in 1968." The Mets, in fact, tried to get Gentry back. He signed with the Mets a few weeks after he was released by Atlanta, although he did not keep in shape during the interval. Upon Mets pitching coach Rube Walker's advice, Gentry went down to Class AA Jackson to try to show that he could still pitch. Despite a triumvirate of Seaver, Koosman, and Jon Matlack, the '75 Mets were remarkably thin at the back end of the rotation, so the 28-year-old Gentry had a real chance of making it back to Shea. He tore the flexor muscle in his right elbow after three pitches in Jackson, went home to his wife and two children in Phoenix, and as he told Cohen in A Magic Summer, "started learning the real estate business from the bottom up."
Gentry, who pitched just one year of Division I baseball and became the third straight Sun Devil to be named National Player of the year (Rick Monday and Reggie Jackson were the first two), was named to the Arizona State Hall of Fame in 1976.
Sources
Allen, Maury, Sports Today, June 1971.
Chass, Murray, "Gentry Hopes Curbing Temper Will Aid His Won-Lost Mark," New York Times, August 15, 1971.
Cohen, Stanley, A Magic Summer: The '69 Mets (New York: Harcourt Brace Jovanovich, 1988).
Gergen, Joe, "Ex-Met Star Gentry a Has-Been at 28?" Newsday, June 29, 1975.
Lang, Jack, "Five New Men Elbow Way Into Mets Jobs," The Sporting News, April 12, 1969.
Lang, Jack, "Accidents Keeping Mets in Stitches," The Sporting News, July 31, 1971.
Lang, Jack, "Gentry Is Met Flop of Year, McAndrew the No. 1 Hero," The Sporting News, September 2, 1972.
Lang, Jack, and Simon, Peter, The New York Mets: Twenty-Five Years of baseball Magic (New York: Henry Holt, 1986).
Lipsyte, Robert, "Sports of the Times; Before the Game," New York Times, September 25, 1969.
Minshew, Wayne, "'Won't Be Belittled,' Says Gentry, Nixing Brave Pact, The Sporting News, March 15, 1975.
Pepe, Phil, "Gentry's Wife Gets a Save," New York Daily News, May 13, 1971.
Young, Dick, "Fine, Ban Gentry," New York Daily News, May 17, 1971.
"ASU's Major-Leaguers," http://graphics.fansonly.com/photos/schools/asu/sports/m-basebl/mediaguide/History_2.pdf
Born
October 6, 1946 at Phoenix, AZ (USA)
If you can help us improve this player's biography, contact us.
http://bioproj.sabr.org/bp_ftp/images4/GentryGary.jpg
600
800
admin
/wp-content/uploads/2020/02/sabr_logo.png
admin
2012-01-04 20:29:53
2012-01-04 20:29:53
Gary Gentry