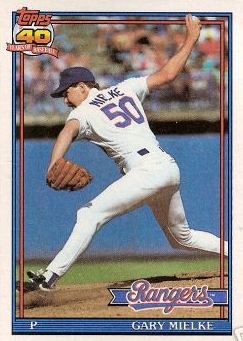 ---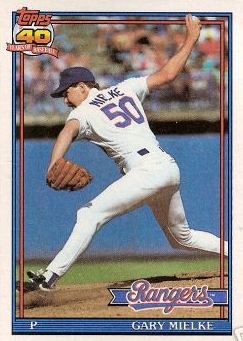 Gary Mielke's journey into major-league baseball wasn't your typical, run-of-the mill story. Growing up in south central Minnesota, he wasn't a widely known, hyped-up youth superstar. He attended the nearest college by default, not scholarship, and once there, spent more than a year playing on the junior varsity team. Despite outstanding collegiate credentials, he never dealt with entourages of scouts. His career in baseball wasn't glamorous, though it would make baseball fanatics of all ages envious.
Gary Roger Mielke was born in Saint James, Minnesota (about 90 miles from the Minneapolis-St. Paul metropolitan area), on January 28, 1963, the second child of Roger and Betty (Urban) Mielke. Betty, born and raised on a farm in rural Saint James, first met Roger in 1956 during their senior year after his family moved to town from Courtland, Minnesota. They dated for two years and then married in 1958. During an interview in 2009, she said, "I came from a family of five girls, and my dad had 10 sisters. I wasn't prepared for baseball because I never played ball." Roger, on the other hand, was a 15-year fast-pitch softball veteran who took Gary along to his games and tournaments. "He was around ball all the time," Roger said in 2009.
Mielke attended elementary and junior high school in Saint James. When he was home, Gary spent hours throwing a baseball to a wooden corner of the family's garage. "I would holler at him to stop throwing because I could hear the boards cracking," his mother said. "He just wanted to throw all the time. Sometimes I would never see his socks in the wash because he would wad them up and throw them into the electrical unit box in his room."
Somewhat surprisingly, Mielke was hesitant to join his first organized baseball team in junior high. According to his mom, "One day one of the players told the coach his best player wasn't on the field. The coach went up to Gary in school shortly afterward and told him, 'Bring your jock strap to school tomorrow.' (Gary didn't have a jock) so we had to go uptown and buy one."
The Mielkes moved to North Mankato, Minnesota, about 40 miles from Saint James, after Gary completed the eighth grade. A year earlier, his dad had started a new job with Minnegasco (now CenterPoint Energy) in Mankato as an appliance serviceman. (The family remained in Saint James for a year so Gary's older brother, Larry, could finish high school there.) "There were a lot of people in Saint James who wanted to adopt Gary when they heard we were moving," his mom recalled.
In the fall of 1976, Mielke enrolled at Mankato West High School. During his sophomore year, he earned the first of three varsity letters with the Scarlets baseball team and also began dating Tracy Lynn Orr, his future wife. Their relationship started, according to Tracy, because "he was the shy boy and I was really outgoing. We were polar opposites from the get-go and we still are opposites. But like they say, opposites attract." Gary excelled in basketball and baseball in his final two years of high school. He was a two-year starting forward on the basketball team, made All-State status in baseball as a pitcher, and concluded a terrific prep career by playing in an All-Star game that showcased the state's top high-school talent.
Remarkably, Gary's success in high school didn't create a buzz among collegiate coaches. In fact, the only school seriously interested in his athletic services was Waldorf College, an inconspicuous, private Division III institution in Forest City, Iowa. (In 2008, the school's enrollment was about 600.) Gary recalled, "My folks and I had visited the campus and paid the housing fee down payment. The coach ended up having to leave the school two weeks before the start of the fall semester. He sent me a letter telling me that it might be best to enroll somewhere else and not come down to Waldorf. At that point in time, Dean Bowyer [the baseball coach at Mankato State] contacted us and I ended up going to Mankato State. It was kind of a fortune of a misfortune that got me there."
The unlikely scenario that kept Mielke close to home got better with time. His first year with the Mavericks, 1982, was spent exclusively at the junior-varsity level, although he did travel with the team to Corpus Christi, Texas, over spring break. The following season featured a defining moment that changed the course of his baseball career. It happened when Bowyer asked Mielke to make a few throws from center field to first base. "Coach noticed my natural arm motion was definitely three-quarters to the side," Mielke said. "We spent that spring and the following winter working on changing my arm angle to get more movement on the ball. Everything took off from there. I had success with it and Dean believed in me."
Several months after the discovery on the diamond – on October 21, 1983 – Gary and Tracy Lynn, also a student at Mankato State, were married at Holy Rosary Church in North Mankato. Mielke, just 20 years old at the time, was regularly working 30 to 40 hours a week at Randall Foods, a grocery store near the university. (He started working there when he was 16, stocking shelves and cashiering at night.) "Gary has always been mature for his age and a 'people-person' who works well with others," his mother said. "I can still remember the lady who trained him at Randall's saying, 'Boy, he was good. He was only three cents off (from being completely accurate).'"
The spring of 1984, Mielke's junior year, was an anomaly for Mankato State: it was the only time during a 12-year stretch (1979-90) that the Mavericks didn't win the North Central Conference championship. The team was on a 12-game unbeaten streak when Mielke took the mound to start a four-game weekend series against the University of North Dakota in Grand Forks. After retiring the side in order in the first inning, he was hit in the face in the second by a line drive that broke his nose and fractured his cheekbone. Five days later, Mielke made his next scheduled start against the University of Minnesota at Franklin Rogers Park in Mankato wearing butterfly bandages and looking "absolutely horrible," Bowyer recalled. He threw a complete game and earned the victory in a highly suspenseful 3-2 Maverick win. "Of all my wins – other than my first and only major-league win – that was a pretty big one because of the rivalry," Mielke said.
In his final collegiate season, Mielke was elected a captain by his teammates and led the pitching staff in ten categories. He did not allow a single earned run in the North Central Conference the entire season, pitched 27 consecutive scoreless innings, and was named the conference Pitcher of the Year. The Mavericks won the conference title – their third during Mielke's tenure – and placed third in the NCAA Midwest Regional in Joliet, Illinois. Mielke's total financial compensation from athletic scholarship while at Mankato State was significantly less than one would imagine: He received $400 for being chosen a team captain his senior year.
Mielke's cumulative statistics (15-9, 3.55 ERA, and 118 strikeouts in 162 innings pitched) and accolades at Mankato State were part of a strong résumé going into the June 1985 amateur draft. He also had the unconventional delivery, a "great pitcher's body" (according to Bowyer), and regular experience in meaningful games. Bowyer said he told his recruits, "If you come here to play, you'll get looked at by professional scouts because we always play in the NCAA Regionals and have had more guys sign professional contracts than all of the other schools in the NCC put together."
One person in attendance at the '85 regional tournament was Emil Belich, an area scout for the Texas Rangers. Belich attended Mavericks games throughout the season to evaluate Mielke and turned in his name as a legitimate pro prospect after watching him pitch in the regionals. Mielke's father said, "That tournament in Joliet was a turning point for Gary. He convinced Belich he could get good left-handed batters out." Gary himself said, "I never thought about getting drafted until the end of my senior year. While I had a sense that there might be an opportunity, I didn't load up the shopping basket before the idea became reality."
Mielke was at work at Randall Foods when the Texas Rangers phoned him during the annual amateur free agent draft. They had drafted Mielke in the 26th round. Mielke said of being selected, "There are moments in life where you have that little tingle and your hair stands up. …That's how it was." A few days later, on June 7, he signed a one-year contract that included a $1,000 signing bonus. "The scout who signed Gary didn't know he was married," said Bowyer, his baseball coach. "He thought Tracy was his girlfriend. Otherwise he would have given him more signing money."
Mielke began his professional career in the rookie Gulf Coast League, making $750 a month with the Rangers rookie-level team in Sarasota, Florida. His statistics for the summer were superb: In 19 relief appearances, he allowed only four earned runs in 37 ⅔ innings pitched (0.96 ERA) and his walks and hits per inning pitched (WHIP) was just 1.035. He struck out 49 (against just 14 walks), collected six saves – tied for third in the league – and earned an invitation to the organization's instructional league in Arizona.
After a solid spring training in 1986, Mielke was promoted to the Tulsa Drillers, the Rangers' Double-A farm team. He had 23 relief appearances before making the only professional start of his career on June 13 against the Shreveport Captains. "I think the coaching staff threw me out there so they'd have more excuses for sending me down but it didn't work out that way," Mielke said. "I ended up throwing five good innings in a low-scoring game that we won." Six days later, he was sent to the club's Single-A team in Salem, Virginia, to make room for a high-profile rookie. At Salem, Mielke made 37 appearances and notched 11 saves. Salem had the Carolina League's worst record (45-93) and poorest defensive and pitching units that season; the Redbirds allowed 6.65 runs per game and had a team ERA of 5.59. Between Tulsa and Salem, Mielke was consistent and respectable: He pitched in 61 games, posted a 6-4 record (3.70 ERA) with 13 saves, and recorded nearly a strikeout per inning pitched (87 K's in 99⅔ IP).
Mielke returned to Tulsa for the 1987 season and proceeded to pitch through the minor-league ranks. Through mid-June, his pitching totals were excellent – 28 appearances, 2.98 ERA, 0.971 WHIP, 46 strikeouts in 45 ⅓ innings, and a league-leading 15 saves (a team record). On June 16, he earned a promotion to the Rangers' Triple-A affiliate in Oklahoma City (American Association), where he spent the next two months. Initially, hitters welcomed him harshly. In his first 17 trips to the mound, Mielke was charged with 15 earned runs (5.47 ERA) and three losses (0-3). He followed that by hurling scoreless ball in eight straight appearances, collecting two wins and three saves. His shutout streak came to an end when he received "the call" to the Texas Rangers on August 18. He was the third Mankato State alumnus to make it to the major leagues, following Bob Will and Jerry Terrell. "I was so excited when I found out the Rangers called Gary up," Bowyer said. "I remember getting goosebumps and the hair on the back of my neck standing on end."
The day after his call-up, Mielke made his major-league debut in front of nearly 25,000 fans at Arlington Stadium against the Kansas City Royals. He started the seventh inning with the Rangers trailing 10-6. "I remember I was as nervous as heck warming up, but I eventually settled down," he recalled. "The first batter I faced, Frank White, ended up hitting the first pitch out of the park. Bobby Valentine called time, walked out to the mound, and said, 'Welcome to the big leagues.' Mielke retired the next four batters in order on groundouts and collected his first big-league strikeout (Danny Tartabull) a few hitters later. He was eventually replaced by future All-Star reliever Mitch "Wild Thing" Williams.
Mielke's final two outings with Texas that year came in the next series, against the Chicago White Sox. He was summoned to begin the ninth inning on each occasion (both Ranger losses), and yielded a leadoff homerun in the series finale. He was sent back to Oklahoma City on August 27 and returned to the Rangers in September after the 89ers were eliminated from the American Association playoffs.
Mielke acquired 48 days of major-league service during the 1987 season and likely would have added to that total in 1988 under different circumstances. "Mitch Williams and Dale Mohorcic were in the big leagues pitching similar roles," he said in 2009. He did all his pitching that season for Oklahoma City. In mid-July he experienced shoulder soreness in his right arm that required arthroscopic surgery. He made his final appearance of the season for 89ers manager Toby Harrah on July 15 and finished with statistics that in other circumstances could very easily have led to a promotion: In 38 games, he racked up 59 ⅔ innings pitched, six wins, a 2.87 ERA, and 13 saves, which ranked second in the league at season's end. Of Harrah, a three-time All-Star shortstop for the Rangers in the 1970s, Mielke said, "Toby had a down-to-earth, honest approach, and called a spade a spade. I always appreciated him for that."
After an offseason of shoulder rehabilitation and working full time at Randall Foods in Mankato, Mielke was invited to Florida for his second spring training with the Rangers in 1989. He was ultimately assigned to Texas' minor-league camp and began his fifth season of professional baseball in Oklahoma City. His third year with the 89ers was short-lived; in 18 games (40⅔ IP) he posted a 1.11 ERA, a 0.934 WHIP, and 40 strikeouts. The Rangers recalled him on May 22 after a four-game stretch of dominance in which he allowed just one earned run in 13 ⅔ innings.
Mielke's brilliance that year continued in his first 13 games with the Rangers, as he allowed just three earned runs (1.93 ERA) in 14 innings of work. For the season, he wound up making 43 appearances, fourth most on the team. The most memorable of those came on June 21 at Fenway Park shortly after the Rangers took a 4-3 lead on Roger Clemens in the top of the fifth inning. Mielke was called in to face veteran All-Star Dwight Evans with two outs and Danny Heep representing the game-tying run at third base. He struck out Evans to end the threat and went on to pitch consecutive 1-2-3 innings in the sixth and seventh. The Rangers offense, meanwhile, closed out the game's scoring with a six-run seventh inning to give Mielke his first major-league victory.
A pair of other notable occasions in Mielke's career occurred later that year against the eventual World Series champion Oakland Athletics. In the opening game of a three-game series, he watched Nolan Ryan make Rickey Henderson his 5,000th strikeout victim in a crowded Arlington Stadium. Mielke remembered, "Nolan brought so much excitement to every ballpark we went to, especially when he was pitching because he'd fill the park with people." Two days later, on August 24, Mielke closed out the series by preventing an Oakland sweep; he recorded his first major-league save by retiring eight straight A's in a 6-2 Rangers win.
The save against the A's began a four-week scoreless streak for Mielke. During that time (from August 24 to September 20), he pitched a total of 12 innings in 10 games, four of which came against the Minnesota Twins. At season's end, his 3.26 ERA ranked fourth on the Rangers staff, trailing only Ryan (3.20), Kenny Rogers (2.93), and Jeff Russell (1.98), the team's All-Star closer and the league leader in saves.
Mielke spent the offseason in Arlington with his wife and their first child, Tyler, a son born three days after his first major-league win in Boston. The couple gave him the middle name Ryan "solely because of Nolan." Mielke praised Ryan. "Nolan was an ambassador to baseball," he said. "If there was one guy you wanted to have represent you, baseball-wise, he'd be the guy you'd want. He was very quiet and very dominant at the same time." In addition to witnessing Ryan's 5,000th strikeout, Mielke saw Ryan throw his sixth no-hitter and win his 300th game in 1990.
The 1990 season was Mielke's first full season with the Rangers. It began on April 9 with an unusual four-game series against the Toronto Blue Jays; they played the opener in Arlington and the other three games in Toronto. Mielke made his season debut in the seventh inning of the first game at the SkyDome, a 2-1 Texas loss. (He retired the first two batters he faced before allowing a single to Fred McGriff.) The season that followed was a tale of two halves. He struggled in April and May (19 games, 17 ⅓ innings pitched, 12 earned runs) and had an uncharacteristically high 6.23 ERA after a rough outing against the Baltimore Orioles on May 27. Two days later, he was placed on the 21-day disabled list because of a blister on his right middle finger. It was the only time in his Rangers career that he missed playing time due to injury.
Mielke was reactivated by the Rangers on July 23 after a very successful five-game rehabilitation assignment in Oklahoma City (5⅔ IP, 7 K's, 1ER) and played a significant role in what would eventually become the American League's sixth best pitching staff. In his first game back, he pitched a career high 4 ⅓ innings against the Toronto Blue Jays, allowing one earned run on four hits. He followed that with three straight scoreless outings during a nine-game Midwest road trip: 2 ⅔ innings on August 8 against the Cleveland Indians, 3 ⅓ innings versus the White Sox on August 10, and one inning against Kansas City on the 13th. He entered the game against the Royals on August 14 having retired 21 hitters in order.
That night's game featured a pitcher's duel between Andy McGaffigan and Jamie Moyer, whom Mielke relieved after seven innings in a scoreless game. He retired the first two batters he faced – running his consecutive outs streak to 23, a Rangers relief record that lasted to 1999 – before issuing a walk to future Hall-of-Famer George Brett. The game remained tied until Jim Eisenreich's leadoff home run in the bottom of the ninth gave Mielke his second loss of the season.
Mielke appeared in nine more games after the 1-0 loss, seven of them in September. He finished a fantastic month (10⅓ IP, 1 earned run) in Arlington on the 30th with an inning-ending double-play groundball by Oakland A's slugger Mark McGwire that turned out to be the final pitch of his major-league career. His final numbers for the season gave him the following cumulative stats with the Rangers: 79 games, 93 ⅔ innings pitched, 1 win, 3 losses, 1 save, and a 3.56 ERA. His demeanor and role with Texas was accurately summed up on his 1991 Score baseball card, which reads, "Gary, a tough competitor who isn't afraid to pitch inside, was a strong middle and long reliever for the Rangers in '89 and '90. Throwing either a hard sinking fastball or a big breaking slider, he is especially tough on righthanded hitters."
In mid-November of 1990, Mielke became a free agent after declining an assignment to Triple A. He re-signed with the Rangers on February 2, 1991, and thought he performed well during spring training; however, the team released him. Reflecting back on the experience in 2009, Mielke said, "I just wasn't a fit for what they were looking for. I thought I might be able to catch on with another team, but in the spring there are a lot of guys that are leaving a lot of clubs. Unless you're a really, really dominant, well-known pitcher, you get thrown in that bucket with guys that are probably the same caliber."
About a month after his release, Mielke signed with the Oakland A's organization. "They wanted me to show them I was in shape and could still pitch, so they sent me to Huntsville (Double A) for ten days." After he pitched in four games with a 1.93 ERA, they sent him to their Triple-A team in Tacoma. "I spent about 45 days out there before having some shoulder problems," Mielke said. "I had an MRI and came home. About a month later, the Rangers called and asked if I could help out their Triple-A team. That's where I finished the year." While it turned out to be the final stop of Mielke's seven-year professional playing career, he remained in the Rangers' minor-league system for two more years serving as a pitching coach for Texas' Single-A team in the South Atlantic League.
Mielke's decision to stop coaching after the 1993 season was, according to him, "100 percent financial." He had bought a home in North Mankato in 1991, yet was paying monthly rent nearly year-round to coach. "Living on a minor-league pitching coach's salary with two kids growing up was financially draining. Plus, there weren't enough indicators that told me there would be great opportunities jumping up levels."
From the beginning of his professional career in 1985 to its conclusion in 1993, Mielke lived in nine states and had 40 different addresses. His wife – with him at every stop – remarked, "Our parents were good role models for us. His mom and dad have been married for almost 50 years and my mom and dad have been married forever too. When you have examples like that, you realize marriage isn't something you throw away. It was hard times, but it was also an adventure. You had to look at it as an adventure."
On January 14, 1994, Mielke officially began his post-baseball career when he joined Corporate Graphics, a large commercial printing company in North Mankato. As of December 2009, he was on the corporation's management team as technology supervisor, a position he had held for 11 years. Randy Kroenke, a longtime colleague and supervisor for seven years, summarized Mielke as "one of those guys that always goes above and beyond what you expect. He's self-taught, takes on a lot of responsibility and you never worry about how things are going to turn out. He is relentless and (doesn't stop) until the job is done."
Mielke has also remained busy with baseball since his departure from the professional ranks. In the spring and summer of 2009, he umpired 70 baseball games in south central Minnesota, including high school varsity, Legion, VFW, community college, Division III, and amateur action. Of the local talent, Mielke commented, "There are a lot of kids with a lot of talent who are very competitive in the high schools around here. (I believe) it's not so much the physical ability, but the mental ability and approach that gets someone to the next level."
Prior to his involvement in umpiring, Mielke was a youth coach for his children, Tyler and Chelsea, born during his brief minor-league coaching tenure. By his wife's account, coaching was a perfect fit for his personality. She said, "Gary's a wonderful father and role model for our kids, and also a very caring person. He really has a good read on people and is easy to communicate with. He's a great leader because he's very fair, calm, and listens well. He's always been the voice of reason."
In 2009, the Mielkes were residing in the same North Mankato home they purchased in 1991. Aside from Gary, all were very involved in education. Tracy was in her ninth year as the director and lead teacher at Little Lambs Preschool in North Mankato; Tyler, a 2008 graduate of Mankato West High School, was completing his third semester at South Central College in Mankato; and Chelsea was a junior at Mankato West. The family's summer vacations have typically coincided with Chelsea's traveling softball schedule since she was 8 years old: Their most recent excursion was spent driving to and from Colorado for a 16-and-under national tournament.
According to multiple sources who know him and his accomplishments in baseball, Mielke's personality has never wavered. Said his father, "Gary's always been down to earth and level-headed. He doesn't go around bragging that he's pitched in the major leagues." Bowyer, Mielke's four-year college coach, said, "Gary was so well liked and respected by all of his teammates because of his personality and how he played. He's definitely deserved all the success he's received."
Mielke was inducted into the Minnesota State University, Mankato, Athletics Hall of Fame in 1999, a nice accomplishment for someone who has said, "I honestly don't think I would have gone any further or done anything to the level that I had if I hadn't spent one and a partial year playing in Mankato State's JV program." When asked about his favorite memory playing with the Texas Rangers, he replied, "It was playing a kid's game and getting paid for it."
Sources
Personal interviews with Gary Mielke on July 25, 2009, and August 24, 2009
Personal interview with Roger and Betty Mielke on July 31, 2009
Personal interview with Coach Dean Bowyer on August 19, 2009
Personal interview with Tracy Mielke on August 24, 2009
Phone interview with Randy Kroenke on December 3, 2009
1988 Texas Rangers Media Guide
1990 Texas Rangers Media Guide
1991 Texas Rangers Media Guide
2009 Minnesota State University, Mankato, Baseball Media Guide
http://www.baseball-reference.com
http://www.corpgraph.com
http://www.retrosheet.org
http://texas.rangers.mlb.com
http://www.waldorf.edu
E-mail correspondence with Paul Allan, assistant athletics director at Minnesota State University, Mankato, on August 19, 2009.
E-mail correspondence with Gary Mielke on November 25, 2009.
Various minor and major league baseball trading cards.
Photo Credit
The Topps Company
Born
January 28, 1963 at St. James, MN (USA)
If you can help us improve this player's biography, contact us.
http://bioproj.sabr.org/bp_ftp/images3/MielkeGary.jpg
600
800
admin
/wp-content/uploads/2020/02/sabr_logo.png
admin
2012-01-04 20:42:19
2012-01-04 20:42:19
Gary Mielke