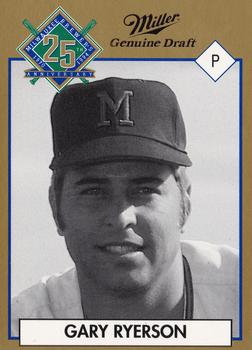 ---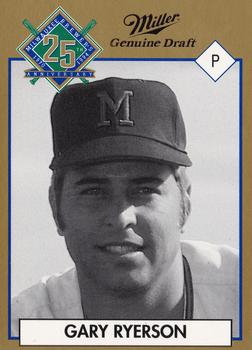 Few players have managed to overcome greater challenges to succeed in professional baseball than Gary Ryerson. In 1952 an outbreak of poliomyelitis, more commonly called polio, swept the United States. The infectious virus attacked mostly the legs and caused muscles to become weak, poorly controlled, and ultimately paralyzed. The epidemic struck 57,628 Americans.1 Of those stricken, only one would later ascend to play major-league baseball: Ryerson, a left-handed pitcher with the Milwaukee Brewers in 1972 and 1973.
Along with his twin brother, Jerry, Gary Ryerson was born to Walt and Bonnie Ryerson three years after World War II had ceased. Walt Ryerson, a veteran of the United States Submarine Service, was a machinist. Bonnie (née Collins) focused on raising her four boys – Gary and Jerry, their older brother Ron and younger brother Kenny – then entered the banking profession once her sons were out of the house. The Ryersons raised their family in the small community of Rolling Hills, which was nestled in the burgeoning South Bay area of Southern California, 20 miles south of downtown Los Angeles.
In the latter half of the 1950s, jobs at aerospace and automotive plants, in the oil industry, and at a bustling port lured young families to the South Bay region. Walt Ryerson saw a need for youth baseball in the area. He secured the use of land and established the Rolling Hills Little League. It was there that young Gary enjoyed his first role in baseball – batboy.
In 1955 the Ryersons were struck by a crisis. While buying shoes for her seven-year-old son, Bonnie Ryerson was told by a salesman that Gary's right foot was bigger than his left. The boy was hustled to a doctor who made a startling diagnosis of polio.
Several remedies were suggested. "There was a doctor who wanted to cut the heel cord [Achilles tendon]. One guy talked about taking bones out of the leg to reduce the limp," Ryerson said. It was after a doctor at a hospital in Los Angeles urged exercise for their son that the Ryersons settled on the prescription of a brace and baseball. From the age of eight until his body reached maturity at age 20, Ryerson slept while wearing a full brace on his left leg. One purpose of the gadget was to stretch the boy's heel cord. It also turned Gary's left foot outward to prevent him from developing a club foot. Playing sports was prescribed to prevent the youth's calf muscle from atrophy. During daytime hours, Ryerson wore a smaller brace, one that provided support.
The affliction did little to slow the Ryersons' middle son. At the age of nine Gary exchanged his duties of batboy for those of pitcher in the Rolling Hills Little League. Despite a noticeable limp and a left leg whose circumference was half that of his right, the youngster displayed talents that shone. As a 12-year-old he was named to the league's all-star team.
Ryerson's pitching skills blossomed at Palos Verdes High School. After five games with the junior varsity, he was promoted to the varsity. As a sophomore, he was named to the all-Sky League team. During that second year of high school, Ryerson met an attractive classmate, Pam Cole, the daughter of the school's counselor. He fell for Cole and the two began dating. Following his sophomore year, a second high school was opened in the district, Rolling Hills High. Geography made Ryerson a student at the new school.
At Rolling Hills High, a baseball environment flourished. Mike Gillespie, a former all-American at USC, was named head coach. Connie Hamilton, a part-time scout for the Minnesota Twins, was hired as athletic director. Gillespie built a power. Hamilton often summoned Ryerson to spend his lunch hour pitching batting practice to Jim Lefebvre and brothers Rene and Marcel Lachemann, pro ballplayers who were getting in shape for spring training.
By his senior year, Ryerson was among the better pitchers in Southern California. A crackling fastball, pinpoint control, and a frustrating changeup brought scholarship offers from a dozen top-flight collegiate programs. Ryerson mulled offers from USC and UCLA before he accepted the one extended by Bobby Winkles, coach of the reigning national champions, Arizona State.
In the spring, Ryerson pushed Rolling Hills High to the top of the league standings. In one memorable outing, he pitched 13 innings of shutout baseball before the game was halted by darkness. The South Bay area was dotted with talented high school pitchers. Future big-leaguer Jim Barr shone at Lynwood High. Bart Johnson was a standout at Torrance High. Down the freeway, Randy Moffitt drew praise at Long Beach Poly High School. Perhaps the best of the lot, however, was the apple of every pro scout's eye, El Segundo High sensation Ken "Kemmer" Brett.
When Rolling Hills and El Segundo met, scouts came in droves. The pitching matchup pitted Ryerson and Brett. When the Rolling Hills standout strode to the mound, scouts noted a 6'1," 140-pound frame (which eventually filled out to 175 pounds). They also noted that the pitcher didn't just stride to the mound, he limped. Ryerson's left foot was a shoe size smaller than his right. The calf of his left leg, his push-off leg, was half the circumference of his right calf. Many scouts immediately discounted Ryerson's prospects. They wondered whether he could adequately field his position. As the game wore on, however, one scout grew more and more interested in Ryerson — the legendary San Francisco Giants scout, George Genovese. "I saw him pitching against Kemmer Brett," said Genovese. "Kemmer is really the best high school athlete that I ever saw. But that afternoon Ryerson matched him pitch for pitch."2
At the end of the season, Brett was named the California Interscholastic Federation Player of the Year. He had finished the campaign with a 13-1 record. Gary Ryerson lost only twice — both times to Brett. He completed his senior season with a 15-2 record and was named the all-CIF first-team pitcher alongside Brett.
Despite the successful season, nothing suggested to Ryerson that a career in professional baseball was a possibility. A scout for the California Angels, Kenny Myers, invited the pitcher to join his amateur team. He hinted that the Angels might select Ryerson in the June draft.
In the days leading up to baseball's second-ever amateur draft, Genovese submitted his draft list to his employer. On the list of prospects recommended for selection from his territory was the name Gary Ryerson. Discussions about the pitcher became quarrelsome. Naysayers in the Giants' scouting department continued to question whether Ryerson could field his position. "He has great instincts. Nobody beat out a bunt on him," Genovese snapped. At least one Giants' staffer openly called the high school senior "a cripple." The scout's anger rose. "Listen, there was nothing he couldn't do as good as Brett. You're either lookin' at the whole donut or you're lookin' at the donut hole. This boy can pitch. I like him!"3
On June 8, 1966, Ryerson arrived at school and was surprised when classmates congratulated him. "Guys came up to me and said, 'You got drafted,'" the pitcher said. "I forgot all about the draft. I didn't think I was going to get drafted."
George Genovese had succeeded in convincing the San Francisco Giants to select Ryerson. He was the team's 13th round pick in the 1966 amateur draft. But if the heralded scout thought convincing his bosses to choose Ryerson was a difficult challenge, it would pale compared with the task of trying to sign the left-handed pitching standout.
"When I learned I was chosen by the Giants, I wasn't happy," Ryerson explained. "This was Southern California. We were Dodger fans and we hated the Giants." Walt Ryerson informed the scout that his son was committed to playing at Arizona State. Genovese refused to take no for an answer. Walt Ryerson countered that it would take a $35,000 signing bonus to change his son's plans. The demand was $10,000 more than his bosses had allowed Genovese to offer. For several weeks, the scout phoned the Ryersons regularly. Each time, Walt Ryerson's response was a firm "no."
Following his high school graduation, Gary Ryerson plunged into Connie Mack League play. He joined a team that was made up of players from the communities of Rolling Hills, Torrance, and Gardena and was called the Tordena Bullets. With another future big leaguer, Dave LaRoche, Ryerson helped make the Bullets a formidable team.
The Bullets streaked through the South Bay Connie Mack League and into the playoffs. They blitzed through the Southern California sectionals, winning all six games. Genovese brought the Giants' Director of Player Development, Carl Hubbell, to Porterville, California, where they watched Ryerson win in the Southwest Regionals and send the Bullets to the national tournament.
Dave Garcia was dispatched by the Giants to Farmington, New Mexico, to scout the Connie Mack World Series. Garcia witnessed Ryerson produce two of the greatest performances in the history of the event. In the Bullets' first game of the finals, Ryerson struck out 15 batters in the seven-inning contest to tie a tournament record. Two nights later Ryerson set a single-game strikeout record that still stands 50 years later. In the team's semi-final game against Des Moines, Iowa, Ryerson pitched all 13 innings and struck out 24 batters. It helped to push the Bullets into the title game, which they won. "I had never seen anybody pitch with the liability Ryerson had. He limped when he walked," Garcia said. "His biggest asset was he was mentally tough."4
Genovese stepped up his quest to sign Ryerson. The family traveled from Farmington to visit Bonnie Ryerson's relatives in Nebraska. The Ryersons were surprised when their vacation was interrupted by a phone call from Genovese. "My dad couldn't believe it," Gary Ryerson laughed. "He kept asking, 'How did he find us?'" Still, the Giants' offer was far short of the Ryersons' demand. From Nebraska, Gary traveled to Tempe, Arizona. He moved into campus housing and prepared for the first day of classes at Arizona State. Again, the scout tracked the pitcher down. He implored Ryerson not to go to class. "Once you go to class that's the end," he said. Under draft rules, the Giants would lose their rights to the pitcher. Genovese pleaded with Ryerson to give him 24 hours to try to coax the Giants into meeting his demand. The two agreed to meet the following evening in the lobby of a Ramada Inn near the campus.
Genovese immediately got on the phone to his superiors to seek concession. Ryerson, almost as quickly, went to the Arizona State head coach, Bobby Winkles, for advice. "Gary, I'd hate to lose you," Winkles said. "But you can be here for all four years and not get that kind of money. Besides, you might get hurt. I think you should take their offer."5
The following evening, Ryerson walked into the hotel lobby. There, seated with a contract in his hand, was George Genovese. The scout had convinced his superiors to give Ryerson the bonus he had asked for, and the pitcher signed.
After a brief stint with the Giants entry in the Arizona Instructional League, in the fall of 1966, Ryerson impressed in spring training 1967. He was assigned to the highest of the Giants' four Class A farm clubs, Fresno, of the California League. Dave Garcia would be his manager.
Nine months removed from high school, the 18-year-old found himself one of the youngest players in a league in which the average age of its players was 21. The challenge was stimulating. "Pro ball was like playing in a high school all-star game every day," Ryerson said. If the young hurler found pro ball daunting, he didn't show it. Three weeks into the 1967 season, in only his third professional start, Gary Ryerson pitched one of the greatest games in Fresno Giants' history, a one-hitter that missed being a perfect game by one pitch.
Against the Chicago Cubs' Lodi farm club, in a duel with Alec Distaso, Ryerson retired the first 17 batters he faced. With one out in the sixth inning and an 0-and-2 count, Lodi's Ken Rudolph stroked a clean single to center field. The next batter hit into a double play. Ryerson struck out 13 – two of them were the final outs of the game – and walked none. Rudolph was the only Lodi player to reach base. "Funny thing about that game," Ryerson explained to Bruce Farris of The Fresno Bee, "Warming up, I had nothing on the ball and I felt weak. I couldn't find the plate. I felt my fastball starting to come back about the third inning, and I felt real good from that time on."6
Ryerson won five of his first six professional decisions. During that time, opponents saw the limp and tested the polio victim. "A few teams tried to bunt on me, but once they saw I could field my position, they didn't try it anymore," he explained. There were also hecklers, though the pitcher only heard a couple early on. Both were quickly silenced by quick-witted, biting teammates.
While Ryerson plied his trade, his high school sweetheart, Pam Cole, attended San Diego State. In May, at the end of a Friday class, Cole shared with a classmate that she was headed to Fresno for the weekend. She was surprised when the other girl said she too had weekend plans in Fresno. When Cole explained that her boyfriend pitched for a team in Fresno, the other girl exclaimed that her father was the manager, Dave Garcia. Cole received an instant invitation to stay with the Garcias anytime she was in Fresno.
Throughout the summer, Ryerson was among the league leaders in earned-run average. He earned a reputation for pinpoint control and was a bright spot on a team that struggled to remain out of the California League cellar. Ryerson's stats contradicted an unimpressive record of 10 wins and 14 defeats. His strikeout total of 184 was third best in the league. Ryerson pitched 12 complete games, the fifth-best tally among California League hurlers. A low 66 walks were seventh best among pitchers who made 20 or more starts during the season.
An 11-9 season at Fresno in 1968 earned Ryerson promotion to Class AA Amarillo for the 1969 season. He won his first four starts in the Texas League and sported a 1.17 earned-run average by June. Throughout the season, Ryerson was among the league leaders in wins, strikeouts, and earned-run average. After pitching his third shutout and earning his tenth win, Ryerson was selected to pitch in the Texas League All-Star game. He was named starting pitcher for the West and threw two innings, struck out three, and did not walk a batter. The left-hander finished the season third in the Texas League in wins with 13 and complete games with nine.
It was after the season when a frustrating trend began. "Charlie Fox [then manager of the Giants' Class AAA team in Phoenix] really messed me over," Ryerson said. While fellow Amarillo mound mates Bill Frost, Migel Puente, and Jim Johnson would receive promotions to Class AAA, the Texas League All-Star was returned to Amarillo for the 1970 season. During evening evaluation meetings in spring training, Fox made it clear that he did not want Ryerson on his team. Genovese attended many of the meetings and became angry when Fox referred to Ryerson as a "cripple." "Charlie, this boy can pitch!" the scout barked. Fox was not deterred. "Denny Sommers [a Giants' minor-league manager] tipped me off about what was going on in the meetings," Ryerson said. "He didn't like what was happening."
A bright spot amidst the baseball frustration was Ryerson's February 1970 marriage to Pam Cole. It was not without angst, however. Not long after the couple announced their plans, Ryerson's twin brother announced that he and his girlfriend were also engaged to be married. When Bonnie Ryerson told her sons that out-of-state relatives could not travel for two weddings, the brothers agreed to hold their ceremonies on the same day. Gary and Pam married in the early afternoon, while his brother and fiancée Nancy Daniels wed in the evening. "My brothers and I set a Ryerson record. We walked two different girls down the same aisle in two different tuxes on the same day," Gary chuckled.
Though Ryerson had a down year for Amarillo in 1970, he rebounded nicely in 1971. Yet that October, after being mired in Amarillo for three seasons, Ryerson was traded. He was dealt by San Francisco – Fox was now ensconced as the big club's manager – to the Milwaukee Brewers for John Morris, a relief pitcher with five years of big-league experience.
A trade by the Brewers for Frank Linzy in the final week of spring training kept Ryerson from opening the 1972 season in the big leagues. He was assigned to the Brewers' top farm team, Evansville of the American Association. "When I joined the Triple-A team, Del Crandall was the manager. I'd pitched well against his teams when I was in the Giants' organization. He said, 'I was tired of you pitching against me. I'm sure glad to have you with me!'"
In his first game in the Brewers' organization, Ryerson pitched an opening-night shutout in Denver. "He has a very live arm," the Denver manager, Del Wilbur, commented afterward.7 By late June, Ryerson had eight wins and a 2.41 earned-run average when he got the news he'd longed for since first tugging on a jersey in Little League. "Mike Roarke [the interim Evansville manager] said, 'I need to talk to you. You're catching a plane first thing in the morning. You're going up. You'll meet the team in Baltimore. They're probably going to use you in relief.'" Ryerson was surprised, however, when Del Crandall, who had been promoted in May to manage the Brewers, informed him that he would start against Cleveland in two days' time.
On Wednesday, June 28, 1972, Gary Ryerson made his major-league debut. He was nervous. "Just the size of the stadium, the people there," he said. Whatever nerves Ryerson felt did not show on the mound. After being touched for three hits and a pair of runs in the second inning, the rookie settled down. He retired 21 of the next 25 Cleveland batters and the final nine in succession. Ryerson pitched a complete game, did not walk a batter, and beat Cleveland, 4-2. He stayed in the Brewers' starting rotation for the remainder of the season, besting Minnesota, 2-1, in his fifth big-league start, then winning a 1–0 pitchers' duel over Jim Palmer and the Baltimore Orioles on August 10.
"He's just not afraid out there," commented Wes Stock, the Brewers' pitching coach. "In fact, he shows courage beyond his years. Courage to challenge the hitters. That's what you must have to win in this game."8 Sandwiched between the three wins were eight losses. Three of the defeats were by shutouts, and in two his teammates scored only one run.
Ryerson broke camp and opened the 1973 season with the Brewers, but on June 18, after appearing in only nine games, he was optioned back to Evansville. Over the remainder of the season, the southpaw was practically unhittable in the American Association. He won seven of his first nine games and shot to the top of the league's leaders in earned-run average.
On August 11, for the second time in his career, Ryerson flirted with a perfect game. In the bottom of the seventh, against Iowa, the left-hander surrendered a walk to Hugh Yancy. It was the first walk he had allowed in three games. With one out in the eighth inning, Joe Keough hit a ball that dribbled down the third base line. Keough beat the throw to first base for the only hit of the game.
Ryerson followed the near no-hitter with a four-hit shutout of Omaha, then blanked Wichita. On August 23, in the third inning against Iowa, Ryerson found himself two outs from equaling the American Association record for consecutive scoreless innings: 42. For the second time in two weeks, Joe Keough was a spoiler. The former big-leaguer belted an opposite- field double that scored a run and thwarted Ryerson's quest for a place in the record book.
He finished the 1973 season as the league earned-run-average champ, 2.09. Ryerson led the American Association with 4 shutouts, and his 22 walks allowed in 116 innings pitched was the lowest total among pitchers who toiled over 100 innings that season.
A month after the season Ryerson was traded. He was included in a 10-player deal the Brewers made with the California Angels. The Angels' manager was the man who had once recruited him to Arizona State—Bobby Winkles. Two weeks later, though, Ryerson was on the move again. "They said they were going to take a chance and put me on the AAA roster," Ryerson said. That move would leave Ryerson available in the Rule 5 draft. He was quickly grabbed by, of all teams, the San Francisco Giants.
Gene Thompson, the Giants' Midwest area scout, had seen Ryerson pitch at Evansville. When he saw the hurler's name on the draft list, he urged his bosses to grab him. When Ryerson arrived in Casa Grande, Arizona, for spring training, he was happy to reunite with many old friends and former teammates. However, Charlie Fox still occupied the manager's office. Once exhibition games began, Ryerson sat. "I went to Gene Thompson and I asked him 'When am I going to pitch?' Finally, I got into two games, one inning each. I pitched fine, but two days before camp ended, I was offered back to the Angels, and they sent me to Salt Lake City."
In 1974 Ryerson posted a 13-11 record for the Angels' top farm club. The following season he won 9 and lost 14. When Ryerson was told at the end of spring training in 1976 that he was being sent back to Salt Lake City for a third straight year, he balked and threatened to retire. The Angels proposed loaning the pitcher to a team in Mexico. "I told them, 'I'll take Mexico,'" he said.
A deal was struck with Alijadores de Tampico. Arriving at his new home ballpark in the city on Mexico's east coast was an eye-opener. "Big ships, I mean huge, passed behind the outfield fence. There were train tracks in the outfield. From time to time, during batting practice usually, gates in left and right field would be flung open to let a train pass through. Our left fielder would hop on the back, ride over to right field, then run back," Ryerson laughed.
Hector Espino, hailed as the "Babe Ruth of Mexico," was a teammate with the Lightermen. "He was much older," Ryerson recalled. "He'd gotten heavy. But when he hit 'em, they went a long way!"
In almost no time, Ryerson became a Mexican League sensation. His debut, a two-hit shutout win over Reynoso, set the tone for the summer. By August he was 14-5 with a 1.72 earned-run average. When he blanked Nuevo Laredo for his 15th win of the season, he had recorded nine shutouts, which tied the Mexican League record. In his next start he shut out Mexico City, 5–0, to break the record for most shutouts in a single season.9 "The owner, Sergio [Kreimerman], was great," Ryerson recalled. "He was so happy. He had a jewelry store, and he gave my wife a huge gold bracelet. He really treated my family well."
Ryerson's record wound up at 16 wins and 9 losses. His earned-run average was the league's best, 1.47. While the Tampico ace had thrown 17 complete games, he had also made several relief appearances. "They pitched the heck out of me," he noted. "If a game was close, they'd bring me in for an inning or two."
In early August, the Angels recalled Ryerson to help Salt Lake City's pursuit of a Pacific Coast League pennant. "There was a female reporter from Mexico City who they would never let in the locker room," Ryerson explained. "So, I called her and asked if she wanted a scoop. I told her the Angels were sending me to Salt Lake City." The next day, the woman's story was big news. At the Mexico City airport, customs officials would not let the pitcher leave the country. "The owner looked into it and found out that there were three team owners who were going to lose a lot of money if I didn't pitch in their ballpark, so they complained to the government." Kreimerman hatched an alternative plan, to put Ryerson on a flight from Mexico City to Tijuana, where a friend would meet him, then drive the pitcher across the border into San Diego. From there, Ryerson was to catch a flight to Salt Lake City.
If Ryerson hoped that his record-setting season in Mexico would be a springboard back to the big leagues, he was left disappointed. The season turned out to be his last hurrah in baseball. Ryerson was miffed when he did not receive a September call-up to the Angels. In the winter he was traded to Baltimore.
During his offseasons, Ryerson had taken business administration classes in college. When a neighbor suggested he consider real estate as a post-baseball career, Ryerson pursued the idea, took courses and got his license.
In the Orioles' spring training camp in March of 1976, the idea of a full-time real estate career was pushed to the forefront. Through the first three weeks of the Orioles' camp, Ryerson had pitched impressively. During a pitching session, however, he injured the arch in his right foot. Faced with another season at AAA, the pitcher talked over his future with his wife, Pam, then notified the Orioles that he was retiring from baseball.
Over the ensuing 40 years, Gary Ryerson enjoyed a successful career in real estate. He has been active in the Major League Baseball Players Alumni Association and has helped to conduct baseball clinics in the San Diego area for both the Association and Prison Ministries. Ryerson has served on the Board of Trustees of Christian Heritage College, Southern California Christian College. He has also served on the Board of Directors of Southern California Seminary and the 10,000-member Shadow Mountain Community Church.
Gary and Pam raised two daughters, Holly and Heather. Holly spent ten years as a television news producer at KFMB-TV San Diego before leaving to raise a family. Heather is a manager at the LaCosta Resort and Spa.
As of July 2017, Gary and Pam Ryerson reside in El Cajon, California.
Last revised: July 24, 2017
Acknowledgments
The author extends grateful appreciation to Gary Ryerson for his time, insights shared, and friendship.
This biography was reviewed by Rory Costello and fact-checked by Al Quimby.
Sources
Much of the information for this story was gathered from conversations with Gary Ryerson (on February 4, 2013; June 9, 2017; June 23, 2017; and July 6, 2017), George Genovese, and Dave Garcia.
Statistical information was assembled from The Sporting News, Baseball-Reference.com, Retrosheet.org, and Pedro Treto Cisneros, editor, Enciclopedia del Béisbol Mexicano (Mexico City: Revistas Deportivas, S.A. de C.V.: 11th edition, 2011).
Notes
Born
June 17, 1948 at Los Angeles, CA (USA)
If you can help us improve this player's biography, contact us.
https://sabr.org/sites/default/files/RyersonGary.jpg
600
800
admin
/wp-content/uploads/2020/02/sabr_logo.png
admin
2017-07-24 15:13:45
2020-04-09 14:40:33
Gary Ryerson