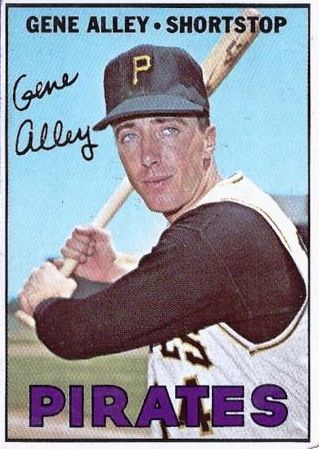 ---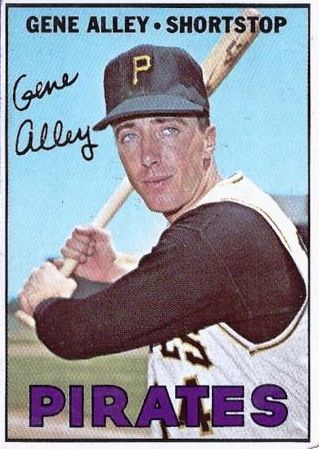 Former Pittsburgh Pirates shortstop Gene Alley made a living on the baseball field by doing the little things extremely well. He was a good bunter and sacrificed runners over into scoring position on cue. He was a dependable hit-and-run man. Most of all, he was outstanding with his glove and his arm while patrolling the area between second and third base. Many players have hit a lot more home runs than the 6-foot, 165-pound Alley did. Several more have hit for higher average or set marks that may forever be in the record books. But, many of those same players don't have what Alley has on his finger — a world championship ring.
And, he wouldn't trade it for anything in the world. "To play on a team that wins the World Series is the biggest thrill you could have in baseball," said Alley, who was a member of the 1971 Pirates team that won a world title. "I don't think anything could compare to it. Somebody can hit 50 home runs in a year — which is something I didn't do or even came close to. I don't know what that feels like. But, I can't imagine it being better than winning everything."
Leonard Eugene Alley was born in Richmond, Virginia, on July 10, 1940, to Claude and Helen Alley. The senior Alley died in a car accident when Gene was an infant, leaving their mother to raise four children. Fortunately, his father's railroad pension allowed Helen to carry on without having to work outside the home.
In addition to baseball, Alley was a fine basketball player in high school, and spent most of his leisure hours fishing. In a mid-career interview, he recalled that he hardly ever played baseball after the school year ended. "In the summertime, fishing is what I liked to do. I hardly ever played baseball–one or two games with the American Legion team, maybe. I guess I was just a Southern boy in the summertime."
The major league scouts mainly thought he was too small. He was offered a contract by the Phillies after he graduated from high school in 1958, but he took his time thinking about it and they withdrew the offer. He was offered a partial scholarship to play basketball at the University of Richmond, but he could not come up with the rest of the money. So he went to work for his uncle's foundry, making aluminum molds, and then took a job making storm windows and doors.
The following winter, Alley finally signed a baseball contract, with Pittsburgh Pirate scout Russell Rouse, and he spent his entire professional career in the Pittsburgh system. He spent that first season with Dubuque (Iowa) in the Class D Midwest League, where he hit a solid .287 with 15 homers, 24 doubles, 67 RBI, and 98 runs scored in 120 games. By the end of the season, Alley could no longer throw without pain, and he had to be moved to the outfield. He would not return to shortstop for three years.
In 1960, Alley played most of the year at Grand Forks (North Dakota) in the Class C Northern League, as a third baseman, and hit .280 with 14 homers, 24 doubles, 78 RBI, and 83 runs scored in 115 games. He also played six games for Burlington (Iowa) in the Three-I League (hitting .083) and four games for Columbus (Ohio) in the International League (where he hit .357.) After the season he was named the Most Valuable Player in the Northern League. He also earned his nickname, "Alley Oop", which stuck with him through his major league years.
In 1961, the Pirates moved him to second base, and he performed for Asheville (North Carolina) in the Class A South Atlantic League — hitting .263 with 14 homers, 61 RBI, 23 doubles, and 86 runs scored in 135 games. In 1962, Alley split time between Columbus and Asheville, hitting a combined .262 with 12 homers. The following year he played mainly at Triple-A Columbus, finally back at his shortstop position, his arm fully capable again of the long throw. He hit .244 with 19 homers and 61 RBI for Columbus in 146 games and earned a September call-up to the Pirates.
He started his first game, September 4, in Milwaukee against the Braves. He was 0-2 with a sacrifice bunt, but there was no shame in that. Brave pitcher Warren Spahn four-hit the Pirates. He got his first hit on the 13th off Bob Bolin of the Giants, and finished at .216 in 17 games. In 1964, Alley made the team as a utility infielder, played in 81 games, and hit .211, spelling shortstop Dick Schofield regularly. On May 3 he hit his first career home run off the Cardinals' Ernie Broglio.
In March 1965, Bill Mazeroski broke his foot, and Alley replaced him for the first 40 games of the season. Upon Mazeroski's return, manager Harry Walker moved Alley to shortstop and benched Schofield. Alley finally hit his stride at the plate against major league pitching, hitting .252 with five homers, 47 RBI, 47 runs scored, and 21 doubles in 153 games. He also had a .968 fielding percentage at the two positions.
In the majors, the 5-foot-10, 165-pound Alley wasn't expected to produce big offensive numbers. That burden fell on sluggers like Stargell and Clemente. His strength and value to the team was offered by his mitt. Still, Alley found a way to be productive at the plate with the help of manager Harry Walker, who managed the Pirates from 1965 to '67.
"I wasn't the greatest hitter," Alley admitted. "When Harry Walker took over the Pirates, he worked with me a lot on trying to hit the ball to right field and waiting on the pitch. We worked on the hit-and-run and he liked to get the runners over a lot. So, I did bunt a lot and sacrificed."
Walker himself, in a 1967 Sport magazine article, praised Alley: "Alley's got good baseball instincts. He's got a good head. He backs up plays well, he goes to his spots well. He does everything well — he's complete. He was the best hit-and-run man on the club, a good bunter, one of the better base runners."
In 1966, Alley had perhaps his best season in all respects. He hit a career-high .299 with seven home runs, 43 RBI, 88 runs scored, and 173 hits in 147 games. His career-high 28 doubles tied him with Ken Boyer of the New York Mets and Rusty Staub of the Houston Astros for the eighth-highest total in the National League that year. His on-base percentage was .334.
Alley also had 10 triples for the Pirates. Only Tim McCarver (13) and Lou Brock (12) of the Cardinals and Clemente (11) had more. Alley's 20 sacrifice hits were second only to Houston's Sonny Jackson, who had 27. Along with Hall of Fame second baseman Mazeroski, the two helped the Pirates turn a National League record 215 double plays. The key to the combination, according to Harry Walker, their manager, was that Alley charged the ball and fielded most everything near the grass.
"I knew after playing with (Mazeroski) for a while and watching other second baseman around the league that he was the best in making the double play," said Alley, who himself had a then-club record 128 double plays in '66. "He was great and he could turn the double play better than anyone I ever saw. He had very quick hands and very seldom did you see him miss the ball. He gave you good throws on the double play.
"After playing with him for a while you knew his habits and what he was going to do. He was going to be in a certain place when the ball was hit. If you caught the ball and came up throwing, you knew he was going to be where he needed to be. You just tried to give him a good throw and that was it — he was going to turn it. You left the rest to him."
On occasion Mazeroski would field a ball up the middle and flip it to Alley even when there was no one on base. With Maz heading away from first base, he knew Alley had the better throw. "They can make double plays with nobody on!" said Jose Pagan, their impressed teammate.
Alley had a .979 fielding percentage at shortstop in 1966. He recorded 235 putouts and 472 assists while committing just 15 errors. For his outstanding efforts in the field, Alley was awarded the first of his two Gold Glove awards. He finished 11th in voting for the MVP award — thanks in large part to his fielding. He was named the shortstop on the NL post-season All-Star team by The Sporting News in both 1966 and 1967.
In 1967, Alley earned his first selection to the All-Star game, and hit .287 with six homers, 55 RBI, 25 doubles, 59 runs scored, and 158 hits in 152 games. His on-base percentage was a career-high .337. He also earned his second straight Gold Glove with a .967 fielding percentage. Alley had 257 putouts, 500 assists, 26 errors, and 105 double plays.
"It was pretty exciting," Alley said of making the All-Star team. "I had been in the league just a few years. You play with the best players in your league against the best players in the American League. It's a pretty good feeling to be in that group. I don't know how to describe it except that it's pretty awesome.
"It's humbling, too, because when you're young, you might be playing against guys you watched on TV or read about as you were coming up. Sometimes you might get the feeling 'Am I good enough to be playing with these guys?' Yeah, it's kind of humbling in that sense."
Alley started at shortstop for the National League in 1967 and hit eighth in the lineup. He went hitless in five trips to the plate, striking out three times. The NL beat the AL 2-1 when Tony Perez of the Cincinnati Reds hit a home run off Jim "Catfish" Hunter of the Athletics in the 15th inning to win the game 2-1 in Anaheim, California.
Alley played with a sore right arm in that game – an injury that would bother him the rest of his career. He first felt the pain before a game at Cincinnati while warming up in the outfield.
"It happened a few days before the All-Star Game," Alley said. "I had a sore arm when I played in the All-Star Game. One day in Cincinnati in 1967, I was shagging balls during batting practice in the outfield. I caught one and threw it in and felt a sharp pain in my shoulder. I got another one and threw it and it was the same thing. The pain just wouldn't go away. It stayed like that for a while."
Alley thinks the cumulative effect of thousands of throws and tosses — both in practice and during games — over the course of his career finally took their toll. "Sometimes you can throw off-balance and hurt yourself," Alley said. "I just used to throw a lot — period. I took a lot of groundballs before games and worked hard that way. I would make a lot of throws before the game even started. I just made too many throws, I guess. It was just wear and tear."
Alley kept playing, though. In 1968, he was named to his second All-Star squad and hit .245 in 133 games. He also had a .974 fielding percentage. In 1969, he hit .246 with eight homers in 82 games. He spent 29 days on the disabled list. Despite limited playing time that year, Alley continued to shine with his glove as his fielding percentage was .977. He also had a 21-game hitting streak.
His streak began on Aug. 13 at San Francisco, when he went 2-for-5 with a home run off the Giants' Mike McCormick during a 10-5 win. Two days later, Alley went 3-for-3 with a couple of homers against the Reds in Cincinnati in a 5-1 victory. The streak continued until Sept. 9 when he went hitless in four at-bats against Montreal's Steve Renko. Alley hit .366 during the streak (30-for-82) with eight homers, 21 RBI, and 15 runs scored. When his streak began, he was hitting .218. By the time his skein had ended, Alley had raised his average 48 points to .266.
In 1970, Alley had the distinction of hitting an inside-the-park grand slam home run against the Montreal Expos. He did it on September 2 at Jarry Park in Montreal during the sixth inning of a 10-7 loss. With the bases loaded and one out against pitcher Carl Morton, Alley sent a line drive toward center fielder Boots Day.
"I do remember the inside-the-park home run," Alley said, "but I didn't remember it being a grand slam. I remember how it happened. I hit a line drive to the center fielder. He came in and tried to make a shoestring catch and missed it. I guess you don't see too many inside-the-park grand slam home runs these days. It's funny the things you remember and don't remember."
In 1970, Alley helped the Pirates win the National League East with a .244 average in 121 games while posting a .975 fielding percentage at shortstop. In 1971, Alley hit .227 during the Bucs' world championship season.
Alley and Pittsburgh went 97-65 during the regular season in 1971, winning the National League's East Division by seven games over the St. Louis Cardinals. An 11-game winning streak in July spurred the Bucs to the division crown and they dispatched the San Francisco Giants in the NL Championship Series in four games.
"Baseball is a team sport and meant to be played like a team," Alley said. "You give yourself up for the sake of the team — sacrificing men around, moving the runners up so that you can score runs to win games. It's not always based on how many home runs you hit or how much you hit for average. It's did you hit the guy from second to third so the next guy can drive him in with a fly ball and win a game?"
The Pirates were managed by Danny Murtaugh, who also skippered the Bucs when they beat the heavily-favored New York Yankees in the 1960 World Series thanks to Bill Mazeroski's famous walk-off homer. Murtaugh had four separate tours of duty as the Pittsburgh manager, winning 1,115 games and losing 950 for a .540 winning percentage over 15 seasons.
"I liked playing for him because he let you play," Alley said of Murtaugh. "He would put the lineup out and just let you play. He told us 'You guys are in the major leagues. You should know how to play the game by now. I'm just going to put your name on the lineup card and go play. If I see that you don't know how to play the game, I'll make changes.' He was pretty low-key.
"He was tough, too. Don't get me wrong. He could be as tough as anyone. But, he expected you to know how to play the game. He just let you play. He was a good manager."
Pittsburgh beat the Baltimore Orioles in the 1971 World Series in a thrilling seven-game tilt. "It's the greatest feeling in the world to come in off the field knowing that for one year," Alley said, "you were champions of the world. It's the greatest feeling you can have in baseball."
Roberto Clemente (who finished fourth in 1971 in the NL batting race at .341) was the Series' MVP by hitting .414 (12-for-29) with two pivotal homers and outstanding defense in right field. Clemente used the 1971 World Series as his stage to show the baseball world what he could do. His Pirate teammates, though, already knew what he was capable of.
"He was kind of hard to get to know, or so we thought," Alley said. "We thought he wanted to be by himself. The more we played together, we found out he just wanted to be like one of the guys. He wanted to be treated like everyone else. He was by far the best player on our team. There wasn't anybody close to having the abilities that he had. That's not knocking anyone on our team, either. He was one of the top players in all of baseball."
"He could do everything. I saw him make plays that still make me wonder 'How did he do that?' He had a great arm. He could run. He could hit and hit with power. Some people used to knock him because he didn't hit a whole lot of home runs. But, he was a line drive hitter and hit most of his balls to right and center field.
"He was strong and could hit the ball as far as anyone. He just didn't hit a lot of home runs. He played in some pretty big ballparks in Forbes Field and Three Rivers Stadium. He didn't get to play in Wrigley Field or Fenway Park all the time."
With a world championship to his credit, Alley completed his solid baseball resume. But, even before earning that championship ring, Alley had already earned respect for being one of the game's best-fielding shortstops.
In 1972, the Pirates won their third consecutive division title as Alley hit .248 in 119 games. In 1973, Alley hit just .203 in 76 games during his final big league campaign. For his 11-year career, Alley hit .254 with 55 homers, 342 RBI, 442 runs scored, 140 doubles, and 44 triples in 1,195 games. Alley (who also played second and third) had 999 lifetime hits. His fielding percentage was a fine .970 at shortstop.
"Before the injury, I had a good arm," Alley said. "I wasn't real fast but I think I was quick, which is probably the most important thing to playing the infield — the first couple of steps. Knowing the hitters and learning the hitters and their speed is important. Knowing our pitchers and where they were going to pitch to hitters and how they were going to do it was important, too. That way, I could play the hitters accordingly."
Baseball is as much a mental game as it is a physical one. That fact was not lost at all on Alley, who as of 2006 was living in Glen Allen, Virginia. "The mental part is important for any good infielder," Alley said. "If somebody just has the natural ability — able to run well and having a good arm — but doesn't know how to play the hitters or take the time to know where they hit the ball and certain pitches, it's more difficult. You have to know what to do with a certain count and with runners on base. It makes you a whole lot better when you know those things."
When Alley was playing, he found work in the off-season with a company that produced printing plates for industrial packaging for items such as wrappers, containers, boxes, toys, and in-store cardboard displays. He eventually became a sales representative for the company before retiring four years ago.
Now, he spends his time either playing golf or hanging out with his buddies – particularly old teammates like the 1971 Pirates. On June 2, 2006, several members of that team gathered for a reunion and were introduced to the crowd at PNC Park as part of the team's 35th anniversary weekend. Sixteen players and coaches from that '71 team were introduced.
"Those guys are still great," Alley said. "It brought back a lot of good memories."
And, for those who remember Alley's great glove, the feeling was mutual.
Sources
Roy McHugh. "Things Happening Quickly for Alley." Sport. March, 1967.
Palmer and Gillette. The 2005 ESPN Baseball Encyclopedia. New York: Sterling Publishing Co., 2005.
Pietrusza, Silverman, and Gershman. Baseball, The Biographical Encyclopedia. Toronto: Sport Media Publishing, 2003.
Roth. Who's Who In Baseball 1967. New York: Who's Who In Baseball Magazine Company, Inc., 1967.
www.thebaseballcube.com
www.baseballlibrary.com
www.pittsburghpirates.com
www.baseball-reference.com
www.baseball-almanac.com
Gene Alley telephone interview on June 5, 2006.
Born
July 10, 1940 at Richmond, VA (USA)
If you can help us improve this player's biography, contact us.
http://bioproj.sabr.org/bp_ftp/images4/AlleyGene.jpg
600
800
admin
/wp-content/uploads/2020/02/sabr_logo.png
admin
2012-01-04 20:29:21
2012-01-04 20:29:21
Gene Alley