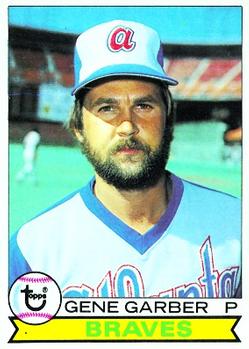 ---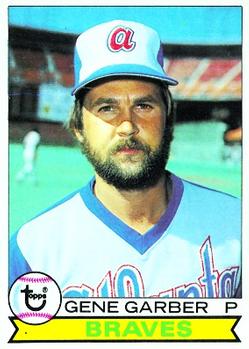 Gene Garber parlayed a unique wind-up and delivery and an effective sinker into a 19-year career as a major-league reliever. Though he never pitched in the World Series or made an All-Star team, the righty used perseverance and an agrarian work ethic to overcome various setbacks and become one of the best among the first generation of closers.
Henry Eugene Garber was born to Henry and Martha (Rutt) Garber in Elizabethtown, Lancaster County, Pennsylvania, on November 13, 1947. He was the second of four children, including older brother Herbert, younger brother Larry, and younger sister Linda. Gene's father served as a director of a community bank and owned a dairy farm, where Gene worked for much of his early life, laying the groundwork for farming as a successful post-baseball career. Henry Garber was also an early advocate for farmland preservation, another trait that Gene would carry on throughout his life.1
The Garber family had been a fixture in Elizabethtown since the early part of the 19th century, when Gene's great-great-great-grandfather moved his family from a neighboring township westward to a 139-acre farm that remains in the family today.2 The family's heritage is Mennonite, a faith with deep Swiss and German roots. The family farm is located next to a Mennonite church established in 1811.
Gene attended Elizabethtown High School. Although he was not a big man, standing 5-feet-10 and weighing 175 pounds when fully grown, he starred in both basketball and baseball. He earned two varsity letters in the former and four in his primary sport. Although he played shortstop when he was not pitching, Garber had his greatest scholastic success on the mound. Facing neighboring Donegal High School, Garber recorded 27 strikeouts in a game that lasted 11 innings. Five times during his senior year, he held his opponents to one hit.3
Following his senior year at Elizabethtown High in 1965, Garber was selected by his home-state Pittsburgh Pirates in the 20th round of Major League Baseball's inaugural June amateur draft. The 17-year-old spent most of that summer playing for Batavia in the Class-A New York-Penn League. After logging 72 innings for Batavia, Garber enrolled at Elizabethtown College, where he balanced school work and a budding baseball career for the next four years.
After spending two seasons with the Class-A Raleigh Pirates of the Carolina League, Garber's ability to simultaneously continue his studies and hone his baseball career became easier in 1968. He earned promotion to Class-AA York of the Eastern League, located about 25 miles southwest of Elizabethtown College.
In addition to his studies and his obligations to the Pirates, Garber also continued to work on his father's dairy farm. A typical day saw Garber rise before sunup, work on the farm until classes started at college, and then make the short trip from Elizabethtown to York. "It's keeping me busy," Garber understatedly said at the time, "but it's something I want to do."4
The heavy workload hardly affected Garber's work on the mound. On May 8, 1968, he posted a three-hit shutout over Elmira in a 1-0 York victory. Joining on a full-time basis following the end of the spring semester, Garber continued to excel, notching a four-hit shutout on June 14 and a complete-game four-hitter on July 15 to improve his mark to 7-2 with a 1.60 ERA, second in the league to Dick Baney's 1.58.5
Garber's excellence at York won him promotion to AAA Columbus, where he hurled six shutout innings against Jacksonville in his team debut. He then transitioned into a bullpen role, making 22 relief appearances in which he averaged 2⅓ innings. His 5-1 slate and 3.20 ERA for the Jets nearly lifted them to an International League title, but they finished a half-game behind champion Toledo.6
Any personal disappointment in falling short of the league title was certainly countered when Pittsburgh promoted Garber to the major-league roster late in 1968. However, he didn't get into a game.7
In 1969, Garber was again assigned to York, which helped him wrap up the final classes he needed to receive his history degree from Elizabethtown College that spring. Garber continued to baffle EL hitters. He registered 16 strikeouts in a 10-4 complete game win over Waterbury.8 He also pitched five hitless innings in a 14-inning win over that same squad in June in his final game with the AA club.9
When Pittsburgh's Ron Davis had to serve military reserve duties for two weeks, Pittsburgh filled his roster spot by calling on the 21-year-old Garber. He started the second game of a doubleheader on June 17, 1969, against the visiting Cubs.10
Garber and his sinkerball cruised through the first three innings, facing the minimum nine batters. The fourth inning did not go as well. Don Kessinger led off with an inside-the-park home run, and Billy Williams and Willie Smith added more traditional round-trippers later in the frame. Pittsburgh scored a pair of runs in the eighth to take Garber off the hook and then won it in the ninth.
By June 25, Garber was back at Columbus, where he spent the rest of the 1969 season. Any opportunity to rejoin Pittsburgh at the conclusion of the International League season was thwarted when he was required to report to military reserve duty on September 2.
Garber began 1970 as a newly married man following his February 7 nuptials to Karen Frey; they had met at Elizabethtown College.11 Just weeks later, he broke spring camp with the Pirates but jumped between the majors and Triple-A until early June. An assignment to Columbus then began a stretch of two full seasons at the highest level of the minor leagues.
In 1971, Pittsburgh's AAA affiliate moved to Charleston, West Virginia, and Garber spent the entire season there in his preferred role as a starter.12 At that point, Garber was committed to sticking with baseball for "three more years" before giving up on a baseball career.13 Perhaps the recognition of a self-imposed career timetable paved the way for two important changes to his approach over the remainder of 1971.
Left unprotected in the 1971 Rule 5 draft, Garber made his first trip to the Dominican League, where he went 8-6.14 He was most focused on his control in winter ball.15
Earlier in 1971, he had encountered major-league star pitcher Luis Tiant in the International League, rehabbing after injuries. Tiant's unique, twisting delivery gave Garber and his 1971 Charleston teammate Pedro Gonzalez an idea. Gonzalez encouraged Garber to try a similar style because of his ability to hide the baseball.16 Yet while Tiant's pitches came from varied arm angles, Garber stuck with sidearm.
Now clearly the ace of the Charleston staff, Garber's success on the field nearly equaled his frustration off it. "I don't know what I have to do," he bemoaned, "but one way or the other, I want to get back to the majors . . . with some club."17
Pittsburgh only needed Garber for a single inning on June 1 as he filled in for a military absentee. Back in Charleston, Garber continued to mow down International League hitters to the tune of a 7-1 record and 1.53 ERA.18 His skipper, Red Davis, advocated for him, saying, "If any kid deserves a chance, it's Gene. That guy is the most dedicated person I ever saw."19
Garber finished the 1972 campaign with a 14-3 record and a league-leading 2.26 ERA, winning International League Pitcher of the Year honors. Despite his dominance at Triple-A, the Pirates left Garber unprotected in the winter Rule 5 draft.20 In October of 1972, trade rumors swirled, with indications that he was possibly on his way to Cleveland.21 Instead, Garber went to Kansas City for Jim Rooker on October 25.
Garber made his American League debut on April 11, 1973, claiming his first major-league victory in a 9-6 Royals win. Six days later, he entered a tie game with two outs in the eighth, pitched scoreless ball through the 14th, and got his second win in as many appearances on Hal McRae's RBI single.
A start on May 31 was arguably his best ever at the top level. Kansas City won 4-1 behind Garber's complete game, the lone blemish being a seventh-inning home run by Baltimore's Don Baylor. He gave up five other hits, four of them singles, and struck out four without a walk. He was 5-1 with a 1.78 ERA that was third-best in the AL at the end of May.
A couple of rocky starts sent Garber back to the bullpen. He had moderate success over the rest of the year, going 9-9 with 11 saves in 16 opportunities over eight starts and 40 relief appearances. Garber made the Royals roster again in 1974, though he pitched sporadically and ineffectively, often in low-pressure situations. He was demoted to Triple-A Omaha but never pitched for them because the Philadelphia Phillies purchased his contract.
At age 26, Garber was back in the minors—with Philadelphia's AAA club, Toledo—for the first time in two years. Yet he made the most of this setback. In his first start with Toledo, his teammates made the transition easier for him, scoring 11 times before he took the hill. His third appearance with the Mud Hens, on July 25 against Pawtucket, was a seven-hit shutout, giving him a 2-1 record with a 0.41 ERA and 17 strikeouts in 22 innings.22
The Phillies didn't need to see any more. Toledo manager Jim Bunning called Philadelphia general manager Paul Owens, telling him simply "Garber's ready." They promoted him from Toledo on July 28, and Garber never suited up for a minor-league team again.23
Garber got a chance to appear in the National League postseason in 1976 but Cincinnati swept Philadelphia in three games. Garber faced only six batters in the series.
With a new three-year contract, Garber took leadership of the Philadelphia bullpen in 1977, pacing the relief corps in nearly every statistical category.24 Once a skeptic about his bullpen role, by this point in his career Garber relished it. "I get as much pleasure finishing a game as most guys do starting. It's the constant challenge. The tough situations and the satisfaction in being able to handle them." Catcher Tim McCarver added that Garber had "a heart as big as his body."25
Garber was particularly impressive in the second half of the season and down the stretch. In 50 innings covering 24 games from July 21 to the end of the year, he went 4-1 with a 1.08 ERA, allowing less than one base runner per inning, and converted all 10 of his save opportunities. The Phillies won the East again and headed for the National League Championship Series against the Dodgers.
The teams split the first two games in Los Angeles, the first of which Garber won by retiring all four batters he faced in the seventh and eighth innings. That made him the first Phillie to win a postseason game since Grover Cleveland Alexander won Game One of the 1915 World Series.
Game Three went into the top of the seventh with the score 3-3, and manager Danny Ozark called on Garber to keep the Dodgers at bay. Garber set down the first eight Dodgers he faced, all retired on groundouts. Philadelphia had scored twice in the eighth, and just one out stood between them and a 2-1 series lead, with Cy Young Award winner Steve Carlton waiting to capture a World Series berth in Game Four. Then, the Phillies' fortunes took a sudden and drastic turn for the worse. "I still wake up with nightmares from that game," said Garber 30 years later.26
After a bunt single and misplayed double coupled with an errant throw, the tying run was on third base. On a close play, Davey Lopes was called safe by umpire Bruce Froemming for an infield single, tying the game.
A wide pickoff attempt and a single later, the Phillies trailed. They failed to score in the ninth, and Carlton did not have his best stuff in Game Four. The Dodgers won 4-1 and went to the World Series.
Despite the disappointment of the moment, Garber handled it with dignity at the time and continued to do so long after his career was over. "You ask yourself why those things happened . . . that's just the way baseball is," he said. Garber was also magnanimous to Froemming, saying, "I saw it differently. He certainly wasn't trying to miss it."27
"The replays showed he got the call wrong," Garber said. "But I defended him and defended him. I was probably grilled for two hours. [Associated Press reporter] Ralph Bernstein must have asked me about that play 10 different ways to get me to say something bad about the umpire. I defended the call, and that ended up being a positive for me."28 Yet Garber's unwillingness to blame Froemming never made it into Bernstein's game story.
After winning the National League East in 1976 and 1977, the Phillies were again in contention for a third straight pennant. At the June 15, 1978, trading deadline, Owens announced that the club had traded Jay Johnstone to the Yankees for reliever Rawly Eastwick. "Pope [Owens] came in and told us that we still needed some starting pitching but the bullpen was doing a great job and no one would be traded," said Garber. "As soon as he said that, Tug (McGraw) and I started saying which one of us would be traded."29
Sure enough, the acquisition of Eastwick had Garber on the move again. He was sent to Atlanta the very next day for starting pitcher Dick Ruthven. "It was a good move for the Phils but it was tough for me to go from a first place club to a last place one," Garber noted.30 "We'd just bought a house. I think we were, as a family, happier than we'd ever been."31
The trade to Atlanta may have been a disappointment to Garber, but six weeks later, he was in a position to accomplish a feat that baseball fans would long remember.
Pete Rose had a 44-game hitting streak going on August 1 but was 0-for-2 with a walk when Garber came into the seventh inning of a game in which Atlanta led 8-4. With a runner on first and nobody out in the seventh, Rose hit a line drive to third baseman Bob Horner, who grabbed it and doubled Dave Collins off first base.
With Atlanta building its lead to 16-4, the only drama remaining in the evening pertained to Rose's streak. Garber refused manager Bobby Cox's suggestion that he leave the contest that was no longer in doubt. "I said, absolutely not," Garber said. "I told him, I want the opportunity to end his streak." He had told his wife before the series started that he would do so. 32
With two outs in the ninth, Rose came up. A pair of low and inside pitches ran the count to 2-and-1. "It never bothered me walking somebody," Garber would recollect decades after the encounter, yet he "was plenty nervous" after falling behind.33 Rose fouled the next pitch back to even the count, and then he waved and missed at a changeup on the outside part of the plate. Garber jumped joyously. The longest hitting streak in National League history was over.
Rose was hardly gracious in the immediate aftermath of his defeat, complaining that Garber was treating the game like it was the seventh game of the World Series. Atlanta's starting pitcher that night, Larry McWilliams, said "I've got news for Pete Rose. Garber pitches every game like it's Game Seven of the World Series. It wasn't just that one game."34
Garber had his own explanation for his exuberance. "People have to remember that I had been traded from the first-place Phillies to the last-place Braves. It wasn't very fun playing for the Braves. So that's probably why I jumped so high when he struck out."35
Garber led a last-place Braves team in saves in 1979 with 25, although he also racked up a career-high 16 losses and eight blown saves. In 1980, newly-acquired Al Hrabosky began the year as Atlanta's closer, but he was ineffective and ceded duties to Garber and Rick Camp. By mid-July, Garber paced Atlanta with six saves, double Camp's total, but Camp's ERA was nearly two runs lower than Garber's and the team made Camp their relief ace.
Garber took on an additional role in 1980. As labor tension increased between the union and the owners, Garber's position as the Braves' player representative gained importance. In a prophetic comment, Garber said early that year that the players "have no recourse but to strike" and they did walk out at the end of spring training, but no regular season games were lost.36
Garber broke his ankle in early May of 1981 and was out of action for three months.37 He pitched well in August and September and finished with a 4-6 record and 2.61 ERA in just 35 appearances.
In 1982, Garber had another solid season. Atlanta ended the first half with a two-game lead in the NL West, and Garber was 6-3 with 16 saves and a 1.96 ERA. His impressive first half, however, was not enough to garner a spot on the All-Star team.
Atlanta made the playoffs, but the St. Louis Cardinals swept the Braves in three games, with Garber taking the loss in the second contest. Garber finished the 1982 season with a career-high 30 saves. He finished seventh in Cy Young voting and 19th in the MVP race, the only times his name was ever marked on either ballot during his career. He also finished second place in Gold Glove voting, falling five tallies short of teammate Phil Niekro.38
The Braves rewarded Garber with a three-year extension, though in 1983 he struggled with ulnar neuritis, an inflammation of the major nerve that runs through the elbow and can cause numbness in the hand. Garber was still a popular trade target.39, Nonetheless, he stayed with Atlanta. The following year, the Braves acquired perennial All-Star closer Bruce Sutter, five years Garber's junior and from the neighboring hometown of Mount Joy, Pennsylvania.
With Sutter on the team, Garber's usage suffered. "I'm not pitching much and I want to pitch. I haven't had a role here. If the opportunity is not here, then I'd like to go where there is an opportunity. I've still got a lot of pitching left in me."40
Sutter got hurt late in 1985 and missed most of 1986 and all of 1987. Garber filled the void at the forefront of the Atlanta bullpen. By June 1986, he was 3-1 with eight saves and a 1.36 ERA and had teammates advocating for his first All-Star berth. Rick Mahler said of Garber's impressive showing that "nobody's pitching better than he is."41 As it turned out, Dale Murphy was Atlanta's lone representative in that year's Midsummer Classic.
Garber had proven that he remained an effective closer in 1986, registering 24 saves in 29 opportunities with a 2.54 ERA. That was despite a sore arm that slowed him over the season's final three weeks.42 Atlanta established a bullpen by committee in 1987, yet Garber still became baseball's seventh reliever to reach 200 saves with a pair of scoreless innings in Cincinnati on June 11. Instead of basking in the glow of his accomplishment, Garber recognized the difficulty of his feat. "The rewards that go with playing a long time haven't come my way. It's been a struggle."43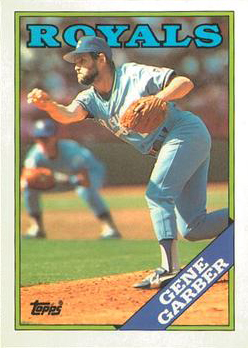 Seven weeks later, Garber was traded to Kansas City, where he recorded eight saves in as many chances. He earned a contract for the 1988 season while erstwhile closer Dan Quisenberry requested a trade.44
Four losses over 14 appearances in six weeks of 1988 spelled the end for the 40-year-old Garber. On July 4, both he and Quisenberry were released. General manager John Schuerholz commended Garber as his career ended, "He worked really hard and was a very good influence in our clubhouse. Even, in fact, this day he handled it like a real pro."45
Garber ended his career seventh on the career saves list with 218 and tops in Braves history with 141. Thirty years after his retirement, only John Smoltz and Craig Kimbrel had passed Garber among Atlanta closers. Since saves became an official statistic in 1969, Garber has the third-most saves of seven outs or longer (64). He also has the second-most of both eight outs or longer (58) and nine outs or more (52). In particular, he has the most of at least ten outs (20) in major-league history.
After leaving the game, Garber returned to his hometown of Elizabethtown and the chicken farm of nearly 400 acres that he and Karen had purchased earlier in the decade. He refused to concede that he retired. "I didn't retire; they retired me," he said in 2008.46 A decade previously, he'd remarked, "I pitched a long time in the major leagues, got a lot of saves. Despite having a pretty good career, I thought I never got credit for it. The thing I am remembered for is stopping Pete Rose's streak. 'Hey, there's Gene Garber; that's the guy who stopped Rose.'"47
Although the onset of his second career came on perhaps begrudgingly, his passion for farming had never been in doubt. Twenty years later, he explained, "I enjoy everything about farming. I've had two jobs in my life, and I've loved them both."48 The work on the farm also allowed Garber to spend time with his two sons, Greg and Mike. He later became active in emu raising and was treasurer of the Pennsylvania Emu Farmers Association.49
Garber's older son, Greg, was a key member of Elizabethtown High's 1993 Class AAA Pennsylvania state baseball championship. He went 13-1 on the mound and won seven postseason games, including the championship contest. The younger Garber said of his father, "He pitched all those years in the majors and he's never been as nervous as when he watches me pitch."50
When professional baseball came back to Lancaster in 2004 after a 43-year absence, Garber was considered as the first manager of the Lancaster Barnstormers of the independent Atlantic League. The gig instead went to Tom Herr, another former major leaguer from Lancaster.51 As of 2019, Garber has been a special instructor at spring training for the Braves for 14 straight years.
Garber's younger son, Mike, took control of the family farm late in the 2010s, but Gene continues as an employee for and consultant to his son.52 Gene has donated conservation easements to the Lancaster Farmland Trust in order to preserve farmland in his home county.53 He has also been a long-time member of Lancaster County's Agricultural Preserve Board, including service as chairman.54 Garber's philosophy on preservation is simple. "It is God's land given to us to shepherd wisely. It is our legacy to use well and pass on to our children. This has been the way of life in Lancaster County since before I was brought into the world. I hope it will be preserved long after I'm gone."55
Last revised: January 2, 2020
Acknowledgments
This biography was reviewed by Jack Zerby and Rory Costello and fact-checked by Kevin Larkin.
Sources
In addition to the sources cited in the Notes, the author also used the Baseball-Reference.com, Baseball-Almanac.com, and Retrosheet.org websites for player, team, and season pages, and other pertinent material.
Notes
1 Henry E. Garber obituary, Lancaster Online, January 12, 2009 (https://lancasteronline.com/obituaries/henry-e-garber/article_9640e506-47cb-5822-9018-30a8cbca9b3c.html)
2 https://www.findagrave.com/memorial/118492162/john-garber
3 https://www.etownschools.org//site/Default.aspx?PageID=293
4 "Schoolboy Garber Keeps Busy With Work at York," The Sporting News, May 11, 1968: 41.
5 The Sporting News, August 3, 1968: 32, 35-36.
6 The Sporting News, September 21, 1968: 31-32.
7 The Sporting News, September 21, 1968: 31-32.
8 The Sporting News, May 31, 1969: 39.
9 "Hot-Cold Bucs Pose a Puzzle," The Sporting News, June 28, 1969: 8.
10 "Hot-Cold Bucs Pose a Puzzle."
11 "Baseball 'N Diamonds Blend Perfectly for Karen and Gene, The Sunday News (Lancaster, Pennsylvania), February 8, 1970: 22.
12 A.L. Hardman, "Garber's Mound Career on Rise with Sinkerball," The Sporting News, August 21, 1971: 35.
13 Hardman, "Garber's Mound Career on Rise with Sinkerball."
14 The Sporting News, January 29, 1972: 47.
15 A.L. Hardman, "Charleston's Garber Making Believers Out of Parent Bucs," The Sporting News, July 8, 1972: 35.
16 https://www.mlb.com/news/braves-gene-garber-helping-out-in-camp-c218365532.
17 The Sporting News, May 27, 1972: 40.
18 The Sporting News, July 1, 1972: 31-32.
19 A.L. Hardman, "Charleston's Garber Making Believers Out of Parent Bucs," The Sporting News, July 8, 1972: 35.
20 Charley Feeney, "Buccos Don Widest Grins When Rooker Is on Relief," The Sporting News, June 23, 1973: 12.
21 Charley Feeney, "Pirates See 'V for Victory' With Virdon in '73 Season," The Sporting News, November 4, 1972: 18.
22 The Sporting News, August 10, 1974: 33-34.
23 Ray Kelly, "Garber Leaps Up Ladder as Philly Fireman," The Sporting News, June 7, 1975: 10.
24 By metrics developed in the 21st century by websites like baseball-reference.com and applied retroactively, Garber was second on the team in wins above replacement (WAR), a measure of overall value to the team, behind only Hall of Famer Steve Carlton.
25 Ray Kelly, "Garber Leaps Up Ladder as Philly Fireman," The Sporting News, June 7, 1975: 10.
26 Kevin Freeman, "Black Friday Revisited," Intelligencer Journal (Lancaster, Pennsylvania), October 18, 2007: C1.
27 Freeman, "Black Friday Revisited,"
28 Freeman, "Black Friday Revisited,"
29 Joe O'Loughlin, "Former Reliever Gene Garber Recalls 19-year Career and His Role in Baseball History," Baseball Digest, February 2004.
30 O'Loughlin, "Former Reliever Gene Garber Recalls 19-year Career and His Role in Baseball History."
31 Ray Kelly, "Pressure Off Ruthven After Return to Phillies," The Sporting News, July 8, 1978: 6.
32 Carroll Rogers, "Ex-Braves Pitcher Enjoys Life on the Farm," Atlanta Journal-Constitution, April 13, 2009.
33 Joe O'Loughlin, "Former Reliever Gene Garber Recalls 19-year Career and His Role in Baseball History," Baseball Digest, February 2004.
34 Larry McWilliams. "Relief is Spelled . . . Geno," Braves Yearbook, 1979.
35 I.J. Rosenberg, "A Night to Remember," Sunday News (Lancaster, Pennsylvania), August 9, 1998: C1.
36 Furman Bisher, "99.7 Percent of Fans Can't Dig Ballplayers," The Sporting News, April 19, 1980: 16. Garber had been prescient, though. In 1981, a two-month strike cost baseball the All-Star Game and resulted in a split-season arrangement to determine the postseason contestants.
37 Tim Tucker, "Nahorodny Has a Wait Problem," The Sporting News, May 23, 1981: 39.
38 Ben Henkey, "Silver Anniversary of Gold Glove," The Sporting News, November 22, 1982: 49.
39 Peter Gammons, "Trammell's Absence at Short Showing," The Sporting News, August 20, 1984: 23. Peter Gammons, "Rich Are Getting Richer in A.L. East," The Sporting News, December 31, 1984: 64.
40 Online New York Post, July 15, 1985, nypost.com, accessed April 2018.
41 The Sporting News, July 7, 1986: 19.
42 The Sporting News, November 10, 1986: 53.
43 Gerry Fraley, "Garber Joins Elite Bullpen Circle," The Sporting News, June 29, 1987: 20.
44 The Sporting News, December 21, 1987: 50.
45 Tyrone Daily Herald, August 4, 1988: 5.
46 Elizabeth McGarr, "Gene Garber," Sports Illustrated, July 14, 2008.
47 I.J. Rosenberg, "A Night to Remember," Sunday News (Lancaster, Pennsylvania), August 9, 1998: C1.
48 McGarr, "Gene Garber."
49 https://aea-emu.org/affiliate-organizations/
50 Gordie Jones, "A Gritty Effort by Garber," Intelligencer Journal (Lancaster, Pennsylvania), June 18, 1993: D1
51 Jeff Young, "On Deck: Building the Barnstormers", Intelligencer Journal (Lancaster, Pennsylvania), September 14, 2004: C1.
52 Jeff Young, "Elizabethtown Native Gene Garber Irked by Aspects of Baseball Today," LNP (Lancaster, Pennsylvania), August 4, 2018.
53 Tom Daniels and Deborah Bowers, Holding Our Ground: Protecting America's Farms and Farmland (Washington, D.C.: Island Press, 1997).
54 Minutes of the Board are public record.
55 Ed Novak, Elizabethtown magazine, Summer 1995.
Born
November 13, 1947 at Lancaster, PA (USA)
If you can help us improve this player's biography, contact us.
https://sabr.org/sites/default/files/GarberGene.jpg
600
800
admin
/wp-content/uploads/2020/02/sabr_logo.png
admin
2020-01-02 10:52:55
2020-04-09 14:37:28
Gene Garber