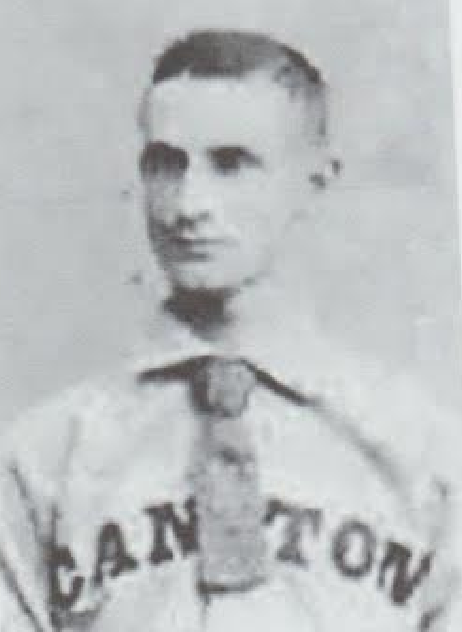 ---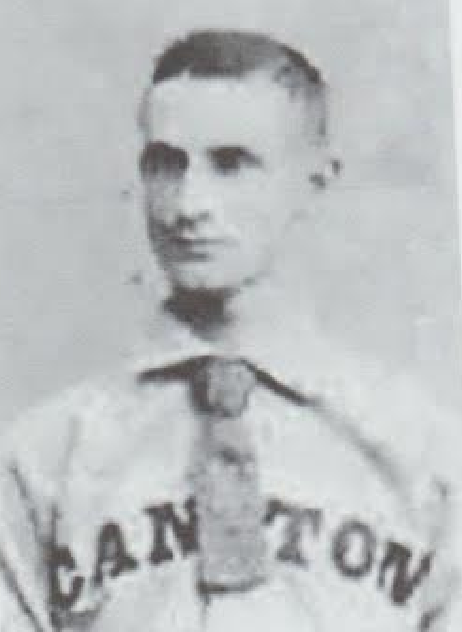 While professional baseball played a prominent role in the life story of pitcher-umpire-policeman George Bausewine, his impact upon the game was negligible. A one-game winner for the 1889 Philadelphia Athletics of the major-league American Association, Bausewine later spent a single season as a National League umpire. His life, however, was hardly without incident. A talent for antagonizing others, both during his baseball days and afterward, repeatedly provoked supervisors into taking punitive, occasionally bizarre, action against him. On one occasion, the president of the Western Association was enraged to the point of shattering his umbrella on Bausewine's head. Later, the owner of a minor-league club in Louisville, ejected from the grounds by umpire Bausewine, retaliated by collecting the arbiter's clothing from the ballpark dressing room and scattering it across the outfield.
A long post-baseball career in law enforcement was sprinkled with similar strife. Inflexibility and defiance of orders by Lieutenant Bausewine put him in frequent hot water with Philadelphia Police Department brass, and prompted the imposition of various disciplinary sanctions. In a subsequent late-life stint as chief of police in nearby Norristown, Bausewine was threatened with far graver punishment. Convicted on bribery and official misconduct charges, he was saved from a substantial prison sentence only by the intervention of the Pennsylvania Supreme Court. His reputation in tatters, Bausewine died at home in his sleep at age 78.
George W. Bausewine began life in Philadelphia on March 22, 1869. He was the older of the two surviving children born to German immigrant tailor George Bausewine (1839-1932) and his wife, Katherine (née Nehlig, 1839-1910), a Pennsylvania native.1 George attended city schools through high-school graduation and then obtained employment in a local glass factory, where an on-site accident necessitated the amputation of a thumb.2 Thereafter, he worked in the less hazardous position of clerk.3 A youthful marriage to Ella Smith produced son George Jr. in 1889, but ended in divorce shortly thereafter.
Little is known about Bausewine's formative baseball years, but he likely traveled the familiar path of sandlot play to amateur club ball. Baseball-Reference.com lists his batting and throwing sides as unknown, but the presumption is that he was right-handed.4 By 1886, Bausewine was playing for the Kensingtons, a fast Philadelphia semipro nine.5 He entered the professional ranks at age 18, signing with the Utica Pent Ups of the International League. Of imposing size (eventually 6-feet-2, 207 pounds), young George was one of six pitchers engaged by Utica for the 1887 season.6 Although given few opportunities in the box while with the Pent Ups, he somehow caught the eye of Bill Zecher, the player-captain of the Altoona Mountain Cities of the independent Pennsylvania State Association. Once Bausewine's release had been purchased by Altoona, he was installed in the club's rotation. But after he posted a 7-6 log, Altoona dropped him, leaving Bausewine free to join a newly formed Canton club, poised for midseason entry into the Ohio State League.
The local paper enthused about the acquisition of Bausewine, reporting that "he is a lusty youth, and eats bananas every morning before breakfast for his health."7 But on August 4 he and Canton got off on the wrong foot, taking an 18-11 beating from Zanesville in their OSL debut. Bausewine quickly righted himself, throwing a five-hit, 6-0 shutout at Columbus five days later. From there, he completed a successful 7-4 campaign for the 22-14 Canton club.8 In a precursor of his later career, George had also served as a one-game emergency umpire, drawing favorable reviews for his work in a 3-3, 11-inning tie against Sandusky.9 At season end, he returned home to Philadelphia, informing the Canton Repository that he was "going to enter the Pennsylvania University gymnasium for the winter so as to put himself in good trim for next season … [and] to practice a different mode of pitching, which he thinks will be a success."10
The following April, Bausewine and incumbent first baseman Jake Virtue returned to Canton, now a member of the newly organized Tri-State League, "looking as gay and chipper as two spring chickens, and ready to put up the best base ball that is in them. Bausewine says he has been hard at work this winter practicing and is going to pitch a speedy ball."11 Forming a "Pretzel Battery" with fellow Teuton Gus Hoeneman, Bausewine started the season well, defeating Lima 6-3 in the club opener. He followed by hurling a two-hitter in a 7-2 win over Sandusky. But other times, he was hit hard. Of perhaps more concern, Bausewine also began to exhibit the attitude problems that would chronically plague him. After a "terrible slaughter" at the hands of the Wheeling Nail Cities, the once favorably inclined hometown newspaper felt disposed to reprint gloating out-of-town commentary that "it was good to see the conceit knocked out of [Bausewine and Hoeneman] by Wheeling."12 In early July, lackadaisical effort against Mansfield prompted Canton club directors to release Hoeneman and suspend Bausewine indefinitely.13
The suspension proved a short one, as Bausewine was back in the box in time to suffer a well-pitched 4-3 loss to Columbus on the Fourth of July. But he was soon in the doghouse again, this time for verbal abuse of an umpire named Hall.14 With Canton languishing in the league standings and his record standing at 11-16,15 Bausewine was released on August 15. Soon thereafter, he was at the center of an editorial-page dispute. Several days after Bausewine's termination, the Tri-State League adopted a rule that prohibited a league club from engaging any player released by another TSL club. Taking the side of the local boy, the Philadelphia-based Sporting Life denounced the Tri-State League, branding its new rule an "infamy" and an unjust restriction upon league employment opportunities for released players.16 But the weekly's indignation may well have been misplaced. As noted in the response of the Canton Repository, the rule was prospective in nature and had not been applied to Bausewine. He had been released "because he was of no use to the Canton club as a pitcher. He tried to sign with other clubs in the Tri-State League, and the Canton directors put nothing in the way to prevent him from getting a position, but no club wanted him."17 Whether fairly treated or not, Bausewine's time as a player in the Tri-State League had come to its end. He finished the season "doing some pitching" for an independent club in Norristown, Pennsylvania.18
The unhappy events of 1888 notwithstanding, Bausewine was still only 20 years old and determined to continue his pursuit of a professional baseball career. And before the year was out, he would have his lone taste of major-league ball as a player. But the route taken was a tortuous one. In February it was reported that Bausewine had signed with Lowell (Massachusetts) of the Atlantic Association.19 But when the 1889 season started, he was a member of the Memphis club in the Southern League. George pitched well, his subpar 6-9 record belied by an excellent 1.99 ERA. With Memphis teetering on the financial brink as the season progressed, club boss A.W. Lang began selling off team assets. His attempt to peddle Bausewine to St. Paul of the Western League, however, was stymied by young George's refusal to go there.20 On June 14 the Memphis franchise folded, ending all play in the four-team Southern League. Deeming himself a free agent, Bausewine quickly signed with the London (Ontario) Tecumsehs of the International League. Unbeknownst to George, London had already arranged to purchase his contract from Memphis for $350. When London reneged on payment, Lang filed a grievance with baseball's National Board of Arbitration.21 The outcome of the proceedings is unknown, but Bausewine was likely long gone from London by the time a decision was rendered. Two ineffective outings (14 base hits and 13 walks in 15⅓ innings pitched) precipitated George's swift release to the Jersey City Skeeters of the Atlantic Association.
His Jersey City stay was necessarily a brief one, as the club disbanded on July 25. Bausewine's whereabouts for the next six weeks are undiscovered, but on September 10, 1889, he was signed as a free agent by the Philadelphia Athletics of the American Association. George made his major-league debut four days later against the defending Association champion St. Louis Browns in the second game of a home doubleheader. The A's staked Bausewine to an early 4-1 lead, but he was undermined by control lapses (six walks) and a shoddy defense that allowed the Browns three unearned runs. Still, George pitched well, yielding but four hits in a game that ended in a 4-4 deadlock. He returned to the box on September 20 against Brooklyn and again pitched capably, allowing only four hits and two earned runs, but was tagged with the 4-1 loss. Days later, a ninth-inning Philadelphia rally propelled Bausewine to a 9-8 victory over Baltimore. It was his first and only big-league win.
He closed the campaign with several ineffective outings, his record finalized at 1-4, with a 3.90 ERA in seven games. In 55⅓ innings pitched, he surrendered 64 hits, yielding an over-generous .281 opponents batting average. His control was also shaky, with combined walks/HBP/wild pitches (47) far exceeding his strikeouts (18). And he had been near-helpless at the plate, posting a microscopic .048 (1-for-21) batting average. Nevertheless, Bausewine's youth, size, and live arm induced the A's to retain him, and he was placed on the Philadelphia reserve list for the 1890 season.22
Bausewine reported to the Athletics spring camp in March 1890 and pitched in two intrasquad games.23 He failed to impress and was released in early April.24 For the next several weeks, Bausewine hurled for the Kensingtons and other local semipro teams before signing with the St. Paul Apostles of the minor-league Western Association.25 After several poor outings, he took his leave of the club to embark upon a new career as a circuit umpire. By all appearances Bausewine had the makings of a first-rate arbiter. He was a large man of impressive bearing, reasonably intelligent, and fearless. But he also had the knack of rubbing others the wrong way. On July 5 umpire Bausewine was mobbed by angry Omaha fans and required a police escort to leave the grounds safely. Given the times, the event was hardly a remarkable one. But what followed thereafter was singular, and revelatory of the adversarial streak in Bausewine's personality.
On August 10 Bausewine was again scheduled to umpire in Omaha, but club management refused to admit him to the ballpark. Undaunted, Bausewine purchased a ticket to the game, only to be denied admittance once more. He then bought a second game ticket, intending to use this one as evidence in a lawsuit contemplated against the Omaha club. Meanwhile, he cooled his heels outside while the game was played. Thereafter, Bausewine encountered Western Association President Dick McCormick on the street. The intemperate remonstrance that ensued so angered McCormick that he broke his umbrella on Bausewine's skull.26 That evening, WA secretary Mike Roche informed umpire Bausewine that his services were no longer required by the league. After consulting a local attorney who advised him that he had excellent grounds for legal action, Bausewine caught the next train for Kansas City, his umpiring career suspended for the time being.27 He subsequently re-signed with St. Paul,28 but pitched no more effectively than he had earlier and finished the season playing for an outlaw club in Houghton, Michigan.29 By fall, George had returned home to Philadelphia and resumed his offseason job as a street-car conductor.
For the next two seasons, Bausewine spent his leisure time pitching and umpiring semipro games in the greater Philadelphia area. He re-entered Organized Baseball in 1893 as the player-captain of the Allentown Colts of the Pennsylvania State League. After posting an 8-1 record, Bausewine "skippered out of Allentown" and joined the Albany Senators of the higher-tier Eastern League,30 where he went 12-11. He spent the following season with an Eastern League rival, the Syracuse Stars,31 before ending his professional playing career in 1895 with a three-game pitching stint with yet another Eastern League team, the Wilkes-Barre Coal Barons.
Although his primary occupation remained city street-car conductor, Bausewine also embarked on his third and final career in 1895. He joined the Philadelphia Police Department reserves. Among other things, this part-time, special-duty position made Bausewine eligible to pitch for the police department baseball team organized by ex-major leaguer Ed O'Neil, now a Philly cop.32 George also continued playing for local semipro clubs, but more and more his time on the diamond became devoted to umpiring. But the highlight of this time period for him occurred away from the game. In 1900 George remarried, taking Philadelphian Emma Allbaster as his second bride. The subsequent birth of daughter Emma (1903) and son Harry (1908) completed the family.
In January 1904 Bausewine was engaged as an umpire by the minor-league American Association, a circuit recently formed by an ex-major-league outfielder turned baseball magnate, George Tebeau.33 Only one month into his tenure, Bausewine had a memorable encounter with the short-tempered Tebeau, who doubled as owner-manager of the league's Louisville franchise. During a May 4, 1904, twin bill against St. Paul, Tebeau began taking loud exception to umpire Bausewine's strike zone. Bausewine, in turn, took exception to Tebeau's commentary, finally ejecting him from the game and ordering him to depart the grounds within five minutes. An infuriated Tebeau thereupon entered the ballpark dressing quarters, broke into Bausewine's locker, and collected its contents down to the umpire's underwear – all of which he promptly deposited throughout the outfield, much to the entertainment of the 1,500 spectators.34 Bausewine was not among those amused, and only the intervention of bystanders averted a postgame fight between the two antagonists.35
Despite the Tebeau incident and a quickly rescinded midseason resignation, Bausewine "made a good record" as an American Association umpire, and that winter he was appointed to the National League staff for the 1905 campaign.36 His early-season work drew the commendation of Boston sportswriter J.C. Morse, who declared, "No umpire in recent years has covered ground any better than [Bausewine] and he has made an excellent impression."37 Then on June 13, George was behind the plate for the second career no-hitter thrown by the fabled Christy Mathewson, a 1-0 masterpiece against Chicago. But such highlights were overshadowed by controversial run-ins with John McGraw, Joe Kelley, and Honus Wagner, the affable shortstop drawing a three-game suspension for an infield warm-up toss that appeared aimed at umpire Bausewine.38 Still, the announcement of his dismissal during the offseason was unexpected. Bausewine was let go, it was said almost laughably, "because of a tendency to get homesick."39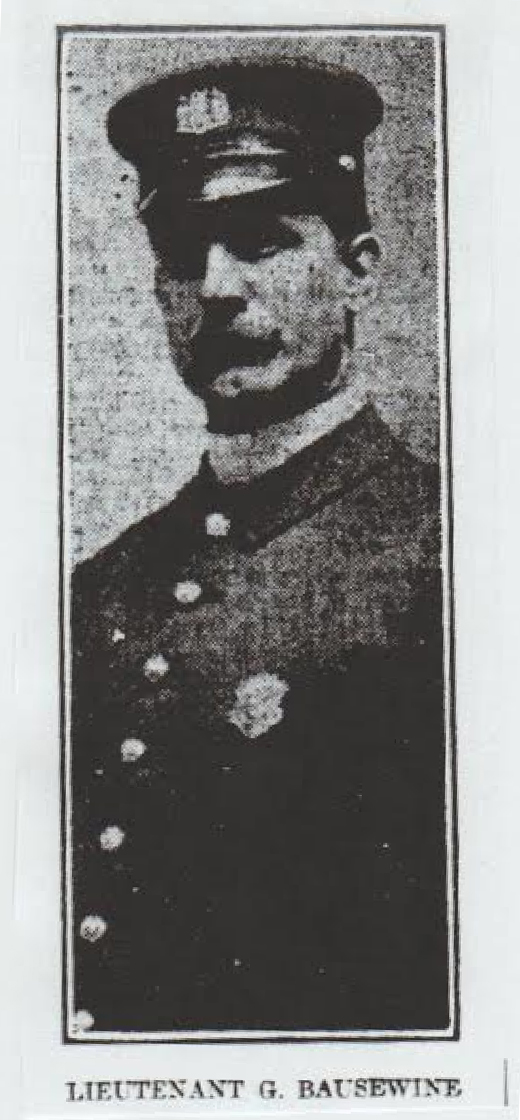 The purported homesickness did not dissuade Bausewine from umpiring in the Tri-State League during the 1906 and 1907 seasons. But again his work was marred by frequent confrontations, most notably with Williamsport manager Harry Wolverton and angry York White Roses fans,40 as well as by another withdrawn midseason resignation. But ultimately the cause of Bausewine's abandonment of the game had nothing much to do with events in and around the diamond. Rather, it was precipitated by his advancement in police ranks. For years, his superiors had accommodated Bausewine's baseball ambitions by extending him leaves of absence as needed. But in 1908, Bausewine was promoted to acting lieutenant and placed in charge of the Fourth District station.41 "This means a first class umpire is now permanently lost to professional baseball," lamented Sporting Life.42
In law enforcement as in umpiring, Bausewine's performance was mixed. His intimidating size and ability to instill discipline and efficiency in wayward police precincts were much prized at headquarters. Not so his often-contrary and maverick disposition. Nor would Bausewine, the only known Democrat in an otherwise solidly Republican police hierarchy, tolerate the intrusion of neighborhood ward heelers into the running of his command or accept the assignment of political appointees to his station. The result was recurring clashes with departmental bosses, with his transfer, and occasionally suspension, the usual outcome. Yet on balance, Bausewine was an asset to the department, and his retirement in 1925 after nearly 30 years of police service was accepted with regret.
At age 56, Bausewine uprooted himself from Philadelphia to become the second chief of police in newly incorporated Hollywood, Florida. Then a sparsely populated coastal town distinguished only by constant sunshine and the host of Prohibition Era bootleggers who prowled its waters, Hollywood was a lawless place plagued by inexperience and turnover in its fledgling police department. Taking office on January 15, 1926, Bausewine lasted 10 weeks, his brief time as chief marred by the murder of a rookie patrolman dispatched to investigate suspicious activity at an out-of-the-way farmhouse.43 He then returned to Philadelphia. Three years later, George was appointed police chief of Norristown, the nearby suburb where he had occasionally pitched decades earlier.
By the early 1940s, Chief Bausewine had become a target of both the Norristown Times-Herald and the Montgomery County District Attorney's Office. In July 1942 the newspaper's editorial page criticized the now-73-year-old Bausewine's age, salary, and lack of vigor, describing him as a septuagenarian castoff of the Philadelphia police in dire need of replacement.44 The Times-Herald quickly followed up that blast by tarring Bausewine via resurrection of a 1930 auto accident that had placed him in the company of a small-time gangster named Joe Allegro.45 The latter editorial spurred Bausewine to institute a libel action against the newspaper, but his troubles kept on coming. In July 1943, the torpedoing of the cruiser USS Helena imperiled his grandson, Ensign George W. Bausewine III. The young naval officer survived, but would spend the remainder of World War II in a convalescent hospital. In the meantime, 54-year-old George Jr., a Cincinnati mining company executive, was felled by a fatal heart attack.46
No sooner had he buried his son than an investigation of Chief Bausewine by the local district attorney took center stage. At the heart of the probe was the allegation that Bausewine had regularly accepted $50 payoffs to permit a Norristown social club called the Orioles Lounge to maintain illegal slot machines on the premises. Charged with bribery and official misconduct, Bausewine stood trial and was found guilty of both offenses in early April 1944.47 He was subsequently sentenced to a prison term of 4 to 23 months, fined $500, and stripped of office, but permitted to remain free on bond pending the outcome of appeals.48
Disgraced and suffering from heart disease, Bausewine fought back. And in time and against the odds, he prevailed. Civil juries twice agreed that the Norristown Times-Herald editorial had defamed Bausewine, and in January 1945 the Pennsylvania Supreme Court sustained that judgment and the $50,000 award in Bausewine's favor that came with it.49 Fourteen months later, the Court came to Bausewine's rescue again. On the basis of a crabbed reading of the trial record, the justices concluded that that charges against the accused lacked sufficient evidential support and vacated the convictions.50
Unfortunately for Bausewine, the public did not share the sympathies of the Pennsylvania Supreme Court, and its rulings did little to restore his battered reputation. He spent his remaining days quietly at home in Norristown until he was found dead in his bed on the morning of July 29, 1947.51 George Bausewine was 78. Interment was at Arlington Cemetery in nearby Drexel Hill, Pennsylvania. Survivors included his second wife, Emma, son, Harry, daughter, Emma Donaghy, and his unmarried sister, Evaline Bausewine.
Sources
Sources for the biographical info recited herein include the George Bausewine file maintained at the Giamatti Research Center, National Baseball Hall of Fame and Museum, Cooperstown, New York; US Census data, Philadelphia city directories, and Bausewine family posts accessed via Ancestry.com; and certain of the newspaper articles cited below. Unless otherwise noted, stats have been taken from Baseball-Reference.
Notes
Born
March 22, 1869 at Philadelphia, PA (USA)
Died
July 29, 1947 at Norristown, PA (USA)
If you can help us improve this player's biography, contact us.
http://sabr.org/sites/default/files/BausewineGeorge.png
600
800
admin
/wp-content/uploads/2020/02/sabr_logo.png
admin
2016-11-01 23:54:54
2016-11-01 23:54:54
George Bausewine