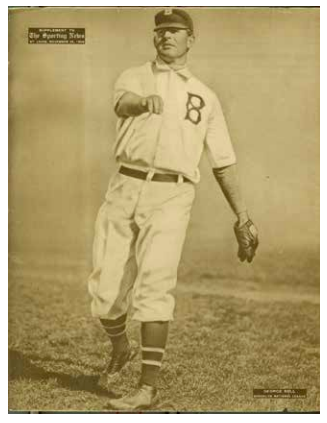 ---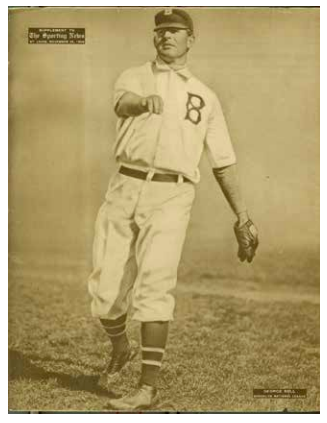 "Farmer" Bell entered pro baseball later in life. He was 29 when he first toed the rubber with the Amsterdam-Johnstown-Gloversville Hyphens of the New York State League in 1904. Before that he had made a name for himself as an amateur player in South Central New York. Making an immediate impact with the team, he found himself in Brooklyn by 1907. Though his career was short, he had a positive impact on the Brooklyn team. After baseball he served in the US Army, returned to farming, then managed a lodge for many years. All the while, he remained close the game he loved.
George Glenn Bell was born on November 2, 1874, in Greenwood, New York. He was the second son of three born to Sylvester and Emma Bell. Sylvester Bell, born in 1845, was a Civil War veteran who fought with the 189th New York Infantry. He was wounded in action on March 31, 1865.1 Upon mustering out in 1865, he returned to farm life. He married Emma Bardwell in 1870 and had three sons with her. Emma died in August 1879, at the age of 28. A little over a year later Sylvester married Electa "Lettie" Rude. They had five children, three sons and twin daughters. Greenwood, in western New York on the border with Pennsylvania, was farm country. Sylvester labored as both a farmer and house painter. George worked on the family farm from an early age. Somewhere he picked up a love for baseball. Bell began playing for local sandlot teams and into his adulthood gained a reputation as an excellent pitcher.
In 1898 Bell married Claudia Elizabeth Bush. By 1900 the couple had moved to Union, Pennsylvania, purchased land and began farming. Throughout that period, Bell continued to play baseball in his native New York. He and Claudia had their first child, Freda Jae Bell, on February 14, 1903.
Throughout this period, Bell continued to dominate the amateur baseball scene in the New York and Pennsylvania countryside. All that changed in 1904. Howard Earl, manager of the Amsterdam-Johnstown-Gloversville Hyphens of the New York State League, recruited Bell to pitch for his team.2
Bell, then 29, made an immediate impact. In 1904, his first season with the Hyphens, Bell notched 17 wins, including a no-hit game. (The next season the Hyphens were renamed the Jags.) Bell followed with 25 wins in 1905. That season the Jags were fighting for the pennant and Bell was handed the ball on the final day of the season. He pitched both ends of the doubleheader against Utica, winning both and clinching the pennant for his team.3
In 1906 Bell plied his trade with Altoona in the Tri-State League. There he led his team in wins, with 23, while losing 16. The Mountaineers finished fourth in a six-team division with a 64-62 record, 10½ games back.4
"Farmer" Bell stood 6-feet tall and weighed between 190 and 210 pounds. He batted and threw right-handed. He got his big break in 1907, when he was called up by Brooklyn. At the ripe age of 32, he was pitching in the major leagues for the first time. On February 7, the Brooklyn Daily Eagle announced, "Bell has all the ear-marks of a star, and it is the belief in the local camp that the former Tri-State Leaguer will prove the best pitcher Brooklyn ever had."5
Patsy Donovan, the Brooklyn manager, asserted that the 1907 Superbas would be a much better team than the 1906 version. He was especially high on his pitching staff. Wrote one sportswriter, "He believes he has a first-class corps with Doc Scanlon, Elmer Stricklett, Harry McIntyre [McIntire] and Jim Pastorious as the regular boxmen … and also feels confident that Bell, a new twirler, will pan out well."6
Bell fashioned a promising season, pitching in 35 games, starting 27, and posting a 2.25 earned-run average in 263⅔ innings. His 2.25 ERA was the best of his career. Despite those figures, his record was 8 wins and 16 losses. He also pitched two tie games. Bell's record was as much a reflection on the futility of the Brooklyn club as it was an indictment of him.
The Brooklyn Eagle was not averse to pointing that out. On April 25, the Eagle reported on Bell's 13-inning performance in a 1-1 tie with Boston, "Bell deserves a lot of sympathy, but he made it apparent nevertheless that he is a star."7 On May 15 Bell gained his first major-league win, defeating St. Louis 10-0, surrendering five hits and a walk. The Eagle announced, "George Bell registered his first victory. He should have had three."8 Bell continued to pitch well until late July, when he evidently tired. Throughout August and September, he made several relief appearances and his starts were spotty. On August 25, the Eagle wrote, "George Bell has figured as a trial horse quite frequently of late, went to the rescue, but while he checked the opposition, the home batters could do very little with Karger's [Ed Karger] southpaw shots."9Perhaps best summing up Bell's season, the Eagle wrote on September 26, "George Bell lost a tough game yesterday, 3 to 1. … Both boxmen were in rare form, and had not Jordan and Levine bunched sad miscues in the seventh inning the big twirler would have applied the whitewash."10 The 1908 season was not a good one for Bell, professionally or in his personal life. He finished the campaign with a 4-15 record. Bell pitched in 29 games, starting 19. He did not pick up his first victory until July 12. His ERA was 3.59 in 155⅓ innings. Coverage of his season reflected his struggles, though not without irony. In one account, the Eagle wrote, "George pitched good ball. It was not as good as the article handed out by one "Slats" Beelee, however, and the backing the Brooklyn nine gave George was not good. … The result was to be expected."11 That result was a 3-1 loss to Boston.
 After a loss to New York on September 9 the Eagle observed, "[H]is habit of winding himself into a huge a knot when delivering the ball, and in the process of disentanglement was so slow and painstaking that the men on bases had a dozen yards start on the ball."12
Most poignantly, Bell lost his infant child during the season. As the tragedy unfolded, Bell arguably pitched the most brilliant game of his career. Leading up to that start, Bell had been in manager Donovan's doghouse. He was being used sparingly because of weight and conditioning concerns.13 On July 31 Bell was scheduled to start against Pittsburgh. Shortly before the game was to begin, he received a telegram informing him that his infant child was gravely ill and not likely to survive.
As it turned out, there was no transportation immediately available for Bell to get home. Wrote the Eagle, "Rather than having him sitting around worrying about the situation, Manager Donovan suggested that Bell go in and pitch the game, and Bell agreed to do it."14 Bell pitched Brooklyn to a 2-0 victory, outdueling Irv "Young Cy" Young. His sacrifice bunt in the third inning helped set up the first run of the game. The Eagle concluded, "He left last night in ample time, accompanied not only with the sympathies of his comrades, but with their congratulations, as well. For no pitcher, even with his mind clear of trouble, ever performed a better's day work.15
Bell was absent from the team over the next two weeks. Upon his return to Brooklyn he did not pitch effectively for the remainder of the season. Compounding his ills, he was struck on the pitching arm by a batted ball on September 2 and missed his next two starts.16
Bell's 1909 season began with a new-look Brooklyn team. Harry Lumley had been hired to manage the team. One of his first acts was to drop several players who had "exhausted the limits of their usefulness to Brooklyn."17
Bell pitched well out of the gate. He defeated Philadelphia in his home opener, 7-3, on May 5. After he beat Philadelphia in his next start, the Eagle said, "Brooklyn won it because Bell pitched another of his surprisingly fine games. …"18 Continuing his winning ways, Bell defeated Pittsburgh 2-0 on May 19. The Eagle wrote that he pitched "masterly ball."19
After his fast start, Bell continued his good season through July. After he shut out Chicago 1-0 on July 17, the Eagle correspondent wrote that Bell was "pitching the best ball of his career."20
In August, Bell's performance, while adequate, fell off a little. Still he continued his mastery over a very strong Pittsburgh nine, defeating the Pirates 4-1 on August 5. After a loss to Cincinnati on September 28, the Cincinnati Enquirer observed, "George Bell, who has gained in weight, until he has some trouble in getting around at his former speed, was easy for the fourth placers, who bunched their long hits on him and won solely on their merits, earning all their runs."21
Whether that observation was based on fact or reputation, it's easy to believe that the strain of a full season had begun to affect Bell's performance. The fact that he struggled with weight and conditioning issues throughout his career adds to the likelihood that the Enquirer's observation was accurate.
In the end, 1909 proved to be Bell's most productive season. In 33 appearances, he started 30 games, completing 29. He fashioned a 16-15 record. Bell tossed six shutouts, and had an ERA of 2.71 over 256 innings pitched. Still he was nearing 35 and was battling a return of weight issues as he looked forward to the 1910 season.
There was talk of a trade in the works between Brooklyn and Chicago. The Cubs were good but lacked pitching. Brooklyn wanted to shore up its infield defense. As spring training moved along, the names bandied about were Harry McIntire, Nap Rucker, and Bell. Rucker was highly thought of by Brooklyn, and was their best and youngest pitcher. In the end, McIntire was traded to the Cubs for three infield prospects.
Based on their spring training, the Superbas were excited about their prospects of moving up in the standings. A Georgia newspaper wrote, "Big George Bell will play the roll (sic) of iron man this season with the Brooklyn Superbas. Bell pitched great last year. And Manager Dahlen thinks he will be another Christy] Mathewson, if he is given plenty of work."22
Bill Dahlen was Brooklyn's third manager in three seasons. In addition to trading McIntire for infield prospects from the Cubs, Brooklyn brought up a 21-year-old outfielder, Zack Wheat. The Superbas were positioned for the modest goal of cracking the "upper" division by year's end. Right from Opening Day, Dahlen kept his promise to use Bell often. Rucker was hit hard by Philadelphia in a 6-2 loss. Bell relieved in the sixth and completed the game. The Eagle reported, "Bell stopped the bingling while he tarried."23 Throughout May, Bell pitched well, without luck. The Eagle wrote, "George Bell appears to be Harry McIntire's logical successor as the champion hard luck pitcher in the league. He lost some tough ones … but yesterday's was the limit."24
That trend continued through June, July, and August. Late in August Bell and Dahlen got into a row during a game he pitched against Pittsburgh. Through 11 innings the game was tied, 3-3. In the 12th, after a single and strikeout, Dahlen came to the mound and "instructed [Bell] to pass Clark [Fred Clarke] and Wagner [Honus Wagner]. … Bell did not like the plan, and he told his manager. But he had to obey instructions."25 The Eagle man noted, "It was needless to say that Dahlen was mad after it was over and George Bell was just angry. Indeed, the two had some hot words before they left the field."26
Reporters covering the Superbas sympathized with Bell's plight early on. However, as the season persisted, subtle comments of a more critical nature were presented for its readers' consumption. For example, on June 26 the paper wrote, "Both Bell and [Al] Mattern pitched admirably and received gilt-edged support. Bell, however, had his usual one bad inning."27 After a 3-2 loss to Pittsburgh in August, the paper said, "George Bell was on the mound for Brooklyn, and although pounded for twelve hits, he managed to keep them pretty well scattered until the 7th."28
By September, Bell began to show signs of fatigue. Throughout much of the month, he pitched poorly, losing to Boston, St. Louis, and Philadelphia, all second-division teams. On September 28, Bell shut out Pittsburgh, 2-0. The Eagle reported, "George Bell did the trimming, and in quite an artistic style. Behind Bell the Superbas played snappy baseball in every department."29
Finally, on October 12, the last day of the season, Brooklyn played a doubleheader against Boston. In the first game, Bell pitched eight innings, allowing one run on six hits. He left with the score tied. Rube Dessau came in relief and promptly conceded eight runs. That game represented a perfect microcosm of Bell's season.
Bell, statistically, had his most impressive season. He pitched in 44 games, starting 36. In 310 innings pitched he had an ERA of 2.64. Bell completed 25 games with four shutouts. His record was 10 wins and 27 losses, with a WAR (wins above replacement) of 4.6, the best of his career.
Bell started 1911 with the same bugaboo that had persisted throughout much of his major-league playing career, weight. On New Year's Eve, the Eagle reported, "Bill Dahlen, manager of the Superbas, in pursuance of the Black Hand propaganda issued the other day, is planning a hustling campaign with the object in view of starting his athletes right for the season. … George Bell attracted the attention of the cheerful leader, who declares that the Academy Corner farmer was so far beyond the limit in avoirdupois last season as to have been able to challenge for the heavyweight wrestling title."30
As might be expected, Bell's 1911 season was plagued by injury and illness. He missed time in May due to illness, and on his return, he was not effective through several starts. Box scores indicate that he was relegated to the bullpen, with spot starts throughout June and early July. Bell sprained his ankle and was out from mid-July through late August. Ironically, on April 12 the Eagle had written, "George Bell has reported for opening of the season in the best shape ever … and if hard work will accomplish anything, George will be a top-notcher."31
Through April Bell pitched well, winning twice and losing twice and keeping his team in every game. After he shut out the Phillies on the 29th, the Eagle wrote, "It was peaches and cream for George Bell, and he fairly reveled in the going."32 The article did go on to reference "our own fat boy," so weight was still an issue.
Bell then missed nearly two weeks with flu-like symptoms. On his return in mid-May, his pitching fell off. On the 23rd the Eagle wrote, "Bell started like a house afire, but burned out in the fourth and died down in the fifth."33
While Bell did defeat Chicago 1-0 on May 17, his overall performance led to demotion to the bullpen. The day he pitched so well against Chicago, trade rumors surfaced of a deal between New York and Brooklyn that would have sent Bell and Jake Daubert to New York for Fred Merkle, Art Devlin, and an unnamed outfielder. That trade rumor was quickly denied by Superbas owner Charlie Ebbets, who remarked, "it would be an excellent trade for New York."34
Throughout June and early July, Bell made only two more starts. He continued to be hit hard. In mid-July he hurt his ankle. Recovery was slow. On his return to the mound on August 20, Bell was shellacked by Pittsburgh, giving up seven runs in 7⅓ innings. On August 25, the St. Louis Dispatch wrote, "George Bell … has been of little value to his team this season because of illness. He is probably done for the season."35 And so it was!
On September 21 Bell was released. On the 25th the Altoona Tribune reported, "Baseball fans will be grieved to know of the release of the veteran pitcher, George Bell, of the Brooklyn club, to the Toronto club of the Eastern league. Bell was a member of the Superbas for five years, being one of team's pitching mainstays until the present season. He was bothered by a bad foot for the greater part of the season. … It refused to mend and Bell became practically worthless as a pitcher."36 Bell refused to accept the assignment and went home for the season. His season record was 5-6. He pitched in 19 games, starting 12. He completed six, with two shutouts. Bell pitched 101 innings and compiled an ERA of 4.28.
Bell pitched four seasons in the minor leagues before hanging up his spikes. He pitched with Newark in the International League from 1912 until his release during the 1914 season. For two of those seasons, he pitched relatively effectively, crafting 10-4 and 10-11 records, with low ERAs. In 1914, Bell's final season there, he was 1-4 before his release in August. He then joined the Keene, New Hampshire, club in the Twin Mountain League, a semipro team.37
Bell finished his professional career in 1915. The Wilkes-Barre Record made note, "George Bell, the former Brooklyn and Newark hurler, has been signed by Syracuse. The Syracuse Journal man refers to Bell as a "promising youngster" who is being sent to Syracuse for further seasoning. Gee whiz; smoke up! Bell is already so well-seasoned the he is full of weather cracks."38 That season, at age 40, Bell crafted a 12-7 record with two clubs, Syracuse in the New York State League and Warren in the Interstate League.
Bell continued to play an active role in local baseball, pitching for and managing several semipro clubs in rural Pennsylvania and New York. In 1916 he managed the St. Mary's team of Altoona.39 In 1921 he was managing and pitching for the Blossburg club.40
In 1918 Bell enlisted in the Army. The Pittsfield Post-Gazette wrote, "One of baseball's almost forgotten figures, George Bell, formerly with Brooklyn, is still pitching. Bell, though aged 40 [actually 43], enlisted some time back in the Army and is now stationed at Fort Slocum, New York. He pitches on one of the fort teams and still does a good job of it. When Bell enlisted, he tipped the scales at 220 pounds. He now weighs 173 and says he never felt better in his life."41
By 1914 Bell owned four farms in Pennsylvania.42 In addition to maintaining a connection to baseball and farming, in 1925 Bell and his wife purchased and ran a summer and hunting lodge in Stony Creek, New York.43
By 1935 Bell was spending part of the year living with his daughter in the Jackson Heights section of Queens in New York City. Through an acquaintance, he got in touch with the National League office and requested a lifetime pass to ballgames. In the back-and-forth correspondence he was notified that he did not meet baseball's criteria of 10 major-league seasons to be eligible for the pass. He was informed that if any changes to that protocol were made, he would be notified.44
Bell died at the Bronx Veterans Hospital on December 25, 1941, of pyelonephritis, secondary to chronic uremia. It seems likely that his residence in Jackson Heights corresponded with his illness and treatment. He was buried in New York State, but after his wife died he was interred beside her in Lakeland, Florida.
In the end, Bell's major-league career lasted five seasons. His Achilles' heel throughout his career was conditioning, specifically his weight. His weight problems came up frequently throughout his five Brooklyn seasons. It got him in the doghouse with one manager, and led to special efforts by two others at "extra conditioning." His weight struggles, by all account, affected his performances. Bell finished his career with a 43-79 record. His ERA of 2.85 was near the league average. Of the 160 games Bell pitched in, he started 124. He completed 92 games, 17 of those by shutout.
One can speculate that had Bell begun his career at an earlier age and kept himself in shape throughout, he could have crafted a good career. The fact is that he acquitted himself well in four of the five seasons he pitched in the majors, all in his 30s. The last season was spoiled by illness and injury. In fact, he pitched a couple more seasons at the minor-league level, and did well. But what-ifs are just that. Still, in the end he could hold his head high and know he belonged in the major-league pitching fraternity.
This biography is included in "20-Game Losers" (SABR, 2017), edited by Bill Nowlin and Emmet R. Nowlin.
Notes
1 Report of the Adjutant-General, 124. Bell, Sylvester. Found in dmna.ny.gov/history/reglist/civil/rosters/Infantry/189th_Inf_CW_Roster.pdf. Sylvester Bell was wounded at Boydton Plank Road, Virginian, during the Appomattox Campaign. In the New York State Adjutant-General Report he is listed as 20 years old, though he could not have been more than 19.
2 Fulton County Baseball and Sports Hall of Fame Induction Biography: George Bell, Gloversville, Fulton County, New York, emerydesigns.net/Hall_of_Fame/george.bell.html.
3 Wilkes-Barre Record, February 6, 1912: 19.
4 checkout.bigcartel.com/2176336/orders/LKLA-969960.
5 Brooklyn Daily Eagle, February 7, 1907: 10.
6 Pittsburgh Press, February 10, 1907: 18.
7 Brooklyn Daily Eagle, April 25, 1907: 24.
8 Brooklyn Daily Eagle, May 15, 1907:  22.
9 Brooklyn Daily Eagle, August 25, 1907: 35.
10 Brooklyn Daily Eagle, September 26, 1905: 23.
11 Brooklyn Daily Eagle, May 15, 1908: 22.
12 Brooklyn Daily Eagle, September 10, 1908: 20.
13 Tacoma Daily News, August 18, 1908: 9.
14 Brooklyn Daily Eagle, July 31, 1908: 18.
15 Ibid.
16 Brooklyn Daily Eagle, September 2, 1908: 18.
17 Cincinnati Enquirer, January 10, 1909: 10.
18 Brooklyn Daily Eagle, May 11, 1909: 22.
19  Brooklyn Daily Eagle, May 20, 1909: 20.
20 Brooklyn Daily Eagle, July 18, 1909: 43.
21 Cincinnati Enquirer, September 28, 1909: 4.
22 Marion (Georgia) Daily Mirror, March 31, 1910: 6.
23 Brooklyn Daily Eagle, April 21, 1910: 23.
24 Brooklyn Daily Eagle, May 5, 1910: 21.
25 Brooklyn Daily Eagle, August 26, 1910: 18.
26 Ibid.
27 Brooklyn Daily Eagle, June 26, 1910: 53.
28 Brooklyn Daily Eagle, August 13, 1910: 18.
29 Brooklyn Daily Eagle, September 29, 1910: 25
30 Brooklyn Daily Eagle, December 31, 1910:  21.
31 Brooklyn Daily Eagle, April 12, 1911: 27.
32 Brooklyn Daily Eagle, April 29, 1911: 25.
33 Brooklyn Daily Eagle, May 23, 1911: 25.
34 Brooklyn Daily Eagle, May 17, 1911: 6.
35 St. Louis Dispatch, August 25, 1911: 8.
36 Altoona Tribune, September 25, 1911: 10.
37 Watertown (New York) Daily Times, August 12, 1914: 6.
38 Wilkes-Barre Record, April 29, 1915: 9.
39 Altoona Tribune, February 28, 1916: 14.
40 Wellsboro (Pennsylvania) Agitator, August 24, 1921: 2.
41 Pittsburgh Post-Gazette, September 16, 1918: 8.
42 Jersey Journal (Jersey City, New Jersey), January 19, 1914: 7.
43 Baseball Hall of Fame Library, player file for George Glenn Bell.
44 Baseball Hall of Fame Library, player file for George Glenn Bell. Correspondence of June 13, 1935, Fred Jacklitsch to Ford Frick; Bill Brandt to George Bell, June 20, 1935; George Bell to Bill Brandt, June 24, 1935; Bill Brandt to George Bell, July 6, 1935.
Born
November 2, 1874 at Greenwood, NY (USA)
Died
December 25, 1941 at New York, NY (USA)
If you can help us improve this player's biography, contact us.
https://sabr.org/sites/default/files/Bell_George.png
600
800
sabr
/wp-content/uploads/2020/02/sabr_logo.png
sabr
2012-01-04 20:41:42
2022-03-28 16:04:29
George Bell