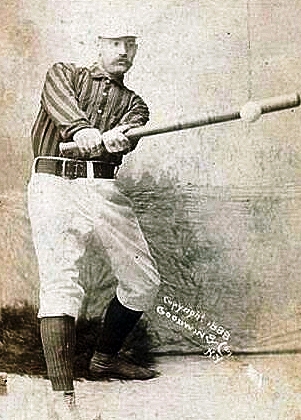 ---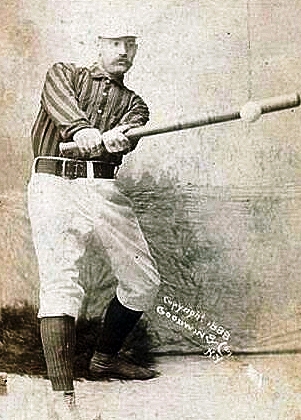 Read me some names from a faded box score
Culled from the distant ago;
Anson, Dalrymple, Williamson, Gore,
Flint, Delahanty and Lowe.
–Verse, author unknown
Maine's only batting champion as of 2010 was most definitely one of the outstanding performers of his day. That his day was a long, long time ago should not detract from his achievements. A batting champ of one era is not likely to hit .214 in another!
George F. "Piano Legs" Gore was born in Saccarappa, Maine, in 1855. It was in Hartland that he learned a love of the game, playing as often as he could in fields and pastures in and around town. He even­tually moved to Saccareppa (Westbrook), where he found ample opportunity to play – and play well – for the S.D. Warren paper mill team. In one game he blasted a ball 450 feet. Word spread, and soon George was persuaded to leave Maine and give pro ball a try.
Playing briefly in 1877, George hit .319 in 33 games for Fall River in the New England League. The next season, 1878, he really began to show his stuff: He socked a solid .324 for the New Bedford Whalers, in the International Association. "They paid me $55 a month and expenses. That was good money for a youngster in 1878," George later reminisced. A.G. Spalding, owner of the Chicago White Stockings, was impressed: He offered Gore $1,200 to play in Chicago in 1879. George said, "No." He wanted $2,500. Many credit him, accordingly, with being baseball's first holdout. The two eventually com­promised on $1,900 and George started his 14-year major-league career.
Gore's first year was a disap­pointment. The rookie batted left-handed and threw right, standing 5-foot-11 and weighing 195 pounds. In his first year in the majors, 1879, he hit .263 in 266 at-bats; the White Stockings finished fourth. His second year, however, was in no way disappointing. The Mainer led all National League batsmen with a .360 average; the White Stockings took the flag by a wide margin. George knocked out 116 hits in 322 at-bats, well ahead of teammate Cap Anson, who had 120 safeties in 356 at-bats (good for a .337 mark). George also led the league in slugging percentage (with .463) and was third in hits.
It is well worthy of note that 1880, the year Gore led the National League in batting with a .360 average, was considered a Year of the Pitcher. Not one, but two perfect games were hurled. Scores were low, lower, and lowest. Pitchers so dominated the game that, at season's end, the club owners got together and voted to increase the distance from the front of the pitcher's box by five feet: from 45 feet to 50 feet.
That there was a heart­warming degree of local pride in George's accomplishments was reflected in the Daily Eastern Argus, Portland's most pro­minent newspaper at the time. Baseball coverage was thin, but included in a now-and-again column entitled "Sporting Matters" were bits and pieces of informa­tion. George Gore was mentioned more times than any other player. This was especially true early in the season, before the intense coverage of the forthcoming Hancock-Garfield presidential election dominated the press. Thus – wedged in between rather fascinating tidbits the likes of "Cincinnati pays its base ball club $11,750 in salaries" and "The Baltimores appear to lack good judgment. In the arrangement of their dates they have several times agreed to play with two clubs on the same date, thus causing much trouble and disappointment" – we have the following mentions of the man who a scant four years earlier was playing for S.D. Warren:
"The management of the Chicago club appears to have come to the conclusion that Gore is too good a man to keep as a substitute. He is filling the position of center field every game the club plays, and right nobly is he keeping up his reputation as a first-class base ball player. The good plays credited to him have been numerous, and we have not yet seen an error charged against his name." (May 13)
"In Saturday's run at Chicago Gore made the first home run that has been made on the home grounds this season." (May 24)
"Gore of the Chicagos still continues to make heavy hits, brilliant plays and no errors." (May 29)
Although Gore never again led the league in hitting, he topped it in a pair of other categories: bases on balls, three times (with 29 in 1882; 61 in 1884; and 102 in 1886) and runs scored, two times (with 86 in 1881; 99 in 1882). It is his run production, in fact, that most distinguished the man from Hartland's career statistics. He averaged 1.01 runs scored per game lifetime. Contrast that with Hank Aaron (.66) or Lou Gehrig (.87) or Ted Williams (.78) or any other player you can think of and you will be very impressed with the 1.01 mark.
At various times George had six hits in six at-bats, five consecutive extra-base hits, and seven – yes seven – stolen bases in a game. His speed coupled with his high walk/low strikeout ratio made him the ideal leadoff man. George was truly one of the few players of his time who fully earned the accolade of "star." More than one baseball historian has likened George to Ty Cobb or Tris Speaker.
Nor were Gore's achievements limited to the bat. In the days of gloveless heroics, he was right up there with the best. William McMahon, in the book "Nineteenth Century Stars" cred­ited him with being a "fine thrower and fielder." The White Stockings' outfield of Abner Dalrymple, the legendary King Kelly, and George Gore was the equal of any in the 19th century.
In the seven-season span from 1880 to 1886, the White Stockings rang up five first-place finishes. Gore was a key ingredient in every one of them: Over the seven years he racked up batting averages of .360 (his batting crown year), .298, .319, .334 (third in the league), .318, .313 (fifth in the league), and .304. When George was traded to New York after the 1886 season he vowed that the White Stockings would not win another National League flag as long as he was playing. They did not.
From 1887 through 1889 George played for the New York Giants, helping them to flags in 1888 and 1889. A highlight came on August 25 of his first season with the Giants. Playing against his old teammates, he had four hits as the New Yorkers took the White Stockings, 9-1. In its account of the game the New York Times described the ex-Chicago player as "the happiest man in the metropolis."
For the Giants George performed well, but "old age" – and, some would say, wine and women – was beginning to slow him down. George's average fell to .290 in 1887, and tumbled all the way to .220 (in but 64 games played) in 1888. In 1889, however, he again topped the magic .300 plateau, turning in a .305 mark in 120 games. After a season with the New York team in the Players League in 1890 (the league's sole season) in which he batted .318 and walloped 10 home runs, it was back to the Giants. For them he played his last noteworthy season in 1891, hitting .284 in 528 at-bats. In his last year in the majors, 1892, he split his time between the Giants and the St. Louis Browns (the team that later became the Cardinals), batting an uninspiring .241 overall and even managing St. Louis for 16 games, the fourth of five skippers that season. He left major-league ball with a lifetime .301 average.
George returned to pro ball briefly in 1894; nearing 40, he had a .319 mark in 48 games for Binghamton in the Eastern League. After his retirement from baseball Gore became, in the words of the few latter-day articles written about him, a "successful businessman." He resided in Nutley, New Jersey, the last 13 years of his life; would often make the short trip into New York City to take in a ballgame at the Polo Grounds or Yankee Stadium. He died at the Masonic Home in Utica, New York, on September 16, 1933.
Sources
This biography originally appeared in Will Anderson's self-published 1992 book Was Baseball Really Invented in Maine? and is presented here with the author's permission. Bill Nowlin has added new material and slightly revised the original version.
Born
May 3, 1854 at Saccarappa, ME (USA)
Died
September 16, 1933 at Utica, NY (USA)
If you can help us improve this player's biography, contact us.
http://bioproj.sabr.org/bp_ftp/images4/GoreGeorge.jpg
600
800
admin
/wp-content/uploads/2020/02/sabr_logo.png
admin
2012-01-04 20:29:27
2012-01-04 20:29:27
George Gore