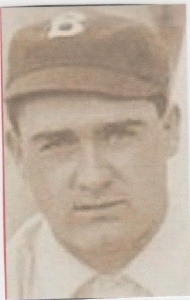 ---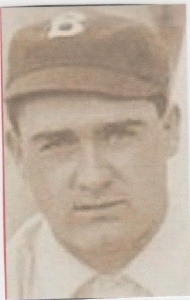 After a promising rookie season with the 1909 Brooklyn Superbas, the baseball career of left-handed pitcher-outfielder George Hunter abruptly nosedived. For reasons uncertain but most likely involving arm trouble, Hunter abandoned pitching after his freshman campaign, spending the remainder of his playing days in the outfield. The position shift was not a success, for the switch-hitting Hunter was a capable batsman – for a pitcher. As an everyday player, however, his stick-work fell short of major-league standards. His defensive work in the pasture was also suspect. Released by Brooklyn early in the 1910 season, Hunter finished his career in the minors, mostly with clubs in the Class B New York State League.
It was from a minor-league vantage point that Hunter observed a small major-league landmark. On August 6, 1912, George's identical twin brother, Bill Hunter, made his big-league debut, striking out in a pinch-hitting appearance for the Cleveland Naps. Bill's time in the majors would prove shorter than George's, consisting of 21 games with the Naps that season. The brevity of their tenures notwithstanding, George and Bill Hunter hold the distinction of being the first twins to play major-league baseball.1
George Henry and William Ellsworth Hunter were born in Buffalo on July 7, 1887. The twins were the third and fourth of the six children born to Canadian immigrant blacksmith George Hunter (1853-1935) and his wife, Isabel (née Cherry, 1862-1910), a Philadelphia native.2 As youngsters, the brothers attended Buffalo PS 40, but quit school after the eighth grade. At age 18 they were still living at home and employed as glaziers.3 Their baseball journeys took the familiar route of local sandlots to amateur teams to semipro ball. While still in their late teens, the "Southpaw Twins" gained notice pitching for a Buffalo outfit called the Hurons.4 Thereafter, the Hunters graduated to the Pullman Car Company ballclub, the reputed semipro champion of Western New York.5
George (5-feet-8, 165 pounds) was slightly larger than Bill (5'7½", 155 pounds). He was also a more versatile player. As a consequence, his baseball career took off more quickly. In March 1907, Sporting Life mentioned the Hunter brothers as returnees for the Pullman club,6 but only Bill would remain in Buffalo. George was moving on. That spring he entered the professional ranks, signing with the Wilkes-Barre (Pennsylvania) Coal Barons of the Class B New York State League.7 Here, he joined fellow left-handers Jack Graney and Jim Swift to form what the Wilkes-Barre Times soon deemed "the best pitching staff in the league."8 Unlike the other two, Hunter was not a hard thrower. Instead, he relied on breaking stuff that featured "an incurve that cuts the inside corner of the plate," a pitch that few NYS League batters could handle.9 George quickly became a local favorite, the "silent southpaw" whose outings the Wilkes-Barre Times frequently extolled with descriptives such as "effective," "excellent," and "masterly."10 But while his hometown press notices were good, Hunter's pitching luck often was not. Pitching for a fourth-place (69-66) team, Hunter was regularly on the short end of low-scoring decisions. Baseball-Reference provides no pitching stats for the 1907 Wilkes-Barre Coal Barons, but perusal of Wilkes-Barre Times reportage puts Hunter's record in the neighborhood of 12-15 in 31 games pitched.11 He also made a handful of appearances in the outfield, bolstering the Barons' underwhelming offense with a .301 (28-for-93) batting average.
Hunter's performance did not go unnoticed. He was scouted by several major-league teams, and drafted by the National League Brooklyn Superbas that September.12 Although he was immediately placed on the Brooklyn reserve list for 1908, the club's intentions regarding Hunter were unclear. In the months that followed the draft, it was reported that Brooklyn had sold his contract to the Nashville Volunteers of the Class A Southern Association.13 Such reports distressed Hunter, who informed the press that "Brooklyn management had notified him that he was to have a thorough tryout next spring."14 In the end, Hunter was given his shot at the Superbas' spring camp. His mound work impressed Brooklyn manager Bill Donovan, who wanted to keep him.15 But with the Superbas' staff already stocked with left-handers Nap Rucker and Jim Pastorius, the inexperienced Hunter was farmed to Nashville, with Brooklyn retaining the option to recall him later.16
For the Nashville home opener on April 20, Hunter was the Volunteers' pitching and batting star. In a 15 inning, 3-3 tie with Montgomery, he held the Senators to six hits while striking out six. He went 3-for-5 at the plate. But George received only 13 more starts after that, going 8-5 for the season. He also made 46 appearances in the Volunteers outfield, posting a .264 batting average in 201 at-bats for the (75-56) Southern Association pennant-winners. Prior to an August 20 deadline, Brooklyn exercised its $1,000 option rights and recalled Hunter.17 He saw no game action for the Superbas, but was thereafter placed on the Brooklyn reserve list for the 1909 season.18
Hunter showed well in 1909 spring camp and made Brooklyn's Opening Day roster. On May 4, 1909, he made his major-league debut, taking the mound for the first game of a home doubleheader against the Boston Doves (Braves). In the early going he was superb, holding the Braves scoreless while protecting a 3-0 Brooklyn lead. But the top of the fourth frame ended on an unfortunate note, with Hunter injuring his shoulder in a pop-fly collision with catcher Bill Bergen. He was unable to come out for the fifth, giving way to Nap Rucker, who was promptly tattooed for the four runs that paved the way to an eventual 7-6 Brooklyn loss. Hunter soon recovered and won his next start, a complete-game 4-1 triumph at Boston. In addition to his first major-league victory, George registered his first big-league hit, as well – an RBI double off Braves' left-hander Tom Tuckey.
Thereafter, George settled into the role of spot starter, most often used in doubleheaders. He continued to pitch well, but suffered the customary fate of those pitching for a bad (55-98, .357) team. Despite an excellent 2.46 ERA in 113⅓ innings pitched, Hunter's record stood at a dreary 4-10 by season's end. He had also made 23 appearances in the Superbas outfield. His defensive work (.871 fielding average) was substandard, but Hunter's .228 batting average (28-for-123) was on par with the team norm (.229). A modest beginning, to be sure. But given George's youth (22) and lack of previous big-league experience, many observers predicted a bright future for him. As the 1909 season wound down, syndicated Midwest sportswriter Tommy Clark declared that Brooklyn "seems to have another find in George Hunter, a rattling good left-handed pitcher, a good hitter, a fast baserunner, and a clever fielder – a good all-around youngster."19 During the postseason, Hunter briefly returned to Wilkes-Barre for a hospital benefit game, taking the hill as Brooklyn's starting hurler at local insistence.20 Thereafter in December, he joined (as an outfielder) an all-star team headlined by future Hall of Famers Three Finger Brown and Addie Joss for a 12-game exhibition tour of Cuba.21 As 1909 drew to a close, therefore, Hunter had every reason to hope for a lengthy and successful major-league career.
Sadly for George Hunter, the promise of his rookie year went unfulfilled. Although the nature and origin of his coming misfortune have been lost to time, it seems likely that his arm failed. Apart from one dismal minor-league outing, he never pitched again professionally. But in the winter of 1909-1910, that was still in the future. For the time being, Hunter retained a place in Brooklyn plans. He survived the offseason housecleaning initiated by club owner Charles H. Ebbets. Hunter was not among the horde of 1909 Brooklyn reserve list players placed on waivers that winter. Nor was he among the eight Superbas sent to the minors. Rather, news reports listed Hunter among the eight candidates for the 1910 Brooklyn pitching staff.22
Hunter failed to impress new Brooklyn manager Bill Dahlen and he saw little exhibition-game action. Although he was a member of Brooklyn's Opening Day squad, Hunter remained fastened to the bench in the early going. His only game appearance came in Pittsburgh on May 9, 1910, when he was sent to the outfield in the 10th inning after center fielder Al Burch was ejected. Hunter's tour of duty lasted a single inning, during which nothing was hit his way. Unbeknownst to Hunter at the time, his major-league career was now completed.
In late May Hunter was released on option to the Montreal Royals of the Class A Eastern League.23 His stay there was brief and unhappy. His lone attempt to pitch was a fiasco. Hunter lasted one inning in a 7-0 loss to Baltimore. He fared little better in the field, his muff of a fly ball being responsible for a 2-1 loss to Rochester on June 3, while he "played poorly in left field" during a 14-6 loss to Toronto two weeks later.24 Meanwhile, his batting average had sunk to .192. In early August the Wilkes-Barre Barons retrieved Hunter in a trade for one-time Boston Braves spitballer Gus Dorner. But Dorner, claiming to be a free agent, refused to report to Montreal. The Barons were therefore obliged to purchase Hunter's contract outright from Montreal.25
Back in more congenial territory, Hunter played competently, but no better than that. Against Class B pitching, he raised his batting average to .297 and did not embarrass himself in the field. Going into the next season, he was still not yet 25 years old, but no longer deemed much of a major-league prospect. Still, that September he was drafted by two top-notch clubs in the new Double-A International League, the Toronto Maple Leafs and Rochester Hustlers, with the claim of the latter being recognized by minor-league overseer John H. Farrell.26 But something of a shell game may have been afoot, for shortly after Hunter was placed on the Rochester reserve list for 1912, his contract was sold back to Wilkes-Barre.27 Hunter returned to the Barons but his 1912 season was abbreviated by injury. Sliding home during a game against Albany on May 22, Hunter fractured an ankle. He was through for the season, and still in dry dock when twin brother Bill made his major-league debut with Cleveland in August. In the meantime, Wilkes-Barre had discontinued the disabled Hunter's salary. He responded by filing a grievance that John Farrell ultimately sustained. That offseason, the Barons were directed to either pay Hunter his back 1912 salary or remove him from the Wilkes-Barre reserve list for 1913.28
Accepting assurances that his ankle was fully healed, Wilkes-Barre paid up, and thereafter re-signed Hunter for the 1913 campaign. But that spring he was painfully tentative in the outfield, often avoiding fielding chances that might stress his ankle. Unimpressed by Hunter's performance, newly installed Wilkes-Barre field boss Joe McCarthy (the future Hall of Fame manager) released him early in the season. Before long, however, Hunter found a berth with a New York State League rival, the Elmira Colonels.29 George rewarded his new club's confidence by batting .308 and playing more than adequate outfield defense. He remained an Elmira outfield regular through the 1917 season, posting batting averages that ranged from .253 to .305.
At the close of the 1917 season and with the United States now an active participant in World War I, George Hunter hung up the glove. He was only 30 years old. George had married Anna Alexander in October 1908, a union that would last almost 60 years. But the Hunters had no children, making George a potential conscription target. Ultimately, he was not called to arms, and by 1920 he was employed as a traveling salesman for a Harrisburg company. In time, he joined the Harrisburg Post Office, where he worked until retirement in 1956. As he grew into old age, George developed heart disease. Admitted to Dauphin County Hospital in Harrisburg, George Henry Hunter died from pneumonia and other complications of his heart condition on January 11, 1968.30 He was 80. After funeral services, his remains were interred at Rolling Green Memorial Park in nearby Camp Hill, Pennsylvania. He was survived by his wife, Anna, but predeceased by his five siblings, including twin brother Bill, who had passed away in 1934.
Sources
Sources for the biographical detail presented herein include the George Hunter and Bill Hunter player files with questionnaires maintained at the Giamatti Research Center, the National Baseball Hall of Fame and Museum, Cooperstown, New York; US and state census reports; World War I and World War II draft registration form data; Hunter family info posted on Ancestry.com; and certain of the newspaper articles cited below. Unless otherwise noted, stats have been taken from Baseball-Reference and Retrosheet.
Notes
Born
July 8, 1887 at Buffalo, NY (USA)
Died
January 11, 1968 at Harrisburg, PA (USA)
If you can help us improve this player's biography, contact us.
/sites/default/files/HunterGeorge1.preview.jpg
600
800
admin
/wp-content/uploads/2020/02/sabr_logo.png
admin
2012-01-04 20:45:30
2012-01-04 20:45:30
George Hunter