---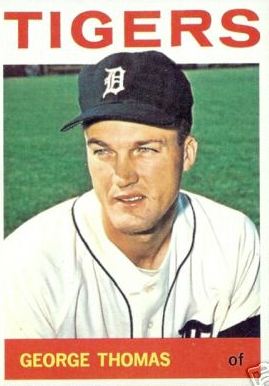 In the course of a major league baseball season, players assume certain important roles on their teams. Apart from whether they start or sit on the bench, intangible qualities such as being a team player or being a positive clubhouse presence can be essential to a team's success on the field. Throughout his major league career, and in particular during the 1967 season with the Boston Red Sox, George Thomas was invaluable to the teams he played for, not only for his versatility on the field but also for the quick wit and sense of camaraderie that he brought to the dugout. This made him one of baseball's premier bench jockeys. His ability to play all positions except pitcher was complemented by his unique talent for being able to gauge the mood of the team and ease the tensions that come with the rigors of the 162-game schedule.
George Edward Thomas Jr. was born on November 29, 1937, in Minneapolis, Minnesota. His father George sold real estate and his mother was a homemaker, who did occasional part-time secretarial work. The couple had three children; George was the middle child. His brother Jerry was two years older and was an all-American right-handed pitcher out of the University of Minnesota. Both Thomas boys came by their interest in baseball from their father, who had played semi-pro ball — a pitcher, too — but hurt himself while on a spring training tryout for the Minneapolis Millers, circa 1935. The boys had a sister as well, five years younger than George.
The elder Thomas spent time with his sons, playing pepper with them and hitting ground balls to them. He coached the town team George played on in high school; George played midget ball, junior ball, and then American Legion ball,
Despite not being far apart in age, the two brothers never played even sandlot ball together, Jerry sticking with his older buddies and George with his own friends. George graduated from Bloomington High School where he played baseball, football, and basketball.
Like Jerry, George enrolled at the University of Minnesota, where he lettered as a sophomore shortstop for the Golden Gophers during the 1957 collegiate season. As he completed his sophomore year, Jerry was finishing his senior year, and right after the College World Series, Detroit Tigers scout George Moriarty signed Jerry Thomas. "The next thing I know," George explained in a June 2006 interview, "he comes in from the car where they were talking, and asks me if I wanted to play!"
On August 5, George Thomas was signed by Moriarty as an amateur free agent, with the $25,000 he was given denoting him a "bonus baby." Under the bonus rule at the time, he had to stay with the Tigers, and so immediately joined the big league club, traveling with them the rest of the 1957 season. At the age of 19, while appearing in just one game, he was the second-youngest player in the American League behind Baltimore catcher Frank Zupo, who was only 17. The game was September 11 at Washington's Griffith Stadium, and Thomas struck out against Ted Abernathy as a pinch-hitter, then played two innings at third base. The Tigers saw Thomas as a shortstop or third baseman, although previously he had also pitched and played the outfield. The Tigers were impressed with his swing and with his "outstanding arm."1
That winter, the Tigers sent Thomas and other prospects to play Mexican League baseball, both for the Diablos Rojos in Mexico City and for the Puebla ballclub. The Tigers had a minor league manager and a pitching coach travel with them.
Thomas started spring training on the big league roster, but the bonus rule had been changed that winter, and as the season began, he was sent to the Tigers' Birmingham team in the Double-A Southern Association, where by year's end he hit .260 in 22 games as an outfielder. It was a year with a few changes of uniform . In May, he was assigned to Augusta, of the Single-A South Atlantic League. He played 71 games there, in two stretches, with a 24-game stint with Durham in between. While in Augusta, George and Jerry played for a while on the same team, the only time in their life (other than some overlap at Minnesota) that they played together. George hit .294 for Augusta, seeing time at first base and the outfield. In September 1958, when the minor league season ended, he was called up to Detroit once more. Again, he appeared in just a single game, this time as a pinch-runner and a one-inning right fielder, not even getting an at-bat.
Jerry hurt his arm in A- ball. "I think he might have gone to spring training with Birmingham," George recalls. "But he hurt his arm around 1959 or 1960 with Knoxville, and that was about it."
The 1959 season found George back at Birmingham to start the season. On May 9, he was hit by a pitch at a game in Mobile and suffered a fractured jaw, sidelined until late June. Before the injury, he had been hitting .323. Thomas finished the season with a .274 batting average, and ,after the season, he was once more added to the expanded Tigers roster, though he did not appear in a game.
After limited action during spring training in 1960, Thomas was sent to the Tigers' minor league complex for assignment. The Sporting News, in its April 13, 1960, edition, selected him as the "Likeliest to Improve" in the Tigers organization. Thomas played a full season in 1960 for Birmingham (.283 with 13 home runs in 124 games), and also played 14 games with Denver (American Association.) That winter he served six months in the United States Army.
During the 1961 preseason, Thomas was paid a tremendous compliment when Triple-A Denver's manager, Charlie Metro, said that "Thomas can throw as good as Kaline," referring to the Tigers' All-Star outfielder.2 Finally that season, Thomas stayed with the Tigers coming out of spring training, though he played just 17 games, 10 as a pinch-runner, and was hitless in just six at bats
On June 26, 1961, he was sold by the Tigers to the expansion Los Angeles Angels. Chico Fernandez had been hurt, and the Tigers brought up Dick McAuliffe, putting Thomas on waivers. The Twins might have claimed the hometown player, but the last-place Angels had the first pick off waivers and grabbed him. With the Angels, Thomas played third base and the outfield, starting nearly every day, and hitting well right away. He got his first major league hit, a double off Chicago's Billy Pierce, on June 30. Two days later, he blasted his first home run off Warren Hacker. On September 9, Thomas hit his first grand slam off Frank Baumann, and finished with 13 homers and a .280 batting average in the 79 games he played for Los Angeles. His strong finish made him manager Bill Rigney's projected starter in center field for the 1962 season.
However, the Berlin Crisis was in full swing[,] and the United States Army had different plans for Thomas. In November 1961 he was recalled to serve a one-year hitch at Fort Lewis, Washington. Ultimately, because of Army policy regarding seasonal work and completion of service, Thomas and other major league players were discharged earlier than expected[,] and he rejoined the Angels on July 27, 1962. While playing all three outfield positions, he batted .238 over the last two months of the season. The nickname T-N-T was given to the combined talents of George Thomas and teammate Lee Thomas, as the Angels looked to their bats for needed power.3 Combined, they hit 30 home runs, but 26 of those came from Lee (no relation) Thomas. "I never got myself going again," George admits. "And they traded me back to the Tigers." The trade came in mid-June the following year.
Going to spring training for the 1963 season, Thomas again was pegged for outfield duty. On May 1, he hit the second grand slam of his career against the Yankees' Ralph Terry (the first grand slam by the Angels at Chavez Ravine, their temporary home shared with the Dodgers). But at the trading deadline on June 15, Thomas, then hitting just .210, was shipped back to the Tigers, along with a minor league player to be named later, in exchange for pitcher Paul Foytack and infielder Frank Kostro, as reported in The Sporting News of June 29, 1963 [TSN Guides & ProQuest articles don't mention a player to be named. An interesting note, though, is the LA Times noting that Thomas had been in the process of being converted into a pitcher.] In Detroit, Thomas was mainly platooned with Bill Bruton in center field, playing against lefthanded pitchers.
Before the 1964 season, Thomas was asked to come to spring training prepared to learn the catcher position in the event of injury to starter Bill Freehan and backup Mike Roarke. Still primarily an outfielder, Thomas did well as a pinch hitter (6 for 17 on the season), and platooned in left field. Eventually his steady play earned him additional playing time in center field, and he finished the season with a very strong .286 batting average.
During the off[-]season, Thomas married Diane Lynn May of Farmington, Michigan,, took courses at Wayne State University and signed a new $15,000 contract with the Tigers. But after a dismal 1965 season, in which he batted only .213 in 79 games, the Tigers traded him with George Smith and a player to be named to the Red Sox in exchange for Bill Monbouquette. The Tigers had Willie Horton and Gates Brown coming up and saw more need in the area of pitching. Monbouquette was a Red Sox fan favorite for eight years, and many fans thought the Red Sox could have received more in return for him. But the team's management hoped that the trade for Thomas and Smith would improve the team's defense and make up for some of the wins that Monbouquette might have earned.4 Thomas was surprised the Red Sox let Monbo go, but said, "I'd always played fairly well against the Red Sox, hitting-wise" and figured that's one of the reasons Boston made the trade.
In 1966, Thomas played in only 69 games for the Red Sox and batted .237. But he had a sense of humor that was appreciated in the Red Sox clubhouse, and was a versatile, hustling player, a quality that earned him esteem in the eyes of manager Billy Herman. Many bench players complain about their lack of playing time, but Thomas accepted his role and came ready to play every day. He was comfortable in the role of utilityman. When a brief injury to another player gave him the chance to play four games in a row, and the injured player was ready to come back, he jokingly demanded of his manager, "Dick, I can't play all these games. Bench me or trade me!"5
Before the 1967 season, New England fans were hopeful for a change in fortune for the Red Sox. In 1966, the Red Sox had finished with a dismal 72-90 record, but had played very well in the second half. A group of rookies from Toronto, the Red Sox Triple-A farm club, seemed poised to add more enthusiasm and life into the Sox lineup. Thomas made the 1967 club in his utility role, mainly backing up at the three outfield positions, and he added valuable experience in the dugout. However, on May 7, Thomas broke his finger attempting to catch a line drive and was sidelined for about four weeks. When he returned, Thomas resumed his utility role.
By this time, he'd played every position on the field except pitcher. He'd both pitched and played shortstop in high school ball. Did he ever talk to anybody about letting him throw an inning? "Not really. You didn't want to do that because you didn't want to make a farce out of the thing." He remembered, though, that while with Los Angeles, "Bill Rigney almost made me a pitcher after I had some trouble coming back after the service. He'd send me down to the bullpen to warm up and all that, but I never got in."
One of the ways that Thomas relaxed in the clubhouse was to be involved in a season-long bridge game with Carl Yastrzemski, Jim Lonborg and other players. During the season, in the heat of the pennant race, Thomas quipped from the bench, "This is the best pennant race I have ever watched."
There was a role to be played even from the bench, though. Thomas always had a good rep as a clubhouse guy, helping keep others loose. He might have even helped a bit with Dick Williams. "Dick was a very strict guy, but he'd loosen up if you jabbed him a couple of times. That's kind of the thing. You sit on the bench, and you look at guys that are playing, and you try to be positive to them at all times. Some guys are tired, can't do any yelling and screaming out there, cheering along, so some of us did that."
George had been player rep for a year with Detroit. For the 1967 Red Sox, he roomed with Boston's player rep, Jim Lonborg. It helped that he could keep things light. Before the Series, at a team dinner, Thomas gave the following advice to Yastrzemski: "Don't get overconfident because right now we have the same average in the World Series – .000."6 Although the Red Sox lost the World Series to the Cardinals in seven games, Thomas was able to participate, although hitless in two at-bats.
After the 1967 season, during which Thomas became the father of a second daughter, he was left off the Red Sox' 40-man roster, and in April 1968 he was assigned to Louisville, the Red Sox Triple-A affiliate, where he played most of the season, appearing in only 12 games for the parent club in September. After the season, Thomas was not selected in the expansion draft by either of that year's two new teams, and it was a surprise to some that he made the Red Sox' opening day roster for 1969. Thomas's sense of humor was on display in spring training. When Thomas noticed that Cincinnati catcher Johnny Bench had his surname on the back of his jersey, he joked, "Oh, I see we both play the same position, only you have it written on your uniform."7
As for himself, Thomas was just happy to have a chance to play in the major leagues. and to be on a fairly competitive team, which the Red Sox became. Thomas related, " You can be on a last-place team and get to play a lot, but you're not really going anywhere. I'd rather have been a part-time player on a winning team. You'd gear yourself up for being the fourth outfielder, fifth infielder, second third baseman, or whatever. Catcher. That was another thing that I really enjoyed doing."
George really appreciated Bill Rigney as manager, but gives Dick Williams the edge as the best he'd worked under. "He really got us into the World Series. He had some discipline…and he used a lot of people in the game. That was what made us a good team. He did keep you in the game. It gave some of the guys a rest, the guys who would be playing [nearly] full time."
In June, 1969, Thomas was made a player-coach and remarked that "when I am out after the curfew, it is in my capacity as a coach, not a player."8 In late June, Thomas tore ligaments in his knee and did not play again until the last game of the season. He had hit .353 in his 51 at-bats. He stuck with the team as a bullpen coach through the end of the season.
After the 1969 season, the Red Sox sent Thomas outright to Louisville. In spring training of 1970, he attempted to earn a spot on the roster, but broke his wrist. He was named a coach from March 30 to June 10.] and was also available for active duty as a player in an emergency situation. When called upon to platoon at third base with Dick Schofield in June, Thomas, with mock disappointment, kidded that it was too bad he had to play[,] because he had just been compiling a list of greatest games he had seen from the bench.9 Thomas was also able to find humor in bleak situations. After an argument with umpires in Detroit, Thomas responded with crude language, which earned him a $200 fine and a five-day suspension. When the Red Sox won five out of the next six games, Thomas remarked, "It appears Joe Cronin (then the American League president) has found the weakness in this club. Me!" He later added about his penalty, "Maybe I did the $200, but I don't think I did five days worth."10 Thomas again played well in part-time work, hitting .343 in 99 at bats, with two home runs. Thomas's value was shown when he was honored as the team's unsung hero by the Boston baseball writers after the season. At the writers' dinner, he joked that his goal for the following season was to play in two games in a row for a change.11
Thomas played in only nine games for the Red Sox in 1971 (hitting 1 for 13) and was released on June 28th He signed with the Minnesota Twins two days later, but played in only 23 games and was released at the end of the season. Later, he became the assistant baseball coach at the University of Minnesota for 10 years, resigning in 1981.12 He subsequently worked for an audiovisual company in the Minneapolis area until his retirement at the turn of the century. He now enjoys splitting his time between condos in Wisconsin and Florida, and getting in a fair amount of tee time.
Daughter Kristin is the one with the strongest interest in baseball, and she made national television during the 2004 World Series carrying a placard reading THE IMPOSSIBLE DREAM and GEORGE THOMAS FAN CLUB.
Clearly, George Thomas had a great effect on the teams he played for. Although his statistics did not compare with those of Yastrzemski or George Scott during the Impossible Dream season of 1967, his behind-the-scenes contributions helped to re-energize the New England region about Red Sox baseball. A quote from Thomas summarizes the feelings of almost every Red Sox fan about the 1967 season: "It's like having a child, or getting married. It's a part of your life. A golden moment that never can be duplicated. It just never will. People say they know how you feel. But they don't. They can't." For those of us who lived through that magical ride to the World Series, through the Bill Rohr near no-hitter, the Jose Tartabull throw to nip Ken Berry at the plate, and the Rico Petrocelli catch of Rich Rollins' popup to clinch a tie for the pennant, George Thomas deserves thanks for letting us be a part of the fun on that journey.
Note
This biography originally appeared in the book The 1967 Impossible Dream Red Sox: Pandemonium On The Field, edited by Bill Nowlin and Dan Desrochers, and published by Rounder Books in 2007.
Sources
Interview with George Thomas by Bill Nowlin, June 1, 2006. All otherwise unattributed quotations come from this interview.
Coleman, Ken and Valenti, Dan. The Impossible Dream Revisited. Alpine Press Inc. 1987.
Crehan, Herbert F. and Ryan, James W. Lightning in a Bottle — The Sox of '67. Branden Publishing Company, Boston. 1992
Reynolds, Bill. Lost Summer — The '67 Red Sox and the Impossible Dream. Warner Books Inc. 1992.
Notes
1 The Sporting News. "Tigers Take Aim at First Top Four Finish Since '50" Watson Spoelstra, September 18, 1957.
2 The Sporting News. "Al Kaline Off to Flying Start on Comeback Trail" Joe Falls, March 1, 1961.
3 The Sporting News. "Thomas Boys Tie Package of T-N-T to Angels at Dish" Braven Dyer, August 11, 1962.
4 The Sporting News. "Smith, Thomas Fit Hub Plan for Speed" Roger Birtwell. October 23, 1965.
5 The Sporting News. "What Baseball Badly Needs: Some First-Class Clowns" Ray Fitzgerald, March 21, 1981. Amplified in the June 2006 interview.
6 The Impossible Dream Revisited. Ken Coleman and Dan Valenti. The Alpine Press, 1987.
7 The Sporting News. "Petrocelli's Hot Bat Wrote Year's No. 1 Story in Hub" Larry Claflin, November 8, 1969.
8 The Sporting News. "Let George Do It…Red Sox Find That's Good Advice" Larry Claflin, August 15, 1970.
9 The Sporting News. "Experiment Ends, Kasko Sends Rico Back to Shortstop" Larry Claflin, June 27, 1970.
10 Washington Post. "Umpire Run-In Costs Thomas $200, Five Days" Associated Press, July 12, 1970.
11 The Sporting News. "Operation Big-Switch–Will It Boost The Red Sox?" Larry Claflin, February 13, 1971.
12 Lost Summer — The '67 Red Sox and the Impossible Dream. Bill Reynolds. Warner Books, Inc. 1992.
Born
November 29, 1937 at Minneapolis, MN (USA)
If you can help us improve this player's biography, contact us.
/wp-content/uploads/2020/04/no-bio.jpg
600
800
admin
/wp-content/uploads/2020/02/sabr_logo.png
admin
2012-01-04 20:33:18
2012-01-04 20:33:18
George Thomas