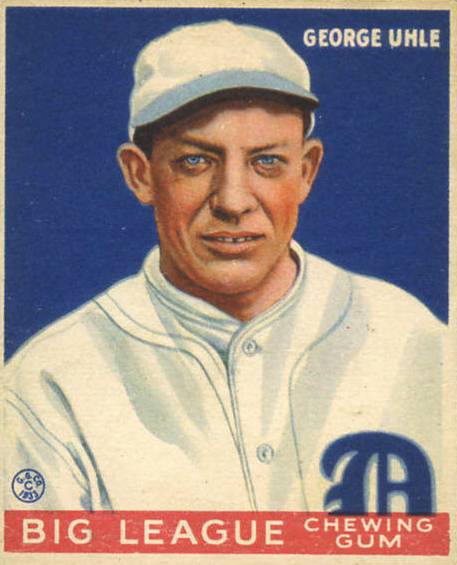 ---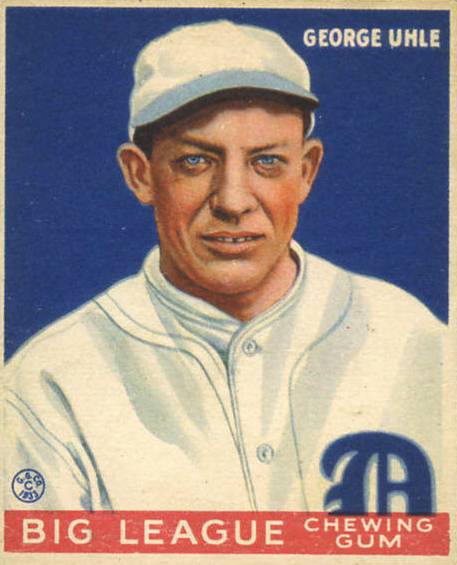 It was almost unheard of; the notion of walking a batter to face Babe Ruth. Wanting to face the Great Bambino with two runners on the basepaths in the ninth inning? Was this mock heroism or someone eager to meet disaster? Certainly such a scene was never played out. Tris Speaker laughed. "Don't be so sure," he said. "Maybe it only happened once, but it sure happened."
Spoke picked up the story, as told to Regis McAuley of the Cleveland News.  "We were in the ninth inning one day, leading the Yankees by one run, but they had the tying run on second base. Mark Koenig was the batter and George Uhle the pitcher. Ruth was on deck. Out in center field, I didn't think anything was unusual when Uhle's first pitch was a low curve for a ball. But when the second was two feet outside, I figured it was time to have a talk with George."
" 'Are you nuts?' I asked him. 'Make this fellow hit the ball. Don't you know the gentleman who will be up next if you walk Koenig? Uhle said, 'Tris, I'd rather pitch to Ruth than to Koenig anytime. I thought I would try to get Mark out on a bad pitch, but if I walk him, I'll still be all right. I can take care of the big fellow.' "
" 'Okay,' I told him, 'but if that's the way you feel about it, let's tell Ruth.' I walked toward the plate and motioned O'Neill out of the catcher's box. 'We're putting him on, Steve,' I said. 'George would rather pitch to Ruth.' The big fellow's neck turned purple and he really was cutting when he stepped to the plate. George gave him two curves on the inside and he fouled them over the stands in right. Then he worked the count to 3 and 2. George broke off a beautiful curve. The Babe started to lunge at it, then tried to hold his swing. But it didn't make any difference. The umpire yelled strike three.
"In the clubhouse, everyone was slapping Uhle on the back and some of the boys thought I must be a great manager for figuring out a strategy like that. 'George,' I said, 'that was terrific. But please do me a favor. Never try it again. I don't want to have a heart attack in center field. And I'll never come closer than I did while you were pitching to that big guy.'"
Babe Ruth faced off against Uhle more than any other pitcher, with 110 at-bats. Of Ruth's 714 career home runs, he got only four off Uhle. Uhle had the second most strikeouts of Ruth by a pitcher, with 25. Only Lefty Grove had more, 27. Although Ruth batted .336 against Uhle, he credited George with being the toughest pitcher he ever faced. Many other American League batters probably had the same rueful opinion.
 George Ernest Uhle was born on September 18, 1898, in Cleveland, Ohio. He was the oldest of two sons born to William and Carrie Uhle. (The other son was Carl.) William Uhle worked as a switchman for the railroad. After Uhle graduated from Cleveland West High School, he played with semipro teams in the Cleveland area. Eventually, he played his way to the top level, pitching for the Standard Parts team. Playing for Standard Parts also meant that Uhle was employed, working at the company during the week. "We were as good as any Double-A or Triple-A club in the minors," he once recalled. "We had five former major leaguers, all Clevelanders, playing for us: Jim and Frank Delehanty, Del Young, Glenn Liebhardt, and Heinie Berger."  
It was Liebhardt who suggested to Cleveland Indians President Ernest Barnard that Uhle get a tryout with the team. Uhle, who threw a fastball and a side-arm curve, reported to Heinemann Park in New Orleans for spring training in 1919. "I made them put in the contract that they couldn't send me to the minors," he said. "If I wasn't good enough for the majors I wanted my release. I figured I could do better working at Standard Parts." In later years, Uhle regretted this decision. After his first two years of not getting regular work, he felt that that a couple of years in the minors would have helped his development as a pitcher.
Uhle impressed Indians manager Lee Fohl, and was given a spot on the pitching staff. During an exhibition game against Tulane University, he called in his infielders and outfielders. As the players stood around the pitching mound, Uhle proceeded to strike out the side. Jim Bagby, the staff ace, was also impressed by the youngster. "Boys, I want to tell you that we are going to have a mean pitcher in that boy Uhle," said the veteran right-hander. "I have seen some real stuff in my day, but if that side-arm ball of his does not get him by, I'm going to be a greatly surprised man."
Fohl handed the ball to Uhle in the fourth game of the 1919 season, and George responded, pitching the Indians to a 4-2 triumph over the Browns in St. Louis. To show that his debut was not a fluke, he took the hill during the opening homestand, and again pitched the Indians to a 4-2 win over the Browns. Fohl, apparently under fire from dissatisfied fans, resigned as manager in mid-July and was replaced by Tris Speaker. The Grey Eagle directed the squad from his center-field position, leading them to a 40-21 record the rest of the season. In spite of their improvement, the Indians could not catch the White Sox, finishing in second place, 3½ games behind. Uhle pitched well, getting the starting assignment a dozen times and working out of the bullpen in 14 appearances. He posted a 10-5 record, the third most wins on the staff behind Stan Coveleski (24-12) and Jim Bagby (17-11). Uhle registered 50 strikeouts, 43 walks and a 2.91 ERA in 127 innings.
Uhle soon learned that the big leagues were not the Cleveland sandlots. "I went 10-5 that first year, but they began to pound me, and I couldn't get anybody out during the first part of 1920," he said. He learned from Browns pitcher Urban Shocker that he was tipping his pitches. "And everybody in the league knows it," Shocker told Uhle. He changed his delivery, and righted himself in the second half of the season. Although Uhle finished the year with a mediocre 4-5 record, Cleveland packed plenty of punch on the mound. Bagby (31-12, 2.89 ERA), Coveleski (24-14, 2.49 ERA), and Ray Caldwell (20-10, 3.86 ERA) gave the Indians a formidable starting rotation.  
As the 1920 baseball season wound down, there was plenty of drama being played out, both on and off the diamond. On August 16 Cleveland shortstop Ray Chapman was hit in the head by a pitch from New York's Carl Mays at the Polo Grounds in New York. He was taken to a hospital, but his injury, a fracture of the left temple with pieces of bone being driven into his brain, was too much to overcome, and Chapman died. He was 29.  
Babe Ruth was establishing himself as the Home Run King, assaulting American League ballparks with 54 round-trippers. Many newspapers kept a daily log of Babe's home runs. Off the field, allegations in late September that the 1919 World Series had been thrown by eight White Sox players were rocking Chicago and Major League Baseball. All eight players were suspended for the rest of the season.
For the Cleveland Indians, 1920 was the third straight season in which they were involved in the American League pennant race. In 1918, they had finished in second place, 2½ games behind Boston, and then were runners-up to Chicago in 1919.
Tris Speaker was hoping that 1920 would be the Indians' year to claim the flag. As the days grew shorter and the air became a bit chillier in late September, Spoke's nine held a slim half-game lead over the White Sox. They took to the road to complete their schedule, with stops in St. Louis and then Detroit. Cleveland opened the first game of the trip on September 26 at Sportsman's Park with three runs in the opening inning, but the Browns chased Caldwell with five runs in the bottom of the inning. Caldwell pitched only a third of an inning before yielding to Uhle, who gave the team a much-needed boost with seven shutout innings. He aided the offense with an RBI single in the third inning, when the Indians plated three runs to take the lead for good. Cleveland swept the Browns and split a four-game set with the Tigers. Meanwhile, the White Sox, playing with a depleted squad because of the suspensions, ended the season by dropping two of three to the Browns, and finished two games behind the Indians.
Cleveland squared off against Brooklyn in the World Series, a best five-of-nine format. The first three games were held at Ebbets Field in Brooklyn, with Cleveland winning behind Coveleski in Game One, 3-1. The Robins took the next two. Uhle pitched in each of the two losses, totaling three scoreless innings with three strikeouts. The Series shifted to League Park in Cleveland, and the Indians won the Series by taking four straight. Coveleski won two of the four games in Cleveland, giving him three victories in the Series. One of the highlights of Game Five was the unassisted triple play made by Cleveland second baseman Bill Wambsganss in the fifth inning.
After the Series, on October 20, Uhle married the former Helen Schultz. They had three children, Marilyn, George Jr., and Kenneth. George Jr. was a minor-league pitcher in the 1940s with the Detroit and Boston Braves organizations.
The Indians displayed their new uniforms for the 1921 campaign, with "World's Champions" emblazoned across the front. This bit of flaunting fell flat by season's end. But for Uhle, it was a breakthrough season of sorts; he began to get a regular workload. He joined Bagby, Coveleski, and Duster Mails in the starting rotation, going 16-13 with a 4.01 ERA. Of the 28 starting assignments, he completed 13 games. But Uhle, who typically gave up more hits than innings pitched, surrendered 288 hits in his 238 innings pitched.
After losing his opening game to the Browns, Uhle won his next four games, going the distance in the last three. In the third game of the string, on April 28, an 18-5 complete-game victory over the Detroit Tigers, Uhle connected for a grand slam off Dutch Leonard in the bottom of the fourth inning. He had a 3-for-5 day at the plate, with six RBIs.
On September 24, Uhle pitched a 9-0 four-hit shutout against the Yankees at the Polo Grounds. He posted no strikeouts, but walked six batters. The victory put Cleveland in a virtual tie with New York, 2 percentage points from the lead. But the Tribe dropped six of its last seven games and finished in second place, 4½ games behind the Yankees. It was the closest they would get to first place until 1948.
If Uhle's pitching in 1921 eased any skepticism among the Indians brass or his teammates that he belonged in the major leagues, he erased any doubt in the next two years. In 1922 Uhle led the staff with a 22-16 record and a 4.07 ERA. He pitched 287 1/3 innings, completing 23 of his 40 starts. He threw a two-hitter against the Yankees at the Polo Grounds on August 22. While he struck out only three batters, Uhle was in complete control. In the sixth inning, after hitting a single, Uhle needed to have one of his shoes repaired. Backup catcher Les Nunamaker was sent into the game as a "courtesy runner" for Uhle while his show was being repaired. (While early rules allowed the use of such a runner, the last time a courtesy runner was used was in 1949.) Nunamaker was thrown out at second base, and Uhle returned to complete a 6-2 victory.  
Uhle was now without question the ace of the Tribe's staff. Bagby was released after a subpar 1922 season. Coveleski was traded away after the 1924 season. In 1923, Uhle put together a career year. He pitched 357 2/3 innings and posted a league-leading 26 wins to go with 16 losses. He led the league in complete games, going the distance in 29 of 44 starting assignments. For the first time, he topped 100 strikeouts in a season, fanning 109, but also walked 102.
Uhle was especially tough on the Yankees. In seven starts, he posted a 6-1 record with a 2.75 ERA. In 16 starts from July 10 to September 3, Uhle posted a 13-2 record. Even more astounding than his achievements on the mound was his work at the plate. Uhle set a record for hits by a pitcher with 52, and hit .361 for the year. He hit 10 doubles and had a career-high 22 RBIs. His slugging percentage was .472.   On June 1 in Detroit, Uhle went 4-for-4 with three doubles and four RBIs in a 17-4 rout of the Tigers.
Perhaps because of the 645 innings Uhle had pitched the previous two years, he complained of arm trouble at the start of the 1924 season. Uhle eventually visited James "Bonesetter" Reese in Youngstown, Ohio. Although Reese had minimal medical training or education, he had achieved a reputation in the sporting world for treating athletic injuries. It was determined that Uhle had ligament damage, and he was on the shelf for weeks at a time during the year. He still made 25 starts, recording a 9-15 record. But Speaker still found plenty of value in Uhle, frequently employing him as a pinch-hitter. And Uhle did not just bat for pitchers, but for position players as well. In 27 at-bats as a pinch-hitter, Uhle hit .407 (12 hits), with an on-base percentage of .484.
Uhle recovered somewhat in 1925, logging a 13-11 record in 26 starts. For the fourth straight year, the Tribe finished near the middle or bottom of the American League. But the next season, 1926, the Indians' and Uhle's fortunes changed for the better. He started the season by winning a tight 2-1 contest in Detroit and ended it with a 5-4 win over Philadelphia at League Park. Including those two victories, Uhle hurled his best season. He pitched his way to a 27-11 record with a 2.83 ERA. He led the league victories, innings pitched (318 1/3), and complete games (32). He reached a career high in strikeouts for a season with 159. But Uhle also led the league in walks (118) and hits given up (300). He was named pitcher on The Sporting News' All Star team for 1926.  
Uhle had a career high in strikeouts with 10 against the Browns on May 26. He contributed to the 6-4 victory with a 2-for-5 showing at the dish, hitting a home run and driving in two runs and scoring two.
The Yankees came to town for a three-game series on June 5. The next day, Speaker, who was hitting .257 at the time called Uhle over to him in the dugout. "Pinch-hit for me," ordered Spoke. "You must be joking," George told him. But Speaker insisted and Uhle grabbed a bat, and ended up flying out. "It was against the 'bloop' pitcher (Garland Braxton) and Spoke didn't like to bat against him," Uhle recalled.
Uhle won the next day, 5-2, to boost his record to 8-6. He struck out six in the effort and doubled, driving in two runs. The Indians took the series, two games to one. After the series, Cleveland won 10 of 13 to pull into second place, nine games behind New York. Over the last two months of the season, Uhle went 17-4, helping to pull the Indians to 2½ games behind New York in mid-September. But they got no closer, finishing three games back at season's end.
The 1926 campaign was the last for Speaker as the Tribe's manager and center fielder. He resigned in November, and was succeeded by Jack McCallister, a coach for the previous seven years.
With McCallister in charge, the Indians fell into the second division in 1927 finishing in sixth place, 43½ games behind New York. The Indians fielded a good hitting squad (team batting average .283). However, it was the pitching, or the lack of pitching, that proved to be their undoing. Uhle came down with more arm problems. His 22 starts were his fewest since 1921. His complete game total fell from 32 in 1926 to 10 in 1927. Uhle, who had been the workhorse of the staff, was now fourth in starts. He finished at 8-9 for the season, with a 4.34 ERA. He pitched sparingly, and didn't start between July 30 and September 4. He was finally shut down for the year on September 20. The workload from the previous year had worn him down.
Roger Peckinpaugh, a slick-fielding shortstop with the Yankees and Senators during his playing days, succeeded McCallister in 1928. The change did no good for the Indians; fortunes; they finished in seventh place (62-92-1), 39 games off the pace. Uhle started the season on a high note, winning his first four decisions, and at one pointed sported an 8-3 record and an ERA of 2.95. Included in this string was a one-hit effort against the Athletics at League Park on May 13. Mickey Cochrane's double to right field in the second inning was the only Philadelphia safety. But Uhle managed only four wins the rest of the way and finished at 12-17. He had a good year at the plate, batting .286 and driving in 17 runs.
On September 9, Uhle was suspended by Peckinpaugh for not keeping in condition. Uhle complained that a misplaced ligament was pressing against a nerve in his right arm. The team answered that Uhle's failure to observe training rules was the reason for his arm losing its strength.
It may not have been much of a surprise when Uhle was traded to Detroit on December 11, 1925, for shortstop Jackie Tavener and pitcher Ken Holloway. Tavener was to be a replacement at shortstop for Joe Sewell, who switched to third base. Holloway had been a marginal pitcher for Detroit. Both were out of major-league baseball within two years. "George wasn't a particularly good influence on one or two other players," said Tribe General Manager Billy Evans. "If his removal will help them to play better ball it will add just that much to the advantage we gain by trading him. We had high hopes for Uhle last spring. We gave him an increase of $5,000 over what he made in 1927, thinking that would give him an incentive to go in and pitch. When it didn't, we simply had to quit on him."
"I've always been an admirer of [Tiger manager] Stanley Harris," said Uhle. "A change often does one good and I'll give my best to the Tigers." 
The swap provided immediate dividends for Detroit. Uhle won his first nine games in 1929. He found different ways to win during the streak, pitching a 1-0 shutout over the Browns on April 22 at Sportsman's Park. The Tigers got their only run when a balk was called on Browns starter Jack Ogden in the first winning. On May 24 Uhle and Ted Lyons of Chicago hooked up for a 21-inning affair at Comiskey Park. Lyons went the distance. The Tigers won, as Uhle started the winning rally with a base hit in the top of the 21st. Bucky Harris lifted Uhle for pinch-runner Emil Yde. Eventually, Charlie Gehringer's sacrifice fly scored the winning tally to give the Tigers the 6-5 victory. The run ended 13 scoreless innings pitched by Lyons. Lil Stoner pitched the bottom half of the inning to save the game for Uhle, who pitched 20 innings, gave up five earned runs, struck out four, walked three, and collected four hits. "That was one of the easiest games I pitched," recalled Uhle. "I had good control that day and the White Sox had a cut at every ball I threw. It was seldom that I pitched more than five balls in an inning. I've worked lots harder in a nine-inning game." 
As impressive as the streak was for Uhle, as had occurred the season before in Cleveland, he was less effective as the season progressed. After his nine-game streak, he won only six more games to go 15-11 for the year with an ERA of 4.08. His 15 victories led the Tigers' staff. This was the last season in which Uhle had a winning record in the major leagues.
Uhle led the Detroit staff in ERA with 3.65 in 1930. He was .500 at 12-12. Vic Sorrell, Earl Whitehill, Tommy Bridges, and then later Whit Wyatt became the core of the starters for Detroit. Uhle slipped to an 11-12 record in 1931 with a 3.65 ERA. His starting assignments dipped from 29 in 1930 to 18 in 1931. In the three years with Detroit in which Uhle was primarily a starter; the team finished in the second division. The Tigers' best finish was in 1930 when they ended up in fifth place (75-79), 27 games behind pennant-winner Philadelphia.
One day while pitching batting practice, with Tigers outfielder Harry Heilman in the cage, Uhle began to experiment with a new pitch. He released the baseball off his middle finger, much like a bowling ball. "What kind of a curve is that?" asked the Hall of Fame outfielder. "Hey, that's not a curve. That ball was sliding," replied Uhle. A new pitch called the slider was created, and George Uhle took full credit for it.
Pitching almost entirely out of the bullpen, Uhle posted a 6-6 record in 1932. After making one relief appearance in 1933, he was sold to the New York Giants for $20,000. He was released by the Giants on July 8 after making six appearances. He signed with the Yankees and experienced a sort of rebirth, going 6-1 for the Bombers in six starts and six relief appearances.
Uhle returned to the Yankees in 1934, needing two wins to reach 200 for his career. He got them on May 1 in Washington and at home against the Browns on May 6. Both wins were in relief. Uhle's career record was 200-166, with a 3.99 ERA. He struck out 1,135 batters and walked 966. His career batting average was .289 with nine home runs, 60 doubles, and 187 RBIs.
After being released by the Yankees on June 1, Uhle pitched and served as a coach for the Toledo Mud Hens of the American Association. He went 2-4 on the mound. Mud Hens manager Steve O'Neill had been his catcher in Cleveland. The next season, 1935, O'Neill was named to the Cleveland coaching staff, and he replaced Walter Johnson as late in the season. In 1936 O'Neill brought Uhle back to Cleveland as his pitching coach.
When O'Neil was once again reassigned to Buffalo of the International League for 1938 and 1939, Uhle again accompanied him. He also served as a pitching coach for the Chicago Cubs and Washington Senators.
In retirement, Uhle worked as a manufacturer's representative for Arrow Aluminum Company. He enjoyed attending Indians games with clients at Cleveland Stadium. He never retired. Uhle died on February 26, 1985, as a result of a 20-year bout with emphysema. He was survived by his wife Helen, and their three children.
Sources
Alexander, Charles C. Spoke: A Biography of Tris Speaker. Dallas: Southern Methodist University Press, 2007.
Sowell, Mike. The Pitch That Killed. New York: Macmillan, 1989.
Wiley, George. "The 1920 Cleveland Indians World's Champions."
The Sporting News
Baseball Digest
Cleveland Plain Dealer
Cleveland Press
Cleveland News
New York Times
National Baseball Hall of Fame Archives
1910 United States Census Bureau
http://minors.sabrwebs.com/cgi-bin/index.php
http://www.baseballlibrary.com/homepage/
I would like to thank fellow Jack Graney SABR Chapter member Fred Schuld for his help with this project. Fred generously loaned me his personal file on George Uhle, which contained well over 100 articles on "The Bull's" career. The project would not have been as easy, or as rewarding, without Fred's help.  
Born
September 18, 1898 at Cleveland, OH (USA)
Died
February 26, 1985 at Lakewood, OH (USA)
If you can help us improve this player's biography, contact us.
http://bioproj.sabr.org/bp_ftp/images4/UhleGeorge.jpg
600
800
admin
/wp-content/uploads/2020/02/sabr_logo.png
admin
2012-01-04 20:00:11
2021-09-26 11:40:46
George Uhle