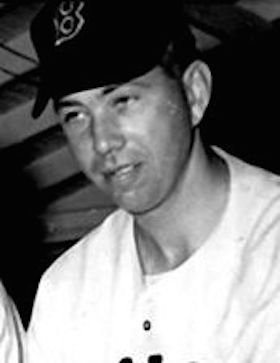 ---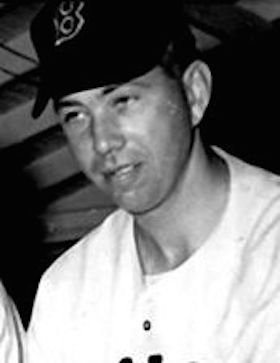 Red Sox right-hander Gordie Mueller was in the big leagues for a little more than three months in 1950. He worked a total of seven innings, over eight games, without a decision, facing 45 batters. He walked 13 of them and struck out only one. Eleven of the batters secured base hits off him, one of them a home run. His major-league career earned run average is 10.29.
Mueller only batted once in the bigs. Facing Eddie Lopat, he grounded out to the shortstop, Phil Rizzuto, who threw to first baseman Tommy Henrich.
He fielded three batted balls. On one he converted an Elmer Valo ground ball into an out at first base, unassisted. The other two were also ground balls in the direction of first, both in the ninth inning of a game against the Senators, one was a 1-3 play (earning him an assist) and the other a 3-1 play (securing his second, and final, putout.)
Mueller worked in parts of 10 minor-league seasons, with just the one shot at the major leagues.
He was born in Timonium, Baltimore County, Maryland, on December 10, 1922, as Joseph Gordon Mueller. His father, Frank Mueller, worked as a private secretary for the B&O Railroad. Frank and his wife, Kathryn, had two children, Francis J. Mueller and, two years later, Gordie.
Gordie attended Blessed Sacrament parochial school for his first eight years, and then four years at Baltimore City College, a high school. He spent three years at Loyola College in Baltimore. He had anticipated a career in accounting.1
While still in high school, he wrote, "I was scouted by Baltimore of the International League and signed with that club in 1941."2 SABR's Scouts Committee credits Alphonse "Tommy" Thomas with Mueller's signing.
Mueller was 6-foot-4 and listed at an even 200 pounds. Basketball and bowling were his two other sports, but it was really baseball that captivated him from the start. He began as a catcher, but, he said, "I soon changed my mind. One day while I was behind the plate, a kid hit me square on the nose with his bat as he drew it back to hit, and then, after he had swung and fouled off the pitch, the ball hit me right in the same place. Right then and there I decided to be a pitcher."3
He didn't get much work with the Orioles in '41, appearing in only four games for 14 innings (he was 0-1), but in 1942 he was assigned to the Class-B Lancaster Red Roses in Pennsylvania (Interstate League) and he worked 106 innings with a 3-8 record and a 4.92 earned run average. Lancaster finished fifth in the six-team league.
In the spring of 1943, he trained with Baltimore – and even pitched against the Boston Red Sox in an April 7 exhibition game in Baltimore. Starter Dick Waldt gave up four runs in five innings; Mueller gave up seven more in the final four. Boston won, 11-0.
Three days later, Gordie and his older brother Franny, a right fielder on the Orioles, played at Griffith Stadium in an exhibition game against the Washington Senators. Washington won, 5-4, thanks to the "outright gift" of a "miserable muff of Gerald Priddy's easy fly ball with the scored tied and one out." The Senators took advantage and won the game, Gordie bearing the loss.4
He had appeared in six games for Baltimore (0-1) when he enlisted in the United States Navy for the duration of the Second World War.
Mueller spent three years in the Navy – 1943-1945. In September 1945, he married Dorothy Marie Dorl, a marriage that produced five sons and lasted until her passing in 2003.
It was back to trying to make it in baseball. For the third year, he was 0-1 for Baltimore in 1946 – the same record he had posted in 1941 and 1943. Most of the year was spent with the Wilkes-Barre Barons (Class-A Eastern League), where he was 2-6 with a 4.29 ERA.
He spent the full 1947 season with the Orioles and again put up a 2-6 won/loss record, with a 5.40 ERA. He started in eight of his 31 games.
Mueller transitioned to the Boston Red Sox system for 1948, back to the Eastern League and back to Single-A ball, pitching for the Scranton Miners. He still had never achieved a winning record; despite pitching for the pennant-winners, he was 6-8 (only two of his 35 appearances were starts), but he had proved an effective reliever with an ERA of 2.50.
The Red Sox brought him to Sarasota in the spring of 1949, to throw batting practice. They moved him back up to Triple A and he had a very good year in 1949 for the Louisville Colonels, with a 10-4 record and a 3.81 ERA in 47 appearances. He was added to the Red Sox roster, and brought up to Boston at the end of the '49 season, though he saw no game duty. Louisville Colonels manager told the Boston Traveler, "That boy could have won the pennant for the Sox last September if they had used him."5
Former Sox first baseman Tony Lupien told the Boston Herald in November, "That Mueller is really great. He is the only player on the Louisville roster who will help the Red Sox next year. He is big, has a good fastball, and has a lot of guts. He's not afraid to fire that ball in there. He won 10 and lost four last year. I think he will become an outstanding relief pitcher."6
It's not as though the Red Sox seemed to need a lot of different players. They'd won the pennant in 1946 and fallen just one game short in both 1948 and 1949. In July 1948, Eddie Doherty of Scranton had told Boston, "We have the man to help you. He's been in six games in six consecutive nights. A fellow to count on."7 But he wasn't called on in 1948, and in 1949, when he was called up for the stretch drive, he was never used.
Mueller worked over the winter of 1949-50 driving an oil truck, "just to get toughened up for a shot at the big show."8
He really hoped to make it. Before the 1950 season began, he said, "Every kid dreams of being a big league ball player, but it's not until you actually live and work with a big league club that you realize just how much you want it."9
Aside from those destined for the staff, Mueller was one of seven pitchers also hoping to make the team, effectively competing in the exhibition season against Dave Ferriss, Bob Gillespie, Earl Johnson, Walt Masterson, Al Papai, and Jim Suchecki. It looked as though he and Charley Schanz would make the team. He said, "Of course, I'd like to be a starting pitcher, but if staying with the club means I'll have to pitch in relief, I'm just going to love that bullpen."10 Catcher Birdie Tebbetts said, "All Mueller needs to make him a dependable relief pitcher is more work…Gordie showed enough to indicate that he knows what it's all about out there on the mound, and, given the opportunity, he should be able to prove himself."11
His debut came in relief on April 19, during a 16-7 second-game drubbing by the Yankees in a doubleheader at Fenway Park. It was 7-4 when he entered the game in relief of starter Ellis Kinder. There were two Yanks on base and one out. He walked one batter, then walked in a run before securing the two outs. He got one out in the top of the seventh, but then walked a batter and gave up back-to-back singles before being relieved. It was one of those games in which no pitcher seemed to be able to stop the onslaught.
He had made the team, but was optioned to Louisville on May 14, after pitching in five games and accumulating 5 1/3 innings with a 10.13 ERA. "He was a heart-broken young man as he cleaned out his locker," wrote the Herald's Drohan.12
After a couple of months working for Louisville (4-3), he was recalled to Boston on July 17 and Charley Schanz was sent out to Seattle. He added another inning and two-thirds to his resumé, pitching on the 18th, 19th, and 21st, but pitched pretty much to the same effectiveness as before, giving up three earned runs in that time. A day or two later, he was optioned to Louisville again and Jim McDonald was called up.
All told, Mueller relieved in 39 games for Louisville in 1950, 7-4 with a 3.71 ERA. In November, to make room for incoming player Lou Boudreau, his contract was sold outright to Louisville.
He worked in 45 games, all but two of them in relief, for the 1951 Colonels, to a 3.64 ERA, and split the 1952 season between Ottawa and back in Baltimore. His arm bothered him and he only got in 20 innings of work. He was 1-0 for the year.
Mueller no longer played after the 1952 season. His arm was not what it had been, and he had a growing family. His son, Mark, citing some of the rigors of minor-league baseball, said, "It was a struggle for a young father. He would tell us the stories, of the constant moving, the call-ups from Double-A and Triple-A, to the big show in Boston, back to Triple-A, back up to Boston and back down. It was lousy pay, with my mother taking care of the babies alone, setting up new home after new home, alone while Dad was on the road."13
At first Mueller went into supervising home construction on the Eastern Shore of Maryland. He stayed on the Baltimore roster through the 1953 season, and on the restricted list. His contract was part of a sale of 14 players (five of them on the restricted list) to Richmond for $50,000 in January 1954, as the St. Louis Browns franchise moved to Baltimore.
Jacques Kelly's comprehensive obituary in the Baltimore Sun provided details of Mueller's life after baseball: "In 1954, he joined Lardner & Wich, a construction firm, and became its executive vice president in 1963. He became the leading agent for the Perring Parkway Shopping Center in the mid-1960s and later sold and leased commercial real estate for W. C. Pickard & Co. and was state director for Maryland and Delaware in the International Council of Shopping Centers."14
For 20 years he ran his own firm, J. Gordon Mueller & Co, which he founded in 1976, signing up tenants for shopping centers at Padonia Village in Timonium, Ellicott City's St. John's Plaza, and Towson's Kenilworth Bazaar. He retired in 1996.
His wife Dorothy died in 2003.
Gordie Mueller died of heart disease on September 7, 2006, at the Stella Maris Hospice in Baltimore.
He was survived by five sons: Mark, Robert, Don, Gordon, and Tom, as well as 15 grandchildren and 11 great-grandchildren.
Mueller is buried in Timonium.
Sources
In addition to the sources noted in this biography, the author also accessed Mueller's player file and player questionnaire from the National Baseball Hall of Fame, the Encyclopedia of Minor League Baseball, Retrosheet.org, Baseball-Reference.com, Rod Nelson of SABR's Scouts Committee, and the SABR Minor Leagues Database, accessed online at Baseball-Reference.com.
Notes
Born
December 10, 1922 at Timonium, MD (USA)
Died
September 7, 2006 at Baltimore, MD (USA)
If you can help us improve this player's biography, contact us.
/sites/default/files/MuellerGordie.jpg
600
800
admin
/wp-content/uploads/2020/02/sabr_logo.png
admin
2016-06-15 12:19:02
2016-06-15 12:19:02
Gordie Mueller