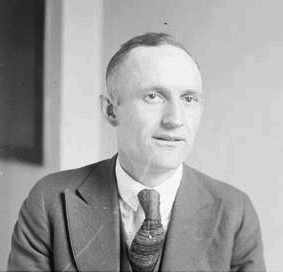 ---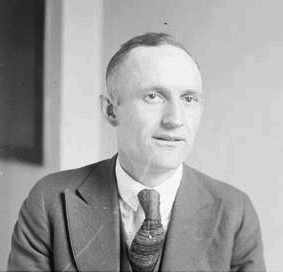 Grover Cleveland Baichley was one of a handful of United States soldiers who started playing professional baseball while serving in the Philippines before World War I then saw some time in the Major Leagues. However, in Baichley's case, that time was only four games.
Born December 10, 1889, in Toledo, Sumpter Township, Cumberland County, Illinois, Baichley was named after the 22nd President, who was serving the last year of his first term in 1889. Baichley's father, John W. Baichley, was born in Ohio in 1858 and worked as an expressman for the Interurban Railroad. His mother, Minnie Darling, was born in Illinois in 1858 and took in laundry as a washwoman. The family lived on West Kentucky Street in a home owned by John's father, Fred Baichley, a retail liquor dealer and broom factory operator, who was born in Switzerland in 1830 and came to the United States with his parents in 1831. Grover Baichley had one sister, Lizzie A. (born 1882), and five brothers: John Carlyle "Lyle" (born 1886, a barber), Lewis S. (born 1888, a restaurant proprietor), Sidney L. (born 1889, a baker), Chaney (born 1893), and Clarence (born 1895). Everyone in the family could read and write, and Baichley may have attended Valparaiso University, but the school has no remaining record of him. As a young man, Grover worked as a grocery clerk and also began playing baseball for the Mattoon and Shelbyville, Illinois, independent teams, making a name for himself as a right-handed pitcher.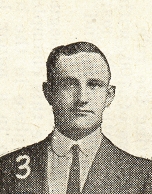 Baichley enlisted in the United States Army on March 1, 1911, at Jefferson Barracks, Missouri (age 21 and 2 months). Army records list his height as 5'7½" and weight as 165 pounds. He had brown hair and brown eyes. Baichley was assigned to the 13th Infantry, company K, Fort William McKinley, just south of Manila in the Philippines. Records list his occupation as "musician" (his brother was a trombonist); however, he spent much of his time playing baseball. At first, he played only for his company team, but his skills soon attracted interest from the All-Army team in the professional Manila League. In the Philippines, baseball season ran from Thanksgiving through July 4 to avoid the worst typhoons. During the 1912-1913 season, Baichley pitched twice for the Army and filled in twice for the Manila team, which was made up of U.S. civilians, but military duties largely kept him away from the professional game. During the 1913-1914 season, he became a regular member of the All-Army team as their number-two pitcher. Joseph Coffindaffer, the ace, was widely respected in the Philippines, played minor league ball for several years, and had two unsuccessful tryouts with the Pittsburgh Pirates. When not on the mound, Grover Baichley often appeared in the outfield. Manila League players were paid a percentage of the gate receipts, typically around $45-$60 per month.
Opening day for the 1913-1914 Manila League was special because league shareholders had invested several thousand dollars to build a new field that fall, in preparation for the Chicago White Sox and New York Giants World Tour visit in December. The new field—Nozaleda Park—was part of the public carnival facility and could accommodate more than 3,000 spectators. During the first half of the 1913-1914 Manila League season, Baichley made eleven appearances for the Army team. His pitching record was 4-3, averaging over seven strikeouts per game. Two of his victories were shutouts, and he allowed only one run each in the other two. Of the losses, one game was lost by only 1 run, and the other two were lost by 2 runs. Manila's four English-language newspapers widely praised Baichley for pitching "air tight ball." Offensively, he had 25 at-bats, with 6 hits (including a triple), 4 runs, and 2 stolen bases. He struck out 6 times. His .240 batting average was 11th highest in the league and above his team's .235 average. His fielding percentage was .933. Army won the first half of the season 21-16.
Before the second half of the season began, Corporal Baichley was discharged on February 28, 1914, at Ft. Santiago, Manila. While waiting for the next transport home, he continued playing baseball for the Army team and pitched in three more league games: March 1, winning 2-1 against Manila; March 7, winning 4-2 against the 24th Infantry; and March 14, winning 3-1 against Manila. The second of these games is particularly interesting because the 24th Infantry was an all-black team, only allowed into the Manila League beginning February 28, 1914, to replace the Marines team, which had shipped out. Baichley gave up only two hits to the black soldiers, and two of the men who went hitless were future Hall of Famers Oscar Charleston (cf) and Wilber Rogan (p). Baichley struck out 7, but Rogan struck out 8. Offensively, Baichley walked, stole a base, and scored.
Immediately after his final appearance in Manila on March 14, Baichley boarded the transport ship Sherman, which was held in port until the pitcher finished his game. After stops in Hong Kong and Honolulu, the Sherman arrived in San Francisco about four weeks later. The Manila Cablenews-American reported, "After being discharged Baichley plans to return to Illinois, his native state, and will rusticate amongst the corn-stalks for a while." He planned to try out for the Streator team of the Illinois State League; however, he found a place with the Champaign Velvets of the Illinois-Missouri League instead.
The Class-D Illinois-Missouri League season was scheduled to run May 12 through August 9. Pitching for Champaign, Baichley compiled an impressive streak of wins. On June 10, 1914, in his sixth appearance since leaving the service, he pitched an 11-strikeout no-hitter, allowing only one base on balls, shutting out the Lincoln Abes, and bringing his record to 6-0. During the first three weeks of July, several scouts followed the Champaign team, including R. F. Kinsella, a scout for John McGraw's New York Giants, who inquired about the pitcher's contract. McGraw had met Baichley and perhaps seen him practice in the Philippines during the 1913 Giants/White Sox World Tour. After Baichley won his fifteenth game on July 19, Tom Hayden, president of the Burlington (Iowa) Pathfinders of the class-D Central Association, bought his contract. Since Hayden was also purchasing agent for the St. Louis Browns, everyone assumed the former soldier was bound for the Major Leagues. On July 21, he took the morning train to Burlington. His league record of 15-2 (.882) and 174 strikeouts was the best in the 1914 Illinois-Missouri League.
In his first game with the Pathfinders, on July 24, Baichley struck out ten and only allowed three hits plus two bases on balls and one wild pitch, leading his new team to an 8-1 victory against Rock Island. He also got a hit and scored a run. In a July 26 loss to Muscatine, Baichley struck out 14 men for Burlington, but gave up 10 hits. In an August 3, 3-2 loss to Clinton, Baichley scored one of his team's two runs. The pitcher's big break came on August 12, when the Burlington Pathfinders defeated the American League St. Louis Browns 5-4 in an exhibition game. By August 17, Baichley had won 15 of his 20 games (for Champaign and Burlington combined) with an impressive 220 total strikeouts—bringing his two-league season total to 394. As expected, St. Louis Browns president Robert Lee Hedges called him up to the Majors.
Baichley's first game with the St. Louis Browns was on August 24, 1914, and his last would be September 4, 1914. During that span, he appeared in four games for a total of 7 innings. He faced 29 batters, giving up 9 hits and 5 runs (4 earned, but no home runs). He struck out 3, walked 3, and threw one wild pitch, but did not hit any batters. His ERA was 5.14. Offensively, he struck out in his only at-bat. The four games he appeared in were August 24 and 25 vs. Philadelphia, August 31 vs. Boston, and September 4 vs. Detroit. One of the games against the Athletics was already long lost before Baichley went in. After these four disappointing appearances, the Browns returned Baichley to Burlington, though he did not play again until spring.
Still interested in Baichley, the Browns purchased his contract from Burlington in December 1914, but ultimately he did not return to the Majors. Instead, he returned to Burlington for the 1915 season and led the team to the Central Association championship, their first pennant since 1909. Baichley's 23-10 (.697) record and 310 total strikeouts led the league. He batted .221. Managed by Dick Rohn, the team record was 81-34, for a .704 winning percentage. The 1916 Spalding Guide featured the team's photograph (page 276, Baichley is number 3):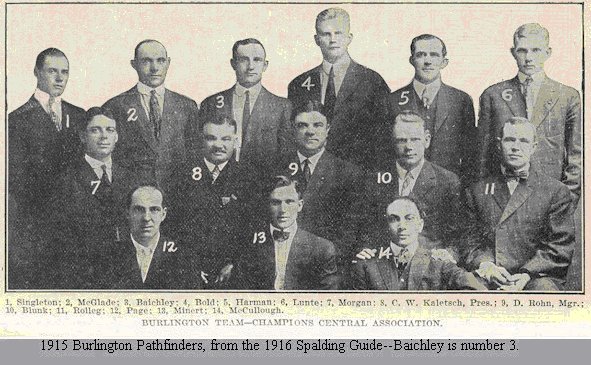 During the 1915 season, some controversy arose in the Central Association over teams signing players who had spent too much time in the major leagues. Baichley's four games with St. Louis obviously did not pose a problem.
The Pathfinders struggled financially in 1916. In late June-early July, the Cedar Rapids Bunnies tried to purchase Baichley and two other players for $1,000, but Burlington businessmen blocked the deal, trying to save their team. Unfortunately, their efforts were short-lived. Succumbing to financial trouble and lack of local interest, the Pathfinders forfeited their Central League franchise on July 10, 1916. At the time, they were in third place, with a 39-29 record. When the Burlington team folded, the Cedar Rapids Bunnies paid $800 for three players, including Baichley.
Once with Cedar Rapids, Baichley began having arm trouble and only pitched in a few games, appearing mostly in the outfield. Over the winter, he claimed his arm had recovered, and the Bunnies retained him for 1917. He reported to Cedar Rapids on April 1, and the team began training April 12. Baichley's arm had not fully recovered, so manager Billy Collins kept him on the bench during pre-season games, then played him in the outfield during the May 6 season-opening doubleheader. Whether Baichley decided to leave the team because he was not pitching or because the United States had declared war on Germany on April 6 is unclear, but on May 15, 1917, he volunteered for the First Officers' Training Camp at Ft. Sheridan, Illinois, and was assigned to the fourth company. On May 26, 1917, he also registered for the WWI draft. Upon finishing Officers' Training on August 15, 1917, Baichley began active duty as a first lieutenant. He was assigned to the 363rd Infantry, which formed at Camp Lewis, Washington, on September 5, 1917, as part of the 91st Division, one of 16 "National Army" Divisions created by General Order No. 101. The regiment trained to become front-line soldiers, but Baichley's primary duty was with the Infantry Reserve Corps and the camp baseball team, so he never left the United States. He was honorably discharged on February 28, 1918. The rest of the 363rd shipped out to enter the war in France on May 6, 1918.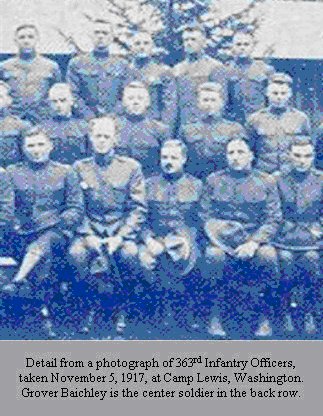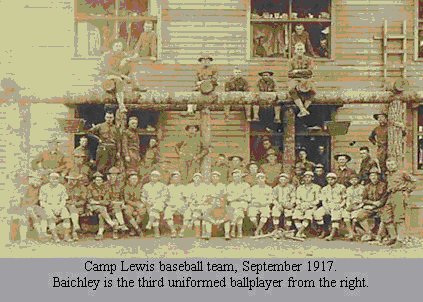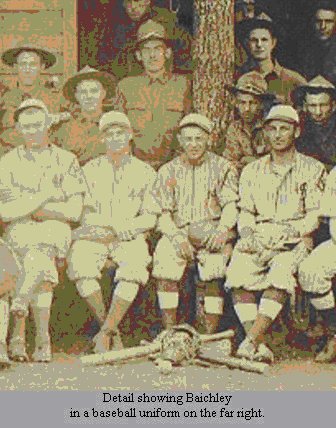 After leaving the Army, Baichley moved to northwestern Indiana to live near his brother Lyle, a prestigious local barber and musician in Logansport. It is unclear if or where Baichley might have played ball during the 1918 season. Because of the war, many local teams had discontinued, and war news and paper shortages prevented local newspapers from reporting semi-pro baseball scores. In the fall, Baichley taught shorthand at the new Office Training Department of Hammond Business College. In September, he and Carlyle traveled to Chicago to attend the first three games of the World Series between the Boston Red Sox and the Chicago Cubs, played at Comiskey Park.
In 1919, Baichley resumed playing semi-professional baseball and pitched for the Hammond, Indiana, team in the East Chicago League. He started the season strong, winning his first two games. In a 2-1 victory against the Roseland Eclipse on June 1, he struck out 11 and gave up only 6 hits. He was also leading his team in hitting. In early June, he began having trouble with his fingers but continued pitching well. In a June 15 game against Ragens, he had already struck out 15 by the eighth inning, when he was hit by a batted ball and had to leave the game. After that, he struggled and seldom played. In a July 13 game against Joliet, he gave up 4 hits and 2 runs in the first 1 1/3 innings and had to be pulled from the mound. On September 1, he struck out 10 against the Logan Squares but also gave up 8 hits and lost 7-0.
Sometime after the war, Baichley also began working as an accountant for Western Electric in Chicago. He was living in the city by 1920, when he started pitching for manager Bill Niesen's semi-professional Chicago Pyotts, who played against various professional and semi-pro teams in the Chicago area, including several games against Rube Foster's Chicago American Giants. Baichley seemed more himself and pitched well in most games. In fact, the July 3 Logansport, Indiana, Pharos-Tribune even lauded him as "one of the best semi-professional pitchers in the game this season . . . a strong, athletic young man who keeps in training at all times." The paper specifically praised his "headwork and experience." Around that time, the Logansport Ottos were trying to sign Baichley, but Niesen would not release him from the Pyotts.
In 1921, Baichley remained with the Pyotts, competing in the Midwest Association and finishing in third place with a 17-12 record. They fared well in non-league games too. On August 24, Baichley claimed a 7-4 victory against Rube Foster's Chicago American Giants, and on September 7 he hit a home run in a 6-5 win against the Cuban Stars.
This was also a good year for Baichley personally. On June 20, 1921, he married Nell O'Day. She had been a rural schoolteacher in Trilla, Illinois, just ten miles northwest of Toledo, but she was working as a bookkeeper for Western Electric and living in Oak Park when they married. The couple remained together for thirty years but had no children.
At the start of the 1922 season, Baichley was still with the Pyotts. In April, the Logansport Pharos-Tribune called him a "hurler supreme" and named the Pyotts "one of the strongest Semi-pro clubs in the Windy City." Baichley opened the season on April 9, with a 9-6 victory against the Simon club of Kenosha, Wisconsin. But after that, he struggled, due to lower strikeout counts and weak offensive support. By August, he was playing for the Chisholm, Wisconsin, team.
Baichley appears in few box scores in early 1923 but returns strong for the last part of the season, pitching for the Canton (Ohio) Terminals of the Midwest Association. In fact, on August 24, "the old strikeout king" threw a 7-inning 2-0 no-hitter against his former team, the Pyotts, and walked only one batter. The game was called due to darkness.
Baichley began the 1924 season pitching for the Eagles, the Pullman Car Company team in Chicago. In mid-summer, he moved to the Cermaks, also in Chicago, and by August 15 his record with the team was 20-3. On October 4, in a game against the Chicago Blues, he struck out 18 batters, but the game ended in a 1-1 tie. That season, he also defeated the Chicago American Giants 4-2 and 7-6, and struck out 15 in a 3-1 victory against the All-Chicagos. Baichley began the 1925 season with the Cermaks. On April 12, he pitched a 4-0 shutout against Joe Green's Chicago Giants, in a benefit game to aid Illinois tornado victims. Later in the season, Baichley shifted to the Chicago Blues and remained with them into 1926, but shows up in no box scores after late July.
After his playing days were over, Baichley continued working as an accountant for the Hawthorne Works offices of Western Electric in Chicago for several more years. In 1939 or 1940, he and his wife moved to Tacoma, Washington, and bought a ten-acre farm six miles north of town. Grover's brother Sidney (a baker for a lumber company) and his wife Grace already lived in the area. Nell died at home in Tacoma on June 20, 1951, on the couple's thirtieth wedding anniversary. She was 54. Her body was returned to Illinois for burial. After his wife's death, Baichley moved near other siblings in Santa Clara, California. On June 28, 1956, he committed suicide by shooting himself in the head at 12:30 p.m.; he was buried a week later on July 6 in the Golden Gate National Cemetery, San Bruno, California. At the time of his death, he was 66 years old and had been living in the Georgian Guest House in Santa Clara for about a year.
Sources
Census and Military records on Ancestry.com
HOF player file
SABR Minor Leagues Database
1916 Spalding Guide
Baseball Magazine
Sporting Life
Sporting News
Albert Lea, MN, Evening Tribune
Cedar Rapids, IA, Evening Gazette
Cedar Rapids (IA) Republican
Chicago Daily News
Chicago Defender
Chicago Tribune
Decatur, IL, Daily Review
Hammond, IN, Lake County Times
Hammond (IN) Times
Janesville, WI, Daily Gazette
Logansport (IN) Pharos-Reporter
Logansport (IN) Tribune
Manila Bulletin (PI)
Manila Cablenews-American
Manila Times
Mattoon, Il, Daily Journal-Gazette
New York Times
Philippines Free Press
Pittsburgh Courier
Racine, WI, Journal-News
Waterloo, IA, Evening Courier
Waterloo, IA, Times-Tribune
Cumberland County Historical & Genealogical Societies of Illinois. Cumberland County History, 2nd ed. Greenup, IL: The Cumberland County Historical & Genealogical Societies of Illinois, 1973.
Robert L Finch, L.H. Addington, and Ben M. Morgan, eds. The Story of Minor League Baseball: A History of the Game of Professional Baseball in the United States with Particular Reference to Its Growth and Development in the Smaller Cities and Towns of the Nation—the Minor Leagues. The Record of Championship Performances from 1901 to 1952. Columbus, OH: Stoneman Press (Published for the National Association of Professional Baseball Leagues), 1953.
Fred Girton, The History and Achievements of the Fort Sheridan Officers' Training Camps. Published by The Fort Sheridan Association, 1920.
The Northwest (a publication of the Northern Pacific Railway Company, Dept. of Agricultural Development), 1940.
"The People of San Francisco Welcome Home the 363d Infantry," ceremony program from April 22, 1919.
Full Name
Grover Cleveland Baichley
Born
December 10, 1889 at Toledo, IL (USA)
Died
June 28, 1956 at San Jose, CA (USA)
If you can help us improve this player's biography, contact us.
http://bioproj.sabr.org/bp_ftp/images3/BaichleyGrover1.jpg
600
800
admin
/wp-content/uploads/2020/02/sabr_logo.png
admin
2012-01-04 20:25:05
2012-01-04 20:25:05
Grover Baichley