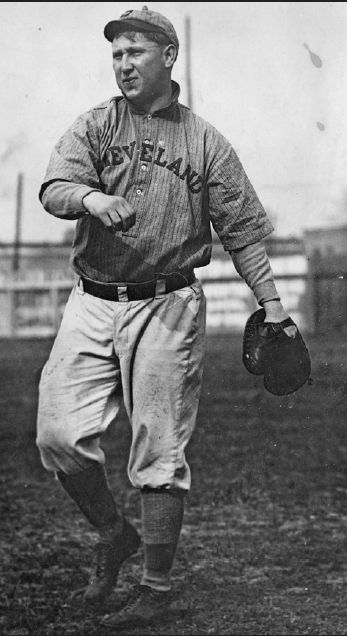 ---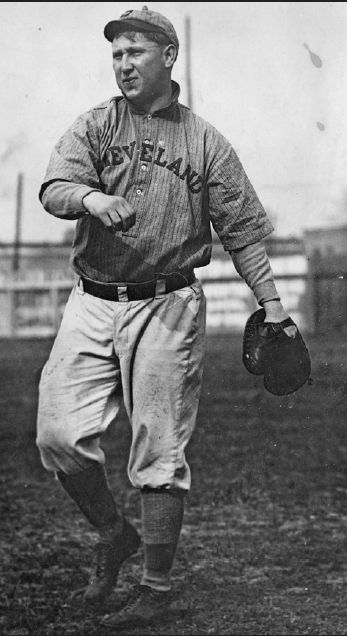 Like many marginal ballplayers from the Deadball Era, Grover Land has been largely forgotten with the passage of time. His career as a player and coach spanned 27 seasons (1904-1930). He logged seven years as a major leaguer, the first five as backup catcher for the Cleveland Naps in the American League and the last two as the primary catcher for the Brooklyn Tip-Tops of the "outlaw" Federal League. His well-traveled minor-league career consisted of parts of 13 seasons. He spent seven years as a coach with the Pittsburgh Pirates, Cincinnati Reds, and Chicago Cubs. The highlight of his career was serving as a coach for the 1929 pennant-winning Cubs, his only World Series experience. Grover Land is best remembered for his occasional flashes of defensive brilliance on the diamond, and for more than a few flashes of his volatile temper off the field. He is also remembered for involvement in two bizarre on-field incidents.
Grover Cleveland Land's entries in the Baseball Encyclopedia and on Basebal-Reference.com gives September 22, 1884, as his date of birth and Frankfort, Kentucky, as his place of birth. However, responding in 1922 to a Baseball Magazine request for personal information, he submitted a hand-written entry indicating his birthday as September 22, 1886, and his place of birth as Shady Grove, Kentucky.1 The 1886 birth date is also found on Land's Heilbroner Baseball Bureau player card. Land was named after Grover Cleveland, the president at the time of his birth (assuming the 1886 date is accurate). His parents were W.G. Land, a native of Kentucky, and Mary C. (Ward) Land, originally from Virginia. Only one other sibling is known, a sister of unknown name who died in 1910. Little is known of Land's early years. His grade school and high school are unknown, and he did not attend college. His wife was named Sara Lee and they were married on the morning of May 11, 1914, before the Tip Tops' game that afternoon. There is no information on Sara's place or date of birth. The couple had at least one child, Grover Land, Jr., who served in the US Army in World War II.
Land made his major-league debut on September 2, 1908, with the Cleveland Naps in a 5-3 loss to the Detroit Tigers at Bennett Park in Detroit. During his years in the big leagues, all in the Deadball Era, the burly 6-foot, 190-pound catcher compiled a career batting average of .243 in 293 games with no home runs and an anemic slugging average of .279. His career fielding average was a mediocre .964. Land was a catcher for his entire career, except for one game at first base in 1911. He played his last major-league game on September 25, 1915, with Brooklyn. His minor-league record was not better, with a career batting average of .234 in 780 games. His name appears on one dubious major-league list: He is tied for 13th place with six other players on the list of "Most hits in a season with no extra-base hits." This occurred in 1910, when Land had 23 hits in 34 games for Cleveland, all singles.
Land began his well-traveled baseball career in 1904 with the Paducah Indians of the Class D Kitty League for a salary of $75 a month. He played on various American Association teams until 1908 when he was traded to the Naps by the Toledo Mud Hens for pitcher Tex Pruiett and infielder-outfielder Charlie Hickman. Land bounced between Cleveland and Toledo five times until 1914. He made so many stops between Toledo and Cleveland that he once joked: "Why, I used up something like $300 worth of transportation between Cleveland and Toledo. In fact, I believe these two burgs declared large dividends for the Lake Shore Railroad annually. It was a common occurrence for conductors to say: 'Hello Grover, are you with us again?' "2
In five years with Cleveland Land hit a dismal .189 in 95 games. In 1914 the allure of big money enticed him to jump to the Brooklyn Tip-Tops of the new Federal League. Brooklyn dangled a three-year contract worth $10,000, which Land found hard to resist. But there was a problem: He had already signed a contract with Sioux City of the Class A Western League, and had drawn a $500 advance on his salary. Western League President E.J. Hanlon threatened legal action to prevent Land from violating his contract. No suit ever materialized, and he landed with Brooklyn. Land had his best year in the majors with the 1914 Tip-Tops, hitting .275 in 102 games for manager Bill Bradley. He slumped to .259 in 96 games in 1915. After the demise of the Federal League, Land spent 1916 with the Minneapolis Millers of the American Association as part of the "peace agreement" that disbanded the upstart league. In 1917 he played for the St. Paul Saints, also of the American Association.
In World War I Land enlisted in the Army in February 1918 and served for ten months, assigned to a field-artillery unit in Jefferson City, Missouri. It is not known whether he saw action overseas. After the war, a final six games with the Seattle Rainiers of the Pacific Coast League in 1919 ended his minor-league career. From 1919 to 1922 he played for semipro teams in cities including Oakland; Victoria, Texas; Little Rock, Winston-Salem: Danville, Virginia; and Charleston.  He then worked as a coach and scout for the Pittsburgh Pirates under manager Bill McKechnie for the 1923 and 1924 seasons and for the Cincinnati Reds under manager Jack Hendricks in 1925 and 1928. He was released by the Reds in December 1928 when they decided to keep only one coach and chose Ivey Wingo. His final two years of major-league service found him on the coaching staff of Joe McCarthy with the Cubs in 1929 and 1930 (including Marse Joe's first of nine pennant winners in 1929. At one point during his coaching days, Land was described as "one of the most popular coaches in the game … and one of the most valuable advisors in baseball."3  Land's tenure with the Cubs ended after the 1930 season, when McCarthy was not offered a Cubs contract for 1931, left for the Yankees, and took coach Jimmy Burke from the Cubs with him.
While never much of an offensive threat, Land had a reputation as a bulldog behind the plate who was not easily intimidated. Various newspaper accounts at the time described him as a defensive standout, noting particularly his ability to block the plate. In 1910 one reporter commented: "Grover has few superiors as a backstop when he tends to business"4 Another said:
"All the players claim Grover Land is the hardest catcher in the business to slide into the plate on. It is absolutely necessary to go around him, he blocks the plate so effectively. He has caught the best ball of his career this year."5
But Land carried this aggression off the field. At one point his volatile temper came to the attention of the president of the American League: "The war-like disposition of Mr. Land was so protuberant that Ban Johnson used to write him notes and tell him about it. … He was quite a fighter."6 An article in 1911 reported his arrest for assault and battery after he struck the gatekeeper of the Cleveland Park who had refused to admit two of Land's friends and "grossly insulted them when they applied for admission."7 Land was fined $100. The same year he was arrested in Frankfort, Kentucky, for allegedly shooting the "keeper" of a Greek restaurant over an undisclosed dispute. In a 1926 domestic quarrel, his wife, Sara, testified that Land "became intoxicated and fired a revolver at me in a fit of temper."8 She was granted an "absolute divorce, with the decree carrying an allowance of $1,500 alimony annually."9 Despite the finality implied in this ruling, there apparently was a reconciliation. Sara was named as Land's wife on his death certificate and in his obituaries in 1958.
Land was involved in a bizarre event on Opening Day of 1915 at Brooklyn's Washington Park. It happened in the seventh inning of a game between the Tip-Tops and the Buffalo Blues. Land was sent in to pinch-hit for pitcher Bill Upham with one on and the score tied. Land singled, and a pinch-runner was then sent in for him. In the next inning, Land unexpectedly re-entered as the Tip-Top catcher and finished the contest — even though he was officially out of the game!  No explanation was given for why the umpires allowed this violation of a fundamental rule to stand. Newspaper accounts suggested that such incidents gave the impression that the Federal League did not deserve major-league status and that they may have contributed to its demise.
During the summer of 1914, Land was the principal player in an unusual home run. Umpire Bill Brennan was the lone arbiter in a Federal league game between the Tip-Tops and the Chicago Whales. Brennan grew tired of running to the dugout for new balls every time a foul ball was hit into the stands, so he piled up the extra balls into a pyramid just behind the pitcher's mound. In one account of the incident, Land came to the plate and smashed a low line drive that smacked right into the pile, sending the extra balls flying in every direction.
"Land realized he had caused some confusion," the account said. "He kept running around the bases while every Chicago infielder and the pitcher and catcher grabbed a loose ball and tried to tag him. After he crossed home plate, there was nothing left for the umpire Brennan to do but award an 'inside the diamond home run' — because no one could identify the legally batted ball that started the play. It was the shortest home-run hit on record. The ball was known to have traveled 70 feet."10 The story may be apocryphal, despite numerous accounts found in Land's Hall of Fame player file, or perhaps the home run was later disallowed. Land has no home runs recorded in the Baseball Encyclopedia for 1914.
After his discharge from the Army in 1918, Land tried to get his share of "easy money" by cashing in on his war-service notoriety. Stars like Joe Tinker, Christy Mathewson, and Rube Waddell were drawing huge salaries on the vaudeville circuit and Land thought he could do the same. However his one chance in front of the klieg lights ended in miserable failure. A contemporary account described the incident, noting that Land was "bold as a lion on the field, but he was as bashful as a June bride upon the stage … and he was unable to deliver his two-word line."11 He froze with stage fright. People in the audience threw bouquets of flowers at his feet. He picked one up to hide his face — and an enormous cabbage fell out. Overwhelmed with embarrassment, the hot-tempered Land launched into an emotional, profanity-laced tirade as the audience howled with laughter. So ended Grover Land's disastrous, short-lived experience in show business.
While a coach with the Reds in 1928, Land was involved in an unusual incident that resulted in injury to Reds manager Jack Hendricks and may have contributed to Land's eventual dismissal. During a spring-training game, Land was filling in as the home-plate umpire with pitcher Ray Kolp on the mound and Jack White at the plate:
"Hendricks was just behind Land, watching the delivery of the various pitchers and coaching the youngsters in batting and suddenly Hendricks called: 'Let the next one go by.' Land believed the remark addressed to him, and so it happened that when the husky Kolp let go, Land stepped aside and the ball hissed past White and Land and socked the Red Leg rajah on the left knee, knocking him flatter than linoleum."12
Details of Land's life after baseball are unknown. In later years he was employed as a host by the Luke Greenway Post No. 1 of the American Legion in Phoenix, Arizona. He died at the Veterans Hospital in Phoenix on July 22, 1958, of an aortic aneurysm one day after admittance. Land was 73. He was survived by his wife, Sara (from whom he was previously divorced), and his son, Grover Land, Jr. He was buried in Greenwood Memorial Park in Phoenix. He had been a resident of Phoenix from 1921 until the time of his death.
Sources
Heilbroner, Louis, The Baseball Blue Book (Fort Wayne, Indiana: Heilbroner Baseball Bureau), information card for Grover Land.
Lee, Bill, The Baseball Necrology (Jefferson, North Carolina: McFarland and Company, 2003).
Reichler, Joseph, The Baseball Encyclopedia, Ninth Edition (New York: Macmillan, 1993).
Spatz, Lyle, ed., The SABR Baseball List & Record Book (New York: Scribner, 2007).
Phalon, W.A., "Shall Baseball Cease," Baseball Magazine, December, 1918, 102 (clipping from Land's Hall of Fame file).
Sawyer, C. Ford, Baseball Magazine (personal information card submitted by Land to Sawyer, 1922).
Associated Press, unnamed article, March 30, 1926.
Baseball Magazine
Kansas City Star, August 10, 1917.
Leslie's Weekly, April 29, 1915.
New York Times
Sporting Life
The Sporting News, February 27, 1972.
Obituary for Grover Land, publication unknown, July 30, 1958.
Baseball-Almanac.com
TheBaseballCube.com
Baseball-Reference.com
BaseballGauge.com
Retrosheet.org
(Some of the sources listed above are from Land's player file at the Baseball Hall of Fame Library, Cooperstown, New York.)
Notes
1 SABR's Biographical Research Committee gives 1884 as the year of Land's birth.
2 New York Times, August 19, 1914.
3 Associated Press, March 30, 1926, unnamed publication, clipping from Land's Hall of Fame player file.
4 Sporting Life, April 30, 1910, 11.
5 Sporting Life, September 26, 1914, 15.
6 Baseball Magazine, December, 1918, 102.
7  New York Times, August 19, 1914.
8  Associated Press, March 30, 1926, unnamed publication, clipping from Land's Hall of Fame player file.
9 Ibid.
10 The Sporting News, February 27, 1972.
11 Baseball Magazine, December, 1918, 102.
12 Unnamed publication, March 7, 1928, clipping from Land's Hall of Fame player file.
Born
September 22, 1884 at Frankfort, KY (USA)
Died
July 22, 1958 at Phoenix, AZ (USA)
If you can help us improve this player's biography, contact us.
http://sabr.org/sites/default/files/GroverLand.JPG
600
800
admin
/wp-content/uploads/2020/02/sabr_logo.png
admin
2012-01-04 20:30:44
2020-10-14 17:16:40
Grover Land