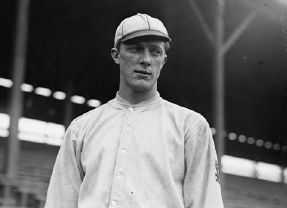 ---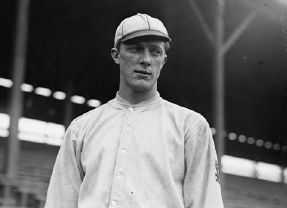 Named after one president and toiling in the shadow of another pitcher named after the same president, Grover Cleveland "Slim" Lowdermilk had a career that spanned the second half of the Deadball Era. From 1909 to 1920 Lowdermilk was an adequate pitcher with occasional flashes of steadiness for six different teams. He closed out his major-league career as one of the "clean" Chicago White Sox players who weren't involved with the tainted 1919 World Series.
Lowdermilk's wildness kept him from being a more successful pitcher. In 590⅓ major-league innings, he surrendered 376 walks against 296 strikeouts, and he hit 37 batters. He finished with a won-lost record of just 23-39 in the majors, but his lack of control wasn't as much of a hindrance in the minors, where he won 181 games in 12 seasons. Still, Lowdermilk frustrated managers and teammates who expected more from a pitcher whose fastball was often compared with Walter Johnson's.
Hall of Fame umpire Billy Evans once wrote, "Lowdermilk ought to be one of the greatest pitchers in the business. [He] has a world of speed, a fast breaking curve, a peculiar windup that has the ball on the batsman very quickly, in fact every asset of a great pitcher except control. Inability to get the ball over the plate has been Lowdermilk's fatal fault."1
The Lowdermilk family's presence in the United States is older than the nation itself. Their patriarch, Jacob Lautermilch, Sr. — the spelling means "clear milk" in German — was born in Baden, Germany, in 1716 and emigrated to the American colonies sometime before 1750.2 After settling in Maryland, he was a distinguished soldier in the Revolutionary War, a second lieutenant in the Continental Army.3 His descendants spread westward with the new nation and the family name became Americanized thereafter.
Grover Cleveland Lowdermilk was born on January 15, 1885, in Sandborn, Indiana. In a fashion that was not uncommon at the time, he was christened with the name of the current president, Grover Cleveland. Four years later, Grover's parents, William and Mary Lowdermilk, moved the family several hundred miles south to Marion County, Illinois, where they operated a grocery store in the town of Odin. Odin soon became a coal-mining boom town. By 1902 the Odin Coal Company was running at full capacity and the Lowdermilk family prospered. Even during his baseball career, Grover often returned to Odin in the offseason to work in the mines.
Grown tall and lean, which earned him the nickname Slim, Grover stood 6-feet-4 and weighed 190 pounds. Before long, he and his younger brother, Lou, a left-handed pitcher, were starring on the local sandlots. Both would make it to the majors; Lou made 20 appearances with the St. Louis Cardinals in 1911-12.
Grover signed his first professional contract with the Decatur Commodores of the Three-I League at the age of 22 in 1907, but after just one lackluster appearance, he was farmed out to the Mattoon Giants of the low-level Eastern Illinois League. He was the ace of the Giants' pennant-winning staff, winning 33 games and losing 10 with a stellar ERA of 0.93. He also struck out a whopping 458 batters in 388 innings, including 17 in one game,4, and his speed clearly made him the class of the league.
During that season, he also married Honora "Nora" Soulon, the daughter of a French-born blacksmith who had settled in Odin. They had two daughters, Ruth (born 1908) and Irma (1911.)
Recalled to the Commodores in 1908, Lowdermilk went 12-10 but also began to exhibit the wildness that plagued him for the rest of his career. In 217 innings, he walked 124 batters. Although few could hit his fastball, professional batters learned to be patient and wait for him to throw one across the plate. In 1909 he tossed a no-hitter against Peoria, but he allowed two runs in the third inning when he walked two batters and hit another.5 The St. Louis Cardinals were intrigued enough by Lowdermilk's potential to purchase his contract for $2,500 in July.6
Lowdermilk made an inauspicious major-league debut for the Cardinals, on July 3 in the second game of a doubleheader against the Cincinnati Reds, walking four batters and recording a wild pitch in 2⅓ innings. In seven appearances for St. Louis, he finished with an 0-2 record, a 6.21 ERA, and 30 walks in 29 innings. After he had a poor spring training with the Cardinals in 1910, manager Roger Bresnahan sent him to the Springfield (Illinois) Senators of the Three-I League.
Under manager Dick Smith, Slim responded with a superb season for the pennant-winning Senators, winning 25 games and losing 9. He logged 334 innings and managed to walk just 3.8 batters per nine innings, an improvement that earned him a promotion back to the Cardinals in 1911.
Used almost exclusively in relief by St. Louis, Lowdermilk rode the bench most of the summer and appeared in just 11 games. He did throw one shutout but was mostly unimpressive (0-1, 7.29 ERA), and lack of control as usual was his downfall (33 walks in 33⅓ innings). After the season, the disgruntled Lowdermilk demanded a trade7 and Bresnahan sold his contract to the Louisville Colonels of the American Association, where he found steady work as a starter over the next three seasons, winning an average of 18 games a year from 1912 through 1914.
The Chicago Cubs, in the heat of a pennant race and desperate for pitching, gave Lowdermilk a brief opportunity to return to the majors in August 1912. But he struggled in his only two games (0-1, 9.69 ERA). The Cubs finished in third place, 11½ games behind the New York Giants. In December the Cubs included the lanky right-hander in an eight-player deal that sent future Hall of Fame shortstop Joe Tinker to the Cincinnati Reds. But weeks later, the Reds sent Lowdermilk back to where he started the season, Louisville, in order to acquire another former Cubs great, Mordecai "Three Finger" Brown.
While Lowdermilk found steady work with the Louisville Colonels, his control never really improved — one newspaper called him "the wildest bird in big league captivity." Nonetheless his velocity and eye-popping strikeout numbers (254 Ks in 284 IP in 1914) continued to win him new chances to succeed in the majors.8
In 1915 St. Louis Browns manager Branch Rickey became the latest to try to tame the "wild bird." Rickey gave the 30-year-old Lowdermilk his first extended opportunity to make good in the majors, and Lowdermilk responded well to a consistent workload, recording a solid 3.12 ERA and 14 complete games over 29 starts. A typical Lowdermilk start came in his second appearance, on April 19 against the Cleveland Indians: He struck out seven and allowed just two hits in a complete-game 7-2 win, but he also walked five and hit three batters. The Browns' mediocre offense usually didn't offer much support, and Lowdermilk won just nine games to 17 losses. In September the Detroit Tigers picked him up for the stretch run and they won all five of his starts that month. But Detroit finished 2½ games behind the Boston Red Sox for first place in the American League.
The Tigers brought in personal coaches in 1916 to help Lowdermilk gain better control of his fastball9, but nothing seemed to work. In midseason, Detroit traded him to Cleveland but he made just 10 appearances with the Indians before he was sent down to the Pacific Coast League's Portland Beavers. Grover disliked playing on the West Coast and quit the team after going 1-4 in seven games; he went home to Odin before the season ended.10
Once again the hard-throwing pitcher was given another chance. His old teammate Joe Tinker, now managing the American Association's Columbus Senators, persuaded Lowdermilk to return to baseball in 1917. At the age of 32, he put up his best full season since his days in the low-level Eastern Illinois League: 25-14, a 1.70 ERA, and 250 strikeouts in 355 innings pitched. He also allowed just 128 walks, or 3.2 per nine innings.
In September the St. Louis Browns re-acquired Lowdermilk on waivers from Cleveland and in his first start back in the American League, he pitched a four-hit shutout against the New York Yankees — without issuing a single walk. In the postseason City Series11 between the Browns and Cardinals, Lowdermilk had his greatest day in baseball on October 7, when he pitched both ends of a doubleheader and didn't allow a single run. In the opener, which was Game Five of the City Series, Lowdermilk shut out the Cardinals 2-0 on seven hits. Then he held them scoreless again through nine innings in Game Six until it was called for darkness in a 0-0 tie. Lowdermilk pitched all 18 innings and walked only two batters. But despite Lowdermilk's heroics, the Cardinals clinched the City Series in Game Seven the next day at Sportsman's Park.
Umpire Billy Evans credited Lowdermilk's success to better control of his emotions on the mound: "My pet name for Lowdermilk has always been 'Three and Two' … he doesn't groove very many, but he is always just over the inside or outside corner or just missing it. … Since he is never very wild, Lowdermilk has always had the idea the umpires were missing them on him, and thus were really responsible for his so-called wildness. I have always argued to the contrary with Grover and assured him that he would be far more successful if he just forgot there was ever such a person as the umpire."12
Expectations were high entering 1918, but after battling injuries in spring training, Lowdermilk couldn't hold onto the form he had shown the previous season. He went 2-6 in just 13 appearances with an ERA of 3.15 and by midseason at least one newspaper writer complained that he was "as wild as ever" and "a sorry failure" in the American League.13
Still, that live arm enticed interest from other teams and on May 18, 1919, the Chicago White Sox, short on pitching depth, purchased Lowdermilk's contract from the Browns and added him to their starting rotation. He pitched solidly for the White Sox, finishing 5-5 with a 2.79 ERA in 20 appearances. Despite the excitement of playing for a championship team in a pennant race, Grover was unhappy in Chicago and in July announced he was going home.14 But the feeling quickly faded and a week later he was back with the White Sox. However, manager Kid Gleason gave him only one start in the final six weeks as the White Sox went on a tear and cruised to the AL pennant.
The White Sox were favored to win the World Series against the Cincinnati Reds, and with Eddie Cicotte and Lefty Williams anchoring the rotation, Lowdermilk didn't figure to see much playing time in October. But in Game One, Cicotte was knocked out early after allowing five runs in the fourth inning and Lowdermilk was sent in for mop-up duty at the end. He allowed an RBI triple to pitcher Dutch Ruether, and walked a man and hit another in the eighth inning as the Reds won 9-1.
Although Cicotte and Williams struggled to pitch effectively throughout the Series, Gleason never turned to Lowdermilk again. A year later, it was revealed that Cicotte, Williams, and six other White Sox teammates had conspired to throw the World Series to the Reds. They were all banned for life from baseball.
Later, Lowdermilk said he often wished he could forget the whole Series. "I don't think we could have beaten Cincinnati anyway," he said. "The Reds had a great ball club."15
Lowdermilk didn't see much playing time with the White Sox in 1920, either. He made three relief appearances — his final games in the big leagues — and didn't appear to be in Gleason's pitching plans in the immediate future. In mid-May, the White Sox reportedly turned down a $5,000 offer for Lowdermilk from Joe Tinker's Columbus Senators, but a week later they released him to the Minneapolis Millers of the same league.16
He spent the next two seasons with the Millers, winning 14 games in 1920 and 11 more in 1921 before calling it a career at the age of 37 after a short stint with his old team in Columbus in 1922. Between the majors and minors, Lowdermilk won 204 games but his true legacy was, of course, his lack of control. Decades later, baseball historian Paul Dickson noted that "Lowdermilk" had entered the lexicon to describe a pitcher given to acute wildness.17 He would never be confused with Grover Cleveland Alexander, the Hall of Fame pitcher and contemporary who shared his given names.
Grover and his wife, Nora, returned to Odin, where he continued to find work in the coal mines. He lived in retirement on his pension as a miner.18 He died at 83 on March 31, 1968, and is buried at Odin's Peaceful Valley Cemetery.
Both Grover and his brother Lou Lowdermilk's names reappeared in the news during the baseball card boom of the late 20th century. Grover's 1910 Broadleaf Tobacco Co. card has been valued at several hundred dollars and only about 100 are said to exist.19 Meanwhile, Lou's T207 tobacco card from 1912 is one of the rarest in the world and sold for more than $3,800 in a 2014 online auction.20
Notes
1 The Sporting News, April 18, 1918.
2 Robert Gene Tucker application for Sons of the American Revolution, July 8, 1960, accessed at Ancestry.com.
3 Ibid.
4 Henry Chadwick, ed., 1908 Spalding's Official Base Ball Guide (American Sports Publishing Co., 1908), accessed online on October 10, 2014, at Archive.org.
5 Chicago Inter Ocean, August 15, 1908.
6 Decatur (Illinois) Daily Review, April 21, 1910.
7 Decatur (Illinois) Daily Review, December 5, 1911.
8 Decatur (Illinois) Daily Review, March 17, 1915.
9 Reading (Pennsylvania) Times, March 27, 1916.
10 Washington Herald, January 11, 1917.
11 The City Series were officially sanctioned postseason series held in the first half of the 20th century between two rival teams in the same city. The City Series in Chicago between the White Sox and Cubs was extremely popular and lasted until World War II. Other two-team cities attempted to capitalize on the idea with limited success. The St. Louis teams held only one City Series, in 1917. See retrosheet.org/Regional%20Series.
12 The Sporting News, April 18, 1918.
13 Decatur (Illinois) Daily Review, August 1, 1918.
14 Chicago Tribune, July 18, 1919.
15 The Sporting News, April 13, 1968.
16 Chicago Tribune, May 18, 1920.
17 Paul Dickson, The Dickson Baseball Dictionary (New York: Facts on File, 1989), 252.
18 The Sporting News, April 13, 1968.
19 Colorado Springs Gazette Telegraph, March 26, 1978; New York Times, January 24, 1988.
20 Robert Edward Auctions, LLC; Spring 2014, Lot #469. Accessed online on October 10, 2014, at robertedwardauctions.com/auction/2014_spring/469.html.
Full Name
Grover Cleveland Lowdermilk
Born
January 15, 1885 at Sandborn, IN (USA)
Died
March 31, 1968 at Odin, IL (USA)
If you can help us improve this player's biography, contact us.
http://sabr.org/sites/default/files/GroverLowdermilk.JPG
600
800
admin
/wp-content/uploads/2020/02/sabr_logo.png
admin
2012-01-04 20:01:14
2020-10-16 15:46:04
Grover Lowdermilk