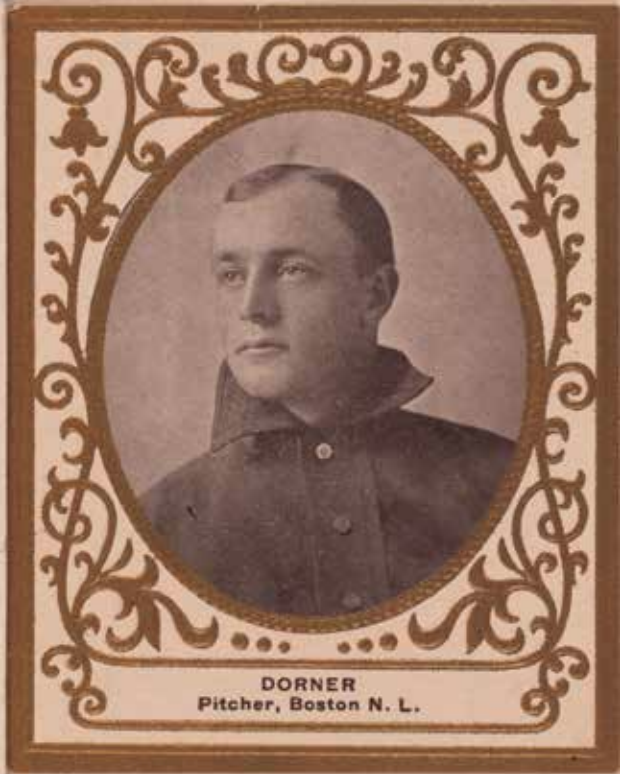 ---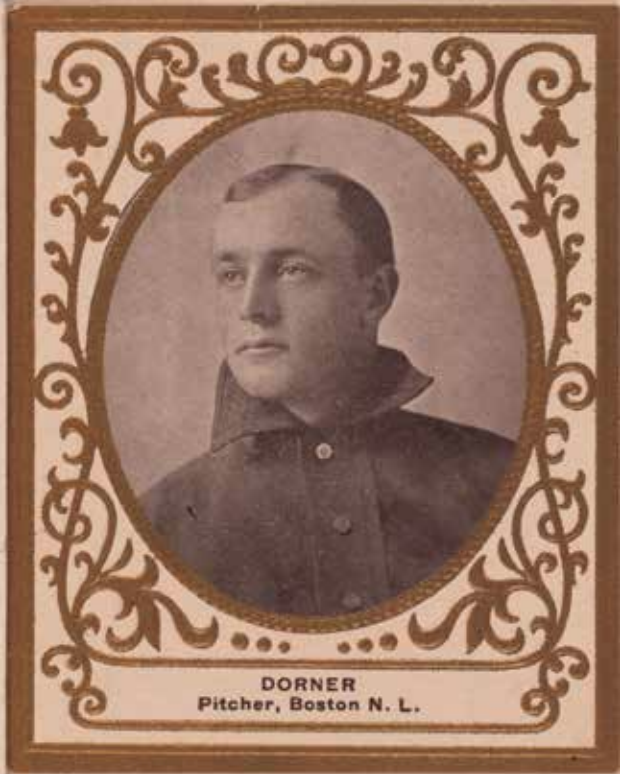 While only one major-league pitcher has lost 20 games in a single season during the twenty-first century, the now dubiously recognized feat did not carry the same stigma a century ago. In fact, during the 1901-1910 decade, 12 different pitchers for Boston's National League entry produced 18 seasons of 20 or more losses. Among them were Hall of Famer Vic Willis; 20-game winners Irv Young, Togie Pittinger, and Chick Fraser; and eight other lesser known hurlers including Augustus Dorner.
Gus Dorner was a 5-foot-10, 175-pound right-hander who compiled a 35-69 lifetime record with a 3.37 ERA over a six-year major-league career that spanned 1902-1909 and included stops in Cleveland, Cincinnati, and Boston (NL). A hard-luck loser who played for poor teams and received little run support, Dorner joined the fraternity of major-league pitchers who lost 20 or more games in a season when his name appeared in the loss column a National League-leading 26 times in 1906.
Augustus Adolf Dorner was born on August 18, 1876, in Chambersburg, Pennsylvania, a rural town in the south-central region of the state. Located just north of the Mason-Dixon Line, the town was made famous as a stop on the Underground Railroad. Gus was the youngest of five children (four boys and one girl) born to Peter and Mary (Helfrick) Dorner.1 Peter immigrated to the United States from Darmstadt, Hesse, Germany. After arriving in the United States, he served in the Union Army and later worked as a boot and shoemaker in Chambersburg. With the exception of the time he spent away for baseball, Gus was a lifelong resident of Chambersburg.
The family's connection to Chambersburg dates to the early part of the 19th century. In 1816 Mary Blattner, Dorner's maternal grandmother boarded a ship bound for the United States with her parents and four siblings. The voyage was an eventful one that turned tragic for the family. The ship became disabled and was blown off course. After weeks at sea, provisions were exhausted and Mary's father and two sisters died of starvation. The ship then drifted into a field of ice and where its sides were crushed before sinking. While the surviving members of the Blattner clan, including Mary, were saved they did not have the money to pay for their passage on the ship that rescued them. Mary, along with her sister and mother, were sold to Mr. Henry Etter, a Chambersburg resident, for $400.2 Mary was bound out as a housekeeper to another family in the area and granted her "freedom" when she was 18 years old. She later married John Helfrick. The couple had five children, three of whom lived to adulthood, including Dorner's mother Mary.3
While little is known about Gus's early years and education, like many of his contemporaries in Chambersburg, he worked on the family farm while growing up. At the age of twelve he fell from the loft of his father's stable and landed on a hay wagon. His left shoulder was seriously injured and the physician who was called to attend to him removed several pieces of bone and stitched up his badly lacerated shoulder.4 Fortunately, the injury was not to his throwing shoulder.
As a young man he worked as a cattle dealer.5 It was around this time that he became acquainted with Henry "Pat" Rollins, a fellow resident of Chambersburg and a fellow parishioner at Corpus Christi Catholic Church.6 Rollins was born in Washington, D.C., in 1860 and started his 19-year minor- and independent-league baseball career with Chambersburg of the Keystone Association in 1884.
The association with Rollins opened doors for Dorner. Upon the recommendation of the 40-year-old catcher, Dorner was signed by the Decatur Commodores of the Illinois-Indiana-Iowa League for the 1901 season. He pitched with the Commodores for two seasons before being acquired by the Cleveland Bronchos in September of 1902.
On September 17, 1902, Dorner made his major-league debut with Cleveland when he faced off against Wiley Piatt at the Chicago White Sox' South Side Park III. While his inaugural major-league start was far from a masterpiece – he gave up 10 hits and walked four – the right-hander pitched well enough to earn a complete-game victory. He breezed through the first six innings without yielding a run to the White Sox before a single run in the seventh and five in the eighth evened the game at 6-6. The Bronchos regained the lead with a single run in the ninth and Dorner held off the White Sox in the ninth to earn a hard-fought 7-6 victory.7 He also contributed with the bat and enjoyed a 3-for-3 afternoon with a sacrifice hit and a double, the only extra-base hit of his major-league career. Dorner, who batted right-handed, was not much of a threat at the plate and finished his career with a .149 batting average.
Ten days later, Dorner started the season finale at Detroit's Bennett Park and bested Win Mercer and the Tigers, 2-0 to earn his first career shutout. (This was Mercer's final major-league appearance. Tragically, he committed suicide in January of 1903.)
For Dorner, the future seemed bright. He finished his four-game late-season stint with the Bronchos with a 3-1 record, four complete games, and a 1.25 ERA. His effort marked the first time in the modern era that a pitcher with at least 20 innings pitched recorded an ERA lower than his WHIP (1.278).8 From a statistical perspective, it appeared that Dorner factored prominently into the team's future. This, however, did not prove to be the case.
Dorner did not make his first start of the 1903 season until May 9 and appeared in only 12 games for Cleveland, now known as the Naps. Though he tossed a pair of shutouts in June, his season was plagued with fits of wildness and inconsistency. On May 23 he established a Cleveland franchise record when he came on in relief of Addie Joss and issued 11 walks in a 4-2 loss to the Philadelphia Athletics at Cleveland's League Park.9 The 11 free passes continue as of 2017 to stand as a team record.
Dorner's record stood at 3-5, with a career-worst 4.52 ERA, when on August 17, 1903, he was traded to the Columbus Senators of the American Association. The Naps swapped Dorner and utility infielder Billy Clingman for a 22-year-old infielder named Terry Turner, who was batting an impressive .310 for the Senators. Turner went on to set the Cleveland franchise record for games played.10 Dorner, on the other hand, began the process of working his way back to the major leagues. He appeared in 15 games with the Senators during the balance of the 1903 season and finished with a 7-7 record.
The right-hander returned to the Senators rotation in 1904. The season was the beginning of a special time in Columbus baseball history and a period of great personal success for Dorner. He had a breakout season in Columbus with 18 wins and 10 defeats. His victory total ranked second on the team behind former major leaguer John Malarkey's 24 wins as the Senators planted the seeds of what would become the American Association's first dynasty.
In 1905 the Senators were the class of the American Association field. Dorner led a triumvirate of 20-game winners with a league-leading 29 victories. Fellow right-handers Heine Berger (25) and Bucky Veil (21) also eclipsed the 20-win plateau, while 40-year-old Bill Hart came out of retirement at midseason to notch 12 victories.11 The superlative pitching staff was complemented by veteran major-league catcher Jack Ryan, and the Senators roared to a 100-52 record and the first of three consecutive American Association crowns.12
Dorner's feats in Columbus drew national attention. When asked by a reporter what he credited his success to, he replied, "I attribute my success to condition as much as anything else. I try to keep myself in the best possible physical and mental shape all the time. The former is accomplished by abstinence from liquor, good hours, and plenty of work; the latter by refraining from worry."13 He also cited studying batters' tendencies and his mastery of the spitball. "I have worked hard to get control and to perfect the spit ball. I use the spit ball a great deal, mixing it with speed and curves. I have also developed a side arm ball which has been useful to me."14
Dorner's comments provided insight into the type of pitcher he was. He relied on finesse and deception more than blazing speed. For his career he averaged only 2.72 strikeouts per nine innings. Despite his 11-walk outing in 1903 and other occasional fits of wildness, Dorner averaged 3.26 walks per nine innings during his major-league career. Like most of his contemporaries, he was not opposed to pitching inside. In his three full big-league seasons, 1906-1908, Dorner ranked first (17), second (15), and third (15) in hit batsmen among National League pitchers.
After Dorner's retirement, an unknown baseball scribe offered a retrospective view of his career that also characterized the right-hander as a crafty, tough-luck pitcher.
Dorner smeared slippery elm saliva on every ball he threw; his curves did not break over an inch or so, but in his long career in the major and minor leagues a player can not be found who ever hit one of his benders the way he thought he wanted it to go. The 'stuff' on the ball, its rotation in other words, gave it queer "english" off the bat, and his endeavor to never throw two balls alike in any game precluded any tendency of his opponents to study his style. … His sale to Boston, then a trailer, discounted his efforts when his teammates fell down in fielding their positions, and he was beaten time after time by wild throws, errors of judgment and boneheads.15
After the 1905 season, the Senators sold Dorner's contract to the Cincinnati Reds. The hurler's stay with the Reds was short-lived; two games. His lone start with the club came on May 2, a 4-1 loss to Vic Willis and the Pittsburgh Pirates. Dorner was 0-1 with a 1.20 ERA when he was sent to the Boston Beaneaters on May 10, 1906, to complete a deal for fellow 20-game loser Chick Fraser.16 Despite logging a 2.67 ERA with the Reds, Fraser finished 1906 with a 10-20 mark. It was the only time in major-league history that a pair of 20-game losers were traded for each other in the same season.
After joining the offensively-challenged Beaneaters, Dorner managed to win only eight games while dropping 25, largely due to an anemic offense that averaged only 2.68 runs per game. He was not the only Boston pitcher to be victimized by a lack of run support. Dorner was joined on the list of 20-game losers that season by teammates Irv Young (16-25), Vive Lindaman (12-23), and Big Jeff Pfeffer (13-22) as the Beaneaters finished with a woeful record of 49-102, in last place 66½ games behind the pennant-winning Chicago Cubs. They were only the second team in major-league history, following the 1905 Beaneaters, to have four pitchers lose 20 or more games in one season – a feat that is not likely to be duplicated
Dorner returned to the Boston team, now known as the Doves, in 1907 and tied Patsy Flaherty for the team lead in victories. He pitched a team-leading 271⅓ innings and finished 12-16 with a 3.12 ERA – more than half a run lower than his 1906 ERA. He also finished the season with a 1.000 fielding percentage, a vast improvement over 1906, when he made 10 errors. Overall, it was his most consistent season in the major leagues.
Despite coming off his most successful season in the majors, Dorner demonstrated his eccentric side when he visited hospitalized batterymate Sam Brown in December of 1907. Brown had had an appendectomy. While visiting the light-hitting catcher, Dorner had a conversation with the doctor who performed the operation. The doctor explained to Dorner how the appendix, a useless organ, interfered with a man's "habits."17 Dorner was so impressed with the doctor's explanation that he convinced himself removing his appendix would improve his performance on the mound. To that end, he had his appendix removed that day.
Any competitive advantage Dorner enjoyed from the removal of his appendix during the offseason was presumably purely psychological. While he filled the role of the Doves' number-three starter and pitched 216⅓ innings, his record dipped to 8-19 and his ERA rose to 3.54. While Dorner did throw a career-high three shutouts, he finished the season dropping his last five decisions.
The 1909 season was Dorner's last in the major leagues. He pitched in five games for the Doves and finished 1-2 with a 2.55 ERA and one save – the lone save of his big-league career. On May 17 Dorner appeared in his final major-league contest and 11 days later the Doves sold his contract to the American Association's Kansas City Blues. He finished the season with a 9-18 record for the Blues.
Dorner's likeness on the Blues is included in the highly collectible, landmark 1909-1911 T-206 baseball card set. A typesetting error resulted in a very limited number of Dorner's cards being printed as "Dopner." The variation is considered one of the rarest in the T-206 set. One of these error cards fetched more than $6,500 at auction in May of 2012.18
Dorner returned to Chambersburg at the end of the 1909 season and married Ruth Viola Karper at Corpus Christi Catholic Church on January 11, 1910.19 An announcement of the nuptials painted Dorner as a financially conservative, if not frugal, individual. "Gus has been saving his pennies for several years, at least all the pennies that he didn't put into Chambersburg, Pa., real estate, and has a comfortable sum to lay back upon."20 Following their vows, the couple enjoyed a modest honeymoon in Philadelphia prior to the start of the 1910 season. The newly married couple was fortunate to stay relatively close to family and friends during Dorner's final two seasons in professional baseball.
In 1910 Dorner pitched for the Wilkes-Barre Barons of the New York State League. Now an elder statesman at age 33, he went 12-6 and helped the Barons finish on top of the league. He spent the 1911 season, his final in Organized Baseball, with the Harrisburg Senators of the Tri-State League and finished with a 4-5 record. On June 11, 1911, Dorner and his wife welcomed the arrival of their only child, Paul Augustus Dorner.
Dorner's baseball career now behind him, the family returned to their roots in Chambersburg and settled at 101 West King Street, a few blocks from what was Mary Ritner's boarding house, where John Brown stayed and prepared his raid on Harpers Ferry during the summer and fall of 1859.21 Dorner briefly managed the Chambersburg Maroons of the Class-D Blue Ridge League in 1915, served as an umpire in local independent leagues, and worked at Schaal's Garage in Chambersburg.22
On March 13, 1928, Ruth, Dorner's wife of 18 years, suffered an embolism and died. While she had been suffering from flu-like symptoms for nearly three months, her passing was unexpected.23 Coincidentally, she died one day after the death of her older brother, Harvey Karper, and the two were buried next to each other in Chambersburg's Cedar Grove Cemetery. Now a widower, Dorner dedicated his remaining years to his parish and civic engagement.
Dorner was a practicing Catholic who attended Mass regularly at Corpus Christi Catholic Church. He was a member of the Holy Name and St. Vincent DePaul societies of the parish, held membership in the Knights of Columbus and the Elks, and was a charter member of the Franklin Fire Company.24 Dorner was the driving force behind Franklin County's effort to acquire a fire truck to serve Chambersburg and its surrounding areas. Dorner traveled throughout the region to raise the money necessary to bring fire service to the rural community, and in 1933 the fire department took possession of its first Rural Community Pumper.25
On June 15, 1954, Dorner's life took another unexpected turn when his 42-year-old son, Paul, suffered a heart attack and died.26 After that Dorner's health declined steadily. He suffered a stroke in October 1954 and another in May of 1955. On May 4, 1956, Augustus Dorner died at the age of 79 after an illness that had hospitalized him since February of that year. He was buried next to his son in Corpus Christi Cemetery.27
This biography is included in "20-Game Losers" (SABR, 2017), edited by Bill Nowlin and Emmet R. Nowlin.
Sources
In addition to the sources cited in the Notes, the author also relied on Baseball-reference.com and Retrosheet.org.
Notes
1 United States Census, 1880.
2 George Wolf, "A White Slave," Valley Spirit (Chambersburg, Pennsylvania), September 20, 1894.
3 Paul Ruda, personal correspondence, March 30, 2017.
4 "Cumberland Valley Items," Harrisburg Telegraph, June 22, 1889.
5 United States Census, 1900.
6 Paul Ruda, personal correspondence, March 30, 2017.
7 "Spiders Win Out: Game Taken, However, Only After Stubborn Fight by Champions," Washington Times, September 8, 1902: 4.
8 "Pitchers With a Lower ERA Than WHIP," retrieved from valueoverreplacementgrit.com.
9 "Single Game Records," retrieved from cleveland.indians.mlb.com.
10 Scott Turner, "Terry Turner," SABR BioProject.
11 A writeup on milb.com has his record at 11-5. See milb.com/milb/history/top100.jsp?idx=59.
12 Bill Weiss and Marshall Wright, "Top 100 Teams." Retrieved from milb.com.
13 "Spitball Doesn't Hurt This Whip," Pittsburgh Press, August 20, 1905: 22.
14 Ibid.
15 "The Place-Hitters Are Coming to the Fore." Muskogee (Oklahoma) Times-Democrat, April 1, 1912: 1.
16 Chick Fraser was a four-time 20 game loser, in 1898 and 1904-1906.
17 "Diamond Appendices to Go: Pitcher Dorner in Favor of Cutting Out Useless Organ," Scranton Republic, December 27, 1907: 1.
18 Robert Edward Auctions, "1909-1911 T206 Gus Dorner – Dopner Variation – RARE! ("1 of 1")," Retrieved from robertedwardauctions.com.
19 "Gus Dorner Takes a Wife," The News Journal (Wilmington, Delaware), January 13, 1910: 6.
20 "Gossip of the Ball Players," Ada (Oklahoma) News, January 22, 1910.
21 Paul Ruda, personal correspondence, March 30, 2017.
22 Paul Ruda, personal correspondence, April 25, 2017.
23 Ruth Dorner, Certificate of Death.
24 "Augustus Dorner," The News-Chronicle (Shippensburg, Pennsylvania), May 18, 1956: 21.
25 Franklin Fire Company History. Retrieved from www.sta4.com.
26 Paul Dorner, Certificate of Death.
27 Augustus Dorner, Certificate of Death.
Born
August 18, 1876 at Chambersburg, PA (USA)
Died
May 4, 1956 at Chambersburg, PA (USA)
If you can help us improve this player's biography, contact us.
https://sabr.org/sites/default/files/Screen%20Shot%202018-10-04%20at%201.19.16%20PM.png
600
800
admin
/wp-content/uploads/2020/02/sabr_logo.png
admin
2012-01-04 20:37:37
2012-01-04 20:37:37
Gus Dorner