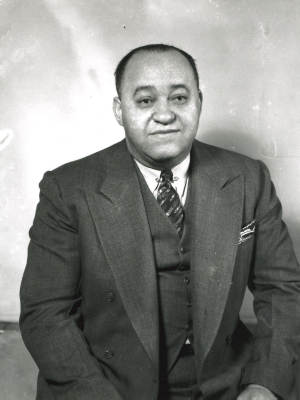 ---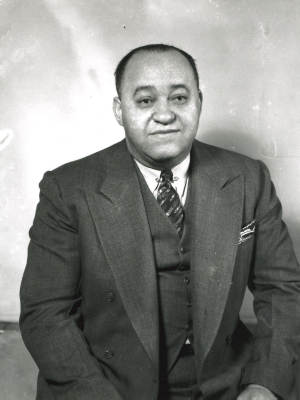 Gus Greenlee, famed owner of the Pittsburgh Crawfords, came from a family that valued education. His three brothers earned medical or law degrees, but Gus left college after a year and moved away from his family at age 19 to work in Pittsburgh. He soon purchased his own taxi and began running bootleg liquor out of it, along with Joe Tito, one of the owners of the Latrobe brewery. Within a few years he and Tito bought into an illegal lottery operation. Eventually, Greenlee became one of the leading numbers kings in the city and wielded a great deal of political power within the Hill District.
In the 1930s he entered the sports business, owning a stable of boxers and purchasing the semi-pro Pittsburgh Crawfords, a black baseball team. He built the club into one of the top squads in the Negro leagues. He also owned and operated one of the rare ballparks owned by a black club. Greenlee was the driving force behind the formation of the Negro National League in 1933 and ran it with a firm hand. By the end of the decade, he was in dire straits financially and facing legal troubles and was forced to disband the club. The Crawfords were later reformed, but were shunned from membership in the existing leagues. Greenlee then organized the historically significant yet marginal United States Leagues.
William Augustus Greenlee was born on the day after Christmas in 1895 or perhaps 1896 in Marion, North Carolina, to Samuel R. and Julia R. Greenlee. Samuel supported the family as a brick and mason contractor, making a significant living. The couple had seven children, three girls and four boys. Gus was the oldest son and second child. Julia's father was locally a well-known white businessman. Julia's mother was African-American, thus Gus and his siblings were identified as mulatto in official government documents. Gus, a big man, had reddish-orange hair, and was nicknamed Big Red.
Gus dropped out during his second year of college and settled in the Hill District of Pittsburgh in 1916 at age 20. Shortly afterwards, he married a local woman named Helen. They had no children. Greenlee held a variety of job in his early years: he worked in a steel mill operating a steam drill, pushed a wheelbarrow for a construction company, shined shoes, toiled as a fireman and drove for an undertaker. He bought his own taxi cab.  In October 1917 Greenlee enlisted in the army, and soon landed in the 367th Infantry Regiment, 153rd Depot Brigade as a machine gunner. Greenlee saw combat at Verdun and was later injured, hit with shrapnel in the left leg, at St. Mihiel, France and discharged in March 1919.
Returning to Pittsburgh, Greenlee began working with the white Tito (a silent partner) to sell whiskey out of his taxi to speakeasies, also transporting liquor throughout the area. Prohibition made this profitable and soon the partners opened the Paramount Club on Wylie Avenue. It was closed down after a police raid in 1922, but reopened in 1924 with its own orchestra. That club was closed down again amid charges that Caucasian women were "running wild" at the establishment. Greenlee opened once again and also operated a musical booking agency out of the establishment.
Greenlee also owned the Workingmen's Pool Hall on Fullerton Street, the Sunset Café and the famous Crawford Grill at 1401 Wylie Avenue. The Grill, nearly a block long, became a hotspot of Hill District, known as "Little Harlem." The third floor, Club Crawford, was a semi-private VIP section where the top Jazz performers of the day entertained. Over the years, Louis Armstrong, Dizzy Gillespie, Ella Fitzgerald, Stanley Turrentine, Count Basie, Duke Ellington, Cab Calloway, Billy Eckstein, Lena Horne, Bill Robinson and Miles Davis performed for Greenlee's audiences. The club became a hangout for both black and white entertainers and sportsmen. Steelers' owner Art Rooney was a friend of Greenlee's and a frequent visitor at the Grill. Lena Horne's father Teddy was one of Greenlee's right-hand men in his numbers business.
About 1926, Greenlee, William "Woogie" Harris and Tito purchased an illegal lottery business. The group proved quite adept at their new trade, spreading their business throughout Pittsburgh and Allegheny County. At their height they administered close to one hundred individual clearing houses where bets were placed and money changed hands. It's estimated that as much as $25,000 was being made on a daily basis. Greenlee also operated evening dice games.
To protect himself against local police and authorities, Greenlee allied with several Republican politicians. In fact, Greenlee ran the Third Ward Voters' League. Black voters supported his candidates en masse. The numbers business flourished during the 1920s and '30s. Clients would pick three numbers with the winners defined by the final digits of that day's New York Stock Exchange volume index or some other measure. For as little as a penny, one could receive a payout between five or six dollars. The odds were in the bank's favor, as the actual odds against winning were 999 to 1. Greenlee was not above manipulating the numbers further in his favor if circumstances warranted. By 1933, he owned two hotels, several nightclubs and other enterprises including the Pittsburgh Crawford baseball club.
Like most numbers kings, especially in African-American neighborhoods, Greenlee was considered a community benefactor by many in his day. He was respected and admired for his charitable contributions and holiday giveaways to Hill District residents. The clearinghouses were the banks of the black community, since African Americans were typically shunned by white bankers. In essence, Greenlee was the Hill District's leading banker and was named local Businessman of the Year in 1948. He was known to help many with rent, college expenses, and medical care and even with more basic needs such as food and heating. He even operated a soup line during the Depression. His Christmas parties were hailed by hundreds in Western Pennsylvania and into Virginia and Ohio as the finest galas of the year. Greenlee also supported local hospitals, the NAACP and provided the start-up capital for many local entrepreneurs. Furthermore, he was one of the leading employers of African-Americans in the area, providing income for hundreds of individuals and their families.
In the 1930s Greenlee began showing an interest in sports promoting, particularly baseball and boxing. He became the manager and promoter for a stable of black boxers, including John Henry Lewis, who joined up with Greenlee in May 1935 and became light heavyweight champion on Halloween night 1935 in St. Louis.
The Homestead Grays were the dominant black baseball attraction in Pittsburgh. In 1931, in fact, the Grays purportedly finished 136-10, dominating all competition. Back in 1925 a group of neighborhood boys, one of which was Charles Harris, Woogie's brother, from the local McKelvey School had formed what became known as the Crawford Colored Giants. The name stemmed from their sponsor in a 1926 tournament, the Crawford Bath House, a municipal recreation center.
In 1930 at the behest of the Crawford players Greenlee purchased the semi-pro club, soon after Josh Gibson had jumped the club to join Cum Posey's Grays. Greenlee put the players on salary and charged into the baseball arena. He coaxed Atlantic City Bacharachs shortstop Bobby Williams to manage the Crawfords and recruit and build a winner. Pretty soon, Williams added Lefty Streeter, Jimmie Crutchfield, Chester Williams, Pistol Russell and, most dramatically, Satchel Paige. By 1932, Greenlee purchased a new Mack bus for the men and further fortified the lineup by raiding other clubs for Josh Gibson, Judy Johnson, Cool Papa Bell, William Bell, Rap Dixon, Ted Radcliffe, and Oscar Charleston, who was named player-manager.
In 1932 Greenlee purchased a plot of land from the Entress Brick Company and opened the first ballpark built for a black team, which he named Greenlee Field. The concrete and steel structure sat about 7,500 at an estimated cost of $100,000, half of which was financed out of Greenlee's pocket. He added lights to the field the following year. The park officially opened on April 29, 1932 with about 4,000 in attendance. The Crawfords played the New York Black Yankees. Paige pitched for Pittsburgh while New York sent Jesse Hubbard to the mound. Paige struck out ten and allowed only six hits; however, Hubbard topped that, giving up only three hits. The Yankees won 1-0. The Crawfords drew an impressive 69,000 fans to Greenlee Field that season, but still lost an estimated $15,000 due to the heavy expenditures.
The Crawfords tried to join the East-West League in 1932 but were rebuffed by league operator Cum Posey, with whom Greenlee would continue to feud throughout his time in black baseball. After the EWL disbanded, Greenlee set out to establish a new league, one on solid financial footing. This would be no easy task during the Depression. Thus, the National Negro Association, later called the Negro National League, was formed before the 1933 season. Greenlee served as the league's chairman, or president. He also helped form and organize the highly successful East-West All-Star Game that year which in time would become the showcase of black baseball. With no place else to go, Posey's Grays sought admission into Greenlee's Negro National League. Greenlee permitted the Grays to join but promptly expelled them after they raided the Detroit Stars' roster.
Mindful of the Depression and failures of the East-West League, the NNL set a few cost-conscience guidelines. First, rosters were limited to sixteen until June and to 14 thereafter. Second, a salary cap was imposed at $1,600 monthly; he insisted that salaries be kept down. The league also decided not to guarantee visiting clubs a minimum percentage of the gate. During the early to mid-1930s the Pittsburgh Crawfords fielded some of the best clubs in Negro league history with Gibson, Paige, Charleston, Bell, and Johnson filling the marquee. Noticing this, dictator Rafael Trujillo of the Dominican Republic plucked eight of the Crawfords' best players in early 1937. With that, Greenlee found it difficult to make payroll and the team eventually collapsed.
With further Trujillo raids and the poor American economy, the Negro National League suffered severe losses in 1937 and '38. Greenlee was also spending an increasing amount of time with his boxers. As a result, league owners, particularly Posey and Abe and Effa Manley of the Newark Eagles, became disgruntled with Greenlee's leadership and pushed for his removal from office.
Greenlee suffered other financial setbacks as well. In December 1938 Greenlee Field, badly in need of repairs, was claimed by the city via eminent domain and later demolished for a housing project. Competitors also made their way into the Pittsburgh numbers business. In January 1939 Greenlee's brother Marcus was killed in an auto accident and, the following day, John Henry Lewis was knocked out in the first round after moving up in class to fight heavyweight champ Joe Louis. In June Lewis was stripped of his Light Heavyweight title and his career was over after it was discovered that he suffered from partial blindness. Under pressure financially and by league owners, Greenlee resigned as president of the NNL in February 1939 and disbanded the Crawfords in April.
By the following year, Greenlee was looking to get back into the baseball business. He placed an open call for ballplayers and established a new semi-pro Crawford club. He made repeated efforts to gain admittance to the Negro National League and the Negro American League. Each time he was turned away. He was rebuffed for a variety of reasons, foremost among them the opposition of Cum Posey. Many were also turned off by Greenlee's autocratic reign as NNL president. A big man, 6'2" and 230 lbs., he was often pushy and overbearing. Moreover, there was speculation that Greenlee was involved in a game-fixing scheme against the Brooklyn Bushwicks in 1936. Finally, Greenlee had left the NNL on a sour note. He verbally attacked the other owners and left behind numerous debts and bounced checks.
Recovering financially by 1944, Greenlee tried once again to get back into black baseball. He soon realized that the established leagues didn't welcome his return; hence, he took steps to upset their balance. First, he raided the Homestead Grays, Chicago American Giants, and Baltimore Black Sox for players for his independent squad. He also stirred up the players, telling them that they were being treated unfairly. Of note, he riled up the all-star players just prior to the East-West Classic. Negro league officials were furious when all the eastern players demanded $200 for their participation.
In 1945 Greenlee started the United States League, headquartered out of his nightclub. Former player and Cleveland lawyer John Shackelford became the league's president. The league, which lasted into a second season, situated franchises in Pittsburgh, Brooklyn, Chicago, Boston, Detroit, Cleveland and Philadelphia. In May 1945 Branch Rickey threw his support behind the league in a very public manner, calling a press conference. He offered Ebbets Field and all the 22 ballparks controlled by the Brooklyn Dodgers organization to the USL. The Hilldale club was shifted to Brooklyn, renamed the Brown Dodgers and managed by Oscar Charleston. Rickey would later tell Jackie Robinson that the Brooklyn Dodgers pumped $30,000 into the USL. The USL lacked top talent though and never approached the quality of the other black leagues. Of historical significance, the United States League provided a cover for Rickey to scout and otherwise delve into black baseball, one result of which was the signing of Jackie Robinson in August 1945.
Throughout his time in baseball, Greenlee faced legal difficulties. He was charged, later dismissed, in connection to election fraud in a race in the 3rd Ward in 1931. In December 1932 he was indicted, not for the first time, in connection with his illegal lottery business. He was eventually sued by the government for failure to pay income taxes and for tax fraud. Creditors were also looming.
Greenlee suffered a heart attack in July 1946, just 50 years old.  In 1950 he became quite ill, spending six months in the Veterans Hospital at Aspinwall, Pennsylvania. The next year his nightclub burned down, never to be rebuilt. Gus Greenlee died at home after suffering a stroke on July 7, 1952. He was interred at Allegheny Cemetery in Pittsburgh in the same section as Josh Gibson. His widow died in August 1958.
Sources
Alleghenycemetery.com, Ancestry.com, New York Times, Pittsburgh Courier, Riverofsteel.com, and:
Holway, John. The Complete Book of Baseball's Negro Leagues: The Other Half of Baseball History (Fern Park, Florida: Hastings House Publishers, 2001).
Ingham, John N. and Lynne B. Feldman. African-American Business Leaders (Westport, Connecticut: Greenwood Press, 1994).
Riley, James A. The Biographical Encyclopedia of the Negro Baseball Leagues (New York: Carroll and Graf Publishers, 1994).
Ruck, Rob. Sandlot Seasons: Sport in Black Pittsburgh (Champaign, Illinois: University of Illinois Press, 1993).
Full Name
William Augustus Greenlee
Born
December 26, 1895 at Marion, NC (US)
Died
July 7, 1952 at Pittsburgh, PA (US)
If you can help us improve this player's biography, contact us.
http://bioproj.sabr.org/bp_ftp/images3/GreenleeGus.jpg
600
800
admin
/wp-content/uploads/2020/02/sabr_logo.png
admin
2012-01-08 21:23:21
2021-09-17 01:07:21
Gus Greenlee