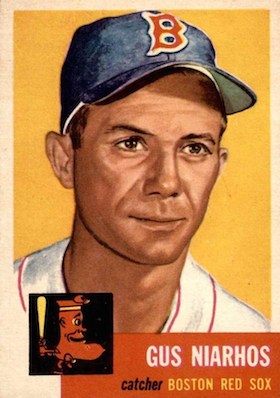 ---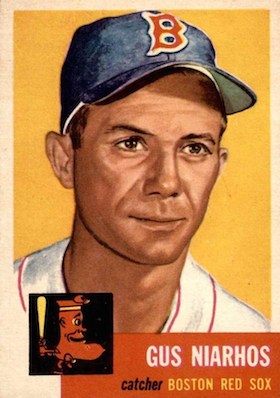 At the 1940 American Baseball Congress national amateur baseball tournament in Battle Creek, Michigan, Detroit Tigers scout Wish Egan said the Tigers had offered 19-year-old catcher Gus Niarhos $5,000 to sign with the Tigers. The catcher, who had been playing for the tournament's championship team, a semipro paper company team in Birmingham, Alabama, declined the offer. The Indians had similarly been rebuffed. He said he wanted to confer with his father.1
On January 23, 1941, Niarhos was signed by the New York Yankees "for Norfolk at a reputed bonus of $2,500."2
Gus's father was Gregory Constantine Niarhos, who had emigrated from Greece, started a restaurant, then run a bowling alley; he managed a pool room in Birmingham at the time of the 1930 census. He and his wife Helen Kokinon Niarhos, also of Greek heritage, named their first-born Constantine Gregory Niarhos. He was born on December 6, 1920, in Birmingham and was always known in the family as "Gus." He had three siblings, Georgia, John, and Jim.
Gus attended the Robert E. Lee School for his first eight grades, then attended and graduated from Birmingham's West End High School. He spent a half a year at Auburn University (it was Alabama Polytechnic Institute at the time.) Yankees scout Johnny Nee confided his difficulty in signing Niarhos. "The father wanted the boy to complete his college education and so Gus started in at Auburn. Nee bided his time and then one day he learned Gus had quit school. 'I wired Ed Barrow I was going over to Birmingham to get that kid,' Nee says. 'And I got him. And, say, do you know he's a real infielder, too. He can play third or short about as good as you'd want.'"3 Nee and Gus's father Gregory had been friends for years.4 And once Niarhos signed, his scholarship was canceled, so it was off to Akron.
Niarhos stood an even 6 feet tall and was listed at 160 pounds. He threw and batted right-handed. When he was first with the Yankees, he said that some of the other players hung the moniker "Blood Bank" on him, suggesting that he needed to put on a good amount of weight, particularly as a catcher.5 He'd always been a catcher, though, even in grammar school.
The Yankees initially assigned Niarhos to the Class-C Akron Yankees of the Middle Atlantic League. He had an excellent 1941 season, playing in 112 games and batting a team-leading .306, combined with a .995 fielding percentage. In 1942, he played for Binghamton in the Class-A Eastern League. He got in a full season's work—127 games—and hit for a .278 batting average. He was voted as the Eastern League's All-Star catcher in 1942. He was a little fiery; at one point in August he was fined $25 and suspended briefly on charges of bumping an umpire.6
Niarhos joined the United States Navy in October 1942 and served until December 1945.
After 1946 spring training with the New York Yankees in the Panama Canal Zone and St. Petersburg, Niarhos began the season with the Yankees, but did not appear in a game before he was returned to the American Association's Kansas City Blues on May 10. He played in 17 games, batting .235, before being summoned to rejoin the Yankees. On June 6, the Yankees purchased his contract.
Niarhos had his major-league debut, as a pinch-runner—twice—on June 9. The Cleveland Indians were visiting Yankee Stadium for a doubleheader. In the first game, he went in for a runner on first, with one out in the bottom of the eighth. He advanced to third but did not score. He caught the top of the ninth as the Indians won. In the second game, the Yanks were losing, 2-0, when Niarhos was called upon to pinch-run, again at first base, in the seventh. He advanced to second, then third, and scored on a wild pitch. He caught the final two innings. He was due to lead off the bottom of the ninth with Cleveland in front, 4-2. Manager Bill Dickey replaced him with pinch-hitter Hank Majeski, who flied out to shortstop. But another pinch-hitter, Johnny Lindell, then started a rally and from the bench, Niarhos saw the Yankees score five times in the bottom of the ninth to win, 7-4.
Two days later, he got his first start. Batting eighth, Niarhos singled and tripled in four at-bats, and scored two runs. By the end of 1946, he had pinch-run or pinch-hit more than a dozen times, appearing in 37 games overall, with a .225 average. But he also drew 11 walks that boosted his on-base percentage to .392. He scored 11 runs, but drove in only two.
In mid-November 1946, Gus he married Gennevieve Ihle. They would be together the rest of his life and have four children—Gregory, James, John, and Mary.
Niarhos spent all of 1947 with Kansas City, appearing in 93 games and batting .321. His next six seasons were all in the big leagues. He alternated with Yogi Berra7 at catcher for the 1948 Yankees, playing in 83 games before a fractured hand in late September put him out for the season, and hit for a .268 average. He drove in 19 runs, but scored 41. Again, his plate discipline was striking; his on-base percentage was .404, higher than any of the regulars. Before his hand injury, New York Sun sportswriter Will Wedge wrote a column entitled "Niarhos Key Performer in Yanks' Pennant Push."8
Casey Stengel took over as manager in 1949, and Berra became the catcher of choice. Niarhos broke his toe in spring training, but healed in time for the season to begin. He appeared in 32 games. He hit .279, drove in six and scored seven. It was the only time he got to play in a World Series. In Game Two, after catcher Charlie Silvera had been removed for a pinch-hitter, Niarhos caught the top of the ninth as the Dodgers beat the Yankees, 1-0, a lead they'd held since the second inning.
He only played in one more game for the Yankees, when he pinch-ran on June 17, 1950. The team wasn't using him and Niarhos was placed on waivers. The White Sox claimed him on June 27 for the prescribed $10,000 waiver price. He filled in nicely over the rest of the 1950 season, playing in 41 games and batting .324 with 16 RBIs. In 1951, he played in 66 White Sox games, hitting .256 with 10 RBIs. He lost playing time to a foul ball that fractured his wrist on July 16. He didn't get back into a game until early September.9
On November 27, Niarhos was traded to the St. Louis Browns as part of an eight-player transaction. Joe DeMaestri, Gordon Goldsberry, Dick Littlefield, and Jim Rivera accompanied him from Chicago to St. Louis in exchange for Sherm Lollar, Tom Upton, and Al Widmar. The Chicago Tribune story of the trade dubbed him "only a part time workman."10 But Niarhos was a member of the Browns for only a matter of hours. The next day Niarhos and Ken Wood were traded to the Boston Red Sox for Les Moss and Tom Wright. The AP story called Niarhos "a smooth-working but not too rugged catcher."11
Niarhos himself couldn't believe the news when he first heard of the trade by way of a telephone call to him at home from sportswriter Al Hirshberg of the Boston Post. He asked several times if it was a prank call, "some wise guy from Birmingham trying to give me the business."12 It was not uncommon then for a player to learn he'd been traded by hearing it on the radio or reading it in the newspaper. "I feel like a guy who just found a fortune," he exulted. His wife, he said, had fainted while he was on the phone, but recovered before the conversation was over.
But the Red Sox apparently didn't see him as their main man behind the plate. Jack Barry of the Boston Globe wrote he was "a classy receiver, but slight of physique" and said the team didn't think he could catch 100 games.13 He added that Niarhos was a "banjo hitter" but he was a "finished catcher and would rate as a fine No. 2 man on any club's receiving staff."14
The Red Sox didn't use Niarhos much at all in 1952 and 1953. In the two seasons combined, he only added six RBIs to his total. He got into 29 games in 1952 and then 16 games in 1953. His combined batting average was only .140.
In 1954, the Red Sox assigned him outright to Louisville and he didn't produce much there, either, batting .114 in 17 games. The Philadelphia Phillies needed a backup catcher, though, and purchased his contract from the Red Sox in mid-July. The only games he played for the Phillies in 1954 were later in July—on the 23rd, 25th, and 30th, while Stan Lopata was hurt. Niarhos had five plate appearances and singled once.
In 1955, he played in seven games. Two were in July and the other five were all between September 4 and 9. He was 1-for-9 (.111). Niarhos's September 9, 1955, appearance, when he caught the eighth inning in relief of Lopata in an 11-2 loss to St. Louis, was his last in a major-league game.
In April 1956, he was released by the Phillies but played that season for the Miami Marlins, a Phillies' affiliate in the Triple-A International League. He played in 78 games and hit .217. He was with Schenectady and then Tulsa in 1957, and then Tulsa again in 1958, Niarhos's last year as a player. For about a week, he was back with the Phillies again, signed as a free agent on July 23 and released on August 1, but he saw no action. He had also been working as an instructor in the Phillies' farm system.
Tragedy struck the family that November. Gus and Gennevieve's 12-year-old son Gregory died accidentally "while playing a solitary game of cowboys and Indians in his room."15
For three years beginning in 1962, Niarhos was back in a major-league uniform again, as bullpen coach for the Kansas City Athletics. In June 1964, the A's hired him to manage their rookie club at Wytheville, Virginia, and Niarhos then managed, successively, at Burlington (Iowa), Modesto, Peninsula (Hampton, Virginia), Birmingham, Jacksonville, and Quebec. His 1971 season with Quebec was his last. His 1965 Burlington Bees won the Midwest League pennant and Niarhos was named California League Manager of the Year with Modesto in 1966.
Gus's son James remembered that after baseball, Gus "worked for a friend in Pennsylvania in the knitting industry until 1980 when [he and Gennevieve] moved to Harrisonburg, Virginia. He enjoyed attending James Madison University sporting events. Baseball and women's basketball were his favorites. He loved the beach and traveled there many summers. He spent many hours with my two children, which he enjoyed. He received requests for autographs on a daily basis through the mail. He signed them all and would never accept a dime. He requested that a contribution be made to the Major League Ballplayers Retirement Association. He was a good father."16
Gus Niarhos died on December 29, 2004, in Harrisonburg after a long illness. He and Gennevieve, who survived, had been married 58 years. Two sons, James and John; a daughter, Mary Ingram; four grandchildren; and Niarhos's brothers John and Jim also survived.17
Sources
In addition to the sources noted in this biography, the author also referred to Niarhos's player file and player questionnaire from the Giamatti Research Center at the National Baseball Hall of Fame, the Encyclopedia of Minor League Baseball, Retrosheet.org, Baseball-Reference.com, Rod Nelson of SABR's Scouts Committee, Bill Lee's Baseball Necrology website, and the SABR Minor Leagues Database, accessed online at Baseball-Reference.com.
Notes
Full Name
Constantine Gregory Niarhos
Born
December 6, 1920 at Birmingham, AL (USA)
Died
December 29, 2004 at Harrisonburg, VA (USA)
If you can help us improve this player's biography, contact us.
http://sabr.org/sites/default/files/NiarhosGus.jpg
600
800
admin
/wp-content/uploads/2020/02/sabr_logo.png
admin
2016-11-29 17:52:49
2016-11-29 17:52:49
Gus Niarhos