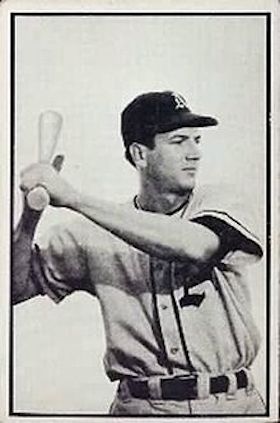 ---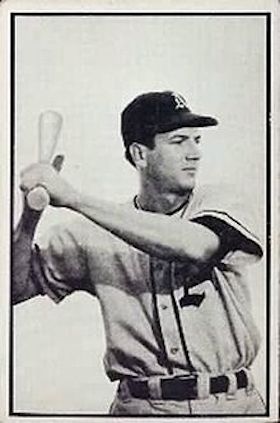 Hard luck dogged [Hal] Bevan through the early seasons of his career as a player," wrote The Sporting News in the player's 1968 obituary.1 Misfortune also brought him an early death, just 37 years old.
Bevan was a third baseman who never made an error while playing for four major-league teams during three seasons, but he didn't play much, appearing in a total of 15 games and in seven of those only as a pinch-hitter.
He was born in New Orleans on November 15, 1930, the son of Thelma and Harold Joseph Bevan, Sr. He reported himself as of Welsh and Dutch heritage. Harold Sr. worked as sales manager of a wholesale liquor firm. The 1940 census and 1956 New Orleans city directory both indicate that Harold Jr. was an only child.
He played American Legion baseball growing up and graduated from S. J. Peters High School in New Orleans, where he played both baseball and basketball. Bevan was a unanimous selection for the New Orleans Times-Picayune 's All-Prep baseball team.2 He grew to become 6-feet-2 and is listed with a playing weight of 198 pounds.
His cousin, George Bevan Strickland, four years older, also graduated from Peters High and played as a utility infielder from 1950 to 1960 for the Pittsburgh Pirates and Cleveland Indians. Other Peters alumni in the big leagues include Lou Klein, Jack Kramer, and Mel Parnell.
Hal was signed to a New Orleans Pelicans contract in 1948 by Business Manager Vincent Rizzo. New Orleans was a Pittsburgh Pirates farm team, and Rizzo was in effect Bevan's signing scout. His first year of professional baseball saw him assigned to the Rehoboth Beach (Delaware) Pirates in the Class-D Eastern Shore League. In 144 at-bats over 37 games, he hit for a .271 batting average. He would have played in more games but suffered a fractured jaw.
He spent most of the 1949 season in Class-C baseball, playing in the California League for the Modesto Reds. There he hit .330 in 98 games, but lost a month of playing time due to an injured ankle. He also got into six games for the New Orleans Pelicans (Double-A ball in the Southern Association); he was 5-for-18.
On March 10, 1950, Bevan married Barbara Tomes.
In 1950 he split playing time between the Class-B Waco Pirates (Big State League, 58 games, .393), and then the Pelicans (65 games, with a .237 batting average.) While with New Orleans, he lost 10 games due to a beaning.
Somehow he escaped serious injury for almost the full 1951 season, playing before home crowds at Pelican Park, New Orleans. He appeared in 150 of the team's 154 ballgames, missing only a game or two in August after another beaning. He batted .286 with seven home runs for manager Rip Sewell.
That November 19, he was selected by the Boston Red Sox, taken from the Pirates in the 1951 Rule 5 draft. He'd been recommended by Red Sox scout Ted McGrew, who believed Bevan had a chance to become either the first or third baseman for Boston.3
On April 24, 1952, Bevan debuted in the big leagues. Casey Stengel's Yankees were visiting Fenway Park and Bevan started the game at third base for Red Sox manager Lou Boudreau. He was the last batter up in the bottom of the second inning, grounding out, 4-3. When he was due up again, in the fourth inning, Eddie Lopat had walked three batters in a row. Boudreau called on Vern Stephens to pinch-hit for Bevan. Stephens flied out to center field for the third out of the inning. It was the only game in which Bevan ever played for the Red Sox.
He was put on waivers a few days later and claimed by the Philadelphia Athletics on May 3. "He's a fine youngster," said Boudreau, "but it's his tough luck that we're loaded up on infielders."4
His first two appearances for the Athletics were as a pinch-runner. His next two games were as a late-inning defensive replacement, though he managed one (fruitless) at-bat in each game. On June 10, with the White Sox visiting Shibe Park, Bevan collected his first major-league base hit, a two-run single to left field off Billy Pierce in the fourth inning. The two runs brought the score to White Sox 15, Athletics 2.
He was 3-for-4 the next day, with another RBI, his single in the bottom of the sixth providing what proved to be the winning run in a 4-3 game. He had a two-hit day in St. Louis on June 14 and brought his average up to .333, when he fractured his ankle sliding into home plate. "His spikes caught as he followed Skeeter Kell across the plate on a single by Eddie Joost," reported the Philadelphia Inquirer. "Carried off the field on a stretcher, Bevan was rushed to Jewish Hospital, where physicians announced that not only was the leg broken just above the ankle, but the ankle itself had been dislocated."5 It was said to be a triple fracture. "The ankle was in a cast for seven months," Bevan later said.6
He played two pretty full seasons for the Ottawa A's (International League) in 1953 and 1954, 101 games and then 132, batting .311 for 50 RBIs and then .300 with 60 RBIs, respectively. He played both third base and first base in 1953 and third base and second base in 1954.
In 1955, the Philadelphia Athletics relocated to Kansas City. Bevan began the season with the Kansas City team and appeared in three of the team's first 16 games, for one at-bat apiece. Each time, he made an out. The rest of the season was spent in Ohio, playing for the Columbus Jets, KC's Triple-A affiliate. He split his time between third base and first base, playing a few more games at third. He hit for a .274 average in 93 games. In September, Bevan was traded to the Cincinnati Redlegs for Ray Noble of Havana.
Cincinnati had something different in mind for Bevan in 1956 and he played the full season for the Havana Sugar Kings, batting .302. Havana was their International League team.
For the next four seasons, 1957 through 1960, Bevan played in the Pacific Coast League for the Seattle Rainiers. He got in a lot of work, averaging 136 games per year. He set career highs in home runs (23) and runs batted in (90) in 1957. (Many of his homers came when the Rainiers visited Portland; over his years in the Coast League, he hit 26 home runs in Portland. It became known as "Bevan Heaven.")7 The July 18, 1958, game saw him hit two homers and drive in six runs.8 He hit six home runs in a seven-game visit from the Rainiers to Portland.
In 1958, Bevan played first base in 107 games but he caught in 33 games. The 1952 injury still hampered him and he decided to try to catch since he "no longer had the mobility required of a major league infielder."9 Seattle GM Dewey Soriano suggested he switch to catching. "Switch to catching. It's the only way you have a chance of getting to the major leagues."10 In 1959 he worked exclusively behind the plate and for the following three years devoted most of his time to catching.
Coach Dick Sisler praised Bevan for his versatility, being able to fill in if need be at first or third base. "His bat is the big thing, and we need another right-handed pinch hitter…And he's a good man to have on the club. He'll give another player hell if the guy's not hustling."11
After leading the Rainiers in 1959 with a .322 batting average, he said he was considering retirement unless he was drafted or purchased by a major-league ballclub.12
He played out 1960 with Seattle, but in September was gratified to see his contract purchased by the Reds. In New Orleans he was voted the best pro athlete of the year.
In 1961, still only 30 years old, Bevan went to spring training with the Reds, but broke a finger on his right hand on March 17. Once the finger healed, he had the opportunity – in the first half of May – to play in three more major-league games for the Reds.
All three appearances were as a pinch-hitter, on May 7, 12, and 13. He was 1-for-3, .333 in his final year in the majors.
His lone hit was on May 12, and it was a home run to deep left field off Pittsburgh Pirates pitcher Vinegar Bend Mizell. It was his only homer in the majors, and produced the fifth and final RBI of his time in the big leagues.
Before May was done, he was sent to Jersey City to make room on the Reds roster for Pete Whisenant. Bevan played 44 games for the Jersey City Jerseys, and then 39 games for the Indianapolis Indians (both Triple-A teams in the Cincinnati system.) On August 10, yet another injury – a dislocated thumb – sidelined him for the remainder of the season.
Bevan's last year in pro ball was in 1962. He played in the Coast League again, for the San Diego Padres, for whom he hit 12 homers in 102 games and hit for a .307 batting average. He also did some double duty, coaching from the first base coach's box. The Padres won the Pacific Coast League pennant. Bevan went out on top.
In February 1963, he announced his retirement to go into private business in New Orleans as a sales manager.
After his playing days were done, Bevan also took up work as an area scout for the Milwaukee (later Atlanta) Braves. In September 1965, he was one of three principals who opened The All-American Trophy and Award Co., Inc. on Tulane Avenue in New Orleans.
But he didn't live long at all. He died of a kidney infection on October 5, 1968, at Baptist Hospital in New Orleans. He was survived by his wife, Barbara, and their five children. He was only 37 years old.
Mother, father, and Hal Jr. are all buried in the same crypt at Greenwood Cemetery, New Orleans.
Sources
In addition to the sources noted in this biography, the author also accessed Bevan's player file and player questionnaire from the National Baseball Hall of Fame, the Encyclopedia of Minor League Baseball, Retrosheet.org, Baseball-Reference.com, Rod Nelson of SABR's Scouts Committee, and the SABR Minor Leagues Database, accessed online at Baseball-Reference.com.
Notes
Born
November 15, 1930 at New Orleans, LA (USA)
Died
October 5, 1968 at New Orleans, LA (USA)
If you can help us improve this player's biography, contact us.
http://sabr.org/sites/default/files/BevanHal.jpg
600
800
admin
/wp-content/uploads/2020/02/sabr_logo.png
admin
2016-09-22 11:38:55
2016-09-22 11:38:55
Hal Bevan