---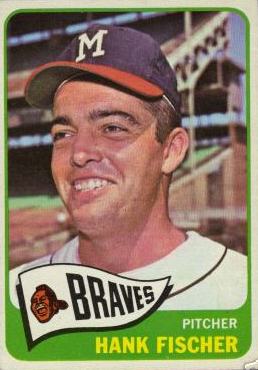 When the Red Sox arrived at their spring training camp at Chain-O-Lakes Park in Winter Haven, Florida, in 1967, manager Dick Williams seemed to have a pretty good idea who would comprise his pitching staff. However, in its preseason outlook, Sports Illustrated was not impressed with the group, which the magazine mocked as a "prospect that won't cause too many hitters around the league to lose sleep." One of those hurlers was Hank Fischer.
Henry William Fischer was born in Yonkers, New York, on January 11, 1940, and from his early youth seemed destined for greatness — but it was in basketball, not baseball, that he first drew attention. He led the St. Paul's Midget League basketball team through three undefeated seasons and poured in a record 53 points during a playoff game. He earned the nickname "Bulldog" for his aggressive demeanor on the basketball court, and at Roosevelt High School, he led the city in scoring during his senior year in 1957.
That same year, playing baseball for coach Joe Seidell, Fischer led the team to the city crown, pitching three no-hitters en route to the title. He was the first recipient of the Louis J. Flowers Memorial Award, still given annually to Yonkers' outstanding high school athlete. In his late teens, he also pitched for an American Legion baseball team that advanced to the national finals in 1957. Fischer also pitched two years for the Connie Mack Eastern Championship team, which put together an unbeaten string of 35 games.
After graduation, Fischer enrolled at Seton Hall University, where the 6-feet 190 pounder led the freshman basketball team with an 18-point-per-game average. His college basketball coach, John "Honey" Russell, was also a scout for the Milwaukee Braves, and recommended that the club sign his hoop hotshot. Before the 1959 baseball season, Fischer signed with the Braves. That year, he pitched for two Braves' farm teams, Eau Claire of the Class C Northern League and Cedar Rapids of the Class B Three-I League. In 1960, with Cedar Rapids, he led the Three-I League in strikeouts (217) and earned run average (2.01).
Fischer appeared to be on the fast track, moving up to Triple-A Louisville in 1961, where he had 163 strikeouts and pitched in the American Association All-Star Game. The following year, Fischer split his time between Louisville and the parent Milwaukee club, making his debut with Milwaukee on April 16, 1962, pitching a scoreless inning against Cincinnati in Crossley Field. Although Fischer was a starting pitcher in the minor leagues, he relieved in all 29 of his appearances for Milwaukee in 1962, and posted a record of 2-3, and a 5.30 ERA, in 37 1/3 innings. The next season, 6 of his 31 games were starts, and he improved to 4-3 and 4.96 in 74 1/3 innings.
The Braves of this era were attempting to transition from their great teams of the late 1950s, whose pitching staff was led by Warren Spahn, Lew Burdette and Bob Buhl, and a more youthful mid-1960s group. After the 1963 season the club traded starters Bob Shaw and Bob Hendley to the Giants, opening up rotation spot for Fischer who started 24 games that season.
The Braves had thought of Fischer as a reliever until manager Bobby Bragan gave him a few starts in 1963. "I like starting much better," said Fischer. "You live differently when you start. You know what day you're going to pitch and you can gauge your pitching accordingly. You clutch up a little before you start and that gets you in the right frame of mind for competition. You can't do that in relief."
Fischer began the 1964 season by winning his first two starts, despite serving up two home runs in 2/3 of an inning during his debut. Later, he pitched a two-hit, 1-0 masterpiece on May 3 against the Phillies, driving in the only run himself. Fischer went on to complete the best season of his career, finishing 11-10 with a 4.01 ERA. He had five shutouts among his 11 victories, finishing second in the league to Sandy Koufax, who threw seven. At the end of July he was 9-5, 2.90, before struggling the last two months. The low point was in early August when he was knocked out of the box in the first inning against the Reds on August 6, then came back the very next night to get knocked out in the first again, this time by the Dodgers. This bad stretch could not ruin his breakout season.
"I've got confidence now," Fischer reported. "I go out there knowing that even when I get bombed, I'll be starting again in five days. Now I am a pitcher instead of a thrower. I've started to try to control the ball, rather than try to strike everyone out. Now I can throw the slider and curve and I can get them over the plate."
In 1965 Fischer was in and out of the rotation all year, and recorded an 8-9 record and a 3.89 ERA, in the last year of the Milwaukee Braves. He moved with the team when it headed to Atlanta in 1966, where he was 2-3, 3.91 in the early going. On June 15 of that year, he was traded to Cincinnati for fellow right hander Joey Jay. He spent exactly two months with the Reds, appearing in 11 games with a 0-6 record before being traded to the Red Sox on August 15 for two players to be named plus cash.
He pitched well for the Red Sox at the end of the season, finishing 2-3, 2.90, including a complete game 4-1 victory over the Athletics on August 25 at Fenway Park. After his victory, Fischer allowed, "I think I have proved I can do something for this club."
In the spring of 1967, Fischer reported to the Red Sox and their new manager Dick Williams in a fight to make the roster. His strong 1966 finish likely gave him an edge, though his manager was in Toronto at the time. In his first Grapefruit League outing, on March 17 against the Reds, Fischer threw three perfect innings. Four days later, he came on in relief and gave up five runs on six hits over two innings in a 10-5 loss to Philadelphia.
Fischer continued to seesaw his way through the spring. He went six innings against Atlanta, allowing eight hits and four runs while striking out four in a 6-1 loss. Finally, on March 30, in his best outing of the exhibition season, he came on in relief of Lee Stange to pitch four shutout innings and almost assuredly won a spot on the roster. He allowed just one hit and one walk and struck out two as the Red Sox beat the Orioles, 1-0.
In the end, Fischer made the team but was generally the last man in the bullpen. A few highlights from his season stand out. On April 13 Fischer came on in relief of starter Darrell Brandon in the sixth and did not allow a runner past second in his first three innings. In the ninth, the Red Sox committed three errors (and a total of five for the game), allowing five unearned runs and handing Fischer the loss. Three days later Fischer pitched shutout ball in the 16th and 17th innings against the Yankees, allowing one hit and striking out two. The Yankees won the game in the bottom of the 18th when Joe Pepitone's two-out single ended the five-hour, five-minute marathon.
Fischer's best effort of the season was on April 25, a complete-game 9-3 victory over the Senators at D.C. Stadium, to even his record at 1-1. He threw a five-hitter, walked three and had five strikeouts, aided by home runs by Reggie Smith, Mike Andrews, and Tony Conigliaro. However, Fischer earned the wrath of manager Dick Williams for his failure to knock down Senator reliever Bob Humphreys, who had hit Rico Petrocelli with a pitch after Conigliaro's home run.
Fischer's only other start of the season was on May 2, when he pitched five innings, allowing all three California runs in a 3-2 loss. He made three more relief appearances before going on the disabled list with a sore pitching arm. On August 8 Fischer was reactivated from the disabled list, and he wound up pitching in both ends of a doubleheader split in Kansas City, pitching three scoreless innings.
Although Fischer had come off the disabled list, assistant general manager Haywood Sullivan said he was not throwing hard and was still having arm troubles. A week later, Fischer was sent to the team's Toronto farm club, where he finished the 1967 season. For the Red Sox, he finished 1-2 with a strong 2.36 ERA for the season, in a year when the outcome of every game was crucial to winning the pennant. At the end of the season the Red Sox released him, ending his career.
The following season he was on the Louisville roster, but in early May chose retirement rather than another trip to the disabled list. Over his major league career, Fischer pitched in 168 games with the Milwaukee Braves, Atlanta Braves, Cincinnati Reds, and Boston Red Sox. He had a total of 546 2/3 innings [546 2/3] pitched and a career strikeout total of 369.
Only 28 at the time of his forced retirement, Fischer and his family relocated to West Palm Beach, Florida, where he worked in the restaurant business. While his current whereabouts are unknown, he was last known to be living in Hiawassee, Georgia.
Note
This biography originally appeared in the book The 1967 Impossible Dream Red Sox: Pandemonium On The Field, edited by Bill Nowlin, and published by Rounder Books in 2007.
Sources
"Baseball 1967," Sports Illustrated, April 17, 1967, p. 72.
Coleman, Ken and Dan Valenti, The Impossible Dream Remembered, Lexington MA: The Stephen Greene Press, 1987.
http://cityofyonkers.com/parkssite/Henry%20W.%Fischer.htm.
Marazzi, Rich and Len Fiorito, Aaron To Zipfel, NY: Avon Books, 1985.
Photo Credit
The Topps Company
Born
January 11, 1940 at Yonkers, NY (USA)
If you can help us improve this player's biography, contact us.
/wp-content/uploads/2020/04/no-bio.jpg
600
800
admin
/wp-content/uploads/2020/02/sabr_logo.png
admin
2012-01-04 20:30:32
2012-01-04 20:30:32
Hank Fischer