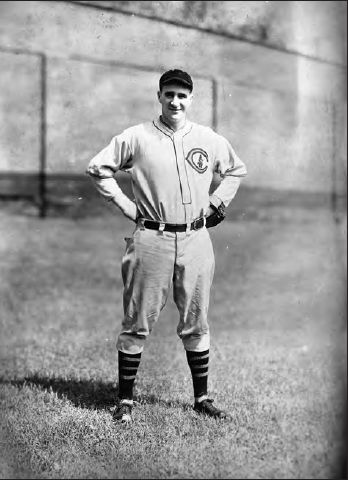 ---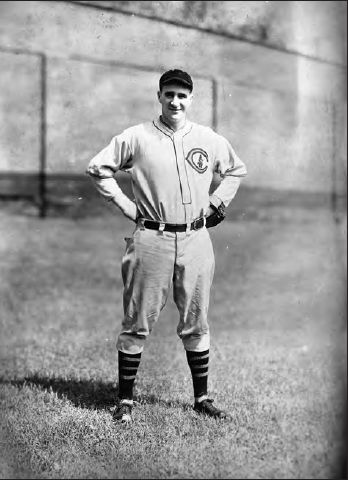 Henry Grampp Jr. was born in New York City on September 28, 1903, the only child of Henry and Frieda Grampp. There is some confusion about Henry's middle name, which was long listed as "Erchardt" in baseball encyclopedias. But since his paternal grandfather's given name was Eckhard and his father provided his name as Henry Joseph Eckhard Grampp when he filled out his World War I registration card, it is likely that that was also Henry Jr.'s name.
Henry Sr. was employed as chief attendant at the New York Museum of Art and by 1920 his son was working as a bank messenger. But the younger Henry was also dreaming of a career in baseball, and in 1923 pitched in six games for Hartford of the Eastern League (Class A) followed by seven games for Newark of the International League. By 1926 his work for Petersburg of the Virginia League (Class B) had caught the eye of a Chicago Cubs scout, and he was drafted by the Cubs at the end of that season.1
When Grampp arrived at the Cubs' spring-training home on Catalina Island the next spring, his mind must have been full of dreams of making the team and going on to major-league stardom. As it turned out, he made the team all right, but his role was not one he could have envisioned. Day after day, he was asked to pitch batting practice to Cub hitters, but when the real game began, his work ended.
Almost a month into the season, Chicago arrived in Grampp's hometown for a series against the New York Giants. Before one of the games, the local boy who'd made good was presented with a watch by the boys who belonged to a German-American club headed by Senator Robert Wagner of New York.2 But even back in this most inviting of atmospheres, Chicago manager Joe McCarthy never called upon Grampp to face live action.
Grampp finally made his major-league debut in the second game of a doubleheader in St. Louis on June 21, 1927. The game was already a lost cause when Grampp was called from the bullpen, and he surrendered three more runs in two innings of work. Then it was another two months before his next appearance, on August 30 in New York. This time he pitched a shutout inning, but it was not enough to earn him any more work that year.
But while game action was in extremely short supply, Grampp had no trouble staying busy. Until this point, it had been customary for batting practice to be thrown by a member of the staff who was between starts. But Grampp changed this; as sportswriter Edward Burns observed, "All other major league clubs rotate the job of pitching in batting practice among pitchers several days away from any possible turn to pitch. Not so the Cubs – that's Hank's job 154 days of the season."3
Naturally the job of full-time batting practice pitcher attracted some sarcastic commentary. Sportswriter James S. Collins quipped that the umpire's cry of "Play Ball" was "Grampp's cue to call it a day and hie himself to the showers. Next to managing the Phillies, Mr. Grampp's seems to most unattractive job baseball has offered since an unsung hero filled a line on the Giants' pay roll as keeper of the late 'Bugs' Raymond."4
But Grampp took the assignment seriously and so did his teammates, who never made his role "the subject of some flippant comment." As Burns explained, "Batting stars in the thick of a pennant fight won't stand for careless pitching. To get beaned in batting practice is an accident not looked upon as a legitimate way to get injured. So to be a successful batting practice pitcher an athlete must have control and at the same time keep his offerings difficult to hit. Hank has control and he doesn't lob 'em over. That's the reason he has been called the world's champion batting practice pitcher."
It was also a demanding job: "Hank's work is on a definite schedule, and while the club is at home begins earlier than on the road, for the home team has first call on batting practice. The practice is ended on schedule, but the home club starts as early as the manager orders. In a game the pitcher rests while his club is at bat, but the practice pitcher stays in for a certain number of 'rounds,' in which the batters practice in the same order as in the game, each hitting the ball three times in each round."5
And, perhaps most importantly, Grampp never showed any sign of resenting his role. "Grampp never complains that his light is being hidden under a bushel," Burns noted. "His smile is perpetual. He is content. Other ball players nervously wonder what each day holds for them. Hank knows what he's going to do."6
Because of his value to the club, Grampp was invited back to spring training in 1928 and again made the team – but never once pitched in a major-league game that season. Asked why he didn't give Grampp an occasional chance in a mop-up role, McCarthy replied, "Grampp has done his full quota of work long before there ever is occasion for a relief pitcher. Taking those rounds of pitching practice is just as hard work as pitching in a game."7
Grampp returned to Catalina in 1929 amid vague speculation that he might finally see regular work during regular-season games.8 But Grampp understood his role and so did most observers. An Associated Press story even claimed that "official batting [practice] pitcher" was his title.9
By this time, Grampp had developed a "talent for impersonation" of other teams' pitchers that made him all the more valuable.10 "If the Cubs are to face Carl Mays, for instance," sportswriter James S. Collins explained, "Mr. Grampp goes out there and throws up a few underhand balls to the Cub sluggers. If [Grover Cleveland] Alexander is expected to be the opposing pitcher, we are told, he gives an imitation of Alexander's style."11
Thus the 1929 season again saw Grampp as usual take the mound for batting practice each and every day, but just as consistently depart the scene before the start of the game itself. There was one difference that year: The Cubs were headed for the World Series.
That prospect was very exciting for Grampp and all the Cubs, but it did raise a concern. Grampp threw batting practice only when the opposing starter was to be a right-hander. Eric Nadel and Craig R. Wright in The Man Who Stole First Base claimed that Grampp was ambidextrous, but numerous contemporary sources make clear that he threw only right-handed.12 There were relatively few southpaws in the National League, so he worked nearly every day during the regular season, but the Philadelphia Athletics featured two left-handed starters, Rube Walberg and Lefty Grove, meaning that Grampp might not see much work.
A column by Edward Burns maintained that Grampp was beginning to worry and lose weight over this prospect. It seems safe to assume that the claim was at least partially – if not entirely – tongue in cheek. After three years of keeping a "perpetual smile" while performing a role that others might have resented, Grampp must have been thrilled about being involved in the fall classic.13
Before it started, however, Grampp did finally get a chance to start a major-league game. On October 4, 1929, McCarthy told the team's beat writers they could select the Cub starter for the last day of the season three days later. Grampp was their unanimous choice, but after pitching one solid inning, he was rocked for six runs in the second inning and had to be removed.14
Grampp's concerns about not being needed during the World Series – if indeed they were real – proved unfounded. Athletics manager Connie Mack, wary of Chicago's right-handed hitters, surprised everyone by starting right-hander Howard Ehmke in the opener and used his two left-handers only in relief during the Series. Unfortunately for Grampp and the Cubs, Mack's strategy proved effective, and Philadelphia won in five games. Grampp did at least have the distinction of being on his team's active roster for the World Series, though naturally he did not pitch.15
Grampp went to spring training in Catalina again in 1930, but it would prove a very different spring than the three previous ones for him. On April 9 he married a 19-year-old local woman named Elaine Hammond. Before the end of the year, the marriage had disintegrated. Grampp was trying to obtain a divorce, while Hammond was seeking an annulment, claiming that they had been married hurriedly by a deputy sheriff because Grampp told her the team was about to leave. Meanwhile, the deputy sheriff was maintaining that he thought the whole thing was a joke.16
Three days after his disastrous marriage, the Cubs released Grampp to Reading of the International League.17 He somehow compiled an 8-3 record for this club, but his 6.10 earned-run average shows that he did not pitch well. He began the 1931 season with Reading, but was released after only two games and picked up by Buffalo, which in turn cut him loose in July.18 After a final stint with Norfolk, he decided to return to New York City and retire from baseball.
Grampp worked for several years as a special patrolman for the National Bank and was married again, to a woman named Lena – this time successfully.19 But Grampp didn't entirely turn his back on baseball. In 1934 he was back in a familiar role as batting-practice pitcher for the Yankees.20 And in 1950 he was hired as a full-time scout by the Cubs, with responsibility for New York, New Jersey, New England, and Pennsylvania.21
In 1968 Henry's wife Lena, died at the age of 57. Henry Grampp survived for another 18 years, dying in New York City on March 24, 1986, at the age of 82.
This biography appears in "Winning on the North Side: The 1929 Chicago Cubs" (SABR, 2015), edited by Gregory H. Wolf.
Notes
Born
September 28, 1903 at New York, NY (USA)
Died
March 24, 1986 at New York, NY (USA)
If you can help us improve this player's biography, contact us.
http://sabr.org/sites/default/files/HankGrampp.JPG
600
800
admin
/wp-content/uploads/2020/02/sabr_logo.png
admin
2012-01-04 20:38:15
2021-03-17 13:03:37
Hank Grampp