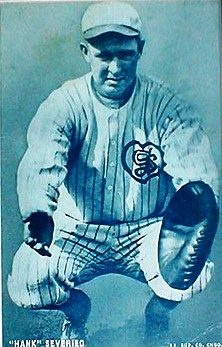 ---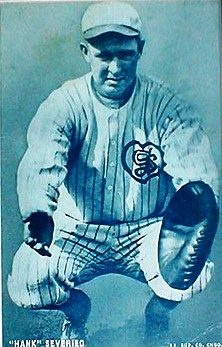 Hank Severeid caught for four major-league teams between 1911 and 1926, appearing in 1,390 games, and for almost a dozen minor-league clubs before and after the majors. A tough, durable backstop, he caught in at least 100 games a season for in eight of his ten years with the St. Louis Browns, one of the exceptions being 1918, when he was in the US Army overseas during World War I. His career major-league batting average was a healthy .289, and he was known for his fielding skills and his ability to guide a pitcher over rough spots.
Henry Levai Severeid was born on June 1, 1891, in Story City, Iowa, to Norwegian immigrants Lars Severeid, a stonemason, and Maria (Naess) Severeid. Two of his older brothers, Oscar and Charles, as well as a younger brother, Elmer, played minor-league ball, but only Hank reached the major leagues. Hank's baseball career began early, as he served as a batboy for the town semipro team in 1899. Oscar, his eldest brother, had taught him the basics of the game.
In 1905, as a 14-year-old reserve on the town team, Henry became a catcher when the regular backstop failed to show up for a game against neighboring Roland. On such twists do lives turn, as Severeid's career as a backstop was launched. Three years later the 17-year-old Severeid appeared in 63 games for Sioux City of the Western League. His .224 batting average may not have ignited the imagination of the baseball world, but it was enough to get him a contract with the Burlington Pathfinders of the Class D Central Association in the latter half of the 1909 season. Severeid caught 25 error-less games that year, and 13 for Waterloo in the same league. His batting average of.302 for Burlington drew the attention of the league's Ottumwa Packers, who signed him for the next year.
In 1910, Severeid made the most of his opportunity, playing in 105 games and hitting .304 against Central Association pitching. His .978 fielding percentage, along with the impressive bat, caught the attention of the Cincinnati Reds, and the Reds purchased his contract for $2,000.. On May 15, 1911, in Philadelphia, Severeid made his major-league debut. At the age of 20 he was the youngest player in the National League that season, and he played in 37 games (catching in 22 as the backup to Larry McLean and Tommy Clarke) and batted.304. In 1912 he caught in 20 games, again backing up McLean and Clarke, and his batting average plunged to .237. In 1913, after eight lackluster appearances and only six at-bats, Severeid was sold by the Reds to the Louisville Colonels of the American Association. There he regained his confidence and his batting stroke. He hit .278 in 1913, and in 1914, playing in 143 games, he batted.317. After the 1914 campaign, Louisville sold Severeid to the St Louis Browns.
Over the next ten years, Hank's bat and his catching were effective enough to keep him with the Browns. Severeid became known as the dean of what was later termed the "old school" of catching. He was widely considered a cerebral catcher who could shepherd a struggling pitcher through the occasional bad day on the mound. He reputedly despised the pitchout, preferring to eliminate base-stealing threats with a proper throw.
In 1917 Severeid attained a distinction never matched (as of 2010) when he caught no-hit games on consecutive days. On May 5 Ernie Koob no-hit the Chicago White Sox, 1-0. The next day, in the second game of a double-header, also against Chicago, Severeid caught Bob Groom's no-hitter, a 3-0 gem. In 1918, with the US embroiled in World War I, he left baseball for the Army after playing in 51 games and was assigned to the Tank Corps. He reached France just before the Armistice. On his draft card he noted that he had brown hair, light blue eyes, and broken fingers on his right hand. Such was the life of a catcher at the time. In December 1920, living year-round in St Louis, Severeid married Adele Bertha Messmer (born in 1899). They had three daughters, Jane, June, and Joan. Adele outlived Hank; she died in 1979, eleven years after his death.
Hank's professional high-water mark came in 1921, a year in which he posted a .993 fielding average and a .324 batting average. The Browns were contenders in this era, placing third in 1921 and finishing one game behind the New York Yankees in 1922 after a spirited season-long race. But the pennant eluded them.
That Severeid was tough was beyond argument. An article in the Des Moines Register, written in 1962 when he was inducted into the Iowa Sports Hall of Fame quoted descriptions of him over time: "(He) …has the reputation of being able to carry a pitcher through a crisis better than any living backstop, and he is in the game every day, working like Hercules …"; and "As an analyst of the hitters, there is not a receiver in baseball who can cope with (him)."
Severeid's workload – and batting eye – improved as he got older. From 1921, when he was 30 years old, through 1925 his batting average was over .300. In 1924 he finished sixth in the American League Most Valuable Player balloting (in those days conducted by the league teams rather than the baseball writers), logging 432 at-bats in 137 games, batting .308 and getting on base at a .362 clip. The next year Severeid was displaced as the first-string catcher by Leo Dixon and on June 18 he was traded to the Washington Senators for pitcher George Mogridge and catcher Pinky Hargrave. By then 34 years old, Severeid became the backup to catcher Muddy Ruel. He hit .355 in 50 games for the Senators after chalking up a .367 mark in 34 games for the Browns. That season the Senators won the American League pennant, and Severeid got into his first World Series. In Game Six, he started in place of Muddy Ruel and went 1-for-3 in a 3-2 Senators loss to the Pirates. (The Pirates won the Series the next day.)
The next season, 1926, after hitting only .206 in 22 games for the Senators, Severeid was claimed off waivers by the Yankees on July 22. While it was perhaps not a season-changing move for New York, the team did win the American League pennant. When regular catcher Pat Collins injured his throwing arm, the team still had Severeid in reserve. Hank caught all seven World Series games against the Cardinals.
In Game Seven, in front of 38,000 spectators at Yankee Stadium, Severeid came to the plate against Cardinals pitcher Jesse Haines. The Cardinals were nursing a 3-1 lead, and Lou Lou Gehrig and Tony Lazzeri had both made outs, but a single by Joe Dugan brought Hank up for what would be the final at-bat in his major-league career. He doubled to left and drove in Dugan to close the gap to 3-2. Severeid was lifted for a pinch runner, Spencer Adams, and seven outs later (including the celebrated relief stint of Grover Cleveland Alexander), his major-league career was over.
That didn't mean that Hank Severeid was done playing baseball. He signed with the Sacramento Senators of the Pacific Coast League, and for the next three seasons, 1927, '28, and '29, he proved in his late 30s to be a potent offensive weapon, hitting over .300 each year, climaxed by a.359 mark in 1929. In July, 1930, having decided to retrench in the face of declining revenue, the Solons granted outright releases to pitcher Otis Crandall and catcher Severeid. He was quickly signed by the Hollywood Stars, and for the remainder of 1930 and all of 1931 he moved south to play at Los Angeles' Wrigley Field. His .367 average helped the Stars win the PCL championship in 1930.
In 1931, at the age of 40, Severeid played in 94 games for the Stars and batted .347. In 1932 he became the player-manager of the Wichita Falls Spudders of the Texas League. During the season the team moved to Longview, Texas, where they adopted the nickname Cannibals. Severeid caight in 84 games and batted .271 as the team finished in fifth place. Before the 1933 season, as a result of the economic reality enforced by the Great Depression, the Longview and San Antonio organizations merged and became the San Antonio Missions. Severeid managed the Missions to a 79-75 regular-season record, and then to a Texas League title by defeating Tulsa four games to two in the championship series. Severeid remained at the helm of the Missions for two more years, leaving in 1936 to become the player-manager of the Omaha Robin Hoods in the Western League. The team moved to Rock Island, Illinois, when its ballpark burned down, and Severeid was let go before the end of the season.
Hank returned in 1937 to his adopted home of Texas, where he lived for the rest of his life. He managed the Galveston Buccaneers in the Texas League. At the age of 46, he caught in only 37 games, but they included both ends of a season-ending doubleheader. After that he hung up his mask for good. He spent the next season in Syracuse, coaching for the Chiefs of the International League and scouting for the Cincinnati Reds. In 1939, Severeid chose to stay in Texas, and spent the next two years as a full-time scout for the Reds scout in the state.
In 1941 Severeid collaborated with Charles "Al" Chapman on a textbook, Play Ball! Advice to Young Ballplayers. Severeid scouted the Texas region for the Chicago Cubs in 1942, and from 1943 until his death in 1968 he performed the same duties as a San Antonio-based scout for the Boston Red Sox. On December 17, 1968, the 77–year-old Severeid was preparing for the holidays at home in San Antonio when he suffered a fatal heart attack. He is buried at Sunset Memorial Park in San Antonio.
Hank Severeid caught 2,603 games in the majors and minors. Despite his relatively small frame, he swung a 48-ounce bat, yet struck out infrequently. His batting average for 15 years in the major leagues was .289, and he hit at least .300 in eight of those seasons. In 1960 he was inducted into the Iowa Sports Hall of Fame.
Sources
Chapman, Charles E., and Henry L. Severeid. Play Ball! Advice for Young Ballplayers. New York: Harper & Bros, 1941.
Porter, D.L. Biographical Dictionary of American Sports. Westport, Connecticut: Greenwood Press, 2000.
"Hank Severeid, Catcher Noted for his Durability." The Sporting News, January 4, 1969
Des Moines Register – various issues.
http://texas-league.com/history/franchise/
http://www.baseballlibrary.com/ballplayers/player.php?name=Hank_Severeid_1891
Born
June 1, 1891 at Story City, IA (USA)
Died
December 17, 1968 at Terrell Hills, TX (USA)
If you can help us improve this player's biography, contact us.
http://bioproj.sabr.org/bp_ftp/images4/SevereidHank.jpg
600
800
admin
/wp-content/uploads/2020/02/sabr_logo.png
admin
2012-01-04 20:24:44
2012-01-04 20:24:44
Hank Severeid