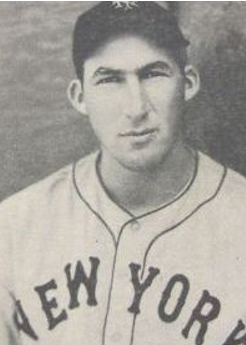 ---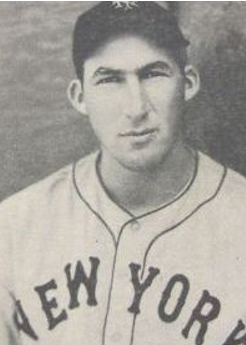 "The biggest thrill was being able to step on the field," Harry Danning said.1 His 10-year big-league career, all with the New York Giants, gave him plenty of thrills: three World Series, four All-Star Games, and a memorable nickname, "Harry the Horse."
Danning was the answer to the Giants' prayer for a Jewish star, but he could never satisfy manager Bill Terry. During his 5½ years as the club's regular catcher, he was on the trading block nearly every winter. World War II prematurely ended his career, and he struggled in retirement. But his baseball days left him with a treasury of warm memories.
"I was catching when Joe DiMaggio hit his first World Series home run," he told an interviewer shortly before his 93rd birthday. "Also, I was catching when Lou Gehrig hit his last World Series home run. And I was catching when Ted Williams hit the home run to win the All-Star Game in 1941. In every one of those, I had a good seat. At least I was there, you know what I mean?"
Harry Danning was born in Los Angeles on September 6, 1911, to Robert Danning, a Polish immigrant who owned a used-furniture store, and the former Jennie Goldberg, a native of Latvia. His father took the name "Danning" from a woman who taught him English. "To this day, I don't know what my real name is," Harry said. He was one of six children—"boy, girl, boy, girl, boy, girl."
Robert Danning embraced his adopted country's national pastime. He took his boys to see Pacific Coast League and Negro league games and umpired and pitched in their softball games. "We used to play with a golf ball, because it was the only ball we had," Harry remembered. "…The golf ball would get run over by streetcars, and we'd put tape around it to hold it together. By about the fourth inning you'd think you were throwing a shotput, it had so much tape around it." His oldest brother, Seymour—you called him "Ike" if you knew what was good for you—had a two-game tryout with the St. Louis Browns as a catcher and played several years in the minors.2
Harry had to go to work at 13 after his father became ill and died three years later. One of his first jobs was delivering 50-pound blocks of ice. Following high school graduation, he worked for a rug merchant, hauling and hanging heavy carpets. The physical labor filled out his six-foot-one frame to more than 190 pounds.
The job paid $90 a month, enough to feed a family in 1928. "A bunch of carrots was a penny, coffee was 19 cents. Steak was 19 cents." Harry earned an additional $7.50 a week playing semipro ball on Sundays. Several minor-league teams wanted to sign him, but none offered as much as he was making at the rug store.
A former owner of the Boston Braves, George Washington Grant, recommended Danning to Giants owner Charles Stoneham. When the Giants gave him a $150-a-month contract with Class-A Bridgeport, Connecticut, the 19-year-old crossed the continent to launch his professional career in 1931.
Danning hit over .300 at every minor-league stop, but it was a bumpy ride. In his second year he was leading the Eastern League in hitting in June when John McGraw retired and Bill Terry took over as the Giants' manager. In one of his first moves, Terry called up the 20-year-old Danning. But in his final game at Bridgeport, Danning was leading off third base when a line drive hit him in the face, breaking his jaw and delaying his major league debut.
By the time he recovered, the Bridgeport franchise had folded. The Giants sent him to Winston-Salem, North Carolina, but that Piedmont League club soon had to move to High Point, as minor-league baseball was hanging on by its fingertips in the Depression. "I remember hitting a home run over the left field fence in Raleigh, and we had to wait for them to bring the ball back," Danning said.
After the Giants tied for sixth place in 1932, Terry replaced more than half the roster. His first acquisition was a new catcher, Gus Mancuso, whom Terry called the best in the league. For Danning, Mancuso was a roadblock who would stunt his career.
The Giants assigned Danning to Double-A Buffalo in 1933, where he could learn from manager Ray Schalk, a future Hall of Fame catcher. Danning was hitting .349 in July when Terry brought him up to serve as the third-string catcher behind Mancuso and Paul Richards. He made his debut with the Giants on July 30 in an unsuccessful pinch-hit appearance, then was glued to the bench until September 19. He pinch-hit again, grounding into a double play, and got his only chance behind the plate on September 27. In nearly three months, he went 0-for-2 with a walk and caught all of two innings.
But he got an education. Sitting in the bullpen day after day, he inhaled the knowledge of 42-year-old reliever Dolf Luque. "He taught me more about baseball and catching and pitching than anyone in my whole career," Danning said.3 His roommate was coach Frank Snyder, a former catcher under McGraw. When the day's game was over, Snyder would say, "Well, school starts now." They sat up for hours talking baseball. Snyder taught him how to scoop at low pitches so the ball would stay in front of him and how to protect his bare hand by hiding it behind his mitt.4
He finished his rookie season in the World Series. On the bench, of course. Mancuso, who at last had a regular job at 27, wouldn't come out of the lineup. He started 139 of the club's 156 games and played every inning in the Series as the Giants defeated Washington in five games.
When Mancuso reported to spring training in 1934, he was weak from a bout of typhoid fever. Terry put the more experienced Richards in the lineup until Mancuso recovered. Danning soon hit his way into the second-string job. In just 99 plate appearances, he hit .330/.337/.433, while Richards recorded a .160 batting average. Richards was sold the next spring.
Mancuso was no better than an average hitter, but The Sporting News lauded him as "the National League's most skilled receiver of his time."5 That was exactly what Terry wanted; he was a defense-first manager who relied on his catcher as the de facto pitching coach.
As a result, Danning spent two more years wearing out the seat of his pants. "I couldn't play for my team," he said, "and I couldn't play for anyone else" thanks to baseball's reserve clause. He got a rare chance to catch for an extended period in 1935 when Mancuso was disabled by a hand injury. On July 25 the Giants played a doubleheader in the inferno of St. Louis's Sportsman's Park. The 94-degree heat and stifling humidity was nearly fatal for the first-game starting pitcher, Hal Schumacher, who collapsed with heat prostration in the sixth inning and was packed in ice to bring his temperature down.
Danning caught that game, then stayed in the lineup for the second one to catch the Giants' wild man, Roy Parmelee. As New York piled up a 13-2 lead, Parmelee labored, giving up nine hits, walking five and hitting one. "Get the ball over, Roy," the sweat-soaked catcher begged. "Please get the ball over."6
When the Giants won another pennant in 1936, Dannning made his first World Series appearance, striking out as a pinch-hitter in Game Two. He caught the last two innings of the Series as the Yankees won in six games.
Danning's opportunity finally came in July 1937 when a foul tip broke the ring finger on Mancuso's throwing hand. Stepping into the lineup, Danning batted .300 in 45 games while Mancuso was out. The two shared the job in September as the club captured its second straight pennant. After Mancuso went hitless in the first two games of the World Series against the Yankees, Danning replaced him and went 3-for-12 as the Giants lost again, this time in five games.
During the Series, CBS announcer Ted Husing dubbed Danning "Harry the Horse" after a character in Damon Runyon's stories of the raffish Broadway scene, the source for the musical Guys and Dolls. "I always tell people I don't know whether it was because I work like one or I look like one," Danning said. He eventually tired of being taunted about his big nose and had it bobbed.
At 26, Danning had won the first-string job. The Giants reportedly doubled his salary to $10,000. He hit .300 or better for the next three years, often batting third or fifth in the lineup. Danning replaced the injured Babe Phelps on the 1938 All-Star team, the first of four consecutive All-Star selections. He asked the commissioner's office to give Phelps the gold watch that was awarded to All-Stars.
Most managers would count their blessings to have a catcher who could hit in the middle of the order. Not Terry. "He concentrated almost entirely on defense," Paul Richards said.7 And Danning's defense didn't please the dour manager.
"I can hit all right, but I can't catch," Danning said in 1938. "I'm still learning."8 On the surface, his defensive stats don't look too bad. His greatest asset was his powerful arm. He threw out more than half of would-be base stealers in two seasons, but that didn't count for much in the hot-hitting 1930s, when base stealing wasn't a big threat. He did lead the league once in errors and passed balls.
"I don't know why Terry doesn't like Danning and I'm not sure Harry does, either," Jack Miley wrote in the New York Post. "Danning never sulked or tried any passive resistance against Terry, but gave the ball club all he had, in the doghouse or out."9
Danning never expressed any suspicion that Terry was anti-Semitic. To the contrary, he remembered a spring training trip when a hotel turned him and teammate Phil Weintraub away. "Bill Terry said, 'No, you'll take them all or you'll take none.'" Danning acknowledged that discrimination and name-calling were common in baseball, but he said Jewish ballplayers faced nothing like the abuse that was aimed at early black players.
Catcher and manager had their most serious clash in 1938. Danning, sick with a kidney ailment, asked for a day off, but Terry ordered him to play. Danning refused and was suspended indefinitely on July 14.10 He and his .317 batting average sat out for almost two weeks before Terry reinstated him.
Terry tried to find another catcher after the season, offering Danning to several teams. He traded Mancuso to the Cubs for catcher Ken O'Dea and others. Danning, pressing the manager for more money, griped that only "company boys" got raises and said he would welcome a trade.11 Those overtures, and other attempts to deal him in future years, went nowhere. Writer Jack Miley commented that Terry ruined Danning's trade value by disparaging him.
Danning's easygoing personality may also have riled Terry. He was no match for Mancuso as a take-charge field leader. He stepped out of character in July 1939 when Cincinnati's Harry Craft hooked a fly ball down the short left-field line at the Polo Grounds. Umpires ruled it a home run, but the Giants were sure it was foul. Danning lost it, raging in the face of plate umpire Lee Ballanfant, and was ejected. Shortstop Bill Jurges exchanged punches with ump George Magerkurth, and Jurges and left fielder Joe Moore were also sentenced to early showers.12
Danning was spiked in the melee and couldn't play for a week. "[T]he next time I had an argument with the same umpire I really told him off. They fined me two hundred and fifty bucks. It was worth it, though."13 
In the offseasons, Danning was still living with his mother at home in Los Angeles. He eloped to Mexico in January 1940 to marry Diane Nygord, a 25-year-old New Yorker called Dee Dee, whom he had known for only a couple of weeks.
Danning was on the way to his best year in 1940, leading the league in hitting for most of the summer, when his pregnant wife underwent an emergency appendectomy. Their twin boys were born dead. Evidently shaken by the family tragedy, he struggled through the last two months of the season to finish at .300 with a career-high 91 RBIs.
In his fourth and final All-Star Game in 1941, Danning replaced Al Lopez behind the plate in the seventh inning. The National Leaguers took a 5-3 lead into the ninth. Right-hander Claude Passeau gave up two singles and a walk to load the bases with one out before Joe DiMaggio grounded into a force-out to narrow the lead to one run.
As the cocky "Kid" Ted Williams brought his .405 batting average to the plate, manager Bill McKechnie gathered his catcher and infielders around Passeau. The venerable left-hander Carl Hubbell was in the bullpen, but not warmed up. With two away and runners at first and third, there was an open base, but the Book says never to put the winning run in scoring position, and McKechnie managed by the Book. Passeau pitched to Williams.
Williams mashed a 2-1 fastball far into the upper deck at Detroit's Briggs Stadium. As he frolicked around the bases with the game-winning home run, the press-box managers were second-guessing McKechnie, but Danning never did, at least not publicly.
After two straight losing seasons, Terry resigned as manager at the end of 1941, to be replaced by Mel Ott, probably the most popular Giant. Danning thought nice-guy Ott tried too hard to be a tough guy in his new job. The personality transplant may not have worked, but the Giants climbed to third place.
Dee Dee gave birth to a daughter, Viktoria, in January 1943. Three months later the new father was drafted into the army. "I didn't try to get out of it," he said decades later. "Especially when you read about all the things that happened in Europe with the Jewish people, I felt that I really wanted to go."
Danning spent the war at the Long Beach Army Air Field, close to home in Southern California, conducting physical training for the troops and managing the baseball team. He received a medical discharge in June 1945 because of arthritis in both knees. The 33-year-old told a reporter, "My legs are in such condition that I will have to stay on the retired list and forget about playing baseball again."14
He settled his family in Los Angeles, but life away from the game wasn't easy. He opened a car dealership, selling two soon-to-be defunct brands, Kaiser-Frazer and Hudson. "I hated it," he said. When that venture failed, he moved back to New York and joined a newspaper distributor. A series of strikes in the 1960s killed several New York papers and the distributor's business. Danning crossed the country again, finding work as an insurance salesman in the San Francisco Bay area that carried him to retirement age.
After Dee Dee died in 1978, Harry moved to Valparaiso, Indiana, where his daughter and her husband lived. They outfitted an apartment for him on the second floor of their home. Danning helped raise money for the local Little League, and a ball field was named for him.
He became friendly with a wealthy entrepreneur and former minor-league team owner, Rick Grottanelli, who loved to listen to his baseball stories. "Harry was like a radio you couldn't turn off," Grottanelli said. "He gave me hours of pleasure, and my memories of him are irreplaceable."15 When he learned that Danning had lost his 1933 World Series ring, Grottanelli paid the original jeweler to provide a replacement.
Danning had retired before the players' pension plan began in 1947. In the 1980s some of the old-timers began petitioning the owners and Players Association to be included in the plan, which had grown to be one of the richest in America. By that time star players were millionaires; Danning's highest salary had been $17,500.
Major League Baseball and the union stood on technicalities. The commissioner's office said owners could not legally change the pension plan without negotiations, and the Players Association pointed out that it had no legal authority to negotiate for men who had never been union members. "They're just waiting for us to die," said Pete Coscarart, the most outspoken old player.16 Only about 75 of the pre-1947 players were still alive in 1997 when MLB agreed to give them $10,000 a year for life, far less than a full pension.
Harry Danning died at 93 on November 29, 2004. He was one old-timer who didn't begrudge modern big leaguers their big paychecks. "Playing ball today is not as easy as it looks," he said, citing night games and coast-to-coast travel. "That's why I think the kids should get as much money as they can. We had it easier and we had a lot more fun."17
Photo credit 
 Play Ball cards.
Acknowledgments
This biography was reviewed by Jan Finkel and fact-checked by Alan Cohen.
Notes
1 Harry Danning interview by John Woestendiek for Jewish Major Leaguers Inc., August 10-11, 2004. Transcript in Danning's file at the National Baseball Hall of Fame library, Cooperstown, New York. Unless otherwise credited, all quotes from Danning come from this interview.
2 Baseball encyclopedias list Ike Danning's given name as Isaac. Harry said his brother's name was Seymour Isaiah.
3 Nick C. Wilson, Early Latino Ballplayers in the United States (Jefferson, North Carolina: McFarland, 2005), 86.
4 Quentin Reynolds, "Harry the Horse," Collier's, July 23, 1938, in HOF file.
5 "A Fond Adieu to Gus Mancuso as Player," The Sporting News, November 16, 1944: 8.
6 Peter Williams, When the Giants Were Giants (Chapel Hill, North Carolina: Algonquin, 1994), 187-188.
7 Donald Honig, The Man in the Dugout (Chicago: Follett, 1977), 127.
8 Reynolds, "Harry the Horse."
9 "Scribbled by Scribes," The Sporting News, March 13, 1941: 4.
10 Harry Forbes, "Ban Danning After Quitting," New York Daily News, July 15,1938, clipping in HOF file.
11 Daniel M. Daniel, "Hank Danning Puts Terry in Corner on Contract Demands," The Sporting News, January 12, 1939: 1.
12 John Drebinger, "Jurges and Umpire Fight, 3 Banished as Giants Lose, 8-4," New York Times, July 16, 1939: S-1.
13 Williams, When the Giants Were Giants, 265-266.
14 Unidentified clipping in HOF file.
15 Douglas J. Gladstone, A Bitter Cup of Coffee (Tarentum, Pennsylvania: Word Association, 2010), 94.
16 Steve Love, "Grand (?) Old Game's Golden Years," Akron Beacon Journal, July 21, 2000: 14.
17 United Press International, "Danning Says Stars Deserve Baseball $," 1972 clipping in HOF file.
Born
September 6, 1911 at Los Angeles, CA (USA)
Died
November 29, 2004 at Valparaiso, IN (USA)
If you can help us improve this player's biography, contact us.
https://sabr.org/sites/default/files/DanningHarry.jpg.png
600
800
admin
/wp-content/uploads/2020/02/sabr_logo.png
admin
2018-04-19 11:21:49
2022-05-17 11:13:28
Harry Danning