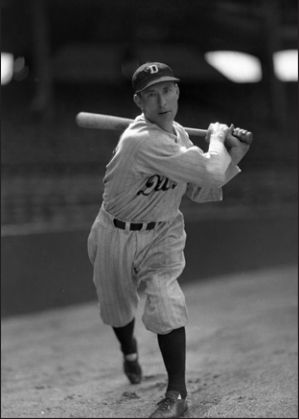 ---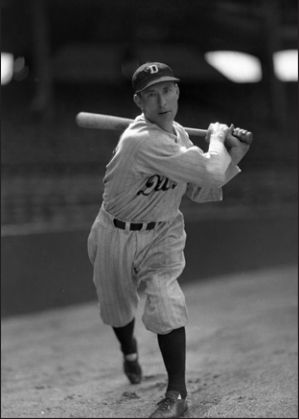 Henry George "Heinie" Schuble, Jr. was born in Houston, Texas, on November 1, 1906.  He was the second of four children born to Henry Schuble, Sr., a Kentucky native and a brick mason, and native Texan Margaret A. "Mattie" Graham.
Heinie first made it to the big leagues in July 1927 with the St. Louis Cardinals after their regular shortstop, Tommy Thevenow, broke his ankle. Just a month earlier, Schuble and Agnes Shaw, a model, were married at a home-plate ceremony at Soldiers Home Park in Danville, Illinois, in front of 5,000 fans. At the time, it was the biggest crowd ever for a Danville (Three-I League) home game. Equally important, if not more so, Heinie and Agnes believed they were the first couple ever to be married in a home-plate ceremony in an Organized Baseball setting.
Schuble had started his baseball career in 1926 as a second baseman playing with two teams in the Class D Texas Association. In a combined 57 games for the Palestine Pals and the Temple Surgeons, he played well enough to attract the attention of the Cardinals, who signed him for their Houston club after the Texas Association folded at the end of August. Schuble batted .341 for Houston and was assigned to Class B Danville for the 1927 season. 
When St. Louis shortstop Thevenow was injured, the Cardinals looked to Schuble to fill the void. The 20-year-old filled in adequately at the plate, batting .257 with 4 home runs and 28 RBIs. Joining the team in Boston, he made his debut on late-inning defense in a July 8 game against the Braves. His first major-league base hits came the following day — he was 3-for-8 in a doubleheader, going 2-for-4 with a double and a single in his first big-league start, facing Boston's Hugh McQuillan. The next day, July 10, in the second game of a doubleheader against the Giants in the Polo Grounds, Schuble hit an inside-the-park homer off Burleigh Grimes. Cardinals manager Bob O'Farrell was no doubt pleased.
Schuble's fielding was another story, however, as he committed 29 errors in 65 games. One lasting impression of his time with the Cardinals was his admiration for Grover Cleveland Alexander. Forty years after his playing career had ended, Schuble still felt that the Hall of Fame right-hander was the best pitcher to ever play the game. Schuble insisted that if he had only one game to manage, he would want Alexander out on the mound.  
Only 20 years old, Schuble drew generally positive reviews in his rookie season. The Sporting News called him "a remarkable boy," and added, "[H]e is apt to upset the works at any time. In the field he has displayed a great arm, and can travel far and wide. His fielding runs to the sensational at times, because he tries for everything. Of course, he makes mistakes, but these mostly are the kind that come from inexperience."1
The highlight of Schuble's 1927 season was a home run at the Polo Grounds in NewYork on July 22 that helped the Cardinals come from behind and defeat the Giants. St. Louis, at 92-61, was barely edged out for the National League pennant, finishing a game and a half behind the Pittsburgh Pirates.
Schuble was back in the minors in 1928. He batted .286 for Houston of the Texas League but had 53 errors in 157 games.
On August 31 of that year, the Tigers purchased Schuble's contract, along with that of pitcher Frank Barnes, from Houston for $50,000. New Tigers manager Bucky Harris handed Schuble the regular shortstop job for 1929. In spring training in Phoenix, Arizona, Harris was impressed with Schuble's hitting but disappointed in his glove work. Harris threatened to put himself in the lineup at second base and move Charlie Gehringer to shortstop. Although he carried out the threat for a couple of spring games, when the season started Schuble was the regular shortstop.  
Schuble's fielding continued to be erratic in 1929; he made 46 errors in 86 games at shortstop and threw in another error in one of his two games as a third baseman. The Tigers were a lackluster club that year, at 70-84, good for sixth in the American League. At the plate Schuble connected for just a .233 average and was back in the minors in 1930. He responded with his best professional season by batting at a .320 clip with 18 home runs for the Beaumont Exporters of the Texas League. Once again he had problems in the field with 55 errors and a .904 fielding percentage. Back with Beaumont in 1931, Schuble was shifted to third base, where his errors dropped to 43.
Now 24 years old, Schuble suited up for the Exporters once again in 1931, but by now the team had switched him to third base. He put in a solid campaign, his .275 average complemented by 34 doubles, 12 triples, and 9 home runs. With the glove, however, Schuble continued to pile up the errors, with 43.
The Tigers gave Schuble another chance in 1932, keeping him primarily at third base. He played in 102 games for fifth-place Detroit, putting together his best big-league season with a .271 average and 52 RBIs. His fielding improved, too, as he made just 19 errors in 76 games at third, and five in 16 games at short.
Four of Schuble's five home runs in 1932 came against the Yankees. He connected three times off future Hall of Famer Herb Pennock, including two blasts in one game in Detroit on June 10. Ironically, although he wasn't much of a hitter, Schuble hit four of his career total of 11 homers off Hall of Fame pitchers (Burleigh Grimes and Pennock) and three more off 200-game winners Freddie Fitzsimmons, Charlie Root, and Sad Sam Jones. 
An interesting story was recounted in 2007 by 94-year-old Ray Allen, an usher at Joker Marchant Stadium, the spring-training home of the Tigers in Lakeland, Florida. Allen was the visiting team's batboy at Navin Field when Schuble played for the Tigers in the early 1930s. According to Allen, the Philadelphia Athletics came to town one day to play Detroit. A's manager Connie Mack, standing next to Allen in the visitors' dugout, asked the teenager, "Son, how does he (Schuble) hit the ball?" Allen responded, "He hits most of them to right-center."2 Nearly 80 years later, Allen could still see Mack waving his scorecard when Schuble came up to bat. On the first pitch, Schuble lined out to right field — exactly where Mack had just positioned his man.
As a Tiger, Schuble was on a name-calling basis with Babe Ruth. Schuble called Ruth "hippo," while the Sultan of Swat referred to the Tigers third baseman as "weasel." Despite having just turned in his best season, Heinie's size definitely was against him. Listed at 5-feet-9 and 152 pounds, he wasn't considered big enough or durable enough. He was replaced by Marv Owen in the lineup in 1933. Relegated to the bench, Schuble played in 49 games and batted just .219.
Schuble played in just 22 more games with Detroit over the next three seasons. He finished his big-league career in 1936 by playing in two games with the Cardinals before being returned to the minors. He finished his career that year with Houston and Rochester, hitting a combined .265 in 107 games. Schuble's career in Organized Baseball was over. He was not quite 30 years old. 
Schuble went on to play semipro baseball in Houston with the Grand Prairie Brewers, where he worked as a tester in the keg department, before moving to Baytown in 1948 to take a position at the Exxon refinery. There, he was the third baseman on the Humble Oilers, the company industrial league team. He retired from Exxon in 1971 and spent his retirement shrimping and fishing in Trinity Bay.
In 1977 Heinie and Agnes celebrated their 50th wedding anniversary by attending a game at the Houston Astrodome. Their only child, Henry George "Chick" Schuble, III, was born in Detroit in 1932. He played baseball at Baylor University; served in the Army; became a prominent Pasadena, Texas, attorney; and went on to serve as a District Court judge. Heinie Schuble died in Baytown on October 2, 1990, the day Agnes, his wife of 63 years, was buried. The Schubles are buried in Forest Park of Lawndale in Houston.  Chick died in 2008. Heinie's name lives on with his grandson, Henry George Schuble, IV.
Sources
Johnson, Rodney, "More Than Practice: A History of the Cactus League," unpublished, ©2009.
Lee, Bill, The Baseball Necrology (Jefferson, North Carolina: McFarland & Company, 2003).
Mann, Mike, "Schubles Celebrating Golden Anniversary;" Baytown Sun, June 5, 1977.
SABR Encyclopedia — Home Run Log
Notes
1 "Cards Keep Range on Pennant Target," The Sporting News, July 28, 1927.
2 "Always a Tiger: Former Detroit Resident, Now 94, Now an Usher at Lakeland Stadium," Motownsports.com, March 29, 2007. Retrieved August 8, 2014.
Born
November 1, 1906 at Houston, TX (USA)
Died
October 2, 1990 at Baytown, TX (USA)
If you can help us improve this player's biography, contact us.
http://sabr.org/sites/default/files/Heinie%20Schuble.JPG
600
800
admin
/wp-content/uploads/2020/02/sabr_logo.png
admin
2012-01-04 20:39:42
2020-10-09 07:57:19
Heinie Schuble