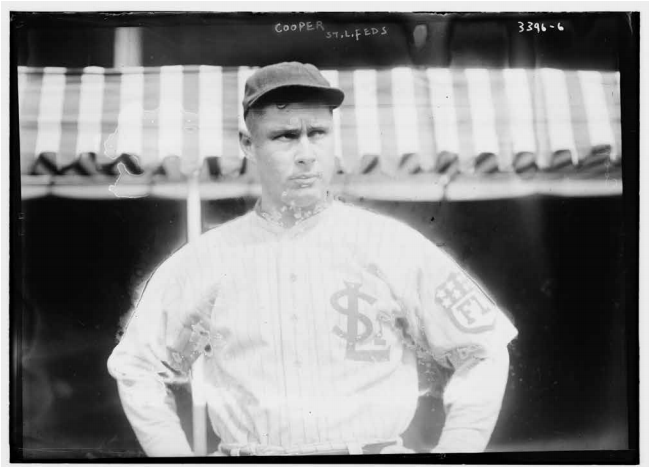 ---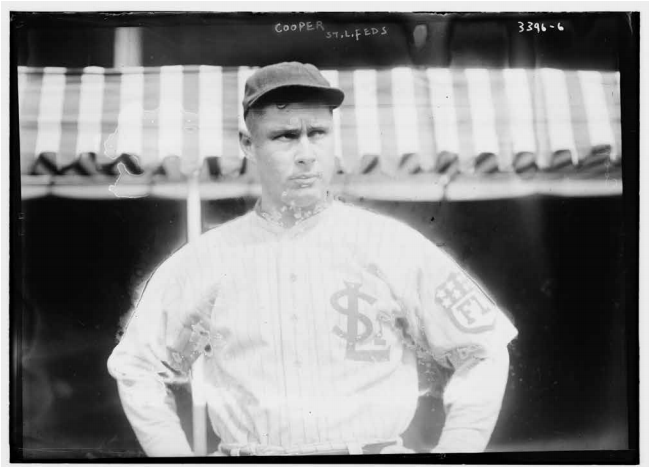 A tall left-handed pitcher, Henry Keupper pitched seven years in professional baseball, but just one year in the majors — 1914, when he was 8-20 for the last-place St. Louis Terriers of the short-lived Federal League.
Henry John Keupper was born on June 24, 1887, in Staunton, Illinois. Staunton, the second largest city in Macoupin County, has always been a small town, with a population of about 2,200 in 1890.1 In southern Illinois, it is about 35 miles northeast of St. Louis.
Henry "Hank" Keupper was born the youngest of six siblings. He had two sisters, Mary and Lillian, and three brothers, Hubert, Hugo, and Edward. His parents, Henry Sr. and Mary (Kowans), were German-born. Mary came to the United States in 1881 and Henry then or the year before. They married in June 1881 in Menard, Illinois.
In 1900 Hank's father was employed as a mine manager in Gillespie, Illinois, and his mother worked as a mine clerk. Hank attended the Staunton and Gillespie public schools and graduated from high school in Gillespie. After high school he pitched semipro ball for one year.
In March 1907 it was reported that Peoria Distillers manager Frank Donnelly had signed Keupper for the 1908 season.2 This was Keupper's first foray into the minor leagues, and he was one of the youngest players on the team, with a reported salary of $125 per month.3 The 1908 Distillers finished sixth the Class-B Three-I (Illinois-Indiana-Iowa) League. That season was one of only two in which Keupper was able to win more games than he lost. He appeared in 35 games and ended the year with 15 wins and 14 losses.
Keupper was reported drafted by one of the New York major-league ballclubs, and was "regarded in [the Three-I League] as a sure comer."4
In the offseason, Keupper and teammate Roland Wolfe went to Douglas, Arizona, with "several other Three-I League players at the end of the season." The two Distillers remained there and ran street cars.5
Keupper began the 1909 season back with the Distillers, appearing in 16 games with a record of 4-7. He spent the second half of the season with the Indianapolis Indians in the Class-A American Association, for whom he was 3-4 in 20 games under manager Charles Carr. On February 7, 1910, Carr traded Keupper to the Nashville Volunteers of the Class-A Southern Association for pitcher John Duggan.
In 1910 the Keupper family was living in Herrin, Illinois. Hank's father still was employed as a mine manager. His mother had become a dealer in grain.
Henry wasn't the only ballplayer in his family. His brother Hugo was a catcher in at least three known seasons, 1910 for the Clinton (Illinois) Champs, and in 1913 and 1914 for the Bloomington Bloomers. The two brothers were teammates in 1913. (Newspaper articles from April and May 1912 show Hugo Keupper quitting Bloomington due to homesickness, and Henry pitching well.)6 The 1910 census shows another brother, Hubert, as a ballplayer.
In April 1910 both Henry and Hugo reported to manager Joe Keenan in Bloomington, Illinois. The Springfield newspaper reported, "Hugo and Henry Keupper … also came in yesterday. They are pitcher and catcher, and the fame of the Keupper boys battery is known all over southern Illinois. They made a great showing in the [offseason] Trolley league last year."7
The brothers were assigned to different teams, Hugo to Clinton and Henry to Nashville, managed by Bill Bernhard. The Vols needed a left-hander, and Bernhard was impressed with Keupper's work in spring training.8 Keupper posted a record of 12-16 in 35 games. One highlight was the August 18 game against visiting Memphis. Keupper pitched a 1-0 shutout, giving up only "three scattered singles"; Nashville scored its only run in the first inning.9 In at least one game, May 5 in Birmingham, Keupper played right field.
The 1910 Southern League batting champion was Shoeless Joe Jackson of the New Orleans Pelicans, near the start of his career. In a series between Nashville and New Orleans, Keupper made the New Orleans paper briefly as one of the pitchers who feared Jackson at the plate: "In the Nashville series Keupper started by walking Jackson twice in one game on purpose. Another time he tried to walk Joe and Joe reached out and got one for a fly. Bill Viebahn did the same stunt, and both [Charlie] Case and Bernhard walked Jackson purposely in Sunday's game."10
Keupper began the 1911 season with Nashville. On September 3 the Southern Association's Chattanooga Lookouts purchased his contract. Five days later, he beat Atlanta, 3-1, the only run coming on a solo homer. Chattanooga became a Detroit farm club, and it was reported in mid-September that Keupper would "revert to Nashville or to some other club."11 On September 20 Keupper was included on the list of players reserved by Nashville for the 1912 season.
In February 1912 it was reported that the Class-B Bloomington Bloomers had purchased his contract from Nashville.12 In the 1912 season Keupper was 14-19 for the Three-I League team. For Nashville and Chattanooga, Keupper earned a salary of $200 per month, and for Bloomington in 1912 and 1913 he was paid $150 a month.
Keupper began the 1913 season with Bloomington, as did his brother Hugo, who was offered a contract by manager Harry Syfert. Hugo caught in 70 games and hit for a .234 batting average. As a batter, in 54 at-bats, Henry hit for a .259 average, notably winning his own game on July 3 against Danville with a 10th-inning double.
Henry worked in 27 games and posted a record of 11-9 before he jumped his contract to join the Federal League. The Chicago Tribune reported, "Bloomington directors received word today that pitcher Henry Keupper, one of the most effective members of the staff, who has been on leave of absence, joined the St. Louis Federal league team and was playing under the name of King."13
A United Press dispatch dated August 14, 1913, reported that Bloomington "is after the scalp of the new Federal League, and would have that body outlawed by the National Commission." The brief notice continued, "The complaint has been filed with the Commission by the local club that the St. Louis Federals are playing Henry Keupper, who jumped after signing a contract to play with the local team."14
Another paper reported on August 18, "Another player has jumped the Bloomer ranks. Hugo Keupper is the latest to pull the kangaroo stunt. Keupper, who is just a fair backstop, departed from Bloomington early Saturday morning, and is thought to have signed with the St. Louis Federal club, of which team his brother, Hank, is a member."15
The Bloomington club suspended Keupper for his jump to the St. Louis Feds. "The return of Keupper to Bloomington by the Feds would be a fortunate thing for the local club," the Duluth News-Tribune wrote, "as Keupper was one of the most effective members of the staff."16
Pitching for the Terriers, managed for most of the season by Mordecai "Three Finger" Brown (Brown was fired with 38 games to play and was replaced by Fielder Jones), Keupper made his major-league debut on April 19 in the Terriers' fourth game of the season, and pitched a complete-game 9-2 victory over the Indianapolis Hoosiers. He scattered six hits and struck out two, but walked 10 batters. Three thousand fans braved a frigid day at Handlan's Park to see the game. The cold "had considerable effect on Keupper's pitching," wrote the St. Louis Post-Dispatch. "He grew wild at times and in all handed out 10 passes. Four of these came in one round and resulted in the two runs scored by the Hoosiers."17
Four days later the two teams played again, at Indianapolis, and Keupper shut out the Hoosiers, 3-0, on five hits, this time only walking one batter. The 16,000 spectators saw a 0-0 game through the first eight innings. In the top of the ninth, St. Louis took a 1-0 lead and then Keupper drove a double to left field, scoring two more runs.
Keupper's third outing was not as good. Hosting the Brooklyn Tip-Tops in the first game of a May 2 doubleheader, Keupper gave up eight hits and four runs in four innings of work before being replaced. Brooklyn beat the Terriers 4-3, and Keupper had his first loss of the season.
It should be noted that decisions on pitchers' losses in games where more than one pitcher worked for a team were made in ways other than we employ today. As Tom Ruane of Retrosheet has written, "Official scorers often used their own idiosyncratic and inconsistent judgment back then when determining winners and losers."18 As a result, some databases today show Keupper with differing numbers of losses.
Tracking Keupper's wins and losses throughout the season is a difficult task. In researching newspapers of the day, one comes across numerous mentions of a Keupper playing baseball. For instance, the May 6 Daily Illinois State Register reported two games involving a Keupper — a game between Quincy and Dubuque in which "Pitcher Keupper had the losers completely at his mercy" and a game in Bloomington against Decatur, in which Keupper was the catcher.19 Hugo was the catcher, and the other Keupper was their brother, Hubert.
On May 7 at St. Louis, Henry Keupper yielded 13 runs (six earned) in a 15-7 loss to the Pittsburgh Rebels. Eight errors contributed to his defeat. More than once, errors may have cost Keupper a game. On May 25 in Baltimore, his teammates committed seven errors, accounting for three unearned runs in a game Keupper lost 6-3.
Keupper beat Brooklyn on May 16 in a 5-3 complete game, but in a game at Pittsburgh he was pummeled for 10 earned runs on 14 hits, but only one base on balls.
In the month of May his record was 1-5. On May 4 the Terriers were in first place with a record of 11-5. After a strong start, the team steadily declined throughout the season. Keupper lost seven consecutive games between May 21 and June 13. By June 23, he had a record of 3-10.
On August 7, with an apparent record of 5-11, Keupper beat Pittsburgh 2-1, the first of three consecutive wins, the latter two in long relief.
St. Louis switched managers before the game of August 22, Fielder Jones taking over for Brown. This prompted some optimism. "The Terriers have been instilled with new life by their new boss, Fielder Jones, and it is certain that there will be no easy sailing in the Mound City," the Kansas City Star wrote. "In [Dave] Davenport, [Bob] Groom, and Keupper the Terriers have three corking hurlers."20 The team was in seventh place at the time, and never improved its position. Under Jones, the Terriers were 12-26.
Keupper's most heartbreaking loss of the season was perhaps his 10-inning, 2-1 defeat on August 26 to the Chicago Whales. The 10 innings were the most he pitched in any game in the majors.
On September 5 Keupper won his eighth and final game of 1914, improving his record to 8-17 with 3⅓ innings of three-hit, scoreless relief against the Kansas City Packers. His 18th loss came on September 16 in Buffalo, a complete-game 7-3 defeat. His 19th was in Baltimore on September 29, when the Terrapins scored eight runs off him and St. Louis lost, 8-1.
Keupper became a 20-game loser in his final game, on October 6 at Federal League Park in Indianapolis. He gave up one run in the third inning and two in the fourth. The Terriers scored one in the top of the seventh, but Keupper was hit for three runs in the bottom of the seventh, two of them on Benny Kauff's two-run home run. Each team scored one run in the eighth and St. Louis scored twice in the top of the ninth, but lost, 7-4, and Keupper had loss number 20.
Because Indianapolis won the game and Chicago lost two, the Whales lost their half-game lead in the Federal League standings. The win over Keupper gave the Hoosiers the lead they needed in the standings and two days later Indianapolis won the pennant.
Unfortunately for Keupper and his team, the St. Louis Terriers ended up in last place. Only two of their pitchers won more games than they lost. The Philadelphia Inquirer reported Bob Groom with a final record of 12-20 and Keupper with a final record of 9-18.21 As indicated above, our current understanding shows them both with 20 losses.
The St. Louis team released Keupper after the season. Keupper wanted to play again in 1915 and reported back to the Bloomington club on April 13, hoping for an opportunity to make the team. In a story headlined "No Place for Federal Castoff," the Washington Evening Star reported: "In a decision handed down by J.H. Farrell, a secretary of the National Association of Minor Leagues, Henry Keupper, Bloomington, Illinois, pitcher, who in 1913 joined the St. Louis Federals and who after having been released by Manager Fielder A. Jones asked to be reinstated in the Bloomington Club, is prohibited from playing with any club of organized ball. Keupper is the first released Federal League player to attempt to get reinstatement."22 The Pawtucket Timesheadlined the story "Farrell Condemns Keupper To Life Of Wanderer."23 American League president Ban Johnson had written a letter to the National Commission on April 13, enclosing a very brief clipping from the Chicago Tribune reporting that Keupper was requesting reinstatement; Johnson wrote, "Under no circumstances should this man be permitted to return to organized baseball."24
Hubert Keupper pitched in the Three-I league for Quincy in 1915 but Henry remained banned, "with the outlaw brand on him," despite Bloomington's efforts to have him reinstated.25 The Rockford (Illinois) Register Gazette reported that he joined an independent team at Henry, Illinois.26 The Chicago White Sox scheduled a game against the Henry team for July 21, but White Sox manager Pants Rowland learned that the club was "harboring a contract jumper from organized ball in the person of Henry Keupper."27
In January 1916 Secretary Farrell of the NAPBL announced that Keupper and a few dozen other Federal League jumpers were made free agents "as a result of the recent peace pact."28
Keupper played with the Henry team for a year and a half and it was reported on July 13, 1916, that he would rejoin Bloomington at Peoria that day.29 However, as late as August 23 he was reported playing with the Henry Greys.
In 1920 Keupper was living in Lake Creek, Illinois, working as a coal miner. In 1930 he was living in Johnston City, Illinois. There Keupper worked as a "machine runner" in a coal mine, and his wife Amy as a dry-goods saleswoman. Two years later, in February 1932, Keupper was "running a coal cutting machine at Royalton mines. He lost a finger from his left hand which was crushed."30
In the early 1940s he worked as a merchant in Shawneetown, Illinois, running a retail variety store. He also owned an orchard in Pittsburg, Illinois.
In October 1945, Keupper was appointed postmaster of Saline-Woodford, Illinois.
Keupper died of a heart attack on August 14, 1960, in Marion, Illinois. He was cremated and the remains were interred at Lakeview Cemetery in Johnston City.
This biography is included in "20-Game Losers" (SABR, 2017), edited by Bill Nowlin and Emmet R. Nowlin.
Notes
1 https://macoupinctygenealogy.org/history/staunton.html.
2 "News Notes," Sporting Life, March 9, 1907: 14.
3 Salary information found in Keupper's player file at the National Baseball Hall of Fame.
4 "Indiana-Illinois-Iowa," Sporting Life, January 23, 1901: 8. This article reported that he was drafted by the New York American League club, but a February 6, 1909, article in the same publication listed him as drafted by the New York Giants.
5 "Street Car Men in Arizona," Daily Illinois State Register (Springfield, Illinois), December 13, 1908: 15.
6 See "Vogel Reports to Dick Smith," Daily Illinois State Register, April 12, 1912: 10, and "Danville Drops Two to Bloomers," Daily Illinois State Register, May 31, 1912: 10.
7 "III League Teams Satisfying Fans," Daily Illinois State Register, April 13, 1910: 3. Confusingly, the October 23, 1911, Daily Illinois State Journal mentioned a "Herman Keupper" as having a tryout with Bloomington, pitching in 1911 in the Trolley League in southern Illinois, and signing with Peoria for 1912.
8 "Weeding Out at Nashville," Sporting Life, April 23, 1910: 12.
9 "Nashville 1, Memphis 0," Arkansas Gazette (Little Rock), August 19, 1910: 8.
10 Ham, "Sporting Chat," New Orleans Item, August 30, 1910: 8.
11 W.G. Foster, "Chattanooga to Be Detroit Farm," Atlanta Constitution, September 17, 1911: E3.
12 "News Items Gathered From All Quarters," Sporting Life, February 17, 1912: 12.
13 "Is Keupper Playing in 'Fed'?" Chicago Tribune, August 5, 1913: 11.
14 United Press, "Three-Eye Club Is After the Federals," Cincinnati Post, August 14, 1913: 6.
15 "Versatile Views," Daily Illinois State Register, August 18, 1914: 5.
16 "Farrell Forbids Springfield to Play with Feds," Duluth News-Tribune, March 10, 1914: 8.
17 "Keupper Makes It Three Out of Four for Terriers Over Champs," St. Louis Post-Dispatch, April 20, 1914: 12.
18 Tom Ruane, email to Bill Nowlin, September 10, 2016. For a number of reasons involving historical record-keeping and changing definitions of what constitutes a win or a loss, there were differences in wins and losses as reflected on Retrosheet and Baseball-Reference.com at the time this article was written. Both Tom Ruane of Retrosheet and Pete Palmer were consulted regarding the number of Keupper's wins and losses.
19 "Smashing Attack Wins for Gems," Daily Illinois State Register, May 6, 1914: 10.
20 "First Division the Goal," Kansas City Star, September 1, 1914: 8.
21 "Cobb and Daubert Retain Their Championship Crowns," Philadelphia Inquirer, October 11, 1914: 7.
22 "No Place for Federal Cutoff," Washington Evening Star, April 16, 1915: 20.
23 Pawtucket Times, April 17, 1915: 6.
24 Letter from Ban Johnson to August Herrmann of the National Commission, April 13, 1915. Thanks to Dan Levitt for providing a copy of this correspondence.
25 "Some Three-I Gossip," Daily Register-Gazette (Rockford, Illinois), May 21, 1915: 5.
26 "Our League and Others," Daily Register-Gazette, June 1, 1915: 5.
27 "Rowland Balks," Salt Lake Telegram, July 18, 1915: 16.
28 "Many Fed Players Made Free Agents," The Oregonian (Portland), January 20, 1916: 18.
29 "Close Decisions," Morning Star (Rockford, Illinois), July 13, 1916: 9.
30 Evansville Courier and Press, February 9, 1932: 18.
Born
June 24, 1887 at Staunton, IL (USA)
Died
August 14, 1960 at Marion, IL (USA)
If you can help us improve this player's biography, contact us.
https://sabr.org/sites/default/files/keupper.png
600
800
admin
/wp-content/uploads/2020/02/sabr_logo.png
admin
2012-01-04 19:54:43
2012-01-04 19:54:43
Henry Keupper