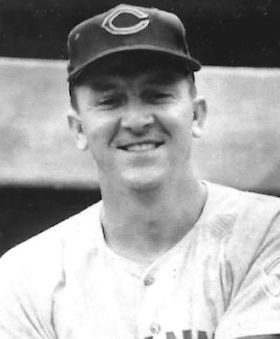 ---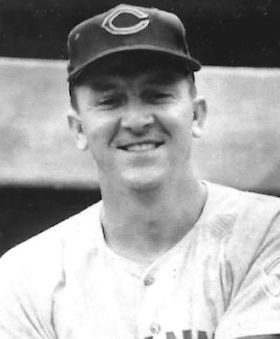 Hershell Freeman was a right-handed pitcher who started his career with the Boston Red Sox in 1952, but had his best years with the Cincinnati Reds, in particular 1956, when he led the majors in closing games and posted a record remarkable for a relief pitcher: 14-5. He was later named a member of the All-Century Team at the University of Alabama.
Hershell Baskin Freeman, Jr. was born in Gadsden, Alabama, on July 1, 1928. He was the first-born son of rubber plant worker Hershell, Sr., and his wife, Cliffie Mary (Sheffield). About seven years later, younger brother Gary was born. The 1930 United States census shows the elder Hershell working as a tire moulder at a rubber plant. Goodyear Tire & Rubber had just opened its Gadsden plant the year before. Ten years later, in 1940, Hershell Sr. was working as a curer in the rubber plant.
Freeman was of Irish-Indian (Native American) ancestry.
Hershell Jr. attended J. L. Wagnon Elementary School and then Gadsden High School. He played in the Boy Scout League, American Legion baseball, and then for the University of Alabama, on a combined baseball-football scholarship. A minor injury playing football convinced him to focus on baseball. He was still only 19 when he started playing baseball professionally, signed by Birmingham Barons GM Eddie Glennon.
He enjoyed a very successful 1948 season pitching for Natchez in the Class-C Cotton States League: 18-9 with a 2.35 earned run average. He reports striking out 19 batters in a game against Pine Bluff. Likewise, and one stretch in which he won three games in two days. The first one was his regular start, then he won both games in relief on the second day, leaving with a big enough lead that "I was sitting in the stands when I won the 2nd game."1
Brought up to Birmingham at the end of the season, he got into eight games (1-1) for the Double-A Barons. He was with the Barons when they beat the Fort Worth Cats, four games to one, in the 1948 Dixie Series. Freeman appeared in relief in Games One, Three, and Four – all of them victories for Birmingham, and secured the final two outs in the decisive Game Five.
Who should get the credit for signing Hershell Freeman? Several seem to merit credit: Crimson Tide baseball coach Tilden "Happy" Campbell, Boston Red Sox scout Tom C. Downey, and Birmingham Barons general manager Eddie Glennon. Legendary scout George Digby, who also scouted the South for the Red Sox, claimed to have been involved per a submission to the SABR Scouts Committee. 2
Manager Mike Higgins was impressed enough with Freeman that he gave him the starting assignment to open the 1949 season for Birmingham. Perhaps the vote of confidence encouraged Freeman to stick with the game; in the first part of March, he had reportedly asked to be placed on the voluntarily retired list so he could finish college before returning to baseball.3
Freeman was 0-2 in four games for the Barons. More seasoning seemed in order, so he was optioned to the Scranton Red Sox in the Class-A Eastern League in mid-May. He was 8-6 with a 3.38 ERA for Scranton in 1949 and 9-5 (3.99) in 31 games in 1950.
Freeman worked almost exclusively in relief (three starts in 50 appearances) for Birmingham in 1951. He put up a record of 12-5, with a 4.63 ERA. In July 1951, he received more than enough votes to be named to the Southern Association All-Star Game, but a league rule said that a pitcher must have worked more than 70 innings to qualify and he was thus denied.4 After the season was over, he received an honor from Birmingham Fire Department chief Hoyt Ayres; for his role as a reliever, he was named an honorary member of the department.5
One of the defeats, on May 12 against Memphis, was a little less painful in that Freeman hit a home run over the center-field fence, earning him a $200 prize.6
After joining the Red Sox in Sarasota for spring training in 1952, he was optioned to Louisville and worked the full 1952 season in Triple A for the Louisville Colonels (also managed by Higgins). There Freeman was 8-7 but with a much improved 2.92 ERA, which earned him a call-up to Boston in September.
He appeared in four games for manager Lou Boudreau, debuting on September 10 at Detroit and pitching the final two innings in a game Mel Parnell had begun. Freeman gave up one hit and no runs. The Sox lost, 6-2.
Four days later, playing the White Sox at Comiskey, Freeman was the third of four pitchers in a game that ran for 17 innings. He got the last two batters in the seventh inning, but in the top of the eighth, he gave up back-to-back singles and then walked the next two batters before Boudreau pulled him in favor of Ike Delock. Delock worked 9 2/3 innings of relief before finally being done in by four consecutive singles with two outs in the bottom of the 17th.
In St. Louis on September 17, Freeman worked two innings of relief and gave up three runs. Back at Fenway Park on September 26, Boudreau gave him a start (his only one of 1952, in the minors or the majors) and he pitched a complete-game 3-1 victory over the Washington Senators, allowing just four hits and walking two. The one run came on a home run by Eddie Yost. Only one other Senator got as far as second base. Freeman was even 2-for-3 as a batter.
Not that many saw the game – paid attendance was 1,183 plus a reported 213 Ladies' Day guests. It was one of the smallest crowds at Fenway Park since Tom Yawkey had bought the ball club back in 1933.
Freeman's stat line for his work in September was 1-0 with an ERA of 3.29.
Boston sportswriter Al Hirshberg wrote, "Freeman has real possibilities. Boudreau has been using him for relief duty, and except for a bad streak of wildness against the White Sox as one of the four pitchers who worked in the 17-inning game in Chicago, September 14, Freeman has given a good account of himself."7
Freeman was sizable, listed at 220 pounds and stood 6-foot-3. Throughout his career, he attended the University of Alabama in the offseasons. After he received his degree, he took up offseason work as assistant manager of a store near his home in East Gadsden.8
In the spring of 1953, he was seen as the fifth starter in the Red Sox rotation. As late as the first week in April, he was seen as perhaps the third man, behind Mel Parnell and Maury McDermott. "He's already passed Willard Nixon, Skinny Brown, and Ike Delock for a starting shot," Boudreau said on April 5.9 But Freeman lost his first two starts (4-0 and 7-2) and was switched over to relief work. He appeared in another 16 games for Boston, but with a 5.54 ERA at the end of June, was sent down to Louisville. Bill Henry was brought up.
He had one win for the Red Sox, throwing three innings of scoreless two-hit relief in the second game of the May 22 doubleheader against the Athletics. The game ran to 12 innings and Freeman worked the last three. Sammy White doubled in Hoot Evers to win it, 3-2. Freeman lost four games.
With the Colonels for the balance of the 1953 season, Freeman relieved in 28 games, with four wins and four losses and an earned run average of 3.33.
He spent the whole of 1954 with Louisville as well, relieving for manager Mike Higgins in 39 games with an excellent 2.22 ERA and a record of 7-5. Ed Rumill of the Christian Science Monitor wrote that Freeman "was a prominent figure in helping Louisville to a Little World Series triumph over Syracuse of the International League."10
Higgins planned to use Freeman out of the bullpen in 1955, and so he did. But not for long. Freeman appeareded in two April games for the Red Sox, on the 17th and the 27th, for a total of 1 2/3 innings, giving up just one hit. On May 10, with the Red Sox out of options, his contract was purchased by the Cincinnati Redlegs. "I'm happy at the chance," Freeman said, "because I feel I might get a chance to work a lot. Naturally, I'm sorry to leave the Red Sox."11
He relieved in 52 games for Cincinnati, closing in 27 of them, and worked to a 2.16 ERA. Manger Birdie Tebbetts believed Freeman was the best reliever in the league.12
In 1956, he had his best season. As noted above, he was 14-5. Two of the wins came on the same day, July 15, as he won both halves of a doubleheader from the Giants. He worked in 64 games – closing in 47 of them, leading the major leagues (tied with Clem Labine and Turk Lown). He had 17 saves, second in the league. His ERA was 3.40. The Tebbetts-led Redlegs finished third in the National League. Freeman placed 16th in MVP voting. Tebbetts was named Manager of the Year.
In 1957, Freeman added another 52 relief appearances to his totals. He was 7-2, 4.52. And this time Tebbetts – expressing his own opinion – called Freeman the "most valuable pitcher in the National League."13
He began the 1958 season with Cincinnati again, appearing in three games; on May 6 he threw 5 2/3 innings of scoreless relief against the Cubs at Wrigley Field. Two days later the Cubs traded Turk Lown to Cincinnati for Freeman. It seemed to be a swap of two relievers who seemed to have declined but for whom a change of scenery might be salutary. Neither panned out for the clubs in question – though Lown moved on to the Chicago White Sox and had five very good seasons for the South Side team.
Freeman worked in nine games for the Cubs, his last 13 innings in major-league ball. He was 0-1, with an ERA of 8.31, his last game being on June 7. The Cubs sold his contract outright to Fort Worth in the Double-A Texas League, where he pitched in 24 games. He was 5-1, 3.81. His contract was sold again, over the winter, to the Denver Bears, but he had torn a muscle in his arm and was unable to pitch in 1959. He spent the year in Gadsden operating a miniature golf course and a driving rangee.
In 1960, Freeman was hired by the Reds to supervise their scouting efforts in the Florida-Georgia area.
The following year, Freeman was asked to manage in the Reds system. He was one of two managers for the Columbia Reds of the Class-A Sally League. In 1962 he managed two different teams, in each case one of two managers for the teams – the Class-D Florida State League Tampa Tarpons and the Class-B Carolina League Rocky Mount Leafs. In 1963 he managed Tampa for the full season.
Freeman worked for a while as a salesman for a wholesale furniture company in Gadsden. In 1965 he took a position as assistant director of the Orange County Juvenile and Parental Homes in Orlando, Florida. He worked there until the state took it over and he found the changed conditions less amenable. Starting in 1973, he worked at Colonial High School in Orlando as a supervisor of the custodial staff, overseeing care of the athletic facilities.
His son Mike says that his father worked as head baseball coach for five or six years and Colonial became a state semi-finalist in 1975. Steve Christmas (who played for the Reds, White Sox, and Cubs) was on that team. Freeman was also involved in Little League. Son Mike says, "Dad retired from OCPS when he was 65. Dad loved to golf and that's where you could find him in the weekends. Dad was pretty much a scratch golfer, but he enjoyed the time with friends more. Dad did coach me and my brother playing baseball, but he didn't push us. He got me and my brother Randy hooked on golf and we enjoyed many great days on the course. When Dad retired golf occupied some of his time and spoiling the grandkids was high on his list."14
In his spare time, he also enjoyed oil painting and building model boats.
Hersh Freeman and his wife, Linnie were married on October 14, 1950. The couple had two sons, Randy and Mike, and two daughters, Patty and Melinda.
Hershell Freeman had open heart surgery, a quintuple bypass. Sadly, "diabetes kicked what was left of his desire to go on since he could no longer play golf or rough house with grandkids."15 Freeman died in Orlando on January 17, 2004.
Linnie Freeman worked for Orange County for 30 some-odd years in different positions until she retired at 65. She died of cancer in 2011.
Sources
In addition to the sources noted in this biography, the author also accessed Freeman's player file and player questionnaire from the National Baseball Hall of Fame, the Encyclopedia of Minor League Baseball, Retrosheet.org, Baseball-Reference.com, Rod Nelson of SABR's Scouts Committee, and the SABR Minor Leagues Database, accessed online at Baseball-Reference.com. Thanks as well to Brittany Noiseau and Mike Freeman.
Notes
Born
July 1, 1928 at Gadsden, AL (USA)
Died
January 17, 2004 at Orlando, FL (USA)
If you can help us improve this player's biography, contact us.
http://sabr.org/sites/default/files/FreemanHersh.jpg
600
800
admin
/wp-content/uploads/2020/02/sabr_logo.png
admin
2016-11-11 13:04:44
2016-11-11 13:04:44
Hersh Freeman