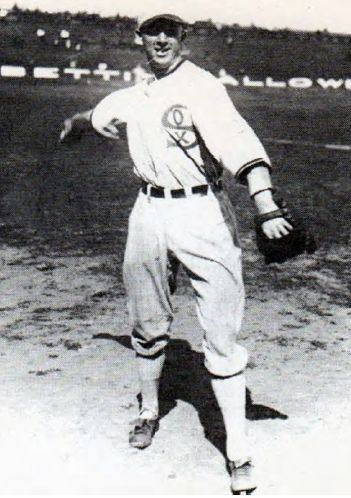 ---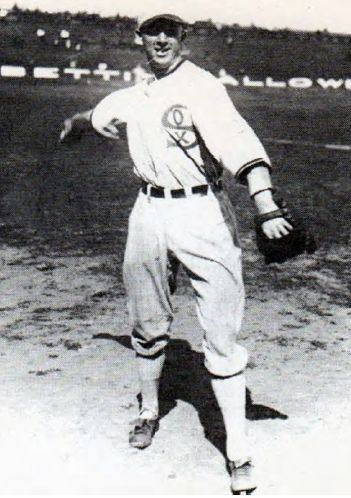 "Harvey" McClellan didn't get much respect — especially from the press. Often characterized as a good-field, no-hit infielder, he managed to last six seasons with the Chicago White Sox despite often being derided in the press. Worse, Harvey wasn't his first name or even his nickname. It was a simple misspelling by the press. Because of that, for many decades he has been listed in the baseball record books under his misspelled name.[fn]Correspondence between Grace McClellan and Cliff Kachline in Hervey McClellan's Hall of Fame file. In response to Kachline's question as to what McClellan's real first name was, his widow, Grace, wrote, "I am 80 years of age, same as Hervey's age.… 'Little Mac' was his nick-name and the sport writers nearly always spelled it Harvey."[/fn]
McClellan, often called "Little Mac," was a 5-foot-9, 143-pound utility infielder who batted and threw right-handed. What kept him in the majors was a combination of superb fielding and a bit of luck. He was lucky enough to have been a utility infielder who could play both shortstop and third base when the White Sox had both their third baseman and shortstop banished from baseball following the Black Sox Scandal. But his luck ended tragically in 1925 when, in the prime of his baseball career, he was struck down by cancer.
Hervey McDowell McClellan was born on December 22, 1894, in Cynthiana, Kentucky. He was the youngest of three sons of Hugh McClellan, a harness manufacturer, and Mattie (McClure) McClellan. Hugh, whose family emigrated from Ireland to Canada when he was 9 years old, had moved to Cynthiana when he was 21. It was in Cynthiana, a town halfway between Lexington, Kentucky, and Cincinnati, where he had met his future wife Mattie, a native Kentuckian.[fn]Grace McClellan-Cliff Kachline correspondence.[/fn]
From an early age, McClellan was active in sports. At Cynthiana High School he played forward on the basketball team and was shortstop on the baseball team.[fn]Lexington Herald, February 28, 1914, and May 12, 1914.[/fn]
It was in 1913, as an 18-year-old playing for the semipro Cynthiana town team, that he signed with the Lexington Colts of the Class D Ohio State League for the 1914 season. He appeared in 51 games, batting only .190, before leaving the team to start his senior year of high school.[fn]Lexington Herald, July 28, 1913, and September 15, 1914; undated biography in Hervey McClellan's Hall of Fame file.[/fn]
But Lexington officials must have seen something in the youngster because they re-signed him for the 1915 season. He had a fine spring training, earning the starting shortstop job while batting second in the lineup on Opening Day.
Playing every day didn't improve McClellan's hitting; in fact, he batted a paltry .157 in 102 games. But his fielding was so spectacular that he was able to keep himself in the lineup. The Lexington Herald wrote that McClellan "would grace any short field in the circuit, and some higher up."[fn]Lexington Herald, February 21, 1915; May 1, 1915; May 11, 1915; and September 3, 1915.[/fn]
One of McClellan's teammates was fellow Cynthiana townsman and pitcher Charlie Rorer. The Lexington management was so appreciative of the duo's efforts that on September 1, "Cynthiana Day" was declared for Lexington's game with Ironton. Both Hugh McClellan and Charles Rorer, Sr. were invited to Lexington and watched Lexington defeat Ironton, 8-3. McClellan had an excellent day, going 2-for-4 with two runs scored.
McClellan finished second in fielding percentage among shortstops and led the league in sacrifices. Lexington again re-signed him for the 1916 season.[fn]Lexington Herald, August 27, 1915; August 31, 1915; September 3,
1915; and October 26, 1915.[/fn]
Finally, in 1916, McClellan found his hitting stroke. But the Colts folded on July 16, the third team in the six-team league to disband within a few days, and the entire league followed suit. Reports had McClellan being sold to the Asheville Tourists of the Class D North Carolina State League. It's unclear if he actually played any games with the Tourists, but by August he had moved to St. Joseph of the Class A Western League.[fn]Lexington Herald, July 16, 1916, and July 20, 1916; Portsmouth Daily News, July 17, 1916; Sporting Life, August 26, 1916.[/fn] The big jump in classification didn't bother McClellan. Moved to third base, he hit .291 in 62 games for the Drummers.
St. Joseph liked what they saw out of McClellan and signed him for 1917. Midway through the season, the St. Joseph franchise moved to Hutchinson, Kansas. In 131 games he batted .275 and finished with a .936 fielding percentage at third base. So impressive was McClellan's fielding that, on August 27, Hutchinson owner Jack Holland sold him to the Chicago White Sox for $5,500. He was ordered to report for spring training in 1918.[fn]Lexington Herald, September 4, 1917, and February 20, 1918; Hutchinson (Kansas) News, August 28, 1917.[/fn]
In the offseason, and for every offseason until his death, McClellan worked for the Liggett & Myers Tobacco Company as a bookkeeper.[fn]Hutchinson News, October 29, 1917; Grace McClellan-Cliff Kachline correspondence.[/fn]
McClellan had two strikes against him trying to make the White Sox roster during 1918 spring training at Mineral Wells, Texas. First, the left side of the White Sox infield was deep with Buck Weaver, Swede Risberg, and Fred McMullin on the roster. Moreover, McClellan had been assigned to Class I by his hometown draft board, which meant he was subject to being called up for duty in World War I sometime in 1918.[fn]Hutchinson News, February 13, 1918, and April 15, 1918; Bridgeport (Connecticut) Telegram, April 9, 1918.[/fn]
Once it was clear that McClellan was Class I, the White Sox released him back to Hutchinson. But before he left the team, veteran Shano Collins gave him some encouraging words: "Dig in boy, you'll sure be up with us next year."[fn]Hutchinson News, April 15, 1918.[/fn]
Collins's prediction came true, but not before McClellan experienced a whirlwind year in 1918. He started the season in Hutchinson and then moved with the franchise to Oklahoma City in June. On June 20 he married Laura Grace Milam, a native of Hutchinson whom he had met during the 1917 season. Grace had been a bank teller at the First National Bank of Hutchinson.[fn]Hutchinson News, May 1, 1918, and June 20, 1918.[/fn] Then on July 6, McClellan was drafted into the U.S. Army. On July 15, he left for Fort Thomas in Kentucky, where he spent the rest of the war.[fn]Lexington (Kentucky) Herald, July 7, 1918.[/fn]
In February 1919 McClellan was again sold to the White Sox. This time he stuck with the club. In spring training there were rumors that the Cincinnati Reds were interested in McClellan. But Comiskey held on to the youngster. "The fighting, peppery infielder" became one of only two rookies (with Dickey Kerr) to make the White Sox out of training camp.[fn]Des Moines News, February 15, 1919; Rockford (Illinois) Morning Star, April 17, 1919; Washington Times, April 16, 1919; Seattle Daily Times, April 17, 1919.[/fn]
But though McClellan was with the team the entire season, he played sparingly. He made it into only seven games, none as a starter. Four of the seven games were the last four of the season after the White Sox clinched the American League pennant. One newspaper wag wrote that McClellan "has been wearing out the seats of several uniforms on the bench during the season."[fn]Muscatine (Iowa) Journal and News-Tribune, September 26, 1919.[/fn]
As a result, McClellan's first major-league hit didn't come until September 25. In a 3-1 loss to the St. Louis Browns, he pounded out a single off Elam Vangilder. It was Vangilder's first game as a starter in the majors. Needless to say, McClellan did not play in the World Series against the Cincinnati Reds, which the tainted White Sox lost five games to three.
Despite McClellan's lack of playing time, the White Sox retained his services in 1920. There were rumors that the Washington Senators coveted McClellan, but he was kept almost exclusively on the White Sox bench. He played in only ten games in 1920 — including the final three games after seven of the Black Sox players were suspended from the team in late September.[fn]Harrisburg Patriot, October 1, 1920; Schenectady Gazette, September 29, 1920.[/fn]
On the last day of the season, October 3, McClellan and backup catcher Byrd Lynn told reporters that they believed their teammates had thrown three games in Boston at the end of August. But he added that he "could obtain no tangible evidence to support their hunches."[fn]Seattle Daily Times, October 4, 1920.[/fn]
Back at home in Cynthiana after the season, McClellan was feted with a "McClellan Day" on October 11 to celebrate the town's major leaguer. The highlight was a game between the Cynthiana town team, which McClellan played for, against the Louisville Colonels. McClellan knocked in the only run for Cynthiana with a solo home run in a 9-1 loss.[fn]Lexington Herald, October 7, 1920, and October 12, 1920.[/fn]
In January 1921 McClellan's only son, Hervey Jr., was born. McClellan most certainly left weeks later for spring training in Waxahachie, Texas, on a high — in addition to his growing family, he would have a shot to earn a starting position with the White Sox for the first time in his career.[fn]Grace McClellan-Cliff Kachline correspondence. Kalamazoo Gazette, March 16, 1921; Binghamton Press, January 28, 1921.[/fn] With Buck Weaver and Swede Risberg still suspended, both the third base and shortstop positions were wide open.
Though he was without two star players on the left side of the infield, Comiskey insisted that the team would be fine with the players now in spring training. "This young Harvey McClellan has been with us a long while now, has always responded when called on to cover short or third base, and he will easily fill the bill at third," Comiskey said.[fn]Duluth News-Tribune, December 1, 1920.[/fn]
But Eddie Mulligan beat out McClellan for the job at third base, and McClellan found himself on the bench for most of the year. He did get into 63 games, rotating among second base, third base, shortstop, and right field. On July 30 he cracked his first major-league home run, into the left-field stands at Shibe Park off Bob Hasty of the Philadelphia Athletics in a 9-1 win.[fn]Trenton Evening Times, March 7, 1921; Bob McConnell and David Vincent, eds. SABR Presents The Home Run Encyclopedia (New York: Macmillan, 1996), 843; Philadelphia Inquirer, July 31, 1921.[/fn]
In late July, a few days before he hit that first majorleague home run, McClellan was subpoenaed by defense attorneys in the Black Sox criminal trial, though he was never called to testify.[fn]Chicago Tribune, July 28, 1921.[/fn]
McClellan hit .179 in 63 games in 1921. Yet when spring training rolled around, he found himself battling for the starting third-base job again. And this time he won it — at least for the first month or so of the 1922 season.[fn]Buffalo Express, March 7, 1922.[/fn]
McClellan was supposed to be battling Eddie Mulligan again for a starting position. But Mulligan held out in spring training and when he finally settled with Comiskey, he came down with an illness and missed a chunk of camp.[fn]Rochester Democrat and Chronicle, March 18, 1922; Utica Herald-Dispatch, April 1, 1922.[/fn] Manager Kid Gleason and coach Johnny Evers worked with McClellan on his batting all spring. The result was that he was given the starting third-base job out of spring training.[fn]Albuquerque Journal, March 31, 1922.[/fn] But the hitting lessons didn't help McClellan. By May 28 he was batting .173 and lost his job to Mulligan.
Before he lost his starting position, McClellan was part of history on April 30 in Detroit. Playing third base behind starting pitcher Charlie Robertson, McClellan helped the rookie right-hander record the fifth perfect game in major-league history. McClellan had one of his better hitting days, going 1-for-3 in the 2-0 White Sox victory over the Tigers.
After his benching, McClellan rebounded with the bat and finished the season hitting .226 in 91 games. He swatted two more home runs. When the season ended, rumors swirled that McClellan would be sent to San Francisco as part of the franchise's record-high payment for star prospect Willie Kamm. Instead, the White Sox sent Eddie Mulligan.[fn]The Sporting News, October 19, 1922.[/fn]
As spring training began in 1923, some newspapers reported that McClellan would battle Kamm for the starting job at third base. But the White Sox had paid a steep price for Kamm and he wasn't going to sit on the bench when the season started. McClellan found himself in a utility role once again.[fn]Binghamton Press, April 7, 1923.[/fn] Then on April 28 McClellan took over for the struggling Ernie Johnson at shortstop. This time, McClellan held on to the position for the entire season. The Sporting News noticed his improved play: McClellan "is continuing to play sensationally at short. He is fielding better than Ernie Johnson ever did and is going well with the stick." In fact, McClellan began a career-high 11-game hitting streak in late May.[fn]The Sporting News, June 14, 1923.[/fn]
Even future Hall of Famer Eddie Collins took notice: "He is going to prove a most valuable man for the Sox after being buffeted around for five years as a man without a job."[fn]Canton Evening Repository, September 12, 1923.[/fn]
In all, McClellan played in 141 games in 1923, batting .235. He was second among American League starting shortstops in fielding percentage and was one of the AL leaders in sacrifices.
It appeared the shortstop position was McClellan's to lose in 1924 as the White Sox headed into spring training. The Sporting News wrote that the "weakest spot in the Sox attack is shortstop where Harvey McClellan probably will hold forth because of his excellent fielding."[fn]The Sporting News, January 3, 1924.[/fn]
McClellan started the season as the starting shortstop but lost his job on April 24, when he was replaced by Ray French, a 29-year-old journeyman with his third team. A few days later, while in Detroit, McClellan nearly passed out with what at the time was thought to be acute indigestion.[fn]The Sporting News, November 12, 1925.[/fn]
On May 1 it was reported that McClellan had "stomach problems" that would force him to miss a series against the Cleveland Indians. Then on May 5, he was operated on for a "stomach ailment" that turned out to be cancer.[fn]Appleton Post-Crescent, May 1, 1924, and May 6, 1924.[/fn] According to his obituary in The Sporting News, McClellan was never told of the cancer.[fn]The Sporting News, November 12, 1925.[/fn]
Remarkably, McClellan was back in uniform by June 23. But he was extremely weak. He was used as a pinch-hitter on July 6 and again on July 10, replacing Kamm at third base in a lopsided loss to the New York Yankees.[fn]Rockford Register-Gazette, June 24, 1924.[/fn]
McClellan even earned his starting job back on July 22, when starter Bill Barrett "turned up with an ailment." The Sporting News wrote, "The invalid is such an improvement over Barrett as a fielder that he has been retained for regular duty."[fn]The Sporting News, July 31, 1924.[/fn]
But it was obvious that McClellan wasn't well. Manager Johnny Evers was forced to pull him out of each game after six or seven innings. "Because of his condition, (McClellan) can't do much with the bat," The Sporting News reported.[fn]The Sporting News, July 31, 1924.[/fn]
McClellan started 12 of the White Sox' 14 games between July 22 and August 3. The workload took its toll. After sporadic appearances in September, he managed to play in the team's final five games. His last major-league game was September 29, 1924, against the Detroit Tigers in a 16-5 win. He finished the season hitting .159 in 32 games.[fn]McClellan's official record lists his 1924 batting average as .176, but Retrosheet volunteers (retrosheet.org) discovered a mistake in the July 27 game; McClellan was given a hit when, he had none. Thus the .159 batting average.[/fn]
In the offseason McClellan traveled with his family and several White Sox teammates to California, intending to convalesce in the warm weather. He managed to find the time and energy to play baseball on Halloween, when he participated in a charity game in Brea with Babe Ruth and Walter Johnson, an exhibition that became famous for Ruth hitting two home runs off Johnson.[fn]The Sporting News, November 12, 1925; Grace McClellan-Cliff Kachline correspondence. Bakersfield Californian, November 1, 1924.[/fn]
McClellan went to spring training in 1925 looking to win his starting shortstop job back. The Brooklyn Eagle wrote that McClellan "looks about the best candidate for the job this year" and that it "appears as if his health has returned."[fn]New York Times, March 12, 1925; Brooklyn Daily Eagle, March 11, 1925.[/fn]
But on Opening Day, McClellan wasn't in the lineup and he never did take the field in 1925. Seeing that his infielder was in a weakened condition, Eddie Collins, now the manager, had tried to work him as little as he could in spring training. But, as The Sporting News noted, "by the time the season was ready to start, (McClellan) began to fade physically."[fn]The Sporting News, November 12, 1925.[/fn] On June 6 he was reported to be "dangerously ill" at Mercy Hospital in Chicago and had undergone another operation for gallstones."[fn]La Crosse Tribune and Leader-Press, June 12, 1925; Oelwein (Iowa) Daily Register, June 16, 1925; Hutchinson News, July 25, 1925.[/fn]
McClellan lived exactly five more months. After being discharged from Mercy Hospital in mid-July, he went home to Cynthiana.[fn]Brooklyn Daily Eagle, July 7, 1925; Oakland Tribune, July 20, 1925; Hutchinson News, July 25, 1925.[/fn] In October his failing health took a turn for the worse and on November 6, just six weeks shy of his 31st birthday, McClellan died at Harrison Memorial Hospital in his hometown. The official cause of death was liver cancer, though his earlier problems were likely caused by stomach cancer. He left behind his wife, Grace, and his 4-year-old son, Hervey. He was buried in Battle Grove Cemetery in Cynthiana.[fn]Port Arthur (Texas) News, October 11, 1925; Springfield (Massachusetts) Daily Republican, November 9, 1925; author's correspondence with Dr. Stephen Boren.[/fn]
"There probably hasn't been a man on a Chicago ball team in many, many seasons who was as popular as 'Little Mac,' " sports writer Irving Vaughan wrote after McClellan's death. "He was one of those sunny little fellows, always smiling and willing to take the good with the bad."[fn]The Sporting News, November 12, 1925.[/fn]
This biography appears in "Scandal on the South Side: The 1919 Chicago White Sox" (SABR, 2015). Click here for more information or to order the book.
Full Name
Hervey McDowell McClellan
Born
December 22, 1894 at Cynthiana, KY (USA)
Died
November 6, 1925 at Cynthiana, KY (USA)
If you can help us improve this player's biography, contact us.
Tags
http://sabr.org/sites/default/files/HerveyMcClellan.JPG
600
800
admin
/wp-content/uploads/2020/02/sabr_logo.png
admin
2012-01-04 20:08:56
2012-01-04 20:08:56
Hervey McClellan