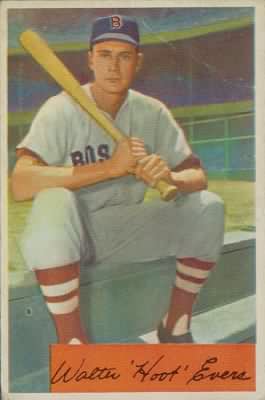 ---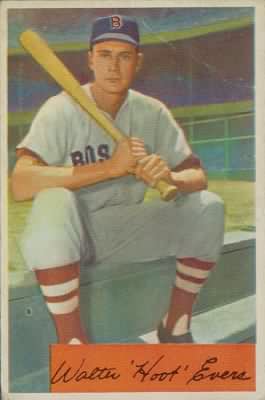 Hoot Evers' career is a tale of what might have been. He spent a half-century in baseball as a player, scout, and front-office executive, and worked almost until the day he died. When he was a major-league outfielder, his contemporaries saw him as a potential superstar. But he played the game hard and with reckless abandon for 12 years in the big leagues, and in the end that style took its toll on his body and shortened his playing career as his many injuries robbed him of his speed and power.
Evers, who spent two seasons and part of a third with the Boston Red Sox in the 1950s, came up to the major leagues through the Detroit Tigers' system. When he reached Detroit, he was a tremendously popular player during his six seasons with the Tigers. If you came to games in the early 1950s in Detroit you would hear what sounded like boos, but if you listened closely you would hear the crowd saying "Hooooot." This cry was the most popular and most baffling call in the major leagues. It started at Briggs Stadium early in 1950 as the 29-year-old outfielder was off to his best start in what became his greatest season. The fans would signal Evers' arrival at home plate with a long drawn-out "H—o—o—o—o—t." It rolled down out of the grandstand and floated in from the bleachers in a bewildering wail that made newcomers to the park turn to one another in amazement.
Hoot was born Walter Arthur Evers on February 8, 1921, in St. Louis, Missouri, and grew up in Collinsville, Illinois, a dozen miles across the Mississippi River from St. Louis. His parents were Edwin H. Evers and Frieda M. Evers. Edwin was a printer who eventually rose to superintendent of the St. Louis Globe-Democrat newspaper plant and production manager before moving on to be the newspaper's director of labor relations. Hoot had an older brother, Edward, who followed in his dad's footsteps and became assistant business manager at the Globe-Democrat.
When Walter was a child, he loved to cheer for Hoot Gibson, the cowboy movie hero. On Saturday afternoons, he and his buddies would play Wild West games. He insisted on impersonating Hoot because he liked to win. Soon his buddies began calling him Hoot and the name stuck for the rest of his life.
In high school, Evers won local fame as Township High's star athlete. He hurled the javelin farther than anyone else at track meets. He was a triple-threat quarterback in football. He excelled at basketball and became an all-state forward. He was also a very good tennis player. He lettered in basketball, football, and track. Even though his favorite sport was baseball, he couldn't play, as Township had no baseball team. After graduating, Evers entered the University of Illinois and played baseball and basketball and threw the javelin for the track team. The 6-foot-2, 185-pounder went to Illinois because it had a good basketball team and also because Lou Boudreau, the Cleveland Indians' shortstop and manager, was its most famous baseball alumnus. Evers' baseball coach was Wally Roettger, a one-time National League outfielder. Coach Roettger taught Hoot how to play the outfield and during his freshman year many scouts came to see him play. As a freshman, Evers batted .353 with five triples and three homers. Evers hit a double, triple, and homer in a pivotal game in 1940 against Iowa. Afterward, a bushy-browed gentleman who puffed on a cigar sought him out. He introduced himself as Branch Rickey, president of the St. Louis Cardinals. "Mr. Rickey offered me a small bonus and the opportunity to finish my college education," Hoot said. "It was hard to turn down. The Cards are my favorite team. Dizzy Dean, Frankie Frisch, and Pepper Martin were my boyhood idols. But my eyes were already on Detroit."[1] Evers rejected Rickey's offer.
As it turned out, that freshman year was Evers' only baseball season at Illinois. He purposely "flunked" out of the university during his sophomore year so he could play baseball with Detroit. According to Tigers scouting director Wish Egan: "Back in 1940 (his freshman season), Evers was playing baseball and basketball for Illinois and after the school year he came out to Detroit for a summer tryout. After he went back to school, he wanted to drop out and start his professional career. I told him not to. Wally Roettger, his coach, was a good friend of mine. What's more, I didn't want him to quit school. But he wanted to play ball so badly and get started in his professional career the he purposely let himself become ineligible. His father then wired me and told me that since Hoot was not going back to school we were free to sign him." Wish Egan did just that, signing Hoot to a $9,000 bonus.[2] Barely out of his teens, he couldn't wait to get his career started.
The Tigers assigned Evers to their Texas League farm in Beaumont, where he spent just one week, batting .174, before moving to Winston-Salem in the Class B Piedmont League. At first he was homesick and couldn't buy a base hit. He wrote to his father that he was terrible and wanted to learn the printing trade. His dad sent the letter on to Detroit. Wish Egan showed up in Winston-Salem the next day and took Hoot to dinner for a real father-to-son talk. It worked, as Evers stayed and hit .231 with four homers in 415 at-bats for the Twins, and got a chance to play a game for the Tigers on September 16 in Washington, going 0-for-4. The next year, 1942, under the guidance of manager Steve O'Neill, Hoot rebounded to have an outstanding season for Beaumont, showing the Tigers brass just what kind of player he could be. He improved his batting average to .322 with 179 hits, 10 home runs, and 28 doubles, all the while playing a terrific outfield. His batting average was third in the Texas League and he led all outfielders in double plays with 11.
After the season, with World War II raging, Evers enlisted in the Army and was assigned to the Waco Army Air Field in Texas for training. He spent the next three years in the Army Air Force but never saw combat, instead playing baseball for the Waco Wolves service team under the guidance of Tigers catcher Birdie Tebbetts. Evers was transferred to the Special Services until the war ended. Tebbetts said of Evers: "He could do everything. And I mean everything. When he wasn't hitting or roaming the outfield, he was out there pitching."[3] Tutored by Tebbetts, Hoot rapidly became a star for the club, which swept through tournament after tournament. His batting average over those three years was .467. "In 1945," he said, "many of our players left camp for civilian life. We were so short of pitchers that I relieved the starter in the first half of a doubleheader, then hurled a four-hitter in the nightcap. Incidentally, I won the game by stealing home with the winning run." Evers turned down a chance to attend officer candidate school, even though he had all the qualifications. He simply wanted to play baseball for a living.
The war over, Evers was discharged in time for the 1946 season. When he reported to the Tigers for spring training, the team was being led by his manager at Beaumont, Steve O'Neill. The manager turned Hoot over to Roger "Doc" Cramer, a premier outfielder in the waning days of his career who soon became one of Evers' strongest boosters. "Hoot, and I mean this, was the most promising-looking young ballplayer I have ever seen come to the big leagues," Cramer told a sportswriter. This is saying something, as Cramer was on the 1939 Red Sox when Ted Williams was a rookie. "He had all the fundamentals—the build, a good head, speed, and an arm, with good eyes at the plate," Cramer said. "You sit around for a long time waiting for a kid with his ability. And you generally get tired of waiting long before one shows up. He could do everything the first day I saw him. He showed the need for experience, of course. But he played like a guy who had been around the American League for several years. The only thing I had to teach him was how to play the hitters, and he had all that the first time around the league. Taking care of him was the softest job I ever had."[4]
But soon the injury bug began to hit Evers and it would continue to do so for the rest of his career. He led the team in hitting, fielding, and baserunning in the first half of the Tigers' exhibition schedule and had the center-field job all but sewn up. But on March 17, as Evers began a slide into second base, a relay throw by Cleveland Indians shortstop Jack Conway hit him in the hand and fractured his thumb. In throwing up his hand, he failed to pull in his foot when he started his slide and his ankle snapped. With his thumb and ankle fractures, the doctors told him it would be two or three months before he could be back playing.
Evers first start came on May 24 when he batted third and started in center field against the White Sox in Comiskey Park. Hoot went 2-for-4, including his first major-league hit, an RBI single in the third inning off Chicago's Orval Grove; he drove in another run in the fifth as the Tigers won, 4-1. Then, on June 3, in a night game in Washington, a low fly ball was hit to short center field. Evers and second baseman Eddie Mayo went after the ball, both at full speed. Evers yelled for the catch, but the roar of the crowd muffled his voice and he collided with Mayo. The two players were carried off the field on stretchers and taken to Georgetown University Hospital. Evers suffered a compound fracture of the jaw, along with some internal injuries. Doctors doubted whether he would ever play again. Surgeons wired his jaw and three weeks later, on June 21 against the Yankees, he fooled everybody by again returning to the lineup. Hoot hit his first major-league home run on August 15 off White Sox lefty Eddie Lopat. He finished his rookie year hitting .266 with four home runs and 33 RBIs in 81 games.
The injuries had taken their toll, though. He had been one of the fastest outfielders in the game, but the fractured ankle had robbed him of some of his speed and the fractured right thumb had hurt his throwing ability. Evers hoped for better luck in 1947, but the injury jinx was still with him. On June 29, in a game at Detroit, pitcher Bob Muncrief of the St. Louis Browns hit Evers in the left temple and he was taken to a hospital. There, Hoot finally got some good news: no fracture. He returned in 12 days and celebrated by driving in two runs in the sixth to help the Bengals beat the Red Sox, 3-0. Evers went on to hit .296 with 67 RBIs in 126 games. He also displayed some power with 24 doubles, 5 triples, and 10 homers. He began to draw good reviews for his all-around game. He was an expert at tracking balls in center field; he played groundballs like an infielder and roamed over a large area of the outfield; his right-handed batting stance suited him well against curveball pitchers; he was an exceptional base runner; and he was known for his competitive nature.
Healthy for the 1948 season, Hoot hit .314 (eighth in the league) with 10 home runs and drove in 103 runs in 139 games. In 538 at-bats (his career high), he struck out only 31 times, a career low. He started and hit a homer off Ralph Branca in the 1948 All Star Game. On July 18, the Tigers beat the Yankees 5-3 in the Bronx, thanks mostly to Evers' first career grand slam, off Yankees starter Vic Raschi. But despite the fine season, there were rumors that he would be traded for a less brittle player. If the Tigers tried to swap Evers, they couldn't find a partner, and he remained with the team.
After the 1948 season, Steve O'Neill departed as the Tigers' manager. He was succeeded by Red Rolfe, Evers enjoyed playing for his new manager. "Red is a great guy," he said. "He knows baseball. He knows how to teach position play to his fielders. He studies each player individually, knows which one can take a dressing-down when he fails and which one needs a pat on the back." Rolfe, meanwhile, said, "All this talk about Hoot being brittle is nonsense. He gets hurt because no concrete wall can stop him if he decides he can catch a fly ball." In July Evers crashed into the left-field fence at Fenway Park for an impossible catch of a drive by Walt Dropo. He scraped an elbow and cut his left hand, but refused to be benched. With Dick Wakefield slumping, Rolfe moved Evers to left field, and Evers said the move helped his hitting. "A center fielder runs a few hundred more miles during his career than a left fielder," he declared. "True, a left fielder must beware of crashing into the fences or stands, but he soon learns how to gauge his speed as he approaches an obstacle. He learns how to play angles, so he has more energy for his batting." [5] It was another fine year for Evers, with 7 home runs, 72 RBIs, and a batting average of .303.
Evers had his greatest season in 1950. His 143 games were a career high, and he never came close to approaching that total again. He had 35 doubles, a league-leading 11 triples, 21 home runs, and 103 RBIs. He ascribed his extra-base hitting to the livelier ball of 1950. "Unquestionably the ball travels farther and faster this year," Hoot told a sportswriter. During a Tigers-Yankees game at Detroit on June 23, the two teams crushed a record (since broken) 11 homers. Evers, who had already hit one home run in the game, hit the record-breaking 11th, an inside-the-park job, off Joe Page. He was selected for the All Star team, hit for the cycle, with six RBIs on September 7, tied for the league lead with 11 triples, finished 11th in the American League MVP voting, and had a .551 slugging percentage (third in the league), 35 doubles (fourth), 67 extra-base hits (sixth), a .323 batting average (seventh), 109 RBIs (ninth), 290 total bases (ninth), and a .408 on-base percentage (10th). Evers led American League outfielders in fielding (.997), making only one error in 341 chances, and playing 115 consecutive games without an error. The Tigers won 95 games but came up just short of the pennant-winning Yankees.
Coming off a great season, Evers figured he would cash in with a nice raise. Instead, he found himself arguing with Tigers general manager Billy Evans. "If I paid you what you're asking," said Evans, "you'd be the third highest-salaried outfielder in the American League."[6]
"I think that would be about right," Hoot answered. "Joe and Dom DiMaggio are worth more money, but I believe I'm No. 3."
In 1951 the injuries returned and Evers played in only 116 games. His batting average fell almost 100 points, to .224, and his extra-base hits were down from 67 to 28. He was determined to bounce back the following year. He reported to spring training for the Tigers in 1952 feeling good and looking forward to getting back to his 1950 stats. But in an exhibition game against the Cincinnati Reds four days before the start of the season, he was hit by a pitch from the Reds' Herman Wehmeier and his thumb was broken in two places. He was out until June. When he came back, after just one plate appearance with the Tigers (a single), Evers was traded to the Boston Red Sox on June 3. With Ted Williams serving with the Marines in the Korean War, the Red Sox needed an outfielder and acquired Evers as part of a nine-player deal. Along with Evers, pitcher Dizzy Trout and infielders George Kell and Johnny Lipon were sent to Boston for slugging first baseman Walt Dropo, shortstop Johnny Pesky, infielder Fred Hatfield, first baseman Don Lenhardt, and pitcher Bill Wight. It was the biggest deal in Tigers history to this point.
Evers hit .262 for Boston with 14 home runs and 59 RBIs. He could still play a good outfield, and at 30 was young enough that Boston hoped he could regain his form. But in 1953, Evers played in just 99 games, hitting .240 with 11 home runs and 31 RBIs. Hoot was no longer the same player. The injuries had finally caught up with him. He had just eight at-bats in 1954 when the Red Sox put him on waivers.
The New York Giants claimed Evers off waivers. "We were looking for a right-handed outfielder," said manager Leo Durocher. "We wanted an established veteran who would give us more right-handed pinch-hitting strength when he wasn't playing the outfield."[7] But after just 11 at-bats with only one hit, Evers was waived by the Giants, only to be picked back up by his old team the Tigers on July 29, 1954. He hit just .183 in 60 at-bats over the rest of the year.
In January, Evers was sold to the Baltimore Orioles. He was 34 now but still wasn't ready to hang up the spikes. Through the first half of the 1955 season, he was hitting .238 with 6 home runs and 30 RBIs when he was traded to Cleveland for Bill Wight. Evers batted .288 over the rest of the season for the Indians. The next season was his last, but he must have felt as if he were was inside a pinball machine. In May 1956, Hoot was traded from Cleveland back to Baltimore for outfielder Dave Pope. Then in August, he was released by the Orioles, who signed him again as a free agent on September 1. He drew his final release on October 18 and decided it was now time to stop playing the game he loved. After 12 seasons, he ended his career with a .278 batting average, 98 home runs, and 565 RBIs in 1,142 games.
The unemployment line never saw Hoot; the Indians quickly hired him as a scout. General manager Hank Greenberg assigned him to Florida. Evers displayed the same aggressiveness in scouting that he displayed as a player. "There wasn't enough for me to do," Hoot said, "so after Frank Lane was hired to replace Greenberg in 1959, I asked him if he couldn't give me a better job. Frank made me assistant farm director."[8] He served in that capacity for five years. Over the next three seasons, Evers was vice president, assistant to the president, acting general manager of the Indians at various times, before returning to scouting in 1967. In 1970, he returned to the diamond for one season as a coach. Then, in 1971, after 14 seasons with the Indians, he went back to his old team, the Tigers, as the director of player development. Evers replaced Don Lund, who became athletic director at the University of Michigan.
"It's not easy for me to leave Cleveland," Evers said when he switched employers. "The Indians are a club that has so much promise, one that's really coming and I liked being part of it. I wouldn't change clubs if it were any club other than Detroit. … But I simply couldn't turn down this opportunity to go back to the Tigers." Evers held his front-office position with the Tigers until 1978, when he became a special-assignment scout based in Houston.
Hoot Evers died on January 25, 1991, in Houston after a short Illness. He had suffered a heart attack. He was married twice and had two daughters from his first marriage, Kay Anne and Christine.
There were no regrets on Evers' part over his many injuries. He felt honored to have played the game he loved for 12 years.
He was an easygoing person who took time to enjoy his favorite pastime whenever possible, "lazily drifting down a southern stream, hoping that a fat bass would hit his hook."[9] [Baseball Digest, October 1950]

Sources
John Thorn, Pete Palmer, Michael Gershman, David Pietrusza, Total Baseball, Sixth Edition (Kingston, New York: Total Sports, 1999 )
Russell Schneider, The Cleveland Indians Encyclopedia, (Champaign, Illinois: Sports Publishing LLC, 2001)
Charles Dexter, "Detroit's Favorite Hoot-Done-It!," Baseball Digest, October 1950.
Ben Taylor, University of Illinois assistant sports information director
Ed Rumill, "Evers has Everything," Baseball Magazine
Many Detroit Tigers radio and TV press releases
Baseball-Reference.com
Richard Barbieri, Article on Evers, Hardball Times
The Sporting News
Cleveland News
Detroit News
Chicago Daily News
Baseball Magazine
Boston Post
New York Times
Baseball Digest
Cleveland Plain Dealer
Boston Globe
Detroit Free Press
St. Louis Post-Dispatch
St. Louis Globe-Democrat
Associated Press
---
Photo Credit
The Topps Company
Born
February 8, 1921 at St. Louis, MO (USA)
Died
January 25, 1991 at Houston, TX (USA)
If you can help us improve this player's biography, contact us.
http://bioproj.sabr.org/bp_ftp/images4/EversHoot.jpg
600
800
admin
/wp-content/uploads/2020/02/sabr_logo.png
admin
2012-01-04 20:49:31
2012-01-04 20:49:31
Hoot Evers