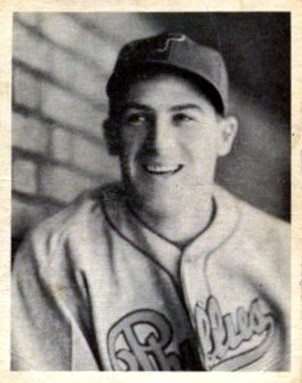 ---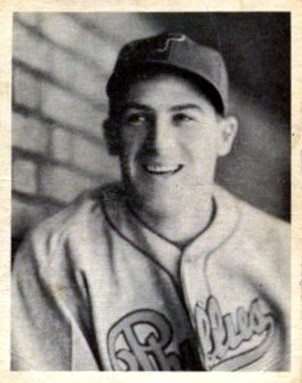 One can sensibly argue that Hugh Mulcahy was one of the hardest-luck pitchers in baseball history. At first glance a pitcher with a 45-89 career record and a lifetime earned-run average of 4.49, one who was twice the league leader in losses, is not exactly a player one thinks of as a victim of bad luck. On the contrary, when a pitcher wins barely half as many games as he loses during his career, one might consider him pretty lucky just to play the nine big-league seasons that Mulcahy put in between 1935 and 1947. But luck is often in the eyes of the beholder, and a closer examination of Mulcahy's career suggests that he indeed might have been one of the game's unluckiest ballplayers.
During his four principal years in the big leagues, 1937 through 1940, Mulcahy's Philadelphia Phillies finished seventh once and in the cellar three times, losing 92, 105, 106, and 103 games.. Toiling for the woeful Phillies as one of their most ­used pitchers, he lost 20 games in 1938 and 22 in 1940 – and was tabbed by sportswriters with the moniker "Losing Pitcher," supposedly because his name appeared so often in the newspaper box score with an "LP" beside it. (If such a label was actually deserved by Mulcahy, it could have been applied equally to fellow Phillies pitchers Bucky Walters, Kirby Higbe, and Claude Passeau, who each compiled similarly mediocre won-lost records – Walters went 11-21 in 1936 – ­before each had the good fortune to be traded away to better clubs in the National League.) In addition to these burdens, Mulcahy became the first major-league player drafted into the armed services for World War II when he was inducted on March 8, 1941, nine months before Pearl Harbor. He would serve 53 months, including a year in New Guinea and the Philippines, ­before receiving his honorable dis­charge on August 5, 1945. He lost to all intents and purposes, five full sea­sons of baseball.
Of course many ballplayers lost years to the war, including well-known stars like Joe DiMaggio, Bob Feller, Hank Greenberg, and Ted Williams. And many baseball fans are familiar with the unlucky tale of Cecil Travis, who entered the war after completing one of the greatest seasons ever by a shortstop, only to lose four years of his career and end up with frostbitten feet in the Battle of the Bulge, which curtailed his playing days. But each of those players had either already enjoyed many prime seasons or returned young enough to regain the skills that made him a great player to begin with. Not so for Mulcahy. Whatever developing potential he had that might finally have brought him stardom in 1941 and beyond was never realized.
Here's the way Red Smith, writing in 1947 after the Pirates had released the veteran pitcher (shortly after the Phillies had also released him), described Mulcahy's fate:
"Chances are there has not been in modern times another ballplayer with ability comparable with Mulcahy's who put so much into baseball and took so little out, that is, no one who wasn't at least partly at fault, no one at once so deserving and unlucky. In a strictly professional sense, Mulcahy is the major war casu­alty among big-league players. He didn't get shot, like John Grodzicki or young Bob Savage. He wasn't knocked out of the skies and imprisoned like Phil Marchildon. But those fellows were young enough to come back and start over. Mulcahy only lost a career that seemed just about to come full flower when he had to give it up [for military service]."1
If not for the years lost to the war, how good might Hugh Mulcahy have become? Anybody's guess would be mere speculation, but it's worth not­ing that Mulcahy's three former Phillies peers – Walters, Higbe, and Passeau (of whom only Higbe would lose any years to the war, and only two at that) – all went on to All-Star-caliber pitch­ing careers, and each would post a 20-victory season the very year after leaving the Phillies. So who's to say that Mulcahy wouldn't have fared just as well?
Thus, life seems to have dealt Hugh Mulcahy a tough hand: He pitched for an awful club, got tagged with an ignominious nickname, was the first major-league World War II draftee, and spent 4½ "prime" years in military service, effectively ruining his big-league career. However, Mulcahy himself thought otherwise.
In correspondence when he was 87 years old, living in suburban Pittsburgh and suffering from cancer, he preferred to view himself as a fortunate man. Fortunate to break into the majors with the Phlllies, where manag­er Jimmie Wilson straightened out his pitching delivery, he became a workhorse, and was named to the 1940 National League All-Star team. Fortunate to survive World War II, particularly the stint in New Guinea, where his outfit was ravaged by a trop­ical disease that proved nearly fatal for many of them. And fortunate, after his playing days were over, to secure a job in baseball as a respected pitching coach and minor-league administrator. In other words, as Mulcahy saw it, it was a life blessed by a lot of good luck, not bad.2
Hugh Noyes Mulcahy was a Massachusetts native, born on September 9, 1913, in the Brighton section of Boston. He played shortstop in grade school and high school, where he was named to the all-city team in Boston. After a prep-school year as an outfielder at Dean Academy in Franklin, Massachusetts, he tried his hand at pitching in 1932 with Allston of the semipro Boston Twilight League, where he won eight and lost 12. That earned him a tryout with the New York Giants in 1933 and assignment to North Attleboro (Massachusetts), of the New England League, which was being revived after a three-year hiatus. The league was shaky and so was the franchise, shifting to Lawrence, Mass­achusetts, and then to Woonsocket, Rhode Island. After compiling an 8-4 record, Mulcahy jumped the Woonsocket club because it couldn't meet payroll and finished the year in Saranac, New York, hurling for a semipro team for $8 a week and room and board.
The New York Giants organization eventually paid Mulcahy some of what Woonsocket owed him by giving him a glove, a pair of spikes, and some other equipment. Mulcahy signed with Manchester in the Northeastern League for 1934 and compiled a solid 14-10 record, allowing only 140 hits in 199 innings pitched, before finishing the year with Reading in the faster New York-Penn League.
His performance with Manchester earned him an invitation to the 1935 spring training with the Washington Senators in Biloxi, Mississippi. There, Mulcahy's big-league career almost ended before it began. As he picked up a bat near the batting cage, a foul tip clobbered him right between the eyes: A doctor told him that an inch either way would have resulted in the loss of an eye. In typical fashion, Mulcahy chose to focus on his good fortune of the ball not blinding an eye rather than his misfor­tune of being in the wrong place at the wrong time.3
Mulcahy did not stick with the Senators, but was assigned to Albany in the top-drawer International League. There he struggled somewhat, posting a 4-2 record but with a 5.12 earned-run average. After about six weeks, howev­er, the owner of the Albany club, Joe Cambria, was convinced that Hugh had big-league ability and traveled to Philadelphia to try to peddle him to the pitching-poor Phillies. Cambria told Phillies manager Jimmie Wilson that he had a prospect who was 6-feet-2 and could throw hard, but needed to be taught how to pitch.4
Wilson was a veteran catcher who knew something about pitching. That very year he converted third baseman Bucky Walters into a starting pitcher. Walters would go on to lead the 1939 and 1940 Cincinnati Reds to the National League pennant, winning 27 games in '39 and 22 in '40. Wilson brought Mulcahy in for a workout, saw his potential, and purchased him for the big-league club. Hugh joined the team in St. Louis, but it quickly became apparent that he did not know how to balance himself while standing on the pitching rub­ber and had little idea where the ball was going. Wilson and coach Hans Lobert worked with Mulcahy on all aspects of pitching, even changing his sidearm delivery to three-quarters. They urged him to take advantage of his natural throwing style and to point his left foot at the batter so as to utilize his leverage off the mound.
As a result Mulcahy took no real windup but simply reared back, point­ed his left foot, and fired fastballs. He was on the wild side but his ball moved, so Wilson advised him to just aim for the center of the plate and it would find the corners. He developed a curve but relied mainly on the heater early in his career.5
Mulcahy made his big-league debut amid memorable circumstances in Pittsburgh's Forbes Field. Pitching in relief, he retired in succession future Hall of Famers Paul Waner, Lloyd Waner, and Arky Vaughn. He finished the season with the Phillies, winning one while losing five, mostly in relief. Wilson even started Mulcahy in right field in one game; he threw a runner out on the bases while going 0-for-4 at the plate. Wilson later told Mulcahy, "You're not a good hitter, Hughie, but you're plenty dangerous."6
The following spring Wilson want­ed Mulcahy to work on his new mechanics and sent him to Hazleton of the New York-Penn League for the 1936 season. There Hugh blossomed, winning 25 games and earn­ing the league's Most Valuable Player Award (beating out, among others, future Hall of Famer Rabbit Maran­ville). He certainly had an opportunity to fix his mechanics, pitching an astounding 325 innings in 46 games. Not only that, he appeared in three more games and logged another 21⅔ innings for the Phillies in a late-season call-up.7 On September 24 Mulcahy showed his potential in no uncertain terms, pitching 13 innings and allowing only eight hits as he beat the Brooklyn Dodgers, 4-2.
Mulcahy stuck with the Phillies in 1937 and quickly became a mainstay of the staff. Managers did not coddle young pitchers in those days, so Mulcahy led the league with 56 appearances as a starter and in relief, totaling 216 innings and tying the great Christy Mathewson for the most appearances by a pitcher in a National League season. As a result, the press began to call Mulcahy "Iron Man."8 He put together an 8-18 won-loss record for the seventh-place Phillies, who finished 34½ games behind the pennant-winning New York Giants. It would be the Phillies' only finish out of the basement during Mulcahy's four principal years with the club.
He threw his first big-league shutout that year, a four-hitter against the Cincinnati Reds. Mulcahy managed to lose another game on one pitch. On June 17 against the Cubs, he entered the game with two on, one out, and the winning run at the plate. Billy Jurges was the batter and he bunted the first pitch down the third-base line. Mulcahy recalled that he and third sacker Pinky Whitney played "Alphonse and Gaston" with the ball and Jurges ended up safe at first. Manager Jimmie Wilson then brought in lefty Wayne LaMaster to face the next batter, Augie Galan. Although Galan was a switch-hitter, he was a weaker right-handed batter. Not this day, however. Augie hit LaMaster's first pitch for a triple to score Jurges with the winning run, giving Mulcahy a one-pitch defeat.
Late in life, Mulcahy remembered little about the "losing pitcher" moniker and recalled the writers of the day more often referring to him as a workhorse. Given his endurance, "workhorse" cer­tainly would have been an appropriate nickname. In 1938, only his second full year in the majors, Mulcahy appeared in 46 games, starting 34, and pitching 267 innings while compil­ing a 10-20 record for a team that fin­ished in the cellar 24½ games out of seventh place. Jimmie Wilson had little tolerance for the nick­name, saying, "Call him Losing Pitcher Mulcahy if you like, but he's one hell of a pitcher."9 At the end of the season, Wilson told Mulcahy that in winning ten games for a 45-105 team, he should consider himself a 20-game winner.10
The highlight of Mulcahy's 1938 season undoubtedly occurred on September 16 in the second game of a double­header against the Cincinnati Reds at Philadelphia's Shibe Park. Mulcahy took a no-hitter into the eighth inning before Ernie Lombardi broke it up with a sin­gle. He ended up with a three-hitter and a 2-1 victory over the club that would win the pennant the next two years. According to contem­porary press accounts, Mulcahy was "jinxed" by a female fan after he flied out to Harry Craft in the bottom of the seventh. While he was jogging back to the dugout, the fan leaned out of a box seat and yelled, "Keep it up, Hughie; it'll be a no-hitter," thus breaking the baseball code of silence concerning no-hitters in progress.11 Sure enough the next batter, Lombardi, singled.
Mulcahy also distinguished himself in 1938 by tying for the National League lead in fielding his position by not committing an error for the entire season. Not bad work on a club that was the worst-fielding team in the league, with 201 miscues.
The following year, 1939, turned out to be another losing season, with Mulcahy hampered by a sore shoulder in spring training and again late in the year. A slow start led to a 9-16 record in 226 innings for a dismal team that fin­ished with a 45-106 record, 50½ games out of first place and 18 games behind the sev­enth-place Boston Bees. Mulcahy again showed flashes of brilliance, beating the defending champion Cubs at Wrigley Field, 4-1, on a five-hitter, on May 3, and again on a two-hit shutout at Wrigley on June 24. After the first win, Cubs manager Gabby Hartnett said that every team in the league would like to have Mulcahy.12
In 1939 the Phillies began playing a few night games in Shibe Park, which they shared with the Athletics of the American League. Not surprisingly, the Phils lost their first four night games at home before Mulcahy beat the Dodgers 3-2 on August 8, posting the Phillies' first home night-game victory.
In 1940 Mulcahy seemed to put it all together, even though the Phils were again headed for the cellar by a wide margin. Bolstered by a new changeup, he got off to a fine start. In a memorable game on May 23, however, he lost to the Cubs 4-3 in 13 innings when roommate and close friend Morrie Arnovich slipped on the wet outfield grass and failed to catch a drive by Al Todd that would have been the third out. Afterward, Arnovich was inconsolable, even though Hugh told him, "Forget it. I know how you feel and know you tried your damnedest. You'll make up for it."13
Earlier Mulcahy had shut out the St. Louis Cardinals in Philadelphia, 4-0, driving in three of the runs himself. In fact, he remembered winning four or five games in 1940 with his hitting. For the year he batted .202, more than respectable for a pitcher. He also received some notoriety for his pitch­ing notebook, which had a page for every batter in the league. A distinctive feature of the book was that at the top of each page, Hugh had written the same rule number one for every batter: "Don't Walk Him" – a testament to his continuing control problems.14
On June 30 Mulcahy was named to the National League All-Star team along with teammates Kirby Higbe and Pinky May. Phillies manager Doc Prothro was even included as one of the All-Star coaches.
Mulcahy's selection was not with­out some irony. In those days all eight league managers participated in select­ing the All-Star squad. Just three days before the team was announced, Hugh lost to Bill Terry's New York Giants, 7-0, as Prince Hal Schumacher shut out the Phils on three hits. Mulcahy and his successor, Lloyd Brown, gave up 15 hits (in just an hour and 42 minutes), all singles. None­theless, Terry was quoted after the game as viewing Mulcahy as the num­ber-one hurler in the league, remark­ing, "That's a funny thing, but when I was asked to make out my list of 25 players for the National League team this year I immediately named Mulcahy. … I hope Mul can lick the American Leaguers, but in our own league we'll take him apart every chance we get. That's what we're out here for."15
National League manager Bill McKechnie may not completely have agreed with Terry, however, as Mulcahy did not pitch in the game, which the National League won, 4-0. Paul Derringer, Bucky Walters, Whitlow Wyatt, Larry French, and Carl Hubbell held the American League to three hits. Only the two Phils chuckers, Mulcahy and Higbe, failed to see action.
Still, on July 31 Hugh beat the Cubs 7-3 for his 12th win of the season (and fifth in a row), and the press tout­ed his chances as "better than fair" to become the first Phillies hurler to win 20 or more games since Grover Cleveland Alexander (with 30 victories) did so in 1917.16 But it was not to be. Mulcahy embarked on a 12-game losing streak, including several one-run defeats, before shutting out Carl Hubbell and the Giants on four hits in the last game of the season. It gave Hugh a 13-22 record for the year and was the last game he would pitch in the big leagues for five years.
That win, and an earlier 3-2 victory over Hubbell, were two of Mulcahy's biggest thrills as a big lea­guer, given that Hubbell had been Hugh's baseball hero. "To me he was the greatest man in the world besides my dad and I never dreamed I'd even meet him, much less beat him," Mulcahy told a Philadelphia sports­writer in 1946.17
Despite that disappointing record in 1940, Mulcahy had a fine year by any other measure. He started 36 games and completed 21, third most in the league. His 280 innings were fifth in the league and his 3.60 ERA was well below the league average. That he got little hitting sup­port is all too apparent, given the Phillies' league-worst .238 batting aver­age. The team managed just 50 wins and finished 50 games behind the pennant-winning Reds.
Pitching for an outfit like the Phillies, it was better to not take oneself too seriously, and Mulcahy did not. He was known as a low-key guy with a self-deprecating sense of humor. With tongue planted firmly in cheek, he actually responded to a reporter's questioning about the keys to losing in the April 28, 1938, Philadelphia Evening Bulletin. According to Hugh, it was important to (1) try new stuff out until you walk the batter; (2) always stay behind in the count; and (3) be sure not to bear down on the Medwicks, Mizes, and DiMaggios, guys who can beat you.18
One could push him too far, howev­er, as his old friend Claude Passeau learned one July evening during the 1939 season. Passeau had been Hugh's pitching mate with the Phillies until his trade to the Cubs earlier in the year. They were mound opponents in Shibe Park on July 13, at a time when the Phillies harbored ill feelings against Cubs manager Gabby Hartnett for fail­ing to play the Phils' Morrie Arnovich in the All-Star Game the previous week. Arnovich, the Phillies' only All-­Star representative, was hitting a cool .383 to lead the league at the time. In the fourth inning Passeau tapped a roller down the first-base line. As Mulcahy pounced on the ball and raced over to apply the barehand tag, Passeau responded by trying to knock the ball out of his right hand with a chop above the wrist. Mulcahy react­ed immediately, swinging and missing at his friend Passeau's chin and precip­itating a bench-clearing brawl.
Both pitchers were kicked out of the game. Afterward, Passeau visited the Phillies clubhouse and apologized to Hugh, and the two remained good friends. Mulcahy was fined $25 and referred to as One Punch Mulcahy in the Philadelphia Inquirer, which also quoted him as say­ing, "It was worth $25 to relieve my mind and show the Cubs that we weren't going to take anything laying down. I like to win and when I felt Passeau trying to knock the ball out of my hand I saw red."19
After the 1940 season, Phillies owner Gerald Nugent announced that to make ends meet, he had to sell one of his star pitchers, Mulcahy or Kirby Higbe, a flaky fastballer who had thrown 283 innings and led the league in strikeouts while compiling a 14-19 record. The asking price for either was a hefty $150,000 plus play­ers in return.20 Several clubs were inter­ested and Nugent eventually made a deal with the Dodgers: Higbe for $100,000 cash and three players, pitchers Vito Tamulis and Bill Crouch and catcher Mickey Livingston. So Mulcahy stayed in Philadelphia. It turned out to be a wonderful deal for the Dodgers and not so good for the futile Phillies. Higbe led Brooklyn to the 1941 pen­nant with a 22-9 record, while by March of that year Mulcahy was hurl­ing for Uncle Sam when he was pitching at all.
The details of Mulcahy's military induction suggest more bad luck and unfortunate timing. Only six days before his March 8 induction, he had signed a new Phillies contract that included a $3,000 raise, placing his salary in the relatively rarefied air above $10,000. He received his induction notice the day before he was to leave for spring training in Miami Beach and so got to trade his princely new baseball salary for Army pay of $30 a month. He had previously asked for a six-month deferment to help pay for a home he had purchased for his parents (whom he was partially supporting), but his draft board denied the request, although it told him he was not likely to be called until the following September. Further, he was 27 when he was drafted, very close to the 28-year-old draft age limit of the time.21
Mulcahy certainly kept a stiff upper lip when drafted, saying "Personally, I think this conscription bill is a great thing for the young men of today." He also showed his sense of humor, reportedly saying, "At last I'm on a winning team."22 According to teammate Bobby Bragan, "Hugh Mulcahy was a hero in the minds of all ballplayers at that time."23 Later on, baseball writer Arthur Mann penned a song for a sportswriters' banquet that paid homage to Mulcahy and others who went: "Bless 'em all, bless 'em all, let their names echo out in the hall; start with Mulcahy, the first to go in, shout 'Captain Greenberg' and set up a din. …"24
Mulcahy's induction was initially for just one year, until he reached 28, and so he stood to miss only one baseball season. After ten months in the service, he was discharged on December 5, 1941, along with all other conscriptees who were 28 or older. But two days later Pearl Harbor changed all that for Mulcahy and thousands of other sol­diers, and he was quickly back in the Army. By the time Mulcahy was finally discharged, in August 1945, he was within a month of his 32nd birthday and had missed almost five full seasons of what should have been his prime baseball years.
During the 1942 season, teams hosted war relief games and on May 17 Mulcahy, on furlough from Camp Edwards in Massachusetts, pitched batting practice in Shibe Park, threw out the first pitch, and was presented with $250 worth of war bonds as well as a silver platter from the American Legion. Four days later he pitched against Bob Feller in an Army-Navy exhibition game before a Red Sox-Athletics game, beating Feller's team 5-0 in a five-inning game.25
It was not until Mulcahy was transferred to 2nd Army Headquarters in Memphis, Tennessee, in June 1943, that he had any real opportunity to play baseball. Pitching for the 2nd Army team, Hugh shed his civilian "losing pitcher" tag, winning 15 of 16 decisions for a team that went 45-5 and won the unofficial Southern Army baseball championship. In a playoff with Fort Oglethorpe (40-10), he matched up against the Cardinals' 1942 World Series hero Johnny Beazley and won 1-0 on a three-hitter when his catcher, Ken Silvestri of the New York Yankees, hit one past everyone on the fenceless field and scored standing up.26
Interestingly, Mulcahy's old New York Giants bugaboo followed him even to the 2nd Army in Memphis. In spite of defeating Hubbell on those two occasions in 1940, his overall record against the Giants before entering the service was a sad three wins and 16 losses. His one defeat for the 2nd Army was against a service team featuring Giants star hurler Hal Schumacher. His tour of duty in Memphis was nothing but a success on other fronts, however, for it was there that he married the former Ruth Hamilton of Beaver, Pennsylvania, on July 12, 1943.27 The two had met when Philadelphia sportswriter Stan Baumgartner introduced them at Forbes Field in Pittsburgh before Mulcahy was drafted.28 The couple's first child, Hugh Jr., was born while Mulcahy was overseas. The couple later had a second son whom they named David.
While in Memphis Mulcahy received a transfer to the 8th Army and was assigned as player-manager of the 8th Army team known as the Chicks (after the minor-league Memphis Chicks). The Army Chicks won the Southern Army championship and Mulcahy beat the minor-league Chicks 5-1 before shipping overseas to New Guinea in August 1944. Six months in various spots on the New Guinea coast left little time for baseball, but plenty of time for intestinal illness. He did manage to participate in a New Guinea Series in the fall of 1944 with other professional ballplayers stationed in the area.29 The weakened unit transferred to battle-scarred Leyte in the Philippines and had to build living quarters out of the jungle in intense heat. The 8th Army had some fine major-league ballplayers, including Silvestri, Al Flair, and Erv Dusak, and several minor lea­guers including AI Kozar, who would go on to play with the Washington Senators after the war. With the help of the locals, they knocked down enough coconut trees to clear space for a ball­field.
Variously known as Mulcahy's Marauders and Mulcahy's Wanderers as well as the 8th Army Chicks, they began playing other US military teams on Leyte and other islands. They won all of their 16 games, with Hugh winning seven. But the heat at Leyte (reportedly as high as 135 degrees) was so intense that the games were played at twilight and pitchers rarely went longer than a few innings.30 The labor was strenuous as well; Mulcahy injured his back while clearing the field at Leyte before one game and had to watch from the sidelines.31
By the summer of 1945 Mulcahy had a Bronze Star, three campaign ribbons, and more than enough points for a discharge. He actually delayed his departure from the Philippines for a week, hoping to pitch for the 8th Army Chicks in the Philippines World Series in Manila's Rizal Stadium. In the bloody battle for Manila earlier that spring, Rizal Stadium had been a prime battle site. After the Japanese were defeated, the Corps of Engineers removed from the stadium more than 800 booby traps and a dead Japanese soldier, shot between third and home. Torrential rain, however, flooded the field and washed out the series.32
Mulcahy soon departed the Philippines, arriving in San Francisco on July 27. He was discharged on August 5, and after a visit with his parents and a reunion with his wife (as well as getting to see his 4-month-old son for the first time), on August 11 he rejoined the Phillies, 4½ years older and 35 pounds lighter.33 Chuck Klein, now a coach, was the only member of the team left from 1940.34 The owner (Bob Carpenter), the general manager (Herb Pennock), and the manager (Ben Chapman) were all new. The Phillies fans, however, remembered Mulcahy and gave him a rousing welcome. If, given all the new faces, he had any doubt that he was back with the Phillies, the club confirmed that nothing had really changed, losing a doubleheader to the Cubs, 4-3 and 12-6.35
Mulcahy first took the mound on August 26, pitching six innings and giving up nine hits and four runs but, alas, losing to the Boston Braves in the first game of a doubleheader, 6-5. His luck had not changed in his years away; two Phillies errors led to three unearned runs and wiped out a 2-1 lead in the sixth.36 For the rest of the year, he appeared in four more games, starting three and compiling a 1-3 record with a respectable 3.81 earned-run average, leading to high hopes for 1946.
It was not to be, however. Mulcahy struggled with his control (a problem throughout his career) and his endurance in 1946, appearing in 16 games with a 2-4 record and a 4.45 ERA Manager Chapman seemed to lose confidence in him as the season wore on, and Hugh suffered from a lack of work. In the offseason he decided a change of scenery might help; he requested and received his release from the Phillies and shortly thereafter signed with the Pittsburgh Pirates to be near his wife's hometown.37 He made the Pirates out of spring training but was released on May 11. His old Phillies club knocked him out of the box in the fifth inning on April 30.38 His final big-league appearance was an ineffectual two-inning relief job against the Boston Braves on May 8. Reflecting back on his postwar efforts, Hugh thought that perhaps he should have come up with a knuckleball or some other trick pitch.39
At the time, however, he was not ready to give up the ghost. He signed with the Oakland Oaks of the Pacific Coast League and finished the year there in undistinguished fashion before returning to Memphis in 1948 to pitch for the Chicks of the Southern Association. With Memphis he performed very well, compiling a 14-7 record and earning an invitation to spring training in 1949 with the Chicago White Sox, the Chicks' parent club. But he did not stick with the big-league club and again threw for the Chicks in 1949, putting together a 14-11 record and a 3.05 earned-run average for a seventh-place team.40 He started 1950 with the Syracuse Chiefs of the International League, but finished the year with Memphis again. He finally called it quits in 1951 after going 9-15 with the Albany Senators, then of the Eastern League, completing a circle that began 16 years earlier when he wore an Albany uniform on his way up to the majors.41
The White Sox, impressed by Mulcahy's even disposition, patience, and knowledge of the game, hired him as a minor-league pitching instructor and scout. During his major-league career, Hugh had often taken young pitchers under his wing and helped them with their mechanics. He stayed in the White Sox system for the rest of his career, retiring more than 20 years later. He ran the White Sox' minor-league training camp for years and in 1955 invented a catching machine that returned the ball automatically to the pitcher. The inven­tion was to combat an age-old spring-training problem: more pitchers need­ing to throw than catchers available to catch them.42
In 1963 Mulcahy co-managed the Middlesboro (Kentucky) Cubsox in the Rookie-classification Appalachian League. The following year he co-managed the Clinton, Iowa, Cubsox in the Class A Midwest League for most of the summer. The team finished second in a ten-team league with a 77-48 record.43
Mulcahy made it back to the big leagues for a time in 1970 as the White Sox pitching coach and was named White Sox Man of the Year in 1974 for his work in developing young pitchers in the club's farm system.44
In retirement, he lived quietly in the present and without regret, play­ing golf and enjoying his family. He had two sons (neither of whom played baseball seriously) six grandchildren, and three great-grandchildren. For many years he was a volunteer for the Meals on Wheels program, often delivering meals to people his junior in age.45
Mulcahy left a positive mark throughout his life. He was remembered fondly by former teammates like Danny Litwhiler, Pinky May, Frank Hoerst, and Kirby Higbe as not only an ace pitcher but also as "a fine gentleman" and friend.46
Rather than lament his fate pitch­ing for the downtrodden Phillies of the late 1930s and his early induction into the military, Mulcahy chose to view his glass as half full rather than half empty. On the latter issue, he noted, "A lot of guys went to the war and didn't come back. I came back and had a long career in baseball. I feel I was fortunate, not cheated." He added with a chuckle, "You never know, six more months with the Phillies and I might have gotten hit with a line drive."47
Mulcahy also believed that he was quite fortunate to break in with the Phillies, where he got proper instruction and an opportunity to pitch. He recalled financially strapped Phillies' owner Gerald Nugent as "a real fine man," and manager Jimmie Wilson and coaches Hans Lobert and Dick Spalding as "real pros."48
That Mulcahy remembered Nugent fondly is a testament to his genuine good nature. Before the 1937 season he received a contract with a check and a small raise from Nugent. Hugh was so pleased that he sent Nugent a thank-­you note. Nugent responded by send­ing back a letter that read: "Thank you very much for your nice letter, but please return the check. It was made out for the wrong amount."49
Mulcahy died on October 19, 2001, in Beaver, Pennsylvania, a little more than a month after his 88th birthday.
An earlier version of this article appeared in the Summer 2001 issue of "Elysian Fields Quarterly" under the title "Hard Luck Mulcahy." It also appeared in "Van Lingle Mungo: The Man, The Song, The Players" (SABR, 2014), edited by Bill Nowlin.
Sources
Baseballprospectus.com/article.phparticleid-11024.
Baseballinwartime.blogspot.com/2010/09/hugh-mulcahy.
Blake, Mike, Baseball Chronicles – An Oral History of Baseball Through the Decades (Cincinnati: Betterway Books, 1994).
Bloodgood, Clifford, "Hard Luck Guy," Baseball Magazine, February 1940.
Bloomfield, Gary, Duty, Honor, Victory – America's Athletes in World War II (Guilford, Connecticut: The Lyons Press, 2003).
Finoli, David, For the Good of the Country – World War II Baseball in the Major and Minor Leagues (Jefferson, North Carolina: McFarland & Co., Inc., 2002).
Gilbert, Bill, They Also Served – Baseball and the Home Front, 1941-1945 (New York: Crown Publishers, Inc., 1992).
Goldstein, Richard, Spartan Seasons – How Baseball Survived the Second World War (New York: Macmillan Publishing Co., 1980).
Higbe, Kirby, with Martin Quigley, The High Hard One (New York: Viking Press, Inc., 1967).
Honig, Donald, The Philadelphia Phillies – An Illustrated History (New York: Simon & Schuster, 1992).
Jackson, W. Robert, "For Mulcahy, Numbers Lied," USA Today Baseball Weekly, May 30, 1995, 38.
Kaufman, James K., and Alan S. Kaufman, The Worst Baseball Pitchers of All-Time (New York: Citadel Press, 1995).
Kuklick, Bruce, To Everything a Season – Shibe Park and Urban Philadelphia 1909-1976 (Princeton: Princeton University Press, 1991).
Lewis, Allen, The Philadelphia Phillies – A Pictorial History (Virginia Beach: JCP Corp. of Virginia, 1981).
Lieb, Frederick, and Stan Baumgartner, The Philadelphia Phillies (Kent, Ohio: Kent State University Press, 2009, reprint of 1948 version by A.S. Barnes & Co.).
Litwhiler, Danny, with Jim Sargent, Danny Litwhiler – Living the Baseball Dream (Philadelphia: Temple University Press, 2006).
Mead, William B., Even the Browns – The Zany, True Story of Baseball in the Early Forties (Chicago: Contemporary Books, Inc., 1978).
Hugh Mulcahy clippings file, National Baseball Library, Cooperstown, New York.
Hugh Mulcahy clippings file, Temple University Palen Library Urban Archives, Philadelphia.
Hugh Mulcahy correspondence with author (on file with author).
Roberts, Robin, and C. Paul Rogers, III, The Whiz Kids and the 1950 Pennant (Philadelphia: Temple University Press, 1996).
Rogers, C. Paul III, "Hard Luck Mulcahy," Elysian Fields Quarterly, Summer, 2001).
Sargent, Jim, "Mulcahy Was First Major Leaguer Drafted Into Army," Sports Collectors Digest, November 17, 2000.
Smith, Red, Red Smith on Baseball (Chicago: Ivan R. Dee, 2000).
Stang, Mark, Phillies Photos – 100 Years of Philadelphia Phillies Images (Wilmington, Ohio: Orange Frazer Press, Inc., 2008).
Szalotiai, James, Teenager on First, Geezer at Bat, 4-F on Deck (Jefferson, North Carolina: McFarland & Co., Inc., 2009).
Van Blair, Rick, Dugout to Foxhole – Interviews with Baseball Players Whose Careers Were Affected by World War II (Jefferson, North Carolina: McFarland & Co., Inc., 1994).
Westcott, Rich, and Frank Bilovsky, The New Phillies Encyclopedia (Philadelphia: Temple University Press, 1993).
Westcott, Rich, Philadelphia's Old Ballparks (Philadelphia: Temple University Press, 1996).
Westcott, Rich, Tales From the Phillies Dugout (Sports Publishing, LLC, 2003).
Notes
Born
September 9, 1913 at Brighton, MA (USA)
Died
October 19, 2001 at Aliquippa, PA (USA)
If you can help us improve this player's biography, contact us.
http://bioproj.sabr.org/bp_ftp/images5/MulcahyHugh.jpg
600
800
admin
/wp-content/uploads/2020/02/sabr_logo.png
admin
2012-01-04 20:00:55
2012-01-04 20:00:55
Hugh Mulcahy