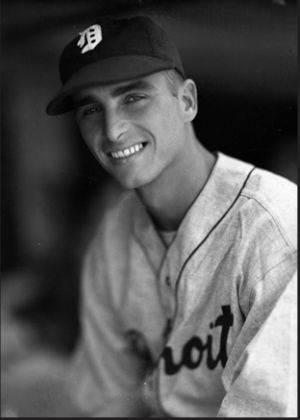 ---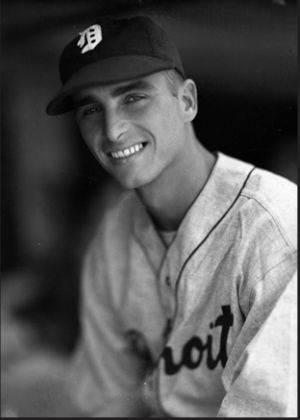 In major-league baseball if a player has a very short career, with a relatively few number of games played, it is said that he was up for a cup of coffee. For Hugh Shelley, his cup of coffee lasted three months, though he had a long time on the bench to savor it. The outfielder known for his defensive skills and speed on the bases was on the 1935 Detroit Tigers' roster from June 25 through September 29, but played in only seven games after being called up from the Beaumont Exporters of the Texas League.
The right-handed thrower and hitter, who was born on October 26, 1910, in Rogers, Texas, was not on the World Series roster when Detroit beat the Chicago Cubs in six games, although he was in uniform.
When Shelley was called up to the Tigers, he received a letter dated June 25, 1935, from Jack Zeller, a Tigers scout for five years and a member of the front office of the Beaumont Baseball Company. Zeller congratulated the outfielder, told him to expect more fastballs, and gave him a vote of confidence. 
During Shelley's three-month stint, player-manager Mickey Cochrane used the Texan only five times in the outfield and twice as a pinch-hitter. Of the outfield appearances, only one was a complete game, in center field. The 24-year-old, who made $2,400 (equivalent to about $40,800 in 2013) with the Tigers, also had three appearances in left field and one in right.  His fielding percentage was a perfect 1.000. He registered five putouts with no assists, errors, or double plays.
At the plate Shelley hit .250 with two singles in eight at-bats and knocked in one run. The 6-foot-tall 170-pounder, walked twice, struck out once, and scored a run.
Shelley's first game with the Tigers was against Washington on June 25, at Navin Field, when he came in as a pinch-hitter for Schoolboy Rowe in the fifth. With the count 1-1, he drove a single through the box. Shelley's last hit came on July 13, against Philadelphia at Shibe Park, when he singled to left in the sixth.
A Detroit newspaper article praised Shelley for his strong work habits, saying he and teammate Gerry Walker "constantly are in the pink because no two Tiger outfielders work harder."1
Shelley's last appearance for the Tigers was in the second game of a doubleheader against the Chicago White Sox at Comiskey Park on September 29. Detroit lost 14-2. Shelley came in for Goose Goslin in right field in the seventh inning and struck out in the ninth.
Despite not being on the World Series roster, Shelley got a one-third cut of a winner's share. A share came to $6,545 (about $111,261 today; in 2012 a winner's share was $377,003). "Of course we don't know what exactly will be done with it," said Leola Shelley, Hugh's wife (whom he had married in 1932). "But if I have my say, it goes right in the bank."2
According to Shelley's son-in-law, Ian Stewart, the Tigers gave Shelley a World Series gold watch. At that time players did not receive rings. They also gave him a World Series program, a ball signed by all of the Detroit players and coaches, a ball signed by the Chicago Cubs, the Tigers' Series opponent, and a marble Tigers pen set. Stewart said Shelley's nickname among his teammates was "Strawberry" because he loved to drink strawberry soda.
Despite not being on the Tigers postseason roster, Shelley's name appears four times in the 1935 World Series program: He is in the team picture, and is listed on a page featuring the "Roster of the Tigers for 1935." His name is also at the bottom of the Detroit scorecard. Finally, there is a picture of him batting. Next to the image is a quote by Cochrane saying that Shelley was the fifth outfielder on the team, and that Cochrane believed he would become a very good outfielder.     During the winter of 1935-36, Cochrane said in a newspaper article that Shelley would be given a good look in spring training, along with several other Exporters.
After the season a Detroit newspaper wrote of Shelley, "Hugh's big chance will come next year. He'll get an opportunity to win a permanent berth in the Detroit outfield and he's going to do his dandiest. Shelley is a great fielder and there's nothing particularly wrong with his hitting.  The first citizen of Rogers, Texas, is a real hustler and fighter and if hard work can win a job, Pete Fox, Goose Goslin, or Joyner White will have to move over and make room for Hugh in the Tiger outfield next year."3 But Shelley never made it to the major leagues again.
In the spring of 1936, Detroit may have had too many good outfielders because Shelley was optioned to Double-A Toledo. The Mud Hens' manager, Fred Haney, said of his speed in the outfield, "You'll get a kick out of watching Hugh Shelley reindeering in center field."4 
The fleet-footed outfielder struggled offensively in Toledo; in 20 games he fielded well but hit only .200 in 70 at-bats. On May 18 Shelley was demoted to Fort Worth of the Texas League. He became the leadoff hitter and hit .282 in 107 games.
After two weeks of action with the Cats, a Fort Worth sportswriter wrote that "Shelley has what the job requires — speed, the ability to quickly judge the flight of hard-hit balls, a pair of fine hands, and above all, the gift of getting the jump on the ball. He makes hard catches look easy. In the few games he has played with Fort Worth, he has saved seven or eight runs by capturing smashes which would have gone for base hits against ordinary outfielders, and he has made the catches without any great show of spectacular efforts."5 Rival manager Bert Niehoff of the Oklahoma City Indians said that Shelley had a knack for getting started at the crack of the bat, and could catch drives that most outfielders wouldn't touch.
In 1937 Shelley returned to the Cats and hit .264 in 126 games as they won the Texas League championship and then defeated Little Rock of the Southern Association to win the Dixie Championship. The winning share for each player was about $1,000. Shelley missed time early in the season when he injured his shoulder making a spectacular catch. Returning two weeks later, Shelley discovered that his arm still hurt. An X-ray revealed a chipped bone and he was sidelined for another couple of weeks. Finally, on June 11, Shelley returned to center field and said that his arm was as well as it ever was.   
Shelley told a sportswriter in July that he wanted to try his hand at pitching the next season. "He's not going to the big leagues as a fly capturer because of his rather light hitting," wrote the reporter.6 Shelley was actually a semipro pitching star and outfielder in 1932 when he went to tryouts at a Beaumont baseball school in Orange, Texas. "I counted 18 pitchers when I walked into the park," Shelley said, "so when the manager got around to asking me what I was, I answered, outfielder, and as such won regular employment."7
After the Cats' 1937 season, Shelley pitched for a semipro team in Waco, Texas, and won. In an exhibition game against Oklahoma City on March 25, 1938, he pitched two scoreless innings after pinch-hitting and knocking in the tying run in the ninth. The game ended in a tie after the 11th, so Shelley did not get a decision. In the end, Fort Worth player-manager Homer Peel told him not to plan on joining the pitching staff.
Shelley was called on to pitch in a couple of exhibition games, but then said he was giving up pitching because "the old fellas on the club resented such a young feller horning in on their racket. I didn't wantta run none of them old guys off the staff, either."8  
Just before the 1938 season began, Shelley was traded to the Oklahoma City Indians. Many Fort Worth fans disapproved of the trade because Shelley was a fan favorite. With his new team, Shelley had one of his best years at the plate, hitting .297 in 156 games, and making the all-star team. In his first game against his old teammates, he went 2-for-3 at the plate and knocked in all three runs in a 3-1 win.
Shelley opened the 1939 season with the Portland Beavers in the Pacific Coast League and hit only .156 in 14 games before being sold to New Orleans of the Southern Association. Fort Worth reacquired him on July 20, but on the 29th the Cats were told that Shelley had to return to New Orleans because of a waiver rule violation. 
In 1940 Shelley joined the Knoxville Smokies of the Southern Association and had an excellent season, hitting .303 with his usual spectacular defense in center field. However, not all went well for Shelley that season. In a game against the Birmingham Barons, Shelley raced in for a shallow fly ball. Meanwhile shortstop Al Campanis drifted out to make the catch and the ball fell between them. Apparently, Campanis made a derogatory remark to Shelley. The two swapped punches before they were separated by teammates. Both remained in the game, but Shelley suffered a deep cut on his chin that required a visit to the hospital after the game. When the two players got back to the dugout at the end of the inning, they had to be parted again. Shelley emerged from the incident with a new nickname, "Knockout."
From 1941 to 1943, Shelley struggled at the plate for the most part, but his defensive skills remained sharp. He bounced from the Smokies to the Elmira Pioneers in the Eastern League to the Smokies again and finally the Kansas City Blues of the American Association.
During the off seasons Shelley worked as a welder in the shipyards in Orange, building landing craft in the early 1940s. In 1944 and '45, he was voluntary retired, and worked as a welder for Boeing Aircraft in Wichita, Kansas. Shelley also played semipro baseball for the Cessna Aircraft Company in Wichita, and he was rated the top semipro outfielder in the nation in 1945, when he starred in the National Baseball Congress World Series in Wichita.
Shelley returned to minor league baseball for one final season in 1946, when he played again for the Beaumont Exporters. "Gee, I'm glad to get back to Beaumont," he told a Beaumont sportswriter. "It's just coming home."9
With the Exporters, at the time a Double-A affiliate of the New York Yankees, Shelley continued his wizard-like performance in center field, hit a respectable .269, and was reported to be the fans' favorite player. Shelley told a Fort Worth sportswriter that the key to being a good outfielder was not relying solely on the crack of the bat. "You can't wait for the sound," he said. "To get a fast jump you must first have in mind the characteristics of the hitter, the nature of the pitch, and then you should be able to judge about where the ball will be after getting only a glimpse of it leaving the bat."10                         
After the last out of Shelley's last game for Beaumont, he took off his shoes and baseball glove and left them on the field. Apparently, this was his way of symbolizing the end of his career. "I made up my mind in the middle of the season, and that was that," Shelley said. "I knew I wanted to quit."11     
The Yankees offered Shelley a manager's job in the minor leagues, but he declined. "I wasn't interested," he said. "I had fully made up my mind that there would be no more baseball for Shelley."12 In February 1947, hoping that Shelley would reconsider and not retire, the Exporters president, Guy Airey, sent him a contract that would pay the outfielder $450 per month, which was the same amount he received the previous year.  Shelley did not change his mind and remained retired. "My dad loved playing baseball, but he hated traveling," said Judy Meloncon, Shelley's youngest daughter.13  
Shelley ended up playing 13 years in the minor leagues, with a career batting average of .275. He totaled 1,732 hits and 38 home runs. Shelley's career fielding percentage was .966. After leaving baseball he worked for 32 years at Tyrrell Hardware Co. in Beaumont, and hunted and fished whenever he got the chance. He and his wife, Leola, had two daughters, Linda (born in 1941) and Judy (born in 1946).14
In 1974 Shelley reflected on his career. "I didn't get to play much in the big leagues, but I really enjoyed it."15 He added, "My biggest drawback was that I wasn't a good hitter. Everybody told me that I was a real good outfielder, and I could run and throw. But back then you had to hit to play in the outfield."16     
In the late 1970s Shelley was diagnosed with lung cancer, so he quit smoking, his son-law said. A year later Shelley suffered a heart attack. He died on June 16, 1978, at the age of 67, at St. Elizabeth Hospital in Beaumont. The former ballplayer was buried in Magnolia Cemetery.
Sources
Newspapers
Beaumont Enterprise
Beaumont Journal
Detroit News
Fort Worth Star Telegram
Toledo News-Bee
Websites
baseball-almanac.com
baseball-reference.com
enwikipedia.org/wiki/Hugh_Shelley
observationsandnotes.blogspot.com
sportsillustrated.cnn.com
Other materials
Beaumont Baseball Club National Association Player's Contract for 1947.
Letter from Jack Zeller, Tigers scout, to Hugh Shelley, June 25, 1935.
Scrapbook of Hugh Shelley's Baseball Career, assembled by Leola Shelley, wife.
Touraide — Log book for travel kept by Leola Shelley.
1935 World Series Program .
Interviews
Judy Meloncon, daughter of Hugh Shelley,  telephone interview, June 2013.
Ian Stewart, son-in-law of Hugh Shelley,  telephone interviews in June, July, August, and September 2013.
Linda Stewart, daughter of Hugh Shelley,  telephone interview, September 2013.
Dale Petroskey, former president of the Baseball Hall of Fame — telephone interviews in July, August, September, and October 2013.
Other Sources
Dale Petroskey, former president of the Baseball Hall of Fame — e-mails in July, August, September, and October 2013.
Notes
1 Todd Rockwell, "Weak Links? Not the Tiger Scrubs!," Detroit News, September 29, 1935.
2 "Tiger Wives Hoard Cash of Series," Detroit News, October 1935.
3 "Shelleys In Town For Visit," Beaumont Enterprise, November 1, 1935.
4 Frank Buckley, "Mud Hens Ready for Season's Opener with Millers," Toledo News-Bee, April 11, 1936.
5 Flem Hall, "Shelley Appears Best Ball Hawk Since Days of Eddie Moore," Fort Worth Star-Telegram, May 30, 1936.
6 "Shelley Wants to Pitch," Fort Worth Star-Telegram, July 9, 1937.
7 Ibid.
8 Lorin McMullen, "Shelley Hits in 'Clutch,' Then Hurls," Fort Worth Star-Telegram, March 26, 1938.
9 Bill Scurlock, "Shelley Looks Great," Beaumont Journal, June 1946.
10 Lorin McMullen, "Sports," Fort Worth Star-Telegram, May 12, 1946.
11 Thad Johnson, "Sports World," Beaumont Enterprise, April 1947.
12 Ibid.
13 Judy Meloncon, telephone interview, June 2013.
14 Ian Stewart, telephone interviews, June, July, August, and September 2013.
15 Jim Parker, "Shelley Treasures Baseball Years," Beaumont Enterprise, June 2, 1974.
16 Ibid.
Born
October 26, 1910 at Rogers, TX (USA)
Died
June 16, 1978 at Beaumont, TX (USA)
If you can help us improve this player's biography, contact us.
http://sabr.org/sites/default/files/Hugh%20Shelley.JPG
600
800
admin
/wp-content/uploads/2020/02/sabr_logo.png
admin
2012-01-04 20:27:15
2020-10-09 08:03:06
Hugh Shelley