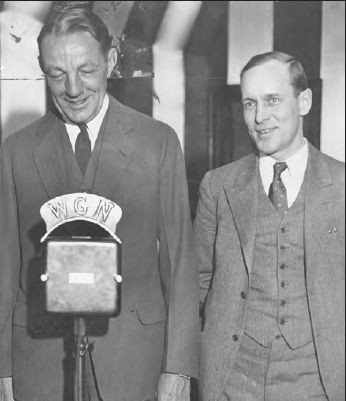 ---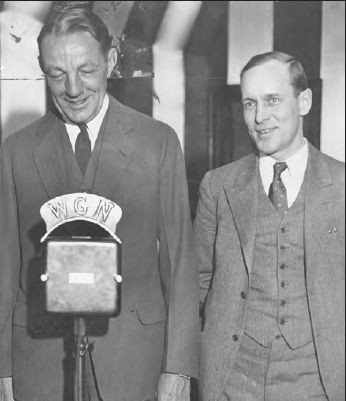 In the summer of 1919, the year the Black Sox threw the World Series, 30-year-old sportswriter Irving Vaughan joined the staff of the Chicago Tribune. It wasn't his first newspaper job, but it would be his last. When he retired 38 years later, having covered more than 7,000 baseball games during a career that spanned almost 50 years, Vaughan was considered the "dean of the nation's baseball writers"1 and was one of the most knowledgeable, best-informed and respected men in the press box.
It was the simplicity of his writing that elevated Vaughan to the top of his profession. Indeed, eulogizing its former star reporter upon his death in 1963, the Tribune recounted that "Irv, as he was known to his colleagues, wrote baseball in a straight-away style unaffected by the flamboyancy that characterized sports articles during the earlier stages of his development. Pretentious figures of speech, metaphors and flowery phrases typical of those times had no part in his terse, accurate accounts. He saw action on the field and put it thru his typewriter."2 Such ability to starkly convey the happenings on the diamond won for Vaughan a legion of dedicated readers.
If Vaughan undoubtedly came by his literary talent naturally, still, it's likely his brother deserved some degree of credit for his success. Born Mark Irving Vaughan on December 14, 1888, in Racine, Wisconsin, Irving was the second child of John Vaughan, a laundryman, and his wife, Lelia, Manning was two years older. (The Vaughans also had a daughter, Dorothy, who later wed Herb Graffis, a well-known golf writer for the Tribune, whom Irving likely introduced to his sister.) In 1906 Manning Vaughan began his own career as a sportswriter when he joined the Milwaukee Sentinel. Three years later, the 20-year-old Irving also started his sportswriting career with the Sentinel. We can only speculate whether Manning brokered his brother's employment.   
(During research for this biography, tracking down a record of Vaughan's education proved mostly futile. The only references found were a single line on Baseball-fever.com that said he had been "educated in schools at Milwaukee,"3 and an entry in the 1940 census that noted he had completed four years of high school.)
It didn't take long for Vaughan's talent to propel him toward a bigger stage; within less than a year of joining the Sentinel, he moved to Chicago. On January 2, 1910, at the behest of a sports editor named Gus Axelson, who was familiar with Vaughan's work, Vaughan joined Axelson's sports department at the Chicago Record-Herald. The following year Vaughan covered his first World Series, as the Philadelphia A's won their second consecutive world championship, over the New York Giants in six games. Thereafter, Vaughan covered virtually every one of the next 46 fall classics. In October 1914 he moved to the Chicago Examiner, where he remained until June 1919, when he joined the Tribune.
Over the years Vaughan understandably became a student of the game, and his writing on a broad range of baseball topics in addition to the play on the field reflected his extensive familiarity with the nuances and facets of the sport. His subject matter was wide-ranging:
In December 1921, concerning the status of players who had jumped to other leagues, Vaughan wrote: "Organized baseball is said to have undergone a change of heart in regard to its rules against players who either failed to report or jumped to the so-called 'outlaw' ranks. Certain minor league players who were put outside the fold for neglecting to observe the reserve clause already have received overtures to return, and it was learned yesterday that the big leagues shortly will take similar steps to bring the wayward sons back home."4   
Several years later, discussing an increase in offense resulting from a livelier ball, he wrote, "Mechanical devices had resulted in stitching that leaves the seam practically at a level with the rest of the cover. … With most hurlers the seam has always been utilized as a means of getting a better grip on the ball. With the ends of the fingers directly over a part of the seam it is far easier to get a spin on the pellet as it leaves the hand and it is the spin — forwards, backwards or sideways — that causes the object to curve, hop or dip. If the seams have been depressed, as the makers claim it is possible, then the pitchers aren't getting the stuff on the ball as they did before, and with less deception the batters are swinging freer and connecting oftener."5
And in 1943, with most of the game's stars away in the service, Vaughan defended the talents of their "inferior replacements," stating that although the "homer, to a certain extent, has been eliminated," the "game isn't on its last legs." Rather, "these supposedly inferior replacements … have brought back into the game something that had been lost since the magnates went home run crazy"; namely, "this or that fellow in the minors who could field but not hit."
"Fielding as a whole," suggested Vaughan, "is something worthy of fans' interest." A lot of the replacement players "consistently produce plays that in the live ball days were rarities. And even when such plays were made in those times they attracted little attention. Only the homer meant anything.
"Fans like the new fielding touch … taking the long hitters have [sic] evened up the game."6 Clearly, Vaughan loved baseball in its purest form.
While Vaughan often expounded on all manner of themes peripheral to the players and the games, his primary subjects were always, of course, the hometown teams. From the time he arrived in the Windy City, Vaughan covered in equal measure both the Cubs and White Sox. In 1927 he was joined on the Tribune sports staff by a rotund former artist named Ed Burns. Together, each year until Burns's premature death in 1955, the two men shared reportage of the Chicago baseball landscape. They also became close friends. (Vaughan was a pallbearer at Burns's funeral.) Each season they would alternate both spring training and the regular season, covering one team from the outset and then swapping assignments at the All-Star break, at which point they'd finish the season with the other team. It was an arrangement that brought great balance to the reading public's perception of both teams.
What was most important about Vaughan's work, particularly given his proximity to his subjects ("he associated closely with men whose names have become legendary in sports," offered the Trib, "Ty Cobb, Babe Ruth, Lou Gehrig, Walter Johnson, Judge K.M. Landis, Charles A. Comiskey I and many others"7) was the impartiality of his reporting. Whether Chicago's teams were good or bad, Vaughan simply told things as they were, with no attempt to influence popular opinion. After the Cubs' last-place finish in 1925 ushered in Joe McCarthy and a rebuilding project, Vaughan wrote in December of that year, "When it comes to making over a ball team in short order, the Cubs have to be awarded the palm. It is no simple matter to change almost the entire personnel of a squad in one season but the officials of the local team have done that very thing and when Joe McCarthy, the new manager, hits the Catalina Island training camp next February, he is going to have a real job on his hands trying to figure out what is worth keeping and what isn't so good."8   
Likewise, after the Cubs won the 1929 NL pennant, energizing their fans, Vaughan presciently predicted, "There may be a few shootings and some exhibitions of pineapple tossing over tickets for the impending World's Series strife. That's how bad the situation looks at the present time, and the tickets haven't even been issued. When they finally appear and a lot of folks who now feel they're fixed, find they are not, there will be such a stampede that the club officials may have to take to the tall timbers. … Plenty of folks think the (S)eries … should be staged at Soldier's Field where there are seats for more than 100,000, but the stadium was not built for baseball."9
Later it was written of Vaughan, in regard to a 1933 piece he wrote for The Sporting News, "In a recent issue Irving Vaughan comes out and says that he has a growing suspicion that the Cubs are not the ball club they were cracked up to be; that their successful drive last year was no glory to the Cubs, but … was the result of Pittsburgh's almost unbelievable breakdown when it appeared the Pirates were 'in.'10 
And of the White Sox: "Becoming [the] Joke of [the] Major Leagues," Vaughan wrote in 1934, "the White Sox have less than half a dozen players of major league caliber. One major leaguer recently said that if he had his pick of the Sox he would choose only two, Simmons and Bonura. There are no more than three or four others worthy of a place on a big league team. The Sox have a futile scouting system. They have no young players coming up. The situation looks as bad, or worse, than it did after the Black Sox scandal."11
Such was the candor of Vaughan's work.
During the 1930s Vaughan entered into his third decade as a sports reporter. Around that time his writing, which was already nationally syndicated, became even more widely read when he became a correspondent for The Sporting News. There, he drew on his longevity in the business to pen a series entitled "Freak Happenings in Ball Games," which featured such bizarre occurrences as St. Louis Browns third baseman Art Griggs, who once, with a runner on third, had a bad-hop grounder carom off his head into the stands at Boston's Huntington Avenue Grounds, allowing the runner to score; Cubs third baseman Norm McMillan, who hit a 75-foot home run during the 1929 pennant chase; Indians catcher Steve O'Neill, who in a 1917 game versus the White Sox, struck out on a wild pitch that should have been an out, took first and moments later scored the winning run; and the afternoon when Frank Chance, then managing the New York Yankees, batted twice in the same inning during a rally, yet in two different spots in the order, once as a pinch-hitter in the ninth spot and in his next trip in the eighth spot.
Also, in the beginning of the 1930s, Vaughan, who was well compensated for his work (according to the 1940 census, his salary was $5,000 annually), became a world traveler. On July 9, 1918, he had wed Loretto Lalor, who was called Peggy. They remained together until Vaughan's death 45 years later. Childless, the two became enthusiastic tourists. In 1931 the couple spent time wandering around Europe, and during four successive winters made trips around the world. On one of those excursions their traveling partners were reportedly Mr. and Mrs. George Herman Ruth.
Whether the latter trip occurred before or after the 1932 World Series is unclear, but in that Series Vaughan was a witness to Ruth's "called shot" home run. It occurred in the fifth inning of Game Three. That day, neither Ed Burns, whose story of the game appeared on page 1 of the Tribune, nor Vaughan, whose account led off the sports page, made mention of Ruth's pointing to center field or calling his home run. As Vaughan wrote, "There was something more surprising about the wallop than the distance it traveled or the fact that it was made off a slow pitch. That was the conditions under which Ruth turned it loose." After pitcher Charlie Root "blazed in two strikes, Ruth turned to the Cubs dugout and bellowed, 'That is only two strikes, boys, I still have one coming.'"12 Then Ruth knocked the next pitch into the center-field bleachers. It's intriguing to envision Ruth and Vaughan discussing the hit on their around-the-world adventure, but if that talk ever happened, it seems Vaughan never confessed.
Undoubtedly Vaughan lived those times with a heavy heart. On April 7, 1932, while he was in Kansas City with the Cubs he received word that his brother Manning had died. A week before, while in Memphis, Tennessee, covering the American Association's Milwaukee Brewers, Manning, who had left the Milwaukee Sentinel and was now sports editor of the Milwaukee Journal, was found unconscious in his room at Memphis's Frisco Hotel. Manning was taken to Hot Springs, Arkansas, for treatment by a physician, and was later transferred to Barnes Hospital in St. Louis, where he was pronounced dead. Irving told the press that Manning had collapsed in the lobby of the Memphis hotel; the coroner later returned a verdict of a fractured skull suffered when Manning fell out of bed. In either case, Irving had lost his brother. That day, Irving flew to St. Louis to handle Manning's funeral arrangements. Manning Vaughan was 45 years old. (The Milwaukee Braves later created the Manning Vaughan Award, in recognition of the team's MVP. Among the recipients were Joe Torre and Hank Aaron.) 
For the remainder of his career, as Vaughan continued to report on Chicago's sports fortunes (when the baseball season was over, he followed his second love, college football), he simultaneously ascended the hierarchy of his profession's local and national assemblage, the Baseball Writers Association of America. In April 1933 Vaughan was elected secretary of the BBWAA's Chicago chapter, and two years later assumed the role of chairman, during which he played an important role in negotiations for the first All-Star Game, sponsored by the Trib. Three years later, in their annual meeting, held in New York, Vaughan was elected vice president of the BBWAA. And finally, on October 9, 1937, he was unanimously elected president of the BBWAA. There was no opposition. (Under Vaughan's presidency, the BBWAA voted to change the method in which MVPs in two major leagues were selected. While previously two committees composed of one writer from each of eight cities selected each league's MVP, under Vaughan a committee of 24 writers, three from each city, made the selections. The point-scoring system for voting was also changed. In 1947, when Ed Burns was elected president of the BBWAA, Vaughan was named to the board of directors.)
In 1952 Vaughan was one of six veteran writers from the BBWAA's Chicago chapter selected to name the first official all-time, all-star Cubs team. (The choices were pitcher Mordecai Brown, catcher Gabby Hartnett, and outfielder Hack Wilson, all named unanimously, as well as pitchers Jim Vaughn, Lon Warneke, and Charlie Root; infielders Charlie Grimm, Billy Herman, Billy Jurges, and Stan Hack; and outfielders Kiki Cuyler and Riggs Stephenson.13) 
A year later, Vaughan produced for syndication "Baseball Worth Remembering," a series of "True Life Stories of Baseball Greats" that "recall[ed] many of the history-making games and amusing incidents that have made baseball America's favorite sport and baseball players the idols of American youth."14 ("Ever hear of a double-no-hit baseball game in which the final score was 1 to 0? If not, turn to the Times Signal sports section tomorrow";15 "If you are not old enough to speak with authority on the memorable feat of Charley Robertson who pitched a perfect game for the Chicago White Sox in 1922";16 "Like to know how the Chicago Cubs broke Rube Marquard's 19-game victory string? Fine. Just turn to the Times Signal sports section."17)   
On November 1, 1957, Vaughan, aged 68, announced his retirement from the Tribune sports staff. At the time he was the only baseball writer to have covered two perfect games, Charley Robertson's 2-0 triumph for the White Sox over the Detroit Tigers on April 30, 1922, and Don Larsen's World Series win for the Yankees over the Brooklyn Dodgers in 1956. Additionally, he had reported on numerous other no-hit performances, including those of Ed Walsh, Joe Benz, Jimmy Lavender, Vern Kennedy, Bill Dietrich, and Bob Feller. In 1941 the Vaughans had moved to Lake Villa, Illinois. In July 1963 they moved to Waukegan, Illinois, where Vaughan, after a long illness, died at his home in the early morning of November 22, 1963, at 74.he was cremated, and his ashes were placed in a crypt beside those of his brother Manning, in Valhalla Cemetery, Milwaukee.  
Sources
Chicago Tribune
Chicago Star Publications
Decatur (Illinois) Review
Janesville (Wisconsin) Gazette
Kansas City (Missouri) Star
Lacrosse (Wisconsin) Tribune
Madison (Wisconsin) State Journal
Madison (Wisconsin) Capital Times
Manitowoc (Wisconsin) Herald News
Mason City (Iowa) Globe Gazette
Moorhead (Minnesota) Daily News
Salt Lake (Utah) Tribune
San Antonio (Texas) Express
The Sporting News
Valparaiso (Indiana) Vidette Messenger
Waterloo (Iowa) Evening Journal
Waterloo (Iowa) Daily Courier
Zanesville (Ohio) Signal
Baseball-reference.com
Baseball-fever.com
Sincerest thanks to SABR member Bill Mortell for his diligent genealogical research.
Notes
1 Janesville (Wisconsin) Gazette, November 1, 1957.
2 Chicago Tribune, November 23, 1963, via baseball-fever.com.
3 Baseball-fever.com/showthread.php?57538-Meet-The-Sports-Writers/page2.
4 Decatur (Illinois) Review, December 9, 1921.
5 Waterloo (Iowa) Evening Courier, July 2, 1925.
6 Salt Lake Tribune, July 4, 1943.
7 Chicago Tribune, November 23, 1963, via baseball-fever.com.
8 The Sporting News, December 24, 1925.
9 The Sporting News, September 12, 1929.
10 Waterloo (Iowa) Daily Courier, May 11, 1933.
11 United Press, Moorhead (Minnesota) Daily News, August 9, 1934.
12 Robert Markus, "Three Chi Writers Saw Ruth's Homer Differently," The Sporting News, December 12, 1970.
13 Madison (Wisconsin) Capital Times, February 5, 1952.
14 Chicago Star Publications, January 20, 1953
15 Zanesville (Ohio) Signal, February 14, 1953.
16 Zanesville (Ohio) Signal, March 21, 1953.
17 Zanesville (Ohio) Signal, March 28, 1953.
Born
December 14, 1888 at Racine, WI (US)
Died
November 22, 1963 at Waukegan, IL (US)
If you can help us improve this player's biography, contact us.
http://sabr.org/sites/default/files/IrvingVaughan.JPG
600
800
admin
/wp-content/uploads/2020/02/sabr_logo.png
admin
2015-01-08 00:12:16
2020-10-18 22:45:13
Irving Vaughan