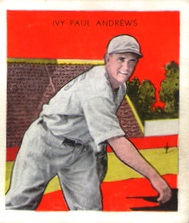 ---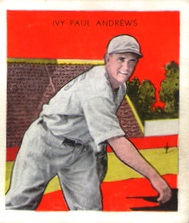 The worst Red Sox club ever? That's what the Boston Globe's Harold Kaese called the 1932 team. [1] It would be hard to argue otherwise. The team won just 43 games, and lost 111 for a winning percentage of .279. Batting .300 is one thing. Winning less than 30 percent of your games is another. The 1932 club is the only Red Sox team to finish below .300. The Sox finished a mere 64 games out of first place (occupied by the 107-47 New York Yankees).
The Red Sox started by losing their first four games. By May 7, they were 3-16. They were 2-11 on their first long homestand, winning the second time only in the final game of the 13-game stretch. After losing both halves of a June 2 doubleheader, they still had five times as many losses as wins (7-35). They won their 20th game on July 16, the 30th on August 18, and the 40th on September 11.
The team batting average was .251 – despite the presence of Dale Alexander, who won the American League batting championship with a .372 average. Why opposing teams didn't pitch around him remains a bit of a mystery. The Red Sox scored 566 runs, but allowed 915 – not a formula for success. Smead Jolley led in RBIs with 99, and in home runs with 18. The only other player with double-digit home run figures was Roy Johnson, who hit 11. Alexander's 56 RBIs were second to Jolley.
The team ERA was 5.02, which might not seem so bad today but was pathetic at the time. Junior Kline, who weighed 280 pounds, according to some contemporary reports, was the winningest pitcher, with 11 wins. He was 11-13, with a 5.82 earned-run average. Of the 18 men who pitched for the Red Sox at one time or another during the season, the only one with a winning record was 8-6 Ivy Andrews. He had a 3.81 ERA. Ed Durham boasted a slightly better ERA – best on the team at 3.80 – but his won-lost record was 6-13.
The team drew 182,150 patrons – for the whole year.
Ivy Andrews. Would there ever have been any doubt that someone bearing that name would quickly pick up the nickname Poison? Ivy Paul Andrews was born on May 6, 1907, in Dora, Alabama, a town about 25 miles northwest of Birmingham, more specifically, the community of Horse Creek. Baseball may have helped spare him a job in Walker County's coal mines. His father, John W. Andrews, was a coal miner. Paul was the seventh child of J.W. and Rebecca Andrews, Alabamans all, as were their parents before them. In 1910, then Paul was 3, his oldest brother, Ray, 19, was already working in the mines. Gracie, Jessie, Mavis, and Leland all preceded Paul, with Kermit to come. Twenty years later, by the 1930 census – the year before Paul made the major leagues – Leland was a weighman in the coal mines and Kermit a mine laborer. Their father was listed as a coal mining machinist in 1930. Rebecca may have been known as Parlee (per the 1920 Census and Andrews' death certificate) and John W. may have been known as Billy.
Ivy was known as Paul, more often than not, but also Ivy – and sometimes by both names in one order or another (Ivy Paul or Paul Ivy). He was a right-handed pitcher, 6-feet-1 and a burly 200 pounds, who first attracted attention playing industrial-league ball in Birmingham in 1926.[2] After graduating from Dora High School in May 1926, he began his professional baseball career pitching in the 1927 Southeastern League (Class B) for the Selma Selmians, some 2½ hours from home. He appeared in only one game, and lost it, throwing five innings and giving up six earned runs. Quite a contrast was 1928. Signed by the Mobile Bears, he was farmed out by them to the Meridian (Mississippi) Mets and he threw 256 innings in 40 games for the Class D Cotton States League team. He was 18-12 with a 2.47 earned-run average.
In 1929, pitching for Mobile, he'd built a record of 9-7 (2.45) when he got a break. "The Yankees bought me and shipped me to Albany." [3] Scout Eddie Herr had seen Andrews shut out the New Orleans Pelicans and signed him up. The Yanks wired Mobile on July 25 and summoned him north, but placed him under option with the Albany Senators in New York's state capital. There were only two months left in the Eastern League season but Andrews turned it on and racked up nine wins against just one loss with a 2.51 ERA. Bill McCorry's Senators couldn't have been more pleased; they won the pennant by six games over the Bridgeport Bears.
There was one more full year in the minors for Andrews, and he split 1930 between Birmingham (Class A, Southern Association) and the Oakland Oaks (Double A, Pacific Coast League). It wasn't a particularly successful year; he was 4-5 (5.44) for the Barons and 4-3 (5.07) for the Oaks. Nor was 1931 looking like that great a year, either. Andrews was pitching in the International League for the Jersey City Skeeters and was 7-12 (4.29) when he got the call.
He made his major-league debut on August 15, 1931, for the New York Yankees. The team was in third place in the American League, 15½ games behind the Philadelphia Athletics and four games behind the second-place Senators. The Indians were in fourth, 26 games behind the A's. New York had just dropped three in a row at League Park to the Indians, and was in Detroit for the first of four against the Tigers. Ivy Andrews was given the ball and told to go get 'em. Manager Joe McCarthy was, as the New York Times's John Drebinger reported, "in an experimental mood." Five days earlier, he'd seen Andrews shut out the Cincinnati Reds, 8-0, in a Monday afternoon exhibition game at Redland Field in Cincinnati. Andrews threw a complete game, scattering eight hits and walking one. Both Babe Ruth and Lou Gehrig homered for New York.
In his first regular-season start, Andrews allowed 10 hits (all singles) and a walk in six innings and saw the Tigers put four runs on the scoreboard, three of them earned. He left the game losing 4-1, but was pleased to see the Yanks tie it up with three runs in the top of the eighth. The game labored on through 14 innings, until New York scored once in the 15th– only to see the Detroit even it up again. In the top of the 16th, Babe Ruth hit a long home run, Gehrig doubled, and Cy Perkins drove home Gehrig for what held up as a 7-5 Yankees win. "Andy," Drebinger wrote, "did some fairly effective curving."[4]
McCarthy used Andrews four times in relief, then gave him another start, in Philadelphia on September 7. He could pretty well relax after New York scored eight times in the top of the first before he even had to take the mound. Remarkably, the eight runs were scored on only two hits (in large part due to eight bases on balls offered up by a succession of three Athletics pitchers, none of whom ever retired a batter. In the 15-3 complete game, Andrews himself walked twice, singled once (for his first major-league base hit), and drove in two runs. The win gave him a record of 2-0; he'd beaten Philadelphia five days earlier at Yankee Stadium with 6 2/3 innings of scoreless relief work – though he was helped greatly as the Yankees reversed the 6-1 deficit against the Red Sox to take a 7-6 lead. His last start of 1931 saw him unable to complete the third inning, giving up six runs to the White Sox, but he was taken off the hook as the game ended in a 13-13 tie after 10 innings. Andrews went into the winter with a 2-0 major-league record and an earned run average of 4.19.
Andrews lost his first outing in 1932 despite giving up just one run in 6 1/3 innings of relief. The Red Sox prevailed, 6-5, in the first game of the split-admission Patriots Day doubleheader played at Braves Field because of its larger capacity (though only 3,000 turned out for the morning game and 18,000 for the afternoon affair). He had come into the game with the Red Sox ahead 5-0, watched his teammates tie it up, then allowed the go-ahead run in the bottom of the seventh. On April 23, it was long relief again. Gordon Rhodes gave up five Philadelphia runs in the top of the first while getting just one out. Andrews came in and finished the first, saw the Yankees score six times in the bottom of the inning, and then add 10 more runs over the course of the game. The 16-5 win was built on 8 2/3 innings of relief. Beating Boston on April 29 was not a pretty game; he gave up seven runs (four earned) but Yankees batters scored eight times in his complete-game 8-7 win. He drove in two of those runs himself. (He had driven in two on April 23, too.) After a brief appearance on May 3, attacks of influenza and lumbago then sidelined Andrews for three weeks. He got in some rehab work with Albany, but was 0-2 in two appearances.
Midseason trades between the Yankees and the Red Sox weren't as rare in those days as they became in later years. The Yankees really wanted Boston right-hander Danny MacFayden and even though he was 1-10 for the season, he had won 16 games the previous year for a Red Sox team that had been 62-90. On June 5, the Yankees sent two pitchers they saw as surplus – Andrews and Hank Johnson – along with $50,000 to the Red Sox for MacFayden (who was 14-10 for New York through 1934.) Ivy Andrews left a first-place team for a perennial last-place team, already 21½ games behind the Yankees.
With the Red Sox, Andrews broke in nicely with a 4-1 complete-game four-hitter against the White Sox in Chicago on June 11, but failed to complete even one inning in both of his next two starts. He had an uneven season for the Sox, but did win eight games against six losses and his 3.81 ERA was only barely eclipsed by Ed Durham's 3.80 for the best on the team. (Johnson didn't appear for Boston in 1932, but was 16-15 for them over the next three seasons.) Given Andrews' surrounding cast, it didn't take a lot to stand out. Ford Sawyer's column in The Sporting News proclaimed, "HITTING OF ALEXANDER, PITCHING OF ANDREWS BRIGHT SPOTS" and said that Andrews "brings delight to Manager McManus' eyes."[5]
The victorious world champion Yankees tried to give Andrews (and Johnson, and Gordon Rhodes whom they traded to the Red Sox in August) some of their World Series winnings – a half-share to Rhodes and $500 bonuses to both Andrews and Johnson. Commissioner Kenesaw M. Landis interceded and prevented the generous gesture, declaring that "a player released to another club in the same league shall not participate in the proceeds of such series as a present or reward from his former teammates, the remaining club or any of its officials."[6] Had Andrews been traded to the Boston Braves, he could have collected. The Yankee Stadium groundskeeper and clubhouse attendant each received $1,000 but Andrews was out of luck.
In 1933, Andrews started the spring with a bit of a handicap – he'd been bitten by a dog while trying to break up a dog fight in Sarasota. He'd come to camp with his brother Kenneth, who showed enough skill as a pitcher himself that he was tendered a contract.[7] Ken pitched in the minors from 1934 through 1938 but never rose about Class C. The club had come under new ownership, with Tom Yawkey purchasing it from Bob Quinn and installing Eddie Collins as his general manager. Remarkably, Andrews was the only pitcher on the entire 1932 staff who had more wins than losses – even those who pitched in only a handful games. Jim Nasium wrote, "Ivy Andrews and Henry Johnson are the most dependable pitchers in camp."[8]
In 1933 Andrews was 7-13 for Boston, with a 4.95 ERA. The Red Sox were looking around for a new center fielder and settled on Carl Reynolds of the St. Louis Browns. He cost them, though: both Smead Jolley and Andrews and some cash, too. On December 13, 1933, Andrews became a Brown; others in the deal, such as Jolley, were dealt onward. Andrews pitched for St. Louis for three years, sandwiching one good season between two disappointing ones.
First up was 1934. Ironically, the Red Sox were on the way up in the standings, at long last, and outplayed the Browns each of the three years. St. Louis finished sixth in 1934, and Andrews' 4.66 ERA wasn't much worse than the team's overall 4.49, but his 4-11 record was second worst on the team (Ed Wells was 1-7) in winning percentage. The team's winningest pitcher (16 wins) was also a 20-game loser, Bobo Newsom. After the season was over, Ivy Andrews married Josephine Gwin on November 23 at the home of her parents in Sumiton, Alabama.
In 1935 Andrews won more games than anyone else on the Browns, with a 13-7 record and a team-best 3.54 earned run average. That was the good season. An appreciation headed "Poison Ivy Climbs Heights" in the September 19, 1935, Sporting News credited Browns manager Rogers Hornsby for the "unusual faith" he'd placed in Andrews. Ivy had always been able to supplement his fastball with a curve and a knuckleball as parts of his repertoire, but it was during this stretch with St. Louis that he added a screwball, something he attributed to a little bit of covert fraternization with Tigers pitcher Alvin Crowder.[9]
As it happens, Andrews also led the Browns in ERA in 1936 – but only because the team ERA was a horrendous 6.24. Andrews was a distinctly better 4.84, but his W-L totals were 7-12, almost the same as the seventh-place team's .375 winning percentage.
Both the Cleveland Indians and the Browns wanted to shake things up a little heading into 1937 and in January 17 they executed a six-player swap. St. Louis got pitcher Oral Hildebrand, infielder Bill Knickerbocker, and outfielder Joe Vosmik, and Cleveland received Andrews, infielder Lyn Lary, and outfielder Moose Solters. It seemed like a deal that favored the Browns, even at the time, and Hornsby said, "I'm tickled over the swap. We needed new faces and we got them without sacrificing any strength in any department."[10] Cy Slapnicka, general manager of the Indians, allowed that "Andrews and Hildebrand have both threatened to become good pitchers and neither has ever quite become a star, but a change of scenery might help them both."[11]
Ivy was booed heartily on his debut in Cleveland, but it was because Bob Feller was taken out. Feller gave up four runs in the first inning, and strained an elbow muscle. The crowd didn't realize it. By the time it came to the sixth, he couldn't continue so Andrews was brought in – to the boos. Andrews allowed two hits in three innings of work.
He was 3-4 (4.37) for the Indians, but was placed on waivers in August and the Yankees had a sudden need, given Spud Chandler's arm going bad on him. The Yankees paid the $7,500 waiver price and reunited Andrews with his original team. Dan Daniel wrote that it was part of a trade that would be completed after the season was over.[12] Andrews threw 49 innings in what remained of the season, getting into 11 games and recording a 3.12 ERA with a 3-2 won-loss record.
And this time he did share in the rewards of the World Series, as the Yankees beat the Giants in five games. Andrews appeared once, on October 9 at the Polo Grounds. It was in Game Four, the only game the Giants won. Bump Hadley had started the game for the Yanks and surrendered five earned runs without being able to get out of the second inning. Andrews allowed two runs in 5 2/3 innings of relief.
Andrews had one more season in major-league baseball, again with the Yankees, in 1938. He appeared in 19 games, but solely in relief save for one start, missing the last week of June and almost the entire month of July due to a leg injury. He won one and lost three, with an even 3.00 ERA. His last game was a September 28 start, the last home game of the regular season at Yankee Stadium. He gave up seven hits and walked one, and was charged with two earned runs, but lost the game, 4-1, in part thanks to three Yankees errors, two by a subpar Lou Gehrig. At the time, since American League rules required only 45 innings to qualify for pitching honors and Andrews had 48, his 3.00 led the league in earned-run average. Subsequent historians have on their own "corrected" the historical record to award the honor to Lefty Grove (3.08) of the Red Sox. To have the ERA crown go to a pitcher who was 1-3 may have just seemed a little much.[13]
In 1939, the Yankees placed Andrews with their Newark Bears farm team. He was 7-5 with a 3.13 ERA, pitching 85 innings including a gem of a two-hitter in Syracuse on July 9.
Three teams saw Andrews on their roster at one time or another in 1940. In late 1939 Yankees farm director George Weiss had sent him to the Hollywood Stars as part of a deal to acquire Rugger Ardizoia. He appeared in two games (a total of 1 1/3 innings) for the Stars before they transferred him to Kansas City in late April. He appeared in three games and 12 innings for the Blues (0-1), before wending his way to the Montgomery Rebels where he was 7-6 (3.41) in 124 innings of Class B work.
Waterloo, Iowa, was Andrews' assignment in 1941, and he was 9-1 with a 2.71 ERA for the Hawks. It was again Class B baseball and part of the Chicago White Sox' farm system. He pitched for the Greenville Spinners in 1942, and was 10-14 (3.14). Then there was a year out of baseball. Andrews was anticipating a call into the Army, but the call never came and he was ultimately rejected for service. He resumed playing ball in 1944 for the Knoxville Smokies and started off well, even throwing back-to-back shutouts on April 30 and May 7, both against the Atlanta Crackers. He claimed he did it with a "horseshoe and two rabbit feet."[14] By season's end, though, the franchise had moved to Mobile and become the Bears and some of Andrews' luck had departed. He was an even 9-9, and an even 4.50 ERA. Even during spring training, he was expected to work for Mobile in 1945, but perhaps it wasn't meant to be.
In the offseasons from early in his career, Andrews had kept busy working as a football and basketball official in the Birmingham area. In 1947, he served for a year as the Birmingham Barons' pitching coach. For the most part, however, after he finally left baseball, Andrews became a carpenter and self-employed building contractor, living with his wife, Josephine. He died of a massive heart attack on November 24, 1970, in Birmingham.
Sources
In addition to the sources cited within this biography, the author consulted the subject's player file and questionnaire at the National Baseball Hall of Fame, the online SABR Encyclopedia, Retrosheet.org, and Baseball-Reference.com.
---
Born
May 6, 1907 at Dora, AL (USA)
Died
November 24, 1970 at Birmingham, AL (USA)
If you can help us improve this player's biography, contact us.
http://bioproj.sabr.org/bp_ftp/images4/AndrewsIvy.jpg
600
800
admin
/wp-content/uploads/2020/02/sabr_logo.png
admin
2012-01-04 19:53:59
2012-01-04 19:53:59
Ivy Andrews