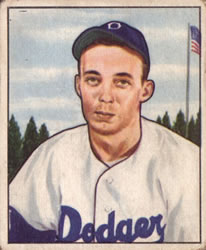 ---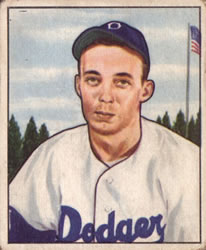 Jack Banta was a hard-throwing right-handed pitcher who threw with a deceptive side-arm delivery. He played in parts of four seasons in the majors with the Brooklyn Dodgers, but it was his performance on the final day of the 1949 season, in Philadelphia, that gained Banta his everlasting place in Brooklyn Dodgers history. Because St. Louis was in process of winning their game in Chicago, a Dodgers' loss would necessitate a three-game playoff with the Cardinals for the National League pennant.
Brooklyn took an early 5–0 lead, but the Phillies rallied to tie the score at 7–7 after six innings. Banta, who had entered the game with two outs in the bottom of the sixth, shut down the Phillies the rest of the way, giving up only two hits and a walk. After the Dodgers took a 9-7 lead in the top of the tenth, Banta retired the Phillies in the bottom of the inning to seal the victory and give Brooklyn the NL flag.
Jackie Kay Banta was born in Hutchinson, Kansas, on June 24, 1925. He was the only son of Glen and Blanche (nee Hutsell) Banta. Glen, a barber by trade, later opened a popular billiards parlor in Hutchinson. Jack's parents were dedicated baseball fans, and early on they instilled in him an appreciation and passion for the game. Jack pitched on the local Optimist baseball team on the sandlots of Hutchinson until he was seventeen. He graduated from Hutchinson High School (which had no baseball team) in 1943 and took a full-time warehouse job. The teenager tried to enlist in the military in World War II but a bad knee kept him out of the service.
Dodgers scout Burt Wells, who had seen Banta play in 1942, was driven by the war-induced player shortages to sign young talent. In 1944 Wells invited Banta to a tryout in Springfield, Missouri, where the Dodgers' American Association affiliate St. Paul Saints were practicing.
It did not take long for the six-feet-two-and-a-half-inch, 175-pound Banta to impress everyone at the Saints camp with his blazing fastball, and he was quickly signed. Brooklyn general manager Branch Rickey first assigned Banta to the Newport News (Virginia) team in the Class B Piedmont League. After he pitched in three games at Newport News, the Dodgers sent him to their Class D affiliate in Olean, New York.
Banta was Olean's best pitcher (12-5, 3.10 ERA) and primary pinch hitter (21 hits and an overall .304 batting average). Late in the '44 season he was promoted to the Montreal Royals of the International League. In fourteen games with the Royals, Banta went 1-4, giving him a 14-9 record with a 3.42 earned-run average with the three teams.
Banta spent the entire 1945 season with the Royals, winning twelve games and losing nine, as Montreal finished first in the regular season but lost out in the finals of the Governors Cup playoffs. He also experienced shoulder trouble for the first time, but after a few weeks of rest was able to resume his place in the Royals' rotation.
In August 1946, after winning nine games and losing six with Montreal, Banta was transferred to St. Paul. Montreal was cruising to the International League crown, while St. Paul was in the midst of a tight American Association pennant race. Jack won three games and lost two for the Saints, who also used him as a left-handed pinch hitter.
Banta returned to Montreal in 1947 and from the outset of spring training he was "locked in" on the mound. "This should be the year for that boy to arrive," Royals manager Clay Hopper told the press.1 In June, Banta, who pitched with a side-arm crossfire motion, hurled twenty-nine consecutive scoreless innings. Four days after the streak ended, he pitched a 4–0 shutout against Baltimore. During the streak, he allowed twenty hits, walked fourteen, and struck out forty-seven. After witnessing Banta's whitewash of Baltimore, International League President Frank J. Shaughnessy estimated the hard-throwing twenty-two-year-old would easily bring $100,000 on the open market.
On June 11, 1947, in the midst of Banta's scoreless streak, Dodgers pitcher Rube Melton was demoted to Montreal. Branch Rickey intended to call up Banta to replace Melton. However, manager Hopper balked at the exchange, telling Rickey that numerous doubleheaders loomed and he needed all of his pitchers. Rickey could have certainly pressed the issue but decided that Banta needed a bit more minor-league experience and let Hopper keep him.
Banta finished the season at 15-5 for the Royals, striking out 199 in 199 innings and leading the league with seven shutouts. His accomplishments earned him a September call-up to the Dodgers. Banta made his major-league debut on September 18, 1947, in an 8–7 loss to the Pittsburgh Pirates. He pitched in two more games with Brooklyn before the season ended but was ineligible to play in the World Series against the Yankees that year.
In 1948 Banta went to spring training with the Dodgers in the Dominican Republic. Once again he showed his dominant form, tossing a seven-inning no-hitter against Montreal and allowing just one run in twenty-seven innings of work in the Grapefruit League. Dodgers manager Leo Durocher said, "Banta can really fire that ball. If he continues to give us pitching like this I may not have any mound problems."2
Banta earned a spot on the Dodgers' roster, but after a relief appearance against the Giants and a losing start against the Braves he was optioned to Montreal. Banta spent the rest of the 1948 season with the Royals, tying Rochester's Bill Reeder for the most wins in the league with nineteen. His 193 strikeouts also led the league. Banta continued to pitch well in the postseason, helping Montreal win the International League playoffs and the Junior World Series.
Back with the Dodgers in 1949, Banta had his best year in the majors. Pitching mostly in relief, he won ten games—including the pennant-clincher—with a 3.37 ERA. Brooklyn again lost the World Series to the Yankees, this time in five games. Banta pitched in relief in three of the games, and his 3.18 earned run average was the lowest among Dodgers relief pitchers. He earned $6,000 in salary that season, plus $4,272.74 in World Series money.
Banta reported to the Dodgers for spring training in Vero Beach in 1950 ready to pick up where he left off. But he injured his shoulder a few days after he arrived in camp. The injury was diagnosed as floating cartilage, the same problem he had encountered in 1945. He continued to pitch through the pain but his control suffered. After posting a 4-4 record with the Dodgers he was sent to Montreal, remaining there for the rest of the season. He was 4-7 with a 4.92 ERA in nineteen games, seventeen of them starts. He walked eighty-seven batters in ninety-seven innings.
By the spring of 1951 Banta was still in considerable pain and began getting injections of novocaine in his shoulder. The novocaine eased the pain while he pitched, he told reporters, but after it wore off, "I can't lift my arm." Speaking about his career-ending injury years later, Banta said, "In those days anything that was wrong with you was tendinitis. They never heard of a rotator cuff. They'd take an x-ray and if they didn't find any bone chips they didn't know what was wrong with you."3
The Dodgers, puzzled by Banta's injury, sent him to a dentist to have impacted wisdom teeth removed, hoping that would relieve the pain in his shoulder. After a few weeks in camp with the 1951 Dodgers, Banta was sent home to rest for a month. After that he joined the Fort Worth Cats, the Dodgers' affiliate in the Class AA Texas League. Jack pitched only fourteen innings over seven games for the Cats without a decision.
In 1952, with his shoulder still ailing, Banta joined the Dodgers Lancaster, Pennsylvania club in the Class B Interstate League as a player-coach. He made a few appearances at first base but did his best work on the mound as a relief pitcher. The former strikeout artist went 5-2 with a 3.98 earned-run average in twenty-eight appearances.
Banta retired as a player after that season. He had a brief stint as a scout for the Dodgers before taking a job as a manager in the Brooklyn farm system. He managed from 1953 through 1957 at the Class C and Class D levels, leading the Shawnee (Oklahoma) Hawks to a first-place finish in the Sooner State League in 1954. With his involvement in Organized Baseball over, Banta, who was one season shy of qualifying for a major league pension, settled down to family life in Hutchinson with his wife, the former Jackie Gaylor, and their three children, Michael, Kristie, and Lee Ann. Jack married Jackie on February 1, 1949.
During his playing days, Banta had worked in the off-season as an accountant. In 1956 the Kansas native took a job with the Dillon Corporation, a supermarketchain based in Hutchinson. He spent thirty-four years with the company. Jack was an avid golfer, who consistently shot par or under, and a great pool player. He also enjoyed hunting and fishing.
In 2004 Banta was inducted into the Kansas Baseball Hall of Fame. This accolade had been offered to him earlier but he had always declined the honor. Finally, he relented and accepted; his health was failing at the time and he was unable to attend the installation ceremony.
In his later years, Banta suffered with cardiovascular problems, and he died on September 17, 2006, at the age of eighty-one. He was survived by his wife, Jackie, their three children, four grandchildren and four great-grandchildren. Jack Banta is buried in Hutchinson's Penwell-Gabel Cemetery.
Sources
Hutchinson (Kansas) News, July 11, 2003, and August 14, 1994.
Reno County New Times, Hutchinson, Kansas, October, 15, 1997.
Telephone interview on July 22, 2010, with Kristie Banta Empey (daughter)
Telephone interview on July 22, 2010, with Jackie Banta (wife)
Telephone interview on July 25, 2010, with Harold Dunsworth (cousin)
Telephone interview on July 28, 2010, with Mike Banta (son)
Telephone interview on July 28, 2010, with Jim Jolly, former minor-league player, manager, team executive, and family friend.
Telephone conversation between Tom Bourke and Banta's daughter, Kristie Banta (September 17, 2010).
A special thank you from the author to Jack Banta's daughter Kristie Banta Empey, who generously assisted me with family information, research, and overall support during the writing of this biography. In addition, she put me in touch with her mother, brother, cousin, and Mr. Jolly. I sincerely appreciate all of her help and kindness.
Notes
1 Sporting News, July 2, 1947.
2. Sporting News, April 14, 1948.
3. Hutchinson (Kansas) News, August 14, 1994.
Born
June 24, 1925 at Hutchinson, KS (USA)
Died
September 17, 2006 at Hutchinson, KS (USA)
If you can help us improve this player's biography, contact us.
https://sabr.org/sites/default/files/BantaJack.jpg
600
800
admin
/wp-content/uploads/2020/02/sabr_logo.png
admin
2012-01-04 20:01:13
2012-01-04 20:01:13
Jack Banta