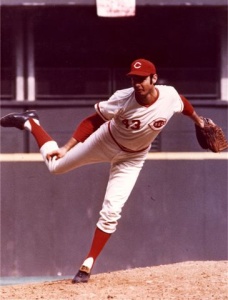 ---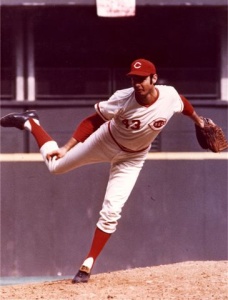 Although the 1970s Reds were famous for their great offense, a pitcher holds one of the team's – and baseball's – most impressive records. Jack Billingham has the lowest earned-run average in World Series play, 0.36. He allowed just one earned run in 25⅓ innings spread over three different World Series for the Reds. In addition to his two Series wins, his 145 regular-season wins make a strong case that some of those Reds could pitch a little, too.
John Eugene Billingham, of English and Swedish descent, was born on February 21, 1943, in Orlando, Florida. He believes that he is a distant cousin of Christy Mathewson; the exact relationship is not known. He, his older sister, Judy, and his younger brother, Richie, were raised in Winter Park, Florida, where their father, Jack, ran a Standard Oil service station. His mother, Dorothy Newton Billingham, came from Minnesota. Young Jack played Little League baseball from around the time he was 10 or 11 years old. After he got a little older, Jack worked on weekends at the service station. "I was a car washer," he remembered. "I would check the oil and wash the windshield, and fill up the gas tank. I worked there when I could."1 There were some good athletes in the family, including an uncle in Winter Park, his father, and an uncle in Minnesota who played baseball and fast-pitch softball for many years.
Jack signed with Los Angeles Dodgers scouts George Pfister and Leon Hamilton on June 12, 1961. "The Yankees wanted to sign me; there was an older scout who wanted to send me to the Appalachian League," he recalled. "My high-school coach knew somebody over in Orlando with the Dodgers, and I'd go over there a couple of times and throw batting practice after baseball season was over with. My future in college didn't look too good. I wasn't a student necessarily."2
After signing, Billingham spent seven years in the Dodgers' minor-league system, beginning with the Orlando Dodgers in the Class D Florida State League. He started nine out of his 12 games, throwing 56 innings with a 4.50 earned-run average, with a hardly impressive record of 1-6. The next year he moved to St. Petersburg and had similar results: 1-5 and a 5.16 ERA in 68 innings. In 1963 all of the Class B, C, and D minor leagues were redesignated as Single-A, and the 20-year-old Billingham pitched for the Salisbury Dodgers in the Western Carolinas League. He got a lot of work and pitched well, throwing 142 innings with a 3.49 ERA and a 9-6 record. The tall (6-feet-4) right-hander was skinnier in those days than the 195 pounds he would attain. In fact, his frame earned him nicknames like Blade and Bone.
When the Dodgers assigned Billingham for the 1964 season to Single-A Santa Barbara of the California League, 3,000 miles from his Florida home and his fiancée, Jolene Suslar, he reported for duty but his financial reality weighed on him. He wanted to marry, but didn't see how he could afford to on $450 a month. He contemplated quitting the game. "Even the newest rookies on the club were making $500, and many of them had received big bonuses, but I decided to risk a call to Fresco Thompson, in charge of the farm system."3 A few days after the call, Thompson came through and boosted Billingham's pay to $500, and transferred him back to St. Petersburg a few weeks into the 1964 season.
Billingham said he knows how fortunate he was. "My first year was with Orlando and then the next year I went to St. Pete. I was a young, immature kid who hadn't been away from home much. That was a good start, to break into the pro baseball program and have Mom still able to cook me dinner."4 With St. Petersburg in 1964 he was 7-3 with an eye-catching 1.03 ERA over 105 innings. On October 9 Jack and Jolene married, and three days later the newlyweds were off to Nicaragua, where Jack played winter ball. Later trips took him to the Dominican Republic and Venezuela. "My wife and I, fortunately, we've been blessed," he recalled in 2011. "We've been together 46 years, and she's traveled with me wherever I go."5
The couple spent most of 1965 with Double-A Albuquerque, where Billingham finished 7-3 season with a 1.78 ERA, which earned a call-up to Triple-A Spokane at the end of the season. By this time he was used entirely as a relief pitcher. Billingham pitched all of the 1966 and 1967 seasons for Spokane, both years under manager Roy Hartsfield. He was 6-9 (in 50 games, with just two starts) and 7-4 (51 games, two starts), with ERAs of 3.82 and 3.00.  During the offseasons, he returned to Winter Park. "In the minor leagues, when you're making $350 a month, I'd come home and I drove delivery trucks for a big electrical supply company, and then I got into driving fuel oil trucks in the wintertime. Running through backyards with a hose over my shoulder. Down here in Florida, they don't have 275-gallon tanks. They have 55-gallon tanks. After my first year that I did that, I actually came home and looked for the same jobs for like three years. I felt that it really kept me in shape. It was hard work, but I was young and it didn't bother me back then."6
After attending the Arizona Instructional League late in 1967 and working on an overhand curve, Billingham made the Dodgers out of spring training in 1968 and stayed all year. It was the first time he'd laid eyes on Dodger Stadium. The first of his 50 appearances came on April 11 in a home game the Dodgers were losing to the New York Mets, 3-0. He came in with one out in the top of the eighth and a runner on second, and got a groundout and a strikeout. A pinch-hitter took his place in the order. Billingham was the team's closer in each of his next six appearances, earning a splash headline in the Los Angeles Times when he saved both games of a Shea Stadium doubleheader against the Mets: "Billingham Saves the Day." Pitching coach Lefty Phillips said, "He started out the day a rookie and emerged a man."7 He didn't give up his first run until his seventh game. His first win came in Atlanta in a 12-inning, 1-0 game, and Billingham was quickly anointed with headlines such as that in the Chicago Tribune: "Dodgers' Billingham Takes Over as Bullpen Ace: Inherits Mantle of Perranoski and Regan."8
Billingham finished the season 3-0 with a 2.14 earned-run average. The one start he was given (on three hours' notice) came on August 5 at Dodger Stadium. He shut out the Pirates through eight innings, allowing five hits and walking two before being lifted for a pinch-hitter. The game went into extra innings, and the Dodgers won, 1-0, in the 10th.
Despite this great start, the Dodgers did not protect Billingham in that fall's expansion draft, and the brand-new Montreal Expos selected him as the 10th overall pick. In January 1969 Montreal traded Donn Clendenon to Houston for Rusty Staub, but Clendenon refused to report to Houston, and in early April Commissioner Bowie Kuhn ordered Montreal to send cash and a couple of players instead. Billingham was one of the players sent to the Astros.
For manager Harry Walker, Billingham was 6-7 and pitched 82⅔ innings in 52 games, though with an inflated 4.25 ERA. His struggles may have been partly due to family concerns: His daughter was born prematurely early in the season and nearly died.
In 1970 Billingham changed his motion somewhat to more of a side-arm delivery. "I'm a sinkerball pitcher," he said, "and run into trouble if my pitches come up."9 After beginning the year in his typical bullpen role, Billingham joined the rotation in midsummer and remained a starter for several years. "I started out as a reliever in the big leagues, and I enjoyed that role because I could throw every day. But I didn't know if I had the makeup to be a reliever, which is to be an aggressive, growling person," he said. "I'm more of a laid-back type. I was traded to Houston as a reliever, and was semi-successful for a year and a month. Then Harry [Walker] asked me in 1970 if I could start, and I said yes."10
Billingham was 13-9 in 1970 and 10-16 in 1971, on a team with a deep and talented pitching staff but not much hitting. But he enjoyed pitching in the Astrodome, and credited his fielders on defense. "I just loved going there. … When you got loose, you stayed that way with your jacket on. One of the most disappointing things for any pitcher is when it starts raining, and you don't know if you're going to play. If you've built yourself up, it's easy to lose that edge while you wait. You don't have that problem in a domed stadium. … [Although people said the Astroturf surface] would hinder my pitching ability because balls would go shooting through the infield for base hits, it ended up helping me because I had good infielders. They played back a few steps more than usual, and they knew there'd be no bad hops."11 He also admitted enjoying the way the scoreboard lit up when an Astro hit a home run.
Jolene and Jack, by then parents of John Jr. and Jennifer, were looking for a house in Houston when they learned he'd been traded to Cincinnati. In November 1971 the Reds sent Tommy Helms, Lee May, and Jimmy Stewart to Houston and received Joe Morgan, Denis Menke, Cesar Geronimo, Ed Armbrister, and Billingham. Jack played the next six seasons for Cincinnati and manager Sparky Anderson. He said, "I was very fortunate I was in the right place at the right time."12
In 1972, his first season with the Reds, Billingham's ERA dropped to 3.18 and he was 12-12. The following year he won 19 games and lost ten, lowered his ERA for the fourth year in a row, to 3.04, and led the National League in starts, innings pitched, and shutouts (seven, a Reds record). It was the first of back-to-back 19-win seasons, and it earned Billingham a trip to his only All-Star Game. He attributed his improvement in 1973 to the confidence that came from his Series start, and from Roberto Clemente telling him that with the stuff he had, he should never be a .500 pitcher.13
Billingham pitched in four games in the 1972 postseason, including three starts. In Game Three of the World Series, against Oakland, he threw eight innings of three-hit, three-walk, shutout baseball in a 1-0 win. He also pitched the first five innings of the deciding Game Seven. When he was taken out for a pinch-hitter, he had given up one unearned first-inning run on two hits. The Athletics scored the decisive runs off his successor, Pedro Borbon. The next October he started two games in the National League Championship Series and took the loss in the deciding Game Five to the New York Mets.
Billingham won 19 games again in 1974 and the Reds won 98 games but finished four games behind the Dodgers. On Opening Day he gave up a historic home run, the 714th of Hank Aaron's career. Billingham's ERA climbed to 3.94, reflecting a nagging shoulder problem that had developed for the first time in his career. That winter he worked as customer service manager for Westwood Chrysler-Plymouth in Cincinnati.
Billingham finished 15-10 for the great 1975 Reds team that won 108 games. His victory total tied Gary Nolan (15-9) and Don Gullett (15-4) to lead the Reds, but his 4.11 ERA was the worst among the Reds' main starters. Billingham didn't appear in the NLCS, but he got into three games in the World Series against the Red Sox, starting and pitching 5⅔ innings of two-run (one earned) ball in Game Two, then throwing crucial middle relief in Games Six and Seven, allowing no runs in 3⅓ innings.
For the 1976 club, Billingham won 12 games and was no longer near the top of the rotation. He pitched just once in the postseason, but was again outstanding—pitching 2⅔ innings of shutout ball to win Game Two of the Reds' four-game sweep over the Yankees. Billingham had two World Series rings and he had played a crucial role in both Series.
The 34-year-old Billingham regressed significantly in 1977, with a 10-10 record and a career-high 5.23 ERA as the Reds dropped to second place. The Reds dealt him to the Detroit Tigers during 1978 spring training. Bob Hertzel of the Cincinnati Enquirer wrote, "With Billingham goes a little bit of the class that was the Cincinnati Reds." He acknowledged that Billingham had become "the man Cincinnati fans loved to boo" and agreed that the time was right for the trade, with as many as ten pitchers ahead of Billingham, but was wistful about the loss of his quiet clubhouse presence and what he'd brought to the team. The Tigers gave up relatively little: minor leaguers John Valle and George Cappuzzello. Sparky Anderson told Hertzel, "A manager may not be supposed to have favorite people but Jack Billingham was one of my favorites. He is a tremendous guy and a super person." 14
In 1978 Billingham enjoyed a rebound year (15-8, with 10 complete games and a 3.88 earned-run average), resulting in headlines such as "Tigers Hit Jackpot on Longshot Billingham."15 Detroit manager Ralph Houk was pleased. He had expected Jack to work in long relief and start occasionally. As it worked out, Billingham worked exclusively as a starter – and was effective both on the field and in the clubhouse. Speaking of his influence on the younger pitchers, Houk said, "He's a great model for the rest of them. If they don't learn from him, I don't know who they can learn from."16
Billingham was said to have a dry humor and a self-effacing style, but he was simply being candid when he took a moment to reflect on his season: "I'm no Cy Young Award winner. I leave things like that to Jim Palmer and Tom Seaver, guys who can reach back and throw the ball by people. When I reach back, there ain't nothing extra there. What you see is what you get. I've never considered myself a strikeout pitcher. I've never considered myself a complete-game pitcher or a shutout pitcher, either."17
In 1979 the Tigers moved Billingham to a mixed role – 19 starts and 16 relief stints, and he finished his tenth consecutive season of ten or more wins, with a 3.30 ERA in 158 innings. His old boss Sparky Anderson had taken over as manager about a third of the way into the season.
There was little room for Billingham on the 1980 Tigers. At the start of the season he appeared in 7⅓ largely unsuccessful innings, giving up six earned runs. Detroit traded him to the Boston Red Sox in early May. For the Red Sox, the 37-year-old Billingham endured a little friendly hazing, with teammates continually taping photographs of Sparky Anderson over his locker; Sparky had, after all, twice ushered him out of town, once with the Reds and then with the Tigers. And it was known Jack might have grumbled aloud about what he considered his underutilization in Detroit. For the Red Sox he appeared in seven games, winning his first start and losing the next three, giving up 30 earned runs in 24⅓ innings. He was released by the Red Sox on June 21, and his professional career was at an end.
After baseball, Billingham operated a sporting-goods store named The Pass in Casselberry, Florida. "I came home and watched my kids grow up. My son was in junior high and my daughter was in sixth grade, and I just wanted to see them grow up. Professional Athletic Service Stores – it was a franchise. A friend of mine that I'd played sports with in high school, who played in the minor leagues, Ronnie Cayll, he was in the sporting-goods business and he asked myself and another friend I played ball with in high school, Terry Williams. We were all buddies. Winter Park was a small town. Terry had just retired from Shell Oil Company. He was a bookkeeper, and Ronnie was a salesman, and I was kind of just a guy who stood around and sold stuff in the store.  Seven years. We actually bought Ronnie out after a couple of years.
"I was out of baseball from '80 to '87, and then my daughter was a senior in high school and I had a job offer from Houston. My wife and I and my daughter talked about it and I decided that I wanted to try to get back into baseball."18
"When I got back in baseball, after one year, I realized that I didn't want to run a store and coach baseball. I had coaches calling me up in the morning. I'd get home at 1 or 2 o'clock in the morning from a road trip, and they're wanting to meet me at 6 or 6:30 at the school. I realized I wanted to stay in coaching as long as possible, so Terry and I sold the store."19
Once again, Billingham had lucked out geographically. "I was a minor-league coach in Kissimmee, Florida, which was about a half-hour, 45 minutes from Winter Park. I had a great job. For 14 years, I drove to the ballpark and when we were at home, I came home every night and slept in my own bed. Then the last four years, I stayed in Florida until June – until after the draft – and then I went up to the Appalachian League.  Three years in Martinsville, Virginia, and one year in Greeneville, Tennessee.  I spent 18 years as a pitching coach for Houston. When I got 62, I said thanks to baseball. I had a couple of pensions coming in and I decided I'd lead a retired life and watch my grandkids grow up."20
In 1984 Jack Billingham was inducted into the Reds Hall of Fame at the 1984 Ballplayers of Yesterday dinner.
Last revised: May 1, 2014
This biography is included in the book "The Great Eight: The 1975 Cincinnati Reds" (University of Nebraska Press, 2014), edited by Mark Armour. For more information, or to purchase the book from University of Nebraska Press, click here.
Notes
Born
February 21, 1943 at Orlando, FL (USA)
If you can help us improve this player's biography, contact us.
http://sabr.org/sites/default/files/BillinghamJack-2922.73_Act_NBL.preview.jpg
600
800
admin
/wp-content/uploads/2020/02/sabr_logo.png
admin
2012-01-04 20:27:46
2021-09-22 18:35:28
Jack Billingham